Photograph by Bertrand Guay via Getty Images.
Am I Addicted to a Comme Des Garçons Jacket? A Therapist Weighs In
After an exhaustive three-year obsession with a jacket, one woman talks to a consumer behavior specialist about why she can't stop hunting.
Photograph by Bertrand Guay via Getty Images.
I have been pursuing one jacket for approximately 25 minutes a day for three years straight. It has become an obsession.
The red lacquer straitjacket from the Comme des Garçons Spring/Summer 2015 collection that Rei Kawakubo said was inspired by "blood and roses" shines and moves almost like an octopus at sea, with its wide tentacles flapping their hands around you like a red liquid armor and a brutal indication of personal space.
What first seized my attention was the color: bright crimson red in high-shine latex. I've never seen it in person and never tried it on. I remember first seeing the extreme runway version online in a runway review. The collection is brutal and haunting: almost everything is red. "Roses and blood were her key words backstage," Vogue.com wrote at the time, "and it was important that roses came first because there was a struggle going on in this collection to turn something disturbing into something beautiful."
I've always thought of red as a rebellious color—a color strong women wear. Yet I do not own a single piece of red clothing.
I live in Oslo, Norway, which made obtaining the jacket difficult at first. When I finally went to the Comme store in London, it was sold out. Thus began my obsession. I now have a list of online stores, vintage shops and, online auction sites in multiple languages that I use daily, plowing through the vast landscape of online stores in search of it. I've even tracked down people on Instagram wearing it, without any luck.
Yet I know that possessing it means contentment to me. I feel a rush of Stendhal syndrome as I look at it. The jacket is restrictive but loose: it borrows the form of a straitjacket, but the sleeves flow freely.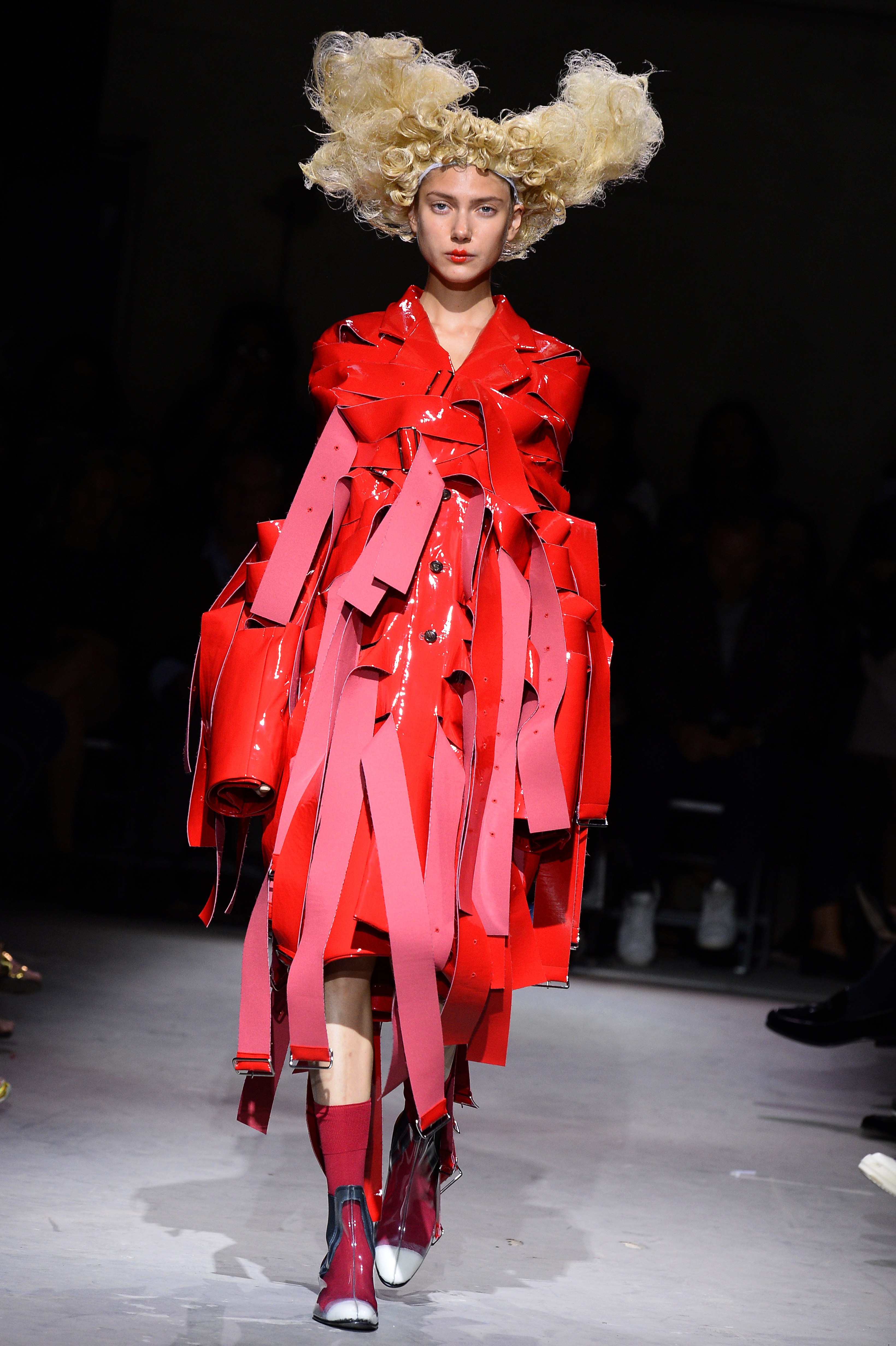 But even as the search became a part of my daily routine, the embarrassment in me didn't go away. So I went on Instagram and made a story asking for a psychologist or a psychiatrist specializing in consumer behavior and mental health to help me. I got a direct message from Aaron Caleb Kudi, who has a Bachelor of Science in Psychology and a Masters in Cognitive and Social Psychology both from London University, and specializes in consumer behavior and social tribelization.
We spoke in order to find the answers and provide clarity on this rather illogical relationship I have had with this jacket for the past three years. I told him that I wondered if my desperation for this one particular piece of clothing has something to do with the acceptance I sought after my father died when I was 18 and my mother struggled to raise me on her own up until that.
Can you explain to me how and maybe why I identify with Comme des Garçons? There are many avant-garde and far-left fashion brands out there, but I feel a sense of strange coherency with Comme des Garçons.
Rei is a silent designer who feels and observes so much; you can tell she has seen both perspectives of beauty and pain but wants to reflect joy in her garments. You saw yourself in her clothing, becoming the link that binds you two; "blood and roses" is a fitting tale of this. You see yourself as a good person, a person who is a rose, who should be planted and allowed all the wonders of prosperity and growth, but there is still a hindered anchor on you.
Throughout my life, I have experienced numerous "cat and mouse" type situations, where I'm always hunting down things to improve calibers of my life: men, clothes, jobs, and education, to name a few. I have never truly felt like I have "won" whenever I have gotten what I wanted—which is starting to drain me, as I feel like nothing can truly make me happy. It's like I am aware of something bigger and better, yet I don't have the slightest clue on what it is. We always crave what we can't have, yet I am enthralled by how someone can want something so strongly, whilst being completely unaware of what having it actually means.
This cat and mouse game has been a recurring theme in your life: the jacket, your father, the men you date. You're trying hard to prove you're a good person. "Look, I am eccentric, strong, powerful, I command respect, I can make the room roar in laughter." What more could you want? You are always chasing the things that don't want you the most and you probably get bored of things once you get them. This is because you realize the feeling you should get from your father accepting you isn't there, but then again you don't know what this should feel like because you have never had it. I hesitate to say it, but it may be better for you to never get this jacket in the long run, as this will somewhat help bring you a form of mental stability.
It's rather interesting to think about how I dress in Comme des Garçons today: great volumes and dark hues mask up my exterior, yet this jacket has numerous belts in razor-sharp cut latex fluctuating from side to side as a pendulum when you walk. It is everything I want to be, and in many ways it's a representation everything I'm truly not.
Maybe this even explains the tentacle-like features on the jacket: you're trying to reach for something, or is the jacket reaching for you and the long-lost love, almost a father-stretch-my-hand perspective. Some Freud-style psychologist would also debate that this could have a sexual perspective: you've never been showed deep-rooted love from the one male figure that was important to you. What I also find interesting is that the jacket is unattainable to you: it's almost like you want it, but it doesn't want you in the long run. It's evading you, just like blueprints of your younger life.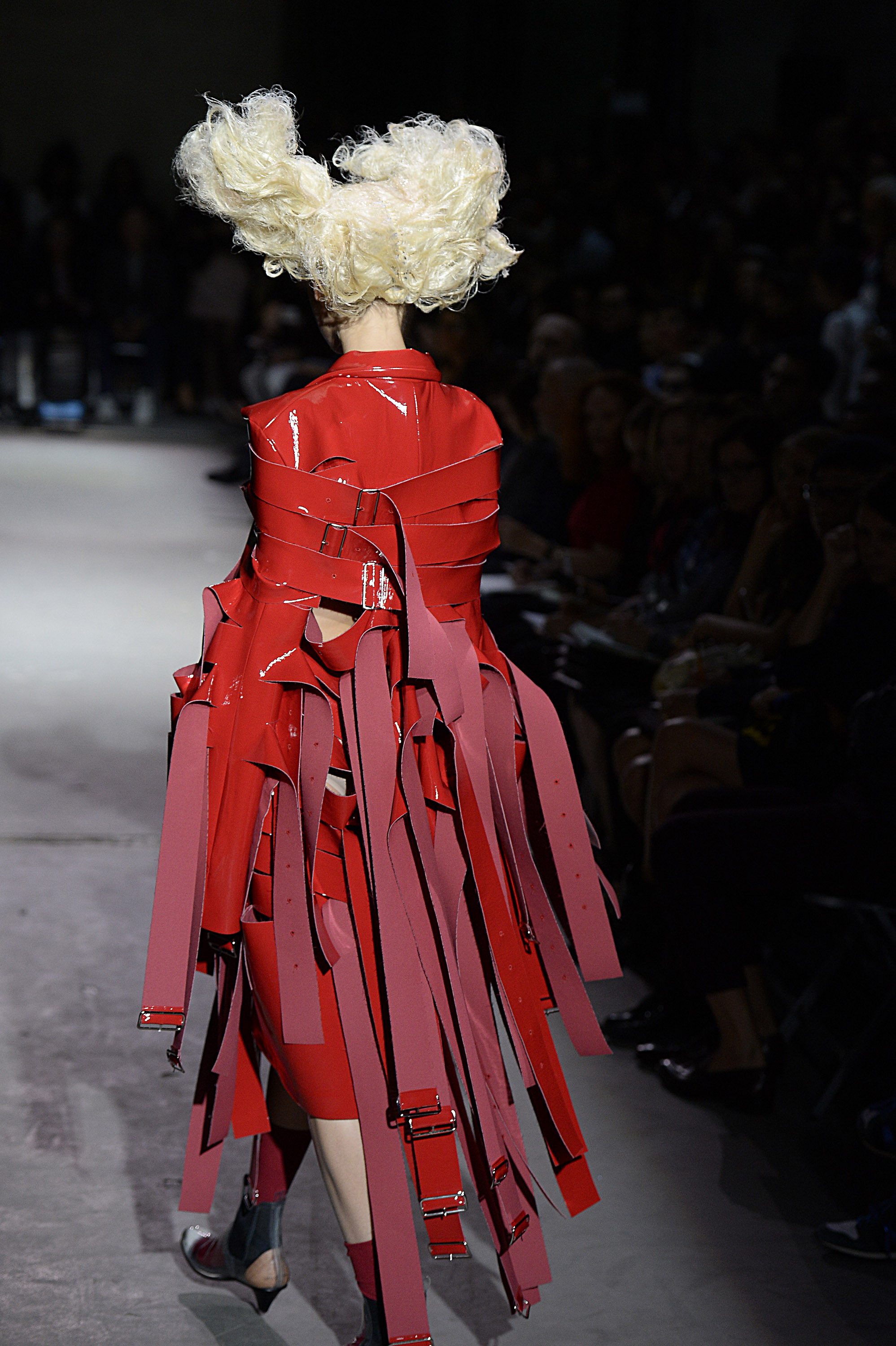 I'm not quite sure what it all means: looking at the origins of my behavior, there's unquestionably room for more extremes, as I have continued to push through the walls of norms for as long as I can remember. There is, however, a certain insecurity issue there with my past that in many ways contradicts with my personality.
The color of the jacket is a reflection of the internal anger from your younger years. But it's also a display of your erratic outlandish beautiful behavior: your mixture of the wonderful and robust. Ironically, it's also the color of love, passion and new beginnings—what you felt towards your mother and now your boyfriend. The straitjacket is a mirror of how you felt before towards yourself: of being free but not being able to really be yourself. But now you're not so confined nor restricted. You are actually feeling freer than you ever have, and [your obsession with the jacket] has shown your willingness to be restricted by the jacket, but still be free and move: a perfect combination of the symbiotic relationship.
That's why you chase it. Psychologically, this is a curtain call. You can look at your desire for this jacket as, "This is when there was a change. This is when this chapter closes for me both emotionally and physically. I have accepted what life was and has been—I have healed and found new love, I have transcended." This is captured perfectly in a garment and in collection form: a rose has been formed or born within the blood, and now it has been allowed to grow, to blossom. So I think your desire for this red jacket acts as a summary, a final chapter if possible; a memoir for you in regards to how far you have come in life, the experiences you have had, the pain and joy you have felt. You have now found love, a new feeling, and you are now closing in on a sense of self-actualization, if not close to the final step. For me this jacket is that chapter closing, hence the reason you chase it so much. It encapsulates everything you felt emotionally, as well as what you have experienced.
After my conversation with Kudi, I felt emotionally exhausted. It was in fact elements of my childhood that created this friction. Reading over his notes feels like an hour at the psychologist every single time.

I am still looking for the red lacquer jacket from Comme des Garçons Spring/Summer 2015, and I will do that for as long as I have Internet access.