Gina Valentina and Kira Noir for Pornhub Nation.
The Future According to Pornhub
The porn platform has recently invested in philanthropy and collaborations with artists, including the "Pornhub Nation" exhibition in Los Angeles. But should we buy Pornhub as an advocate for good sexual politics?
Gina Valentina and Kira Noir for Pornhub Nation.
The year is 2069. Familiar political institutions have been swept away; countries are no longer run by governments, but by corporations. The US has been replaced by a sex-positive land where parks are populated by dildo-shaped vegetation and Silicon Valley has morphed into a ball pit filled with breast implants. The country's figureheads include adult film stars Abella Danger, Riley Reid, Joanna Angel, and Asa Akira. Welcome, citizen, to Pornhub Nation—a speculative, interactive exhibition currently on display in Los Angeles.

"If Trump can win the election, anything is possible," says artist Maggie West who, together with fellow artist Ryder Ripps, received funding from Pornhub to conceptualize and execute the exhibition. West and Ripps came up with a utopian, Pornhub-founded society that "prioritizes sexual liberation, hedonistic pleasure-seeking, and equal orgasms for all" via sexed-up versions of the National Gallery and NASA—here, ASSA. "The ASSA room has fiber-optic walls and two astronauts hanging from the ceiling having sex," West tells me. "It's a space program solely dedicated to interstellar intercourse; the only mission is to have sex."
The DMV, already infamous for its sadistic administrators, has undergone a kinky renovation and been renamed "Domination Masochistic Vroom Vroom": "It's a BDSM chamber that plays loud, industrial music and has 'Don't Suck Dick and Drive' posters hanging on the walls," West clarifies. Other parts of Pornhub Nation include a room filled with "dick flora," 467 color-changing sex toys curated to resemble flowers, and a twelve-foot-tall penis-shaped rocket.
The exhibition highlights the importance—and urgency—of sex-positivity at a time when slut-shaming and gender-based violence can be traced all the way to the White House. Promoting sexual agency is a necessary aspect of combatting assault and harassment. "People should have the freedom to do whatever they want with their bodies," West says. "Whether they want to have different forms of sex, be a porn performer or cam; I don't think the choice should be made by anyone other than themselves."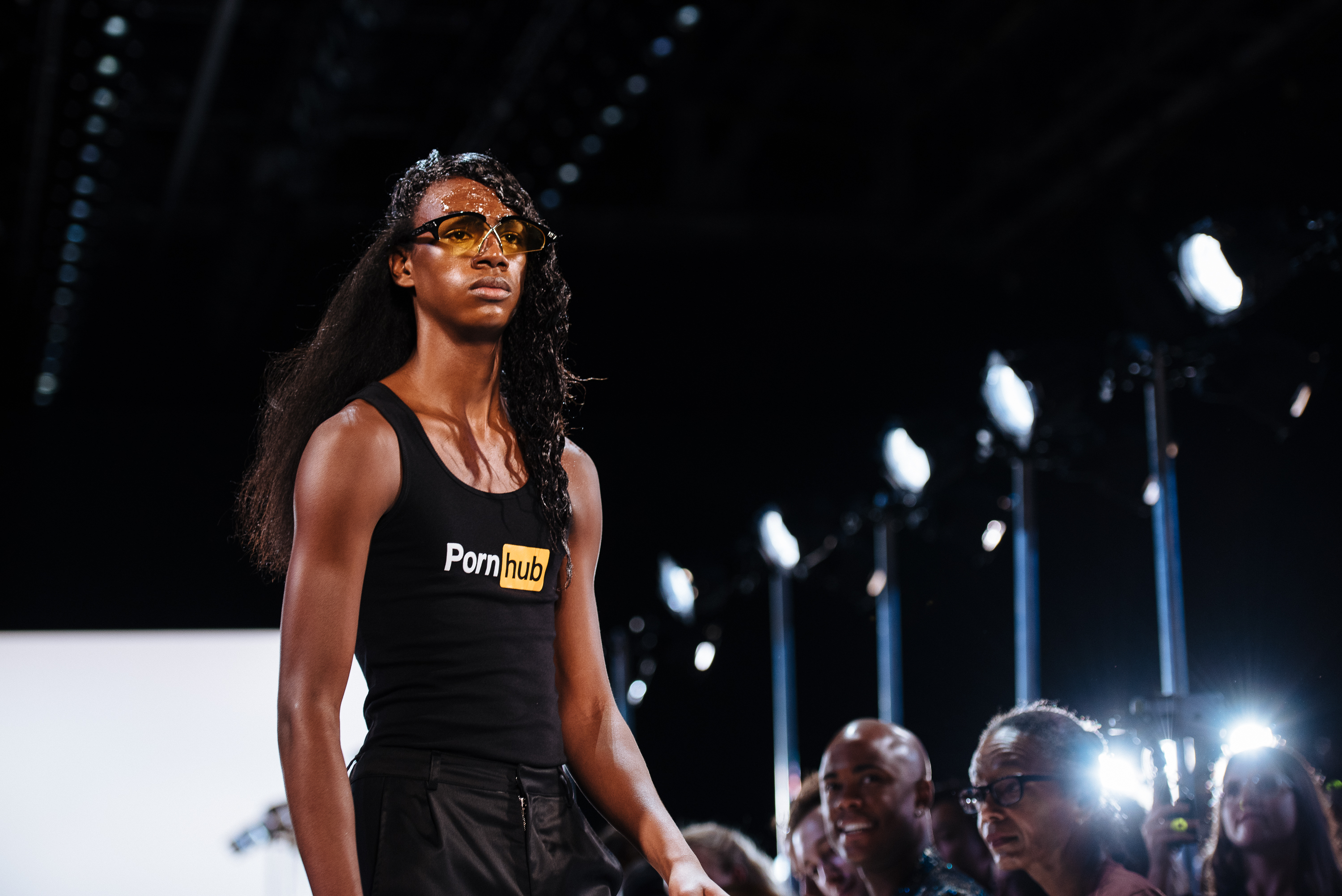 But the idea of Pornhub as a goodwill ambassador for feminist sexual politics has understandably raised some eyebrows. Over the past few years, the X-rated site has been vigorously promoting itself as an organization that advocates equality, making it a knowing participant in the cultural zeitgeist; college scholarships, sex education platforms and now art funds are just a few of Pornhub's recent philanthropic endeavors. The site has also embarked on a number of fashion collaborations: New York label Hood by Air teamed up with Pornhub for its Spring/Summer 2017 collection and, last year, Richardson featured the infamous Pornhub logo on T-shirts, bomber jackets and swimwear. There's even an online clothes shop that sells, along with the standard T-shirts, Pornhub-branded bucket hats, beach towels, and crew socks.
Despite these initiatives, it's difficult to overlook the fact that Pornhub profits from an industry with a history of poor safeguards to ensure consent from female performers. "Sexism is a problem relevant in all industries, not just pornography," says Giovanna Maina, the co-editor of Porn After Porn, a book on non-normative pornography, and an advisory editor of Porn Studies. "But how do we talk about Pornhub's philanthropic enterprise? It's fair to be critical. We can't just applaud Pornhub for celebrating female sexuality. But while it's important to be skeptical, we also need assert that some good can come from it." Exhibitions like Pornhub Nation can help normalize alternative forms of pornography, Maina goes on to say, even if it is part of a marketing strategy.
Is Pornhub following through on the feminist discourse it preaches? The stats speak their own truth. Pornhub Nation assures "equal orgasms for all," a promise the present-day Pornhub hasn't been able to keep. In backing projects like Pornhub Nation, the company deflects from the unbalanced and at times violent sexual encounters that infiltrate some of the content on its website. A study published by The Journal of Sex Research this April shows that, despite Pornhub's declarations against sexual violence, visible aggression could be found in just under 40% of the 269 porn video samples hosted on Pornhub, with 1 in 10 depicting nonconsensual aggression.
That's not to say that there aren't powerful, business-savvy women in the industry. Of course there are. Adult stars Stoya and Asa Akira are just two examples of women who have contested claims that X-rated films are inherently exploitative, and ethical and feminist porn is a growing force within the industry. But although Pornhub Nation imagines female porn stars as presidents, many major porn-related businesses, including Pornhub, are owned and helmed by men; Pornhub Nation "eschews social hierarchies," yet Pornhub hosts videos that reproduce racist stereotypes.
Would a country governed by Pornhub really look like Pornhub Nation? Probably not. To state the obvious: Pornhub is a profit-driven company, and it acts like one. It's not a social movement, and as long as racist stereotypes are perpetuated and sexual violence is presented as a norm, Pornhub has little claim over a feminist utopia. It's great to see industry funding devoted to sex-positive, women-centered exhibitions that celebrate equality and sexual freedom. But it's important to step back and ask: Who profits?