Cecilia Vicuña, Quipus Visceral, 2017. Courtesy the artist and Lehmann Maupin, New York and Hong Kong. Photo: Matthew Herrmann.
Forget Deskilling, the Craft Invasion Is ON in New York
Sheila Hicks makes me wish I still knew how to make a lanyard.
Cecilia Vicuña, Quipus Visceral, 2017. Courtesy the artist and Lehmann Maupin, New York and Hong Kong. Photo: Matthew Herrmann.
Unspun wool, shells, porcupine quills, tapestries, and books made out of cedar; this is the vibe at Camp Chelsea (Manhattan) this week, liable to leave even a rose-quartz-in-the-purse-at-all-times-gal feeling a little out of touch with her inner crafter on her tours of the galleries. Which is not to say what's going down isn't resolutely modern: Sheila Hicks studied with both the Albers (Josef and Anni) in the 1950s, and it shows. For proof, see her new exhibition at Sikkema Jenkins & Co. (through July 6) where strands of colored linen are stretched over wood and metal in abstract compositions and even small clam shells are worked into the warp and weft of her weavings, as if to say abstraction, too, is natural.
Cecilia Vicuña is having her first show at Lehmann Maupin (also through July 6) and it greets you with a piece titled Quipus Visceral: bolts of unspun wool dyed in salmon, lavender, cotton candy, and crème brûlée colors all hanging from the ceiling, which immediately transports me back to Hicks's installation for the 2014 Whitney Biennial, a highlight of what was otherwise a mostly dour year for this author. But enough about my personal touchstones, there's a whole wall-mounted display of incredible, delicate, ingenious little sculptures by Vicuña in her show as well, including one made with those aforementioned quills spiking a tiny white cube of layered packing material. Both these substances cover and protect, with one being an example of nature's good design and the other a manmade precaution—a sensitive juxtaposition of realms here, consider buying it for your favorite Pisces.
Objects are also texts to be read, even if there are no words and you can't touch them, which Ursula von Rydingsvard knows well and has applied her talents in sculpture accordingly to make an enormous linen book of cedar plank lined pages on display at Galerie Lelong through June 23. As an acolyte of the oversized, von Rydingsvard fashions layered monuments in wooden, metal, or resin sculpture and on handmade paper with wool and silk fibers couched into her sheets, creating gorgeous traps for textiles and scraps. In a large sculpture flush with a wall, flat boards of cedar have the appearance of growing back into the wild, gnarled forms they hail from.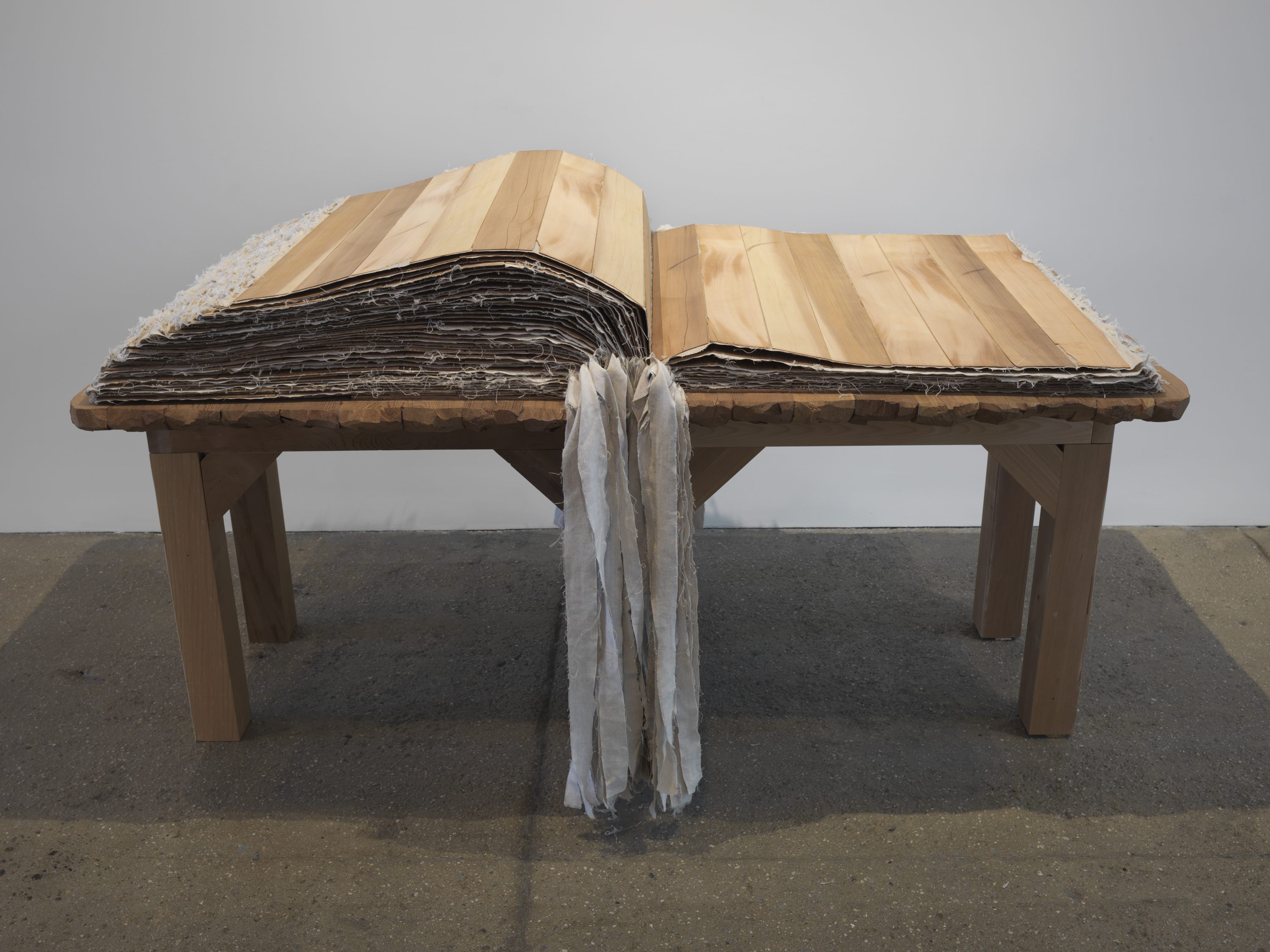 Lynda Benglis is the queen of the pour, but a few delightful sculptures at Paula Cooper Gallery (through June 16) also show her adept feel for the wrap, of handmade paper and cast glitter over chicken wire that is. They're wiry, knotty, sparkling, and cagey all at the same time, made by a cool counselor we could all learn a lot from.
If you never thought you'd see side boob or a rape kit in a tapestry, oh do I have news for you, and it's all about Erin M. Riley's show at P.P.O.W. (through June 30). Wool and cotton woven compositions upgrade poor images of books, tapes, birth control pills, and selfies into loaded quodlibets of an unvarnished life of pain, pleasure, pictures, and measurements of victimhood. It's very femme, and abject, as in the piece titled Evidence, which lays out the buffet of instruments and data collecting sheets in a rape kit. Riley's articulating the shorthand roles women get slotted into (rape victim, slut, a body, the shrill sound of screaming itself) in one of the more longhand forms of craft still going these days. The dissonance is instructive. Dear Mom, dear Dad, summer has only just started and I'm already learning so much.