Marlene Dumas, The boar smiles, 2015-2016. © Marlene Dumas. Courtesy David Zwirner, New York/Hong Kong.
Marlene Dumas Has Made Illustrations for the Illustrious Gods!
The South African-born figurative painter's show includes works commissioned for a new translation of Shakespeare's poem "Venus and Adonis."
Marlene Dumas, The boar smiles, 2015-2016. © Marlene Dumas. Courtesy David Zwirner, New York/Hong Kong.
Marlene Dumas's illustrations for Shakespeare's sixteenth-century poem "Venus and Adonis" have been placed in an interior room at David Zwirner, between rooms of the larger figurative paintings for which the Amsterdam-based South African artist is famous. The title of the exhibition is Myths and Mortals, which begs a question: which are which? Interspecies affairs—human, Olympian—could be, for the ancients, fraught. In Shakespeare's version of the episode from Ovid's Metamorphoses, Venus, seducing the mortal Adonis, calls him a "lifeless picture," in an accusation of frigidity. I might commit the all-too-human sin of anachronism by calling her a "strong female protagonist"; more than most, though, she holds the title literally: as the poem begins she lifts Adonis from his saddle to tuck him under one divinely proportioned arm. Her oratory, too, is larger-than-life; Adonis, by contrast, is quiet. (He is, in fairness, one-quarter statue: in the Ovidian lineage, his grandfather is Pygmalion.)
It would suit Dumas, with her hefty forms, that Venus's body betrays her on account of the power of its components. When the goddess sees Adonis dead, her eyes burrow into their sockets, as if of their own free will. Her tongue acts with unusual power, as the heart's "attorney," or its advocate. The poem keeps up a running commentary on whether people's cheeks, hands, and lips are red or white, but the painter's works on paper, dated 2015-2016 and produced for a new Dutch translation of the poem by Hafid Bouazza, are mostly done in black ink wash. Happily, Dumas depicts some of the many animals from Shakespeare's text. The screaming creature in The wild boar, with its long jaw and bad hair, has, like Venus, dark, dramatic eyes and throat, where the ink has pooled.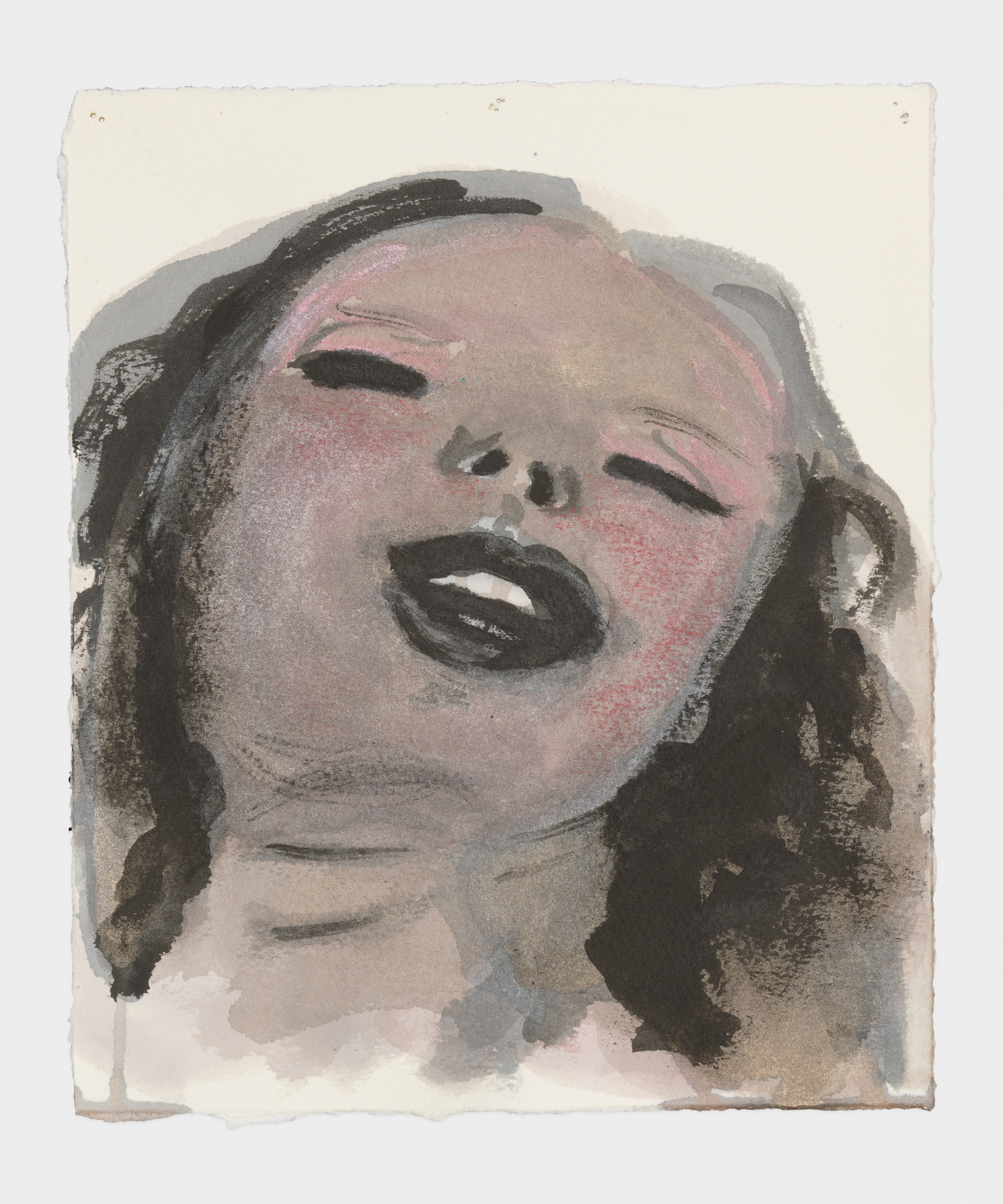 The paintings in the other rooms, several of them almost ten feet tall, three across, are, for the most part, nudes. Blue lines shimmer in their flesh—these are blue bloods. Dumas herself has warned against mixing metaphors, though. There's nothing wrong with likening, say, painting to giving birth, but the danger lies in "sloppy thinking," as she wrote in a 1989 exhibition text, "Birth," continuing, "when we imagine that these differences can ever be solved harmoniously; or even worse, when we forget that these realities we are mixing, show a beautiful and often cruel indifference towards each other."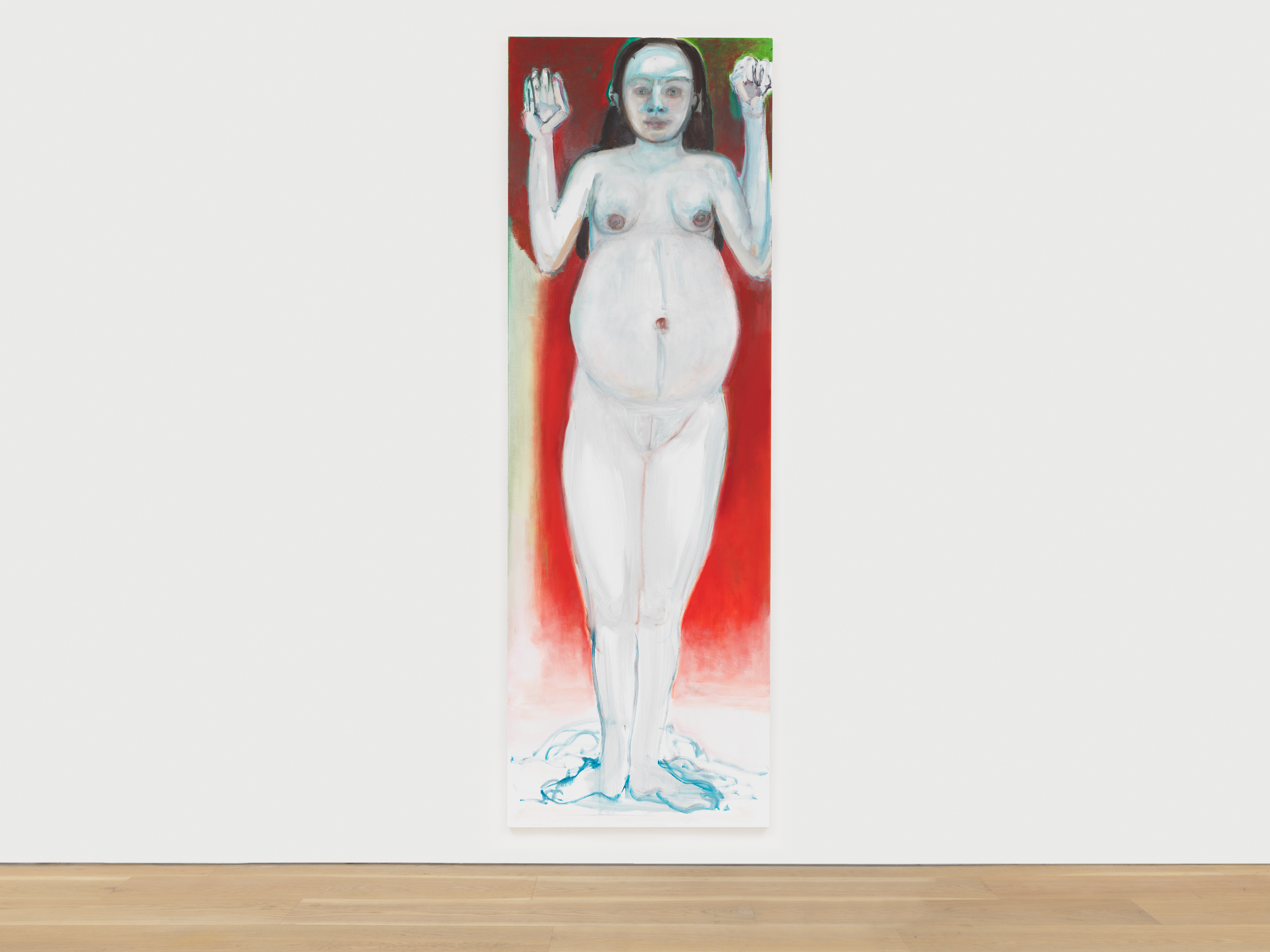 Marlene Dumas's exhibition Myths and Mortals is on view at David Zwirner through June 30.