(Photo by Harold Cunningham/Getty Images)
Jeff Koons and Michael Jackson's Pet Chimp, Bubbles, Are Both Powerfully Evocative Artists
Koons sculpted Bubbles in 1988, decades before the chimp's painting career took off in earnest.
(Photo by Harold Cunningham/Getty Images)
In 1988, Jeff Koons's gilded porcelain rendering of Michael Jackson and his beloved pet chimp, Bubbles, expertly toed the line between "naturalistic" and "creepy." According to a 2014 Billboard article, Koons and Jackson never actually met, although photographer Greg Gorman did capture Bubbles and Koons together with 1980s It Girl Katie Wagner, who had this to say about the experience:
"I remember I was more excited about working with Bubbles than about working with Jeff. I really just didn't know anything about who Jeff was at the time, other than that we were both young and hot."
In Jeff Koons: A Retrospective, author and Whitney Museum chief curator Scott Rothkopf provides some upsetting context on Jackson's state of mind at the time of Koons's 1988 sculpture, writing, "His greatest albums were behind him; his medical skin lightening had begun; and his emotional bond to his animal companion betrayed his inability to form an intimate human one (a cathexis eerily redoubled in Koons's sculpture by Bubbles's grip on his blanket." Nevertheless, Rothkopf notes the sculptor's affinity with his troubled subject: "'If I could be one other living person,' Koons remarked at the time, 'it would probably be Michael Jackson.'"

Much like Koons, whose $58.4m Balloon Dog (Orange) was the most expensive work by a living artist until David Hockney dethroned him, Bubbles is still alive and well in retirement in Florida, where he lives "out of the public gaze" on occasional financial handouts from Jackson's estate. The chimp, who used to moonwalk with Jackson and once allegedly attacked actress Rashida Jones, is "now just a normal chimp," according to Patti Ragan, founder of the Center for Great Apes, where Bubbles lives. ("Bubbles does not like cameras," warns his profile on the Center's website, which stands as perhaps the saddest indictment of the chimp's formerly fame-bound existence that one could possibly dream up.)

Bubbles's moonwalking days might be over, but he's followed Koons's example and taken up a secondary career in the arts: the spry 35-year-old chimp is a prolific painter, selling over 60 original paintings for up to $2,000 in a 2017 exhibition titled Apes That Paint. Bubbles previously established himself as an art world darling at 2012's Art Basel, where Pop artist Romero Britto bought a painting by him to add to his personal collection.
The novelty inherent in Bubbles's paintings is self-explanatory—like the Koons statue of Bubbles and Jackson, the paintings harken back to a time when the King of Pop was an unproblematic, if eccentric, beloved cultural figure—but what about their technique? Let's take a look at a sampling of Bubbles's oeuvre, shall we?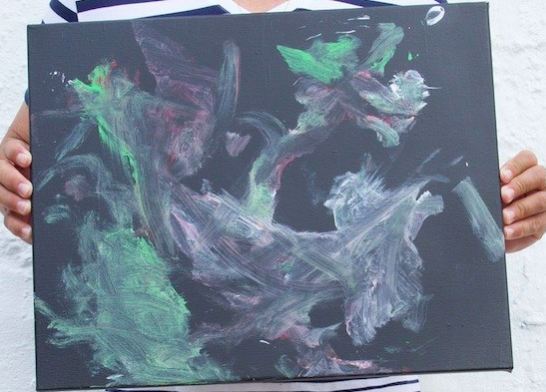 The painting Britto bought to round out his collection features ghostly, ethereal shapes moving across a canvas. This moody abstract work feels like a meditation on loss, perhaps reflecting Jackson's abrupt disappearance from Bubbles's life.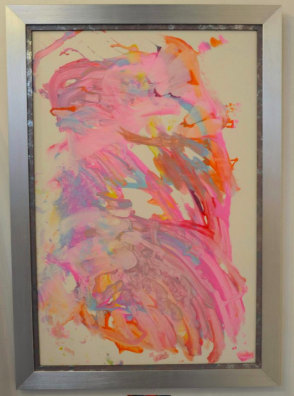 This features bold use of impasto technique, playful color palette reminiscent of a gasoline rainbow or a Miami sunset, and vibrant composition; all in all, a major score for any Basel-goer's collection!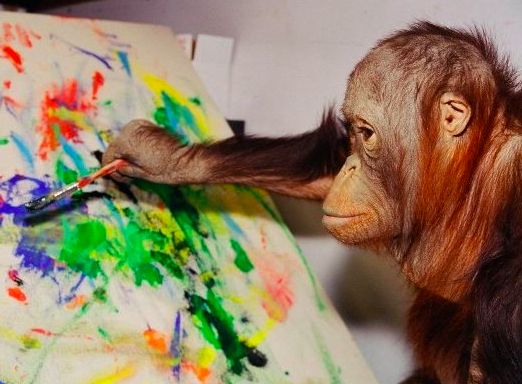 Look at that abstract expressionist use of primary colors! Joan Mitchell is shaking. Like a fine wine, Bubbles's art will only appreciate in value as it ages; neither Jeff Koons nor your fave painting elephant could ever.
While the technical proficiency of Bubbles's art speaks for itself, it may never come to define him as thoroughly as his relationship with Jackson did. Rothkopf muses on the power of Koons's Michael-and-Bubbles sculpture three decades on, writing of it and the rest of Koons's Banality series, "What is remarkable about these sculptures almost thirty years later is that they remain nearly as problematic—dare I say vulgar?—as when they were made. I mean this as high praise."
"The aesthetic affront of early Warhol and Roy Lichtenstein, by comparison, has congealed into elegance," Rothkopf continues, adding, "as has the Minimalism of Carl Andre and Donald Judd, which once challenged taste and now represents the height of tastefulness." No matter how much time goes by or how many elegant abstract portraits Bubbles paints, he will always be the chimpanzee rendered in gold, peering out anxiously from the lap of the King of Pop.