Spice Up Your Life With the Fleshy and Obscene World of 'Proudick'
Hannah Barry Gallery in London hosted an evening of cover songs, eating contests, odes to the menstrual cycle, and unmade beds.
Last week, as part of their collaborative exhibition, Proudick, at Hannah Barry Gallery in London, artists and friends Paloma Proudfoot and Lindsey Mendick hosted an evening of performances that prodded at the boundaries around socially acceptable behavior for women while articulating a general sense of anxiety about sexuality and desire. Proudfoot and Mendick's partnership is also an homage from one generation to another, chiefly inspired by the artistic co-conspirators and YBAs Tracey Emin and Sarah Lucas.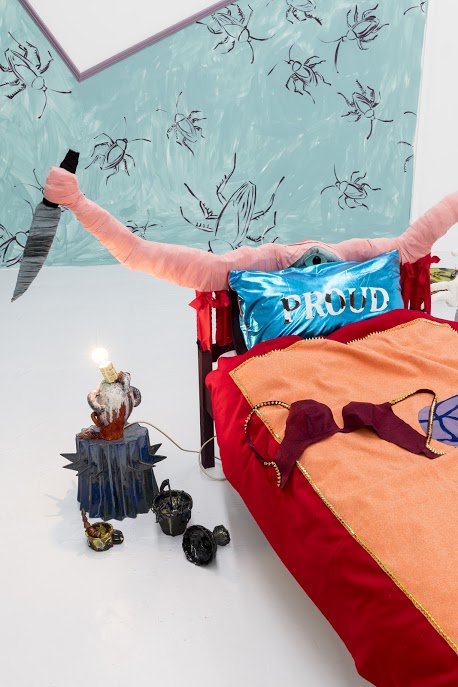 In the style and spirit of Emin and Lucas's The Shop (1993)—an actual store on Brick Lane that they stocked with their DIY wares and threw raucous parties in—a limited range of T-shirts emblazoned with phrases like "I LURVE WINE" and "YOUR BIGGEST REGRET," or stitched with patches depicting anal beads, martini glasses, and studded stilettos were on sale at Proudick, during an event fueled by fast food, cheap white wine, and real or performative catharsis. Emin's iconic bed gets a do-over in this show as a pair of twin beds—both in and around which performances took place—completed by neon satin pillowcases (embroidered with "PROUD" and "DICK") and sheets patched with animal print and faux fur (including a literal furry muff) in the shape of underwear. The cots are also cluttered with ceramic food, cups, and dishes.
Mendick regaled an audience with a fairly harrowing story involving a heavy menstrual cycle and a cream chair, before performing a rousing version of Leona Lewis's 2007 hit "Bleeding Love." The musician Rebecca Lucy Taylor read her short text "Everything But," a litany of memories about ex-lovers and friends, all while munching on a box of Chicken McNuggets and accompanied by the instrumental for Katy Perry's 2010 banger "Firework." Performance artist Teddy May de Kock interweaved a stream of awkward iMessages between Proudfoot and Mendick with a passionate monologue from Euripides's tragic play Medea. Then, wearing a "BE YOUR OWN CLICHÉ" T-shirt, Proudfoot and her father performed on guitar an updated version of legendary artist Hannah Wilke's 1982 song "Stand Up." The invocation of Wilke—and the lineage of feminist art history of which she's emblematic—made sense in this context, given that she and contemporaries like Carolee Schneemann were chastised as narcissists for using their own nude bodies as material in their work. (Beware the fascist feminists.) There is also a symbiosis between Wilke's famous chewing gum works and the buoyant yet grotesque aesthetic of the exhibition overall. "I chose gum because it's the perfect metaphor for the American woman," Wilke once said, "chew her up, get what you want out of her, throw her out, and pop in a new piece."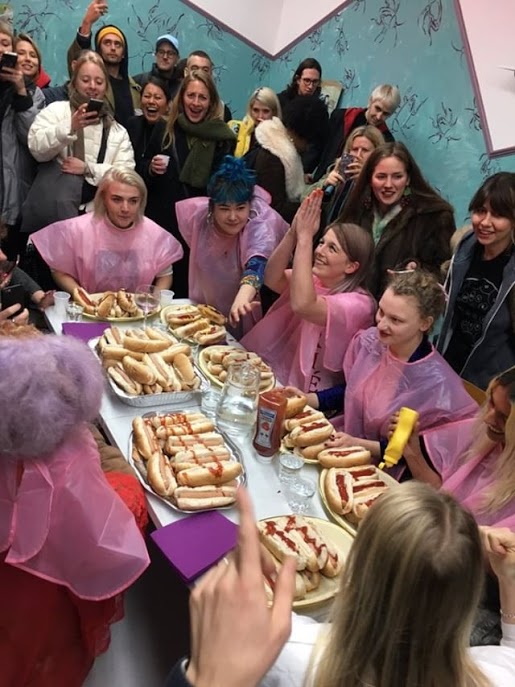 The evening with Proudick culminated in a hot dog-eating contest, designed both as a messy riposte to women feeling uncomfortable or shameful about eating in public and as a celebration of voracious feminine appetites (there's no denying the symbolism of seven women speed-eating sausages). Like the mythology of Medusa, a figure that snakes throughout the sculptures in the show as an icon of threatening and grotesque female virility, the Proudick woman is fleshy, excessive, and obscene. She gives no fucks, and God help you if you look at her the wrong way.
Proudick runs through January 12, 2019, at Hannah Barry Gallery in London.