No ID, 2018, courtesy of the artist and Petzel, New York. Photo: Ron Amstutz.
Seth Price is Making Art With a Dead Squid
Seth Price talks creating absurdly high-resolution video of a Chinatown squid, the Warhol effect, the lamentable work of European Wax Center, and living in a cultural slush of low-res imagery.
No ID, 2018, courtesy of the artist and Petzel, New York. Photo: Ron Amstutz.
Seth Price is, in many ways, an artist absolutely of his times, flexible and omnivorous. Or, as he puts it in his 2015 volume of autofiction, Fuck Seth Price—first published as "A Novel" but now billing itself as "A Memoir," which follows the interior monologue of an anonymous male artist in the first edition and a female one in the latest available version—an artist is someone who can use their work to practice both ditchdigging and symbol management simultaneously. Here. the onetime Brioni model (who told me he's a Sagittarius though his homepage implies otherwise) and author of influential edicts that get assigned to art students all across this not-so-great land talks about his newest show Hell Has Everything, opening at Petzel Gallery in Chelsea tonight.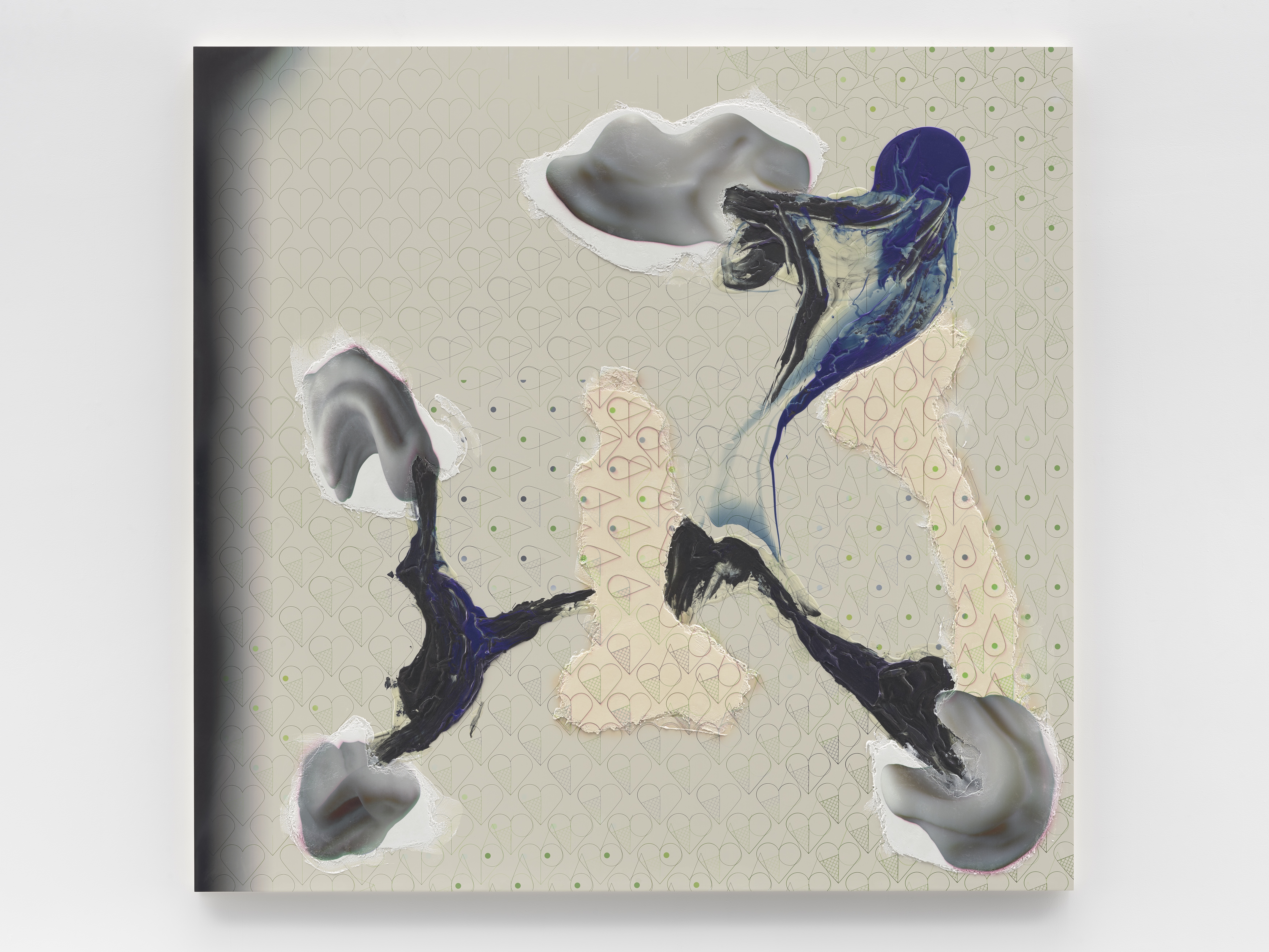 GARAGE: Is this your first show since the Stedelijk Museum survey last year?
Seth Price: No, I had a show in London of film and video works at the ICA a month after that closed, and then I did a show of new work at Galerie Gisela Capitan last November. And then I came back to New York and decided it was time to think about some new stuff. I was kind of picking up on work I did for a show in 2016 at Laura Owens's place, 356 S. Mission Rd., in LA.
GARAGE: I took a photo of you there, and it was a very nice silhouette of your hands. You should get into doing shadow puppetry. There are some embroidered pieces in this show that are also similar to the high-resolution scans of human skin you showed in the body of work there, no?
SP: Yes, and they're all on fabric.
GARAGE: Interesting, I remembered thinking of them as being on light boxes because they had a surface texture that made them look more like glass.
SP: I was thinking about that, how nobody knew they were fabric, which is fine.
GARAGE: That ambiguity makes them so slippery, even though what they show is so exact, so heinously exact.
SP: We sent all the models for those works to the European Wax Center because they do such amazing work, but hairs were still sticking out everywhere.
GARAGE: I was going to say…in my experience? They don't.
SP: They really don't. But also, in terms of the embroidery in this show, I was also just thinking about clothing and how words are so important in fashion right now.
GARAGE: Language is definitely going strong in fashion right now, and the return of the logo and a resurgent interest in logos and brand names has been ongoing for a while.
SP: There was a whole '90s holdover of people being like "no logo," and like, "take that brand off my body," but we kind of got over that.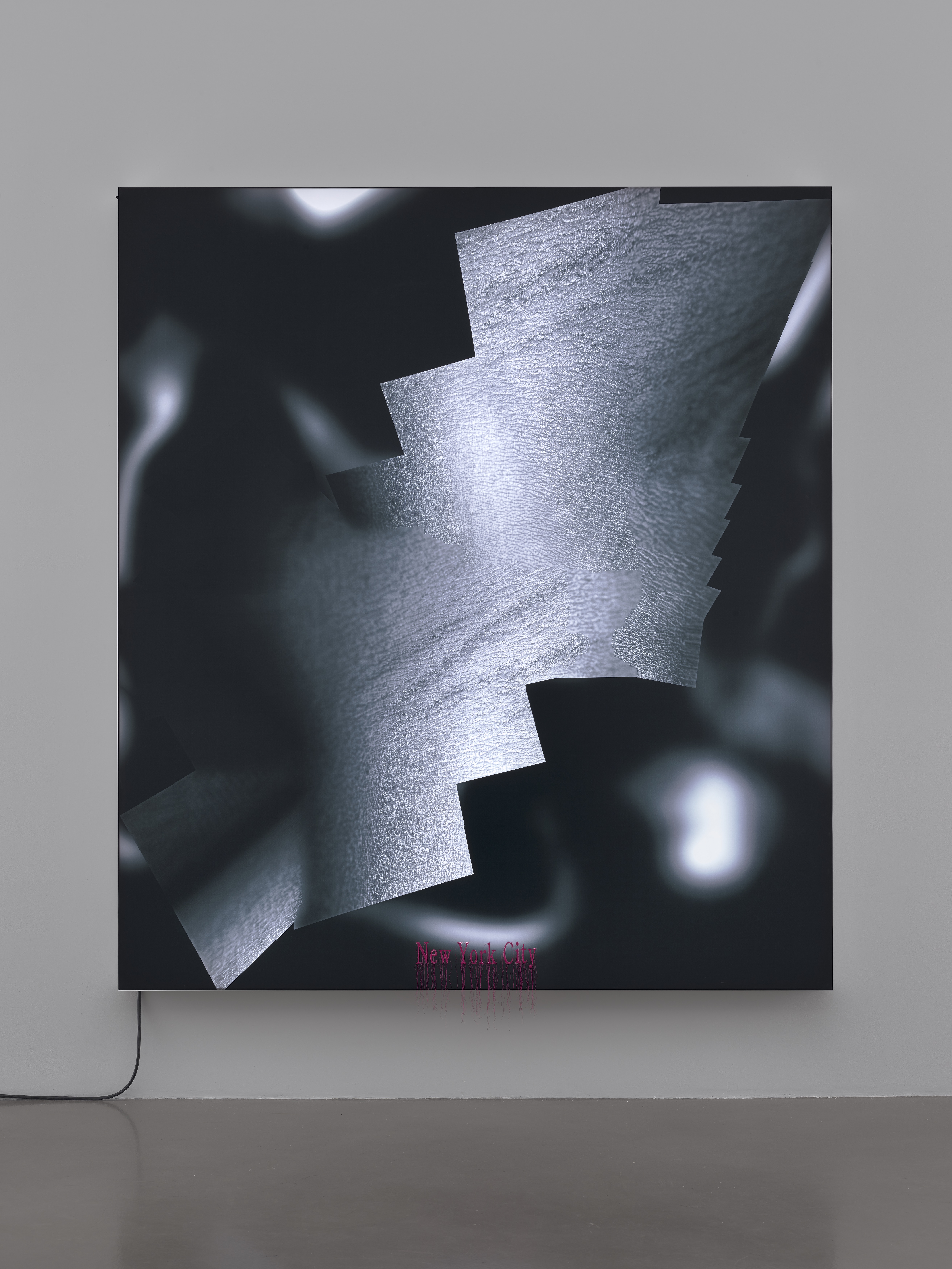 GARAGE: Now everyone wears Nike—the brand was gradually recuperated by liberals after its sweatshop controversy in the '90s.
SP: When every art student was head to toe Nike five years ago, that was like a sign everybody was finally ready for some more language.
GARAGE: Tell us about some of the other works in the show.
SP: There's a video of a squid that's displayed suspended from the ceiling here, which I made last year before it was included in the Stedelijk show.
GARAGE: This piece looks fairly freaky, and you want people to lie down in the gallery to watch it play above—can you describe it in detail?
SP: We had this robotic camera rig with a software package, which can take incredibly detailed photographs. That's what I was using to make images of the human models in 2016, and I also thought it'd be maybe interesting to do something inhuman. The camera rig I use wasn't designed for shooting subjects that move or are that are alive anyway. It was designed for capturing high-resolution images of things like stones and dead insects. Engineers made it with a robot arm that is hooked up to a digital camera, and you can basically plot its movement. It will mark out an area into little squares, and then it'll proceed through methodically, burrowing down taking on X, Y, or Z axis, about 30 photographs in all different focuses and then sending those to the software. And then it comes back up again and moves to another spot and does it again. And then there's a software package that squashes each of the focal stacks into the most crisp image and another software package that converts them all from raw files to TIFFs. More software creates groups of the individual images, and another program then stitches them together panoramically. We shot this small squid we got in Chinatown, putting it on the bed of the machine, hooked up the software, told it where to take the picture, left for the day, and let it go all night. The process probably took 10 hours and yielded I don't know how many hundreds of thousands of photos.
The image that eventually emerged at the very end several days later was a single 300 DPI photo of a squid about 14-feet high. We took that image and threw it into a CGI modeling program and basically hung the photograph of the squid in the middle of a virtual space, like you'd hang a sheet off a clothesline, and bounced a light off it. You're giving the computer information about all the light and color around an object, which in this case was the squid, to tell it about will be reflected on that surface. We gave the computer a map of the topography of the squid, which we generated, based on dark to light values. And then we made a path for the virtual camera to follow, over the photograph of the squid, which is real information, or let's say information of a real object. What you wind up with is a real photograph of a real object but with a completely artificial, mathematically generated light source, which becomes the protagonist, as far as I can tell.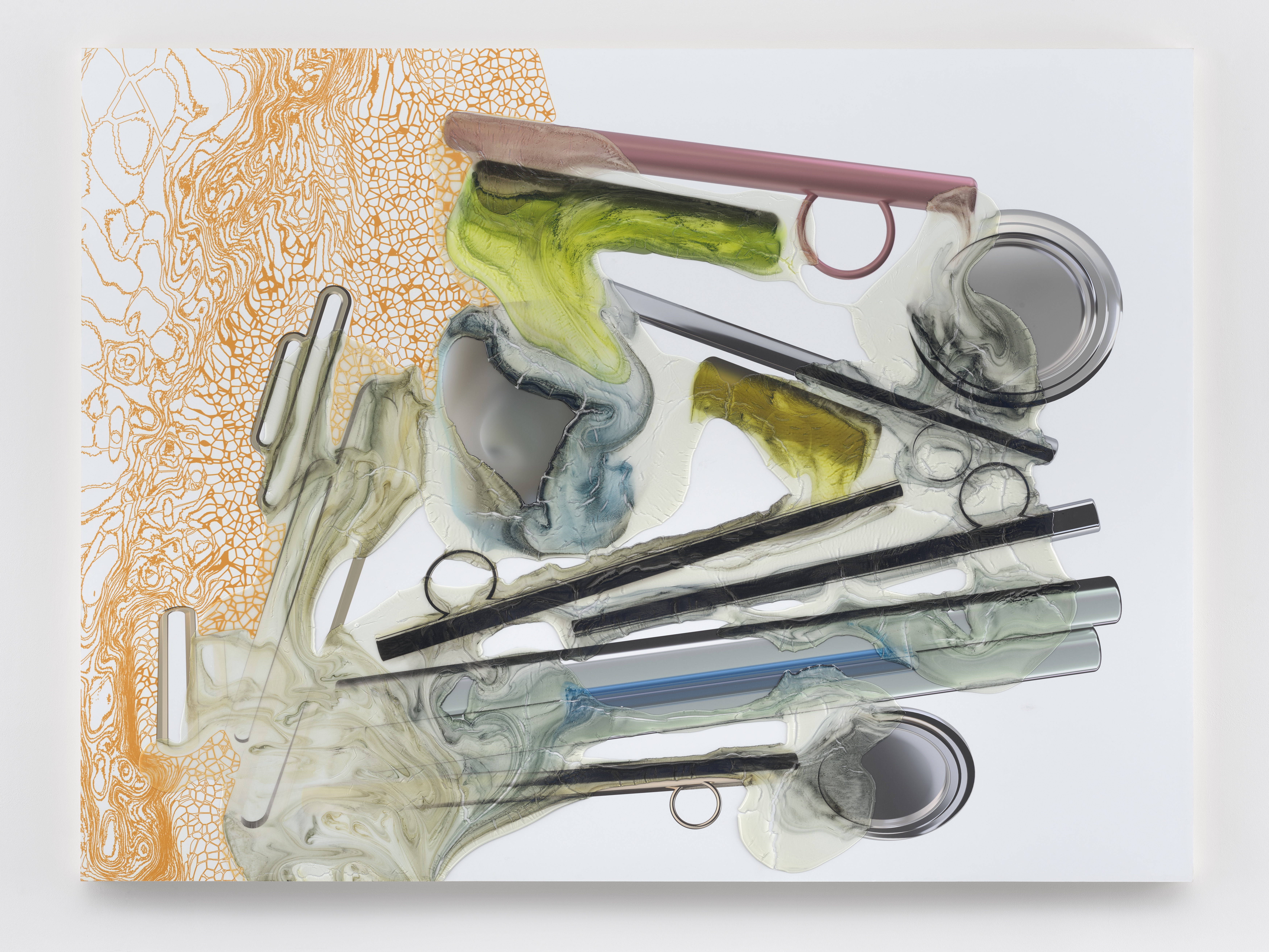 GARAGE: How did you first come to working in this method?
SP: Well, I know I was interested in images with maximum data, large images with maximum data. That's something we don't often see. We see large images all the time that look like garbage when you move up close to them, like billboards. We're surrounded by low-res and nobody cares. Or, you can see super high-res, but it's usually quite small, like in a magazine. And I thought surely we could generate a large image with big data. I think I started working with skin because on the one hand, it's banal, we see it every day on our bodies, but on the other hand, it's totally charged. There's a lot there but, at the same time, it's kind of bland and generic, which makes it interesting as a problem to work with.
GARAGE: With this new Andy Warhol retrospective upon us, I'm thinking about how his work became gestural in this kind of manufactured way. He was imitating a commercially produced look early on in terms of in the screen prints, but in the later still lives and portraits, there's all this stage-y brush work going on across the surfaces. I wonder if you think about Warhol still?
SP: I'll tell you one thought I have about Warhol. It feels like after he started doing these bodies of work based on multiple iterations of the same theme—which is basically the logic of the print, although he got everyone to call it a painting—you can see at that period in art history, other artists, who are completely different, starting to work the same way. So, in the late '60s, Bruce Nauman, who also has a retrospective that just opened at MoMA, is doing like a show that's like a room full of teeny little different experiments. But like, by the late '80s, he's already working in series and groups of neons, for example, which are based around the same theme. And I just wonder if there was something that Warhol did to introduce to the artistic vocabulary of working in these serial bodies of work. That's straight off the top of the dome right now.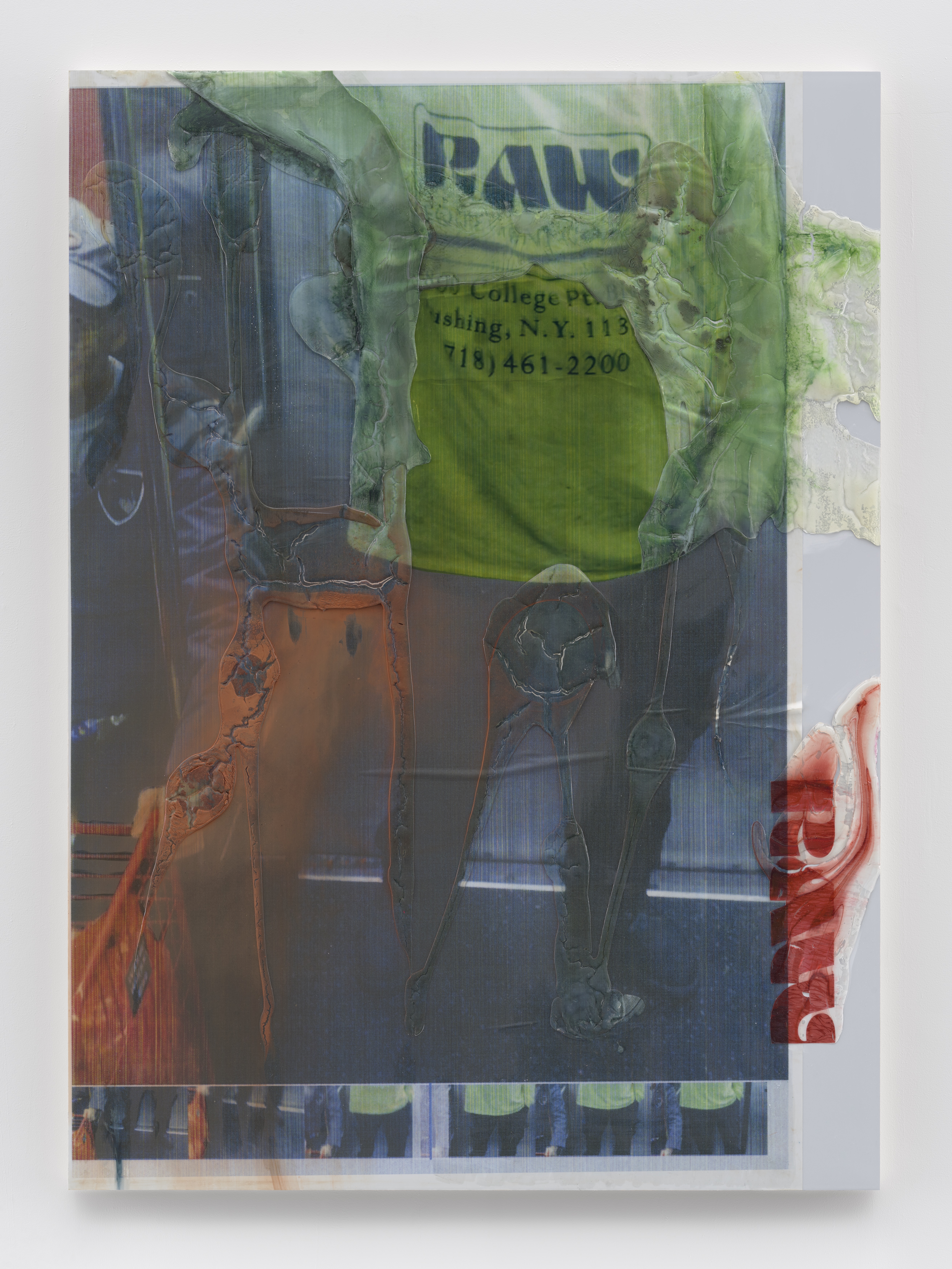 GARAGE: The Warhol show at the Whitney was introduced as chronological, per the curator's opening remarks at the preview, but the layout is actually a little messier and out of order. I felt like I was given a false bill of goods, but that's fine.
SP: I like a false bill of goods. There's a little framed, black and white pen and ink drawing in the front of my show from 1993, which I thought would be cool to put into a new show.
GARAGE: Is it for sale?
SP: Heck no.
CORRECTION: The little drawing from 1993 didn't end up in the final exhibition, but that's fine.
Seth Price: Hell Has Everything opens tonight at Petzel on 456 W 18th Street and is on view through January 5, 2019.