Photograph by Scott Gries for Getty Images.
From McQueen to McDonald's, a History of Low-Rise Jeans
GARAGE brings you a cheeky history of the jean that championed bum cleavage. How did this kick-ass denim hit rock bottom?
Photograph by Scott Gries for Getty Images.
1993: While the hip-bone-grazing jean has its aesthetic precedents in rock 'n' roll icons like Jim Morrison and Mick Jagger, the modern craze for low-rise denim begins with Alexander McQueen. In his first collection after graduating from Central Saint Martins, titled Taxi Driver, McQueen allegedly debuts the Bumster jean—but the collection is never fully photographed, and much of it is lost.
1994: In Nihilism, a blood-and-dirt-spattered collection of revealing garments that epitomized what McQueen called "anti-romanticism," the Bumster pants make their documented runway debut. The pant rise is just three inches, often exposing "bum cleavage." In one look, the trousers are slashed down the back of the leg from butt to heel. It is rumored that McQueen was inspired by the classic plumber's crack, but in 1996 he tells the Guardian that his iconic garment was about flattery and sensuality: "I wanted to elongate the body, not just show the bum. To me, that part of the body—not so much the buttocks, but the bottom of the spine—that's the most erotic part of anyone's body, man or woman."
1994: Madonna wears a pair of McQueen Bumster jeans in an advertisement for MTV, introducing them into the pop-culture mainstream.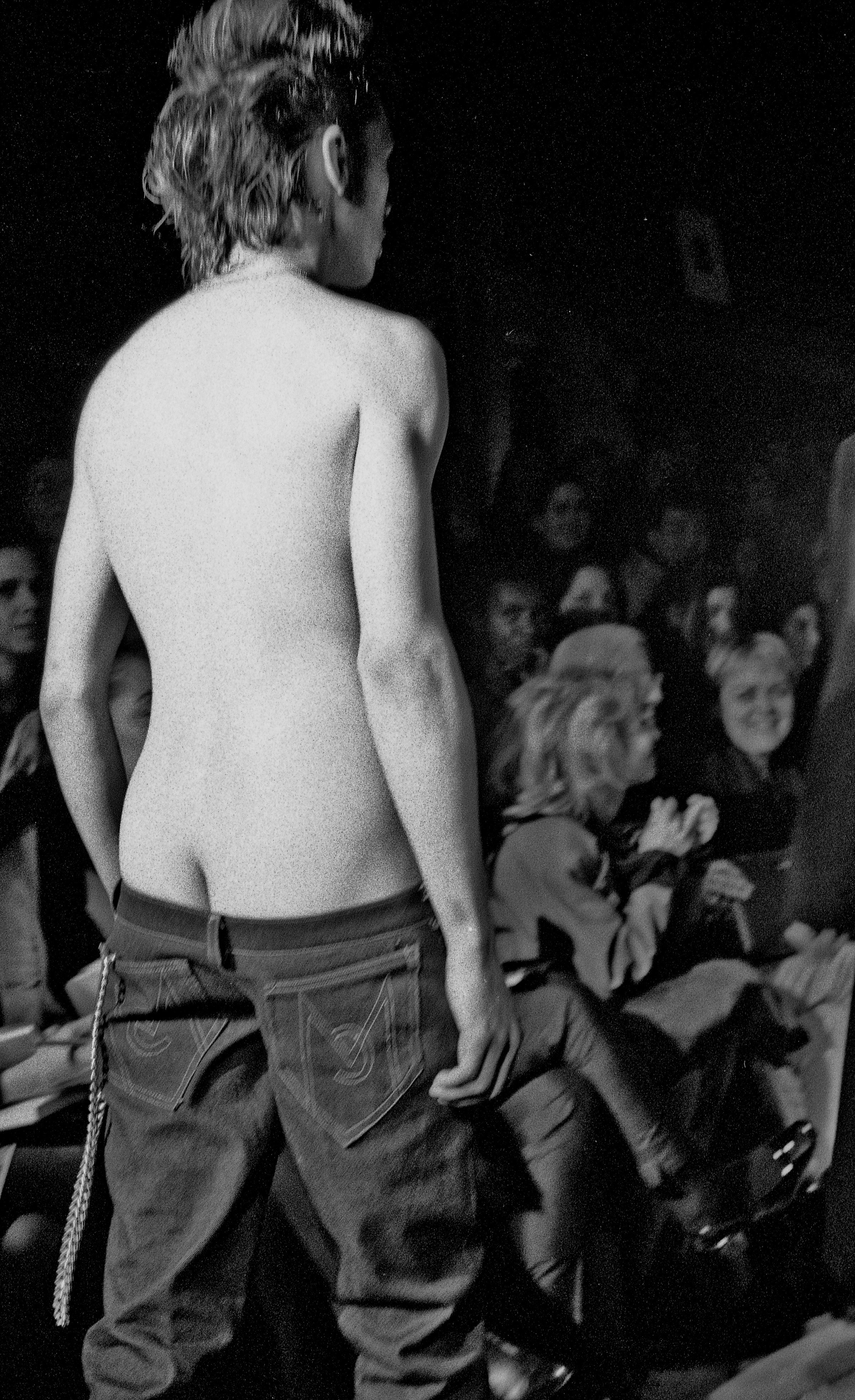 1998: Helmut Lang moves his show from Paris to New York and kicks off the premium-denim craze by charging more than $200 for his bum-grazing pants.
1998: The low-rise pant permeates R&B and hip-hop, which has a parallel sartorial history of sagging, or wearing pants slung low to reveal underwear (often designer, often Calvin Klein). In the video for "Are You That Somebody?," Aaliyah wears a pair of oversized nylon pants yanked low and layered over a metallic undergarment. Lil' Kim attends a book party for David LaChapelle in an asymmetric—or shall we say, one-legged — pair of lavender trousers with an itty-bitty rise. For its spring/summer 1998 collection, Gucci shows low-rise skirts with visible thong lines.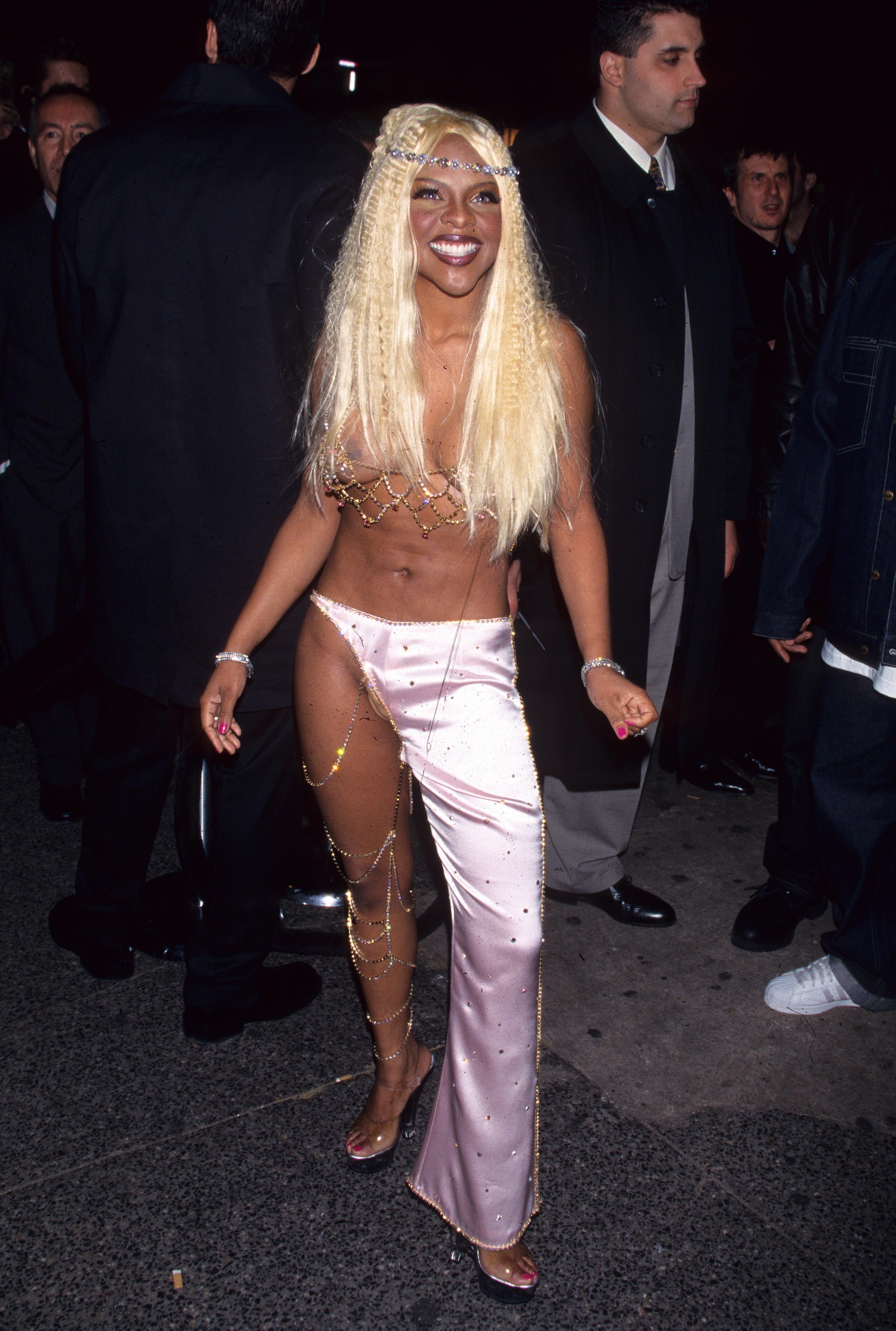 1999: In the video for "Heartbreaker," Mariah Carey wears a pair of classic blue jeans with the waistband cut off, rendering their rise super-low. Sisqo releases "Thong Song," a celebration of the underwear low-rise jeans occasionally reveal. Jennifer Lopez is another ambassador for the style, flaunting her hip bones in performances and on red carpets.
2000: The low-rise pant is worn on red carpets and in music videos by Lopez, Beyoncé, Pink, and Britney Spears, usually paired with an athleisure-influenced top in a costume-like ensemble. Mass mall brands, particularly Abercrombie & Fitch, add low-rise jeans to their racks. One of the first premium-denim lines of the new millennium, 7 For All Mankind launches in California and soon makes low-rise, boot-cut jeans a must-have masstige item.
2001: Spears makes the low-rise pant's elongated, exposed abdomen look iconic when she performs "I'm a Slave 4 U" at the MTV Video Music Awards in hot pants that reveal sculpted muscles and hip bones, plus bralette top (and a python). Beyoncé appears in MTV's Carmen: A Hip-Hopera in a casual denim look with certified "bum cleavage." Knockoffs of Beyoncé's jeans are available at Wet Seal. Spears regularly appears in public in low-rise jeans, her thong often visible. The look—sometimes called the "whale tail"—permeates high-street fashion, though it is often difficult to discern whether the thong's visibility is by accident or design.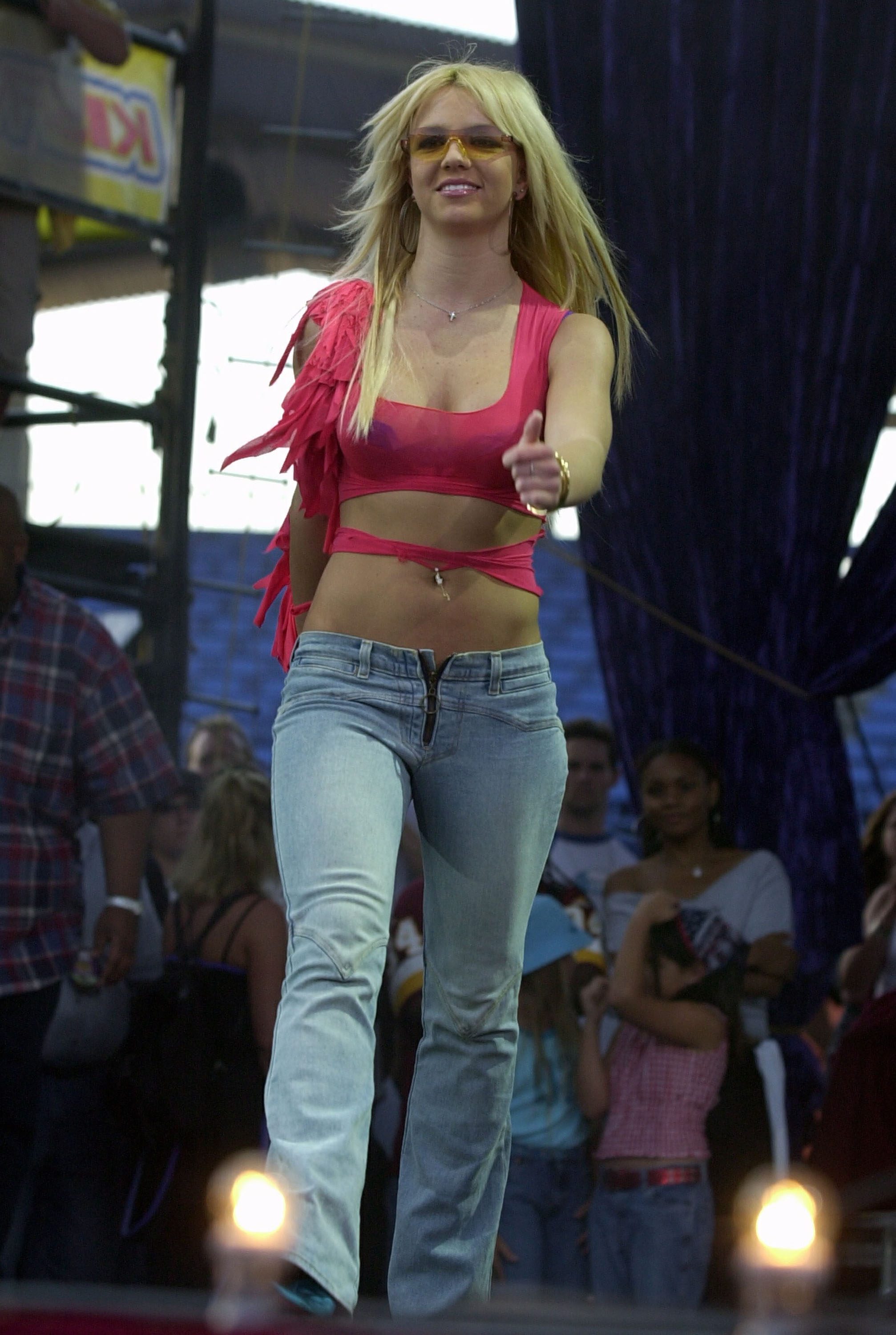 2002: Paris Hilton transcends her New York–based celebrity to become a national It girl, appearing on red carpets and in paparazzi photos in low-rise premium denim and, more often, Juicy Couture sweatpants yanked low. Christina Aguilera "rebrands" her soulful diva image with the lubricious "Dirrty," layering chaps over boy shorts and low-rise pants over thongs in the music video.
2003: Actresses jump on the bandwagon: Keira Knightley wears low-rise jeans to the premiere of Pirates of the Caribbean, while Lindsay Lohan favors low-rise, boot-cut jeans for many red-carpet appearances. The term "muffin top"—the roll of flesh that spills over low-rise pants when one doesn't have Beyoncé- or Britney-caliber abs—is submitted to Pseudodictionary.com.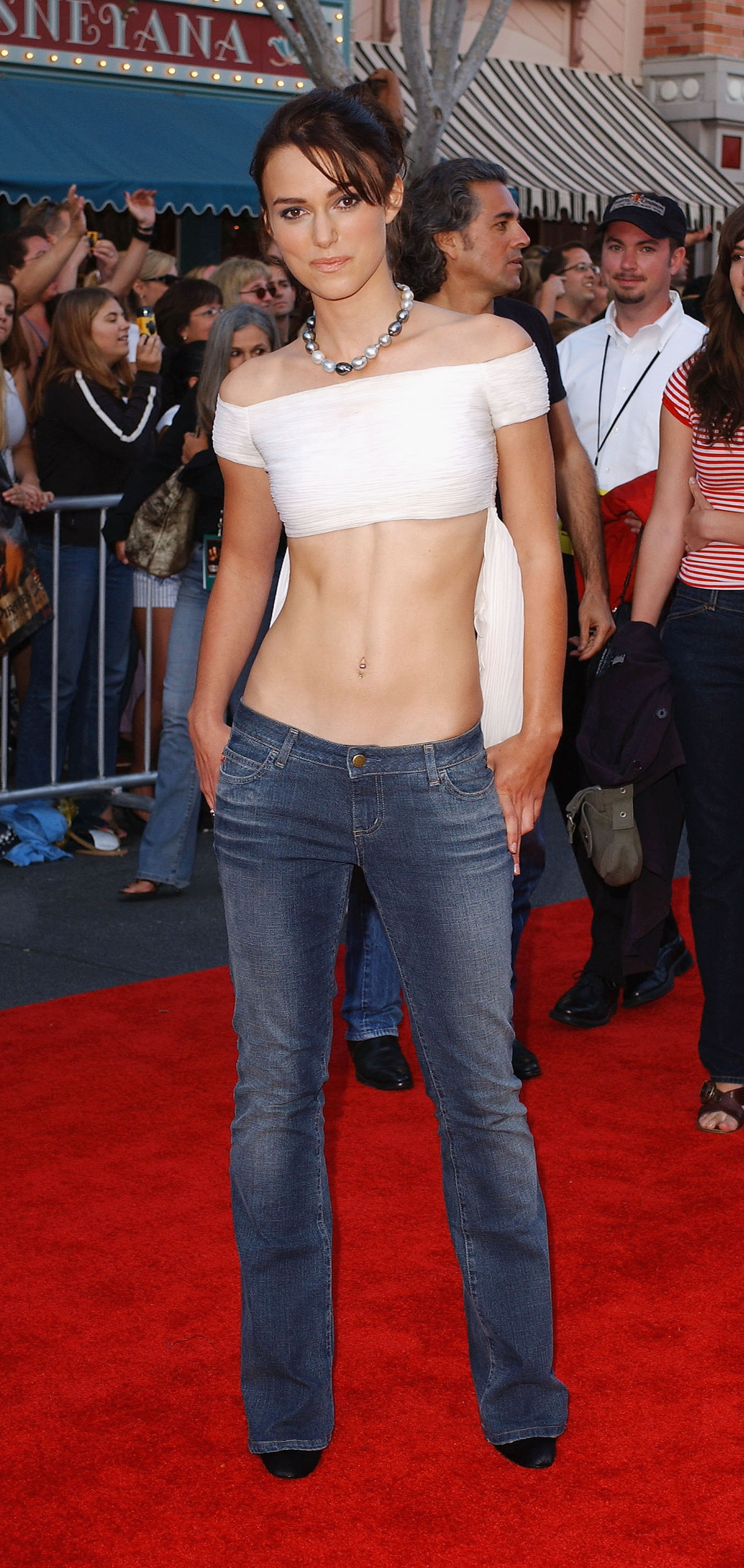 2004: The New York Times reports that the thong "may have reached its tipping point," but celebrities continue to wear low-rise jeans, which sometimes come with laces or other salacious fastenings that further reveal the abs and hips.
2005: The New York Daily News runs a story on the preponderance of unflattering low-rise jeans among average New Yorkers with the headline "Muffin-Top Mayhem!"
2006: Kate Hudson appears on TRL in what has become a signature pairing: a belly-baring vest over low-rise jeans that are often both boot-cut and distressed.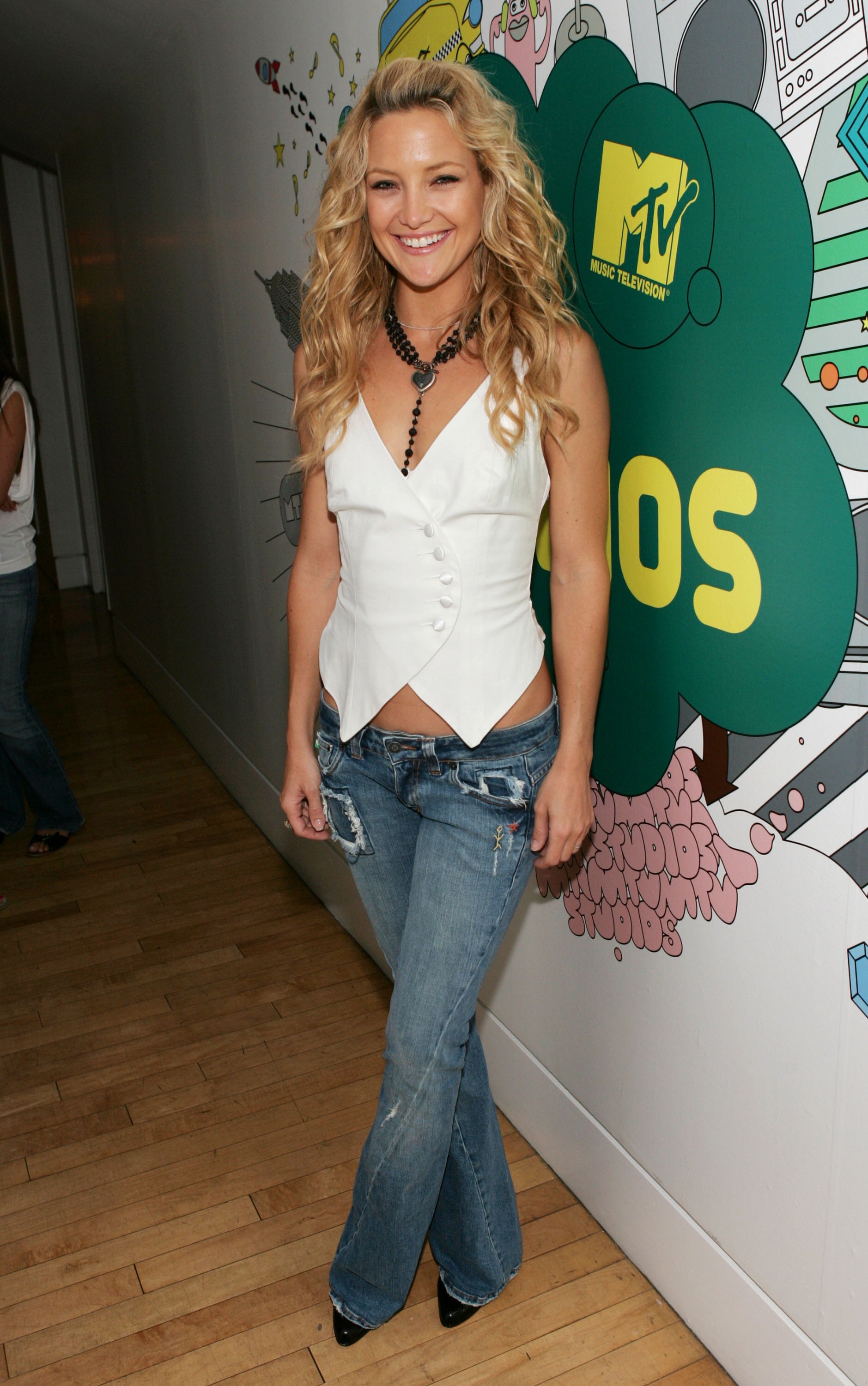 2007: Spears, mounting a comeback after an infamous episode in which she attacked a too-eager paparazzo with an umbrella, appears in her lowest-rise jeans yet, leading the Daily Mail to ask: "How low will Britney's jeans go?"
2008: The last gasp of the visible-thong trend appears on a pair of low-rise jeans that come with their own built-in bikini bottom. "In the long and varied history of fashion faux pas," writes the Daily Mail, "this may be the worst." By this time, the introduction of the skinny jean—which quickly descends from Hedi Slimane's Dior Homme runways to premium denim lines and mass-market retailers—and the "jegging," plus fatigue from the many stars who propagated the low-rise trend, have shifted the focus in denim from butt cleavage to comfort and rebellion against boot-cut saturation. The ascendance of Katie Holmes as an A-list celebrity, due to her new leading role as Mrs. Tom Cruise, puts the boyfriend jean back in the picture. The rise of the waist marks the fall of the Bumster for good—but, of course, no trend disappears forever.
A version of this story first appeared in GARAGE No. 14, available to buy here.