The Whistlers, Tip Toland, 2005. Image courtesy of the Met Breuer.
The 6 Most Provocative Pairings at the Met Breuer's New Sculpture Show
"Life Like," the Met Breuer's new show of realistic sculptures of the human body, is exceptional, but it shows a bias towards Western accounts of art history.
The Whistlers, Tip Toland, 2005. Image courtesy of the Met Breuer.
In evaluating great sculpture, Western art history has favored depictions of the human body that are monochromatic, stylized, and reflect a flawless Platonic ideal. However, Like Life: Sculpture, Color, and the Body (1300–Now), a new exhibition at the Met Breuer, attempts to unseat this orthodoxy by looking at sculptures that adopt a more lifelike depiction of humans, within Western traditions. Organized thematically rather than chronologically, the exhibition spans two of the museum's floors and provides a rare, slightly discomfiting opportunity to survey this history in context. Below are a few of our favorite juxtapositions.
René Magritte + John Gibson
Despite its overall aversion to chronology, the exhibition starts with a section called "The Presumption of White," challenging the image of nude, white marble sculptures that might be familiar to museum-goers. Wall texts note its historical inaccuracy (ancient marbles were often painted vibrant colors), and some subversive gems include the juxtaposition of René Magritte's Les Menottes de cuivre (1936) with John Gibson's The Tinted Venus (c. 1851-56). The former is a small plaster reproduction of the Greek Venus de Milo, which Magritte has embellished with oil paint coloring the model's body to resemble a tanned Mediterranean peach, her drapery a deep royal blue, while the head remains plaster white. Behind her towers Gibson's Venus. Her painted face and wax coated flesh caused quite the stir in the mid-19th century, with critics claiming that Gibson's sincere endeavor to revive the ancient practice of painted marbles had instead transformed the celebrated goddess into "a naked, impudent Englishwoman."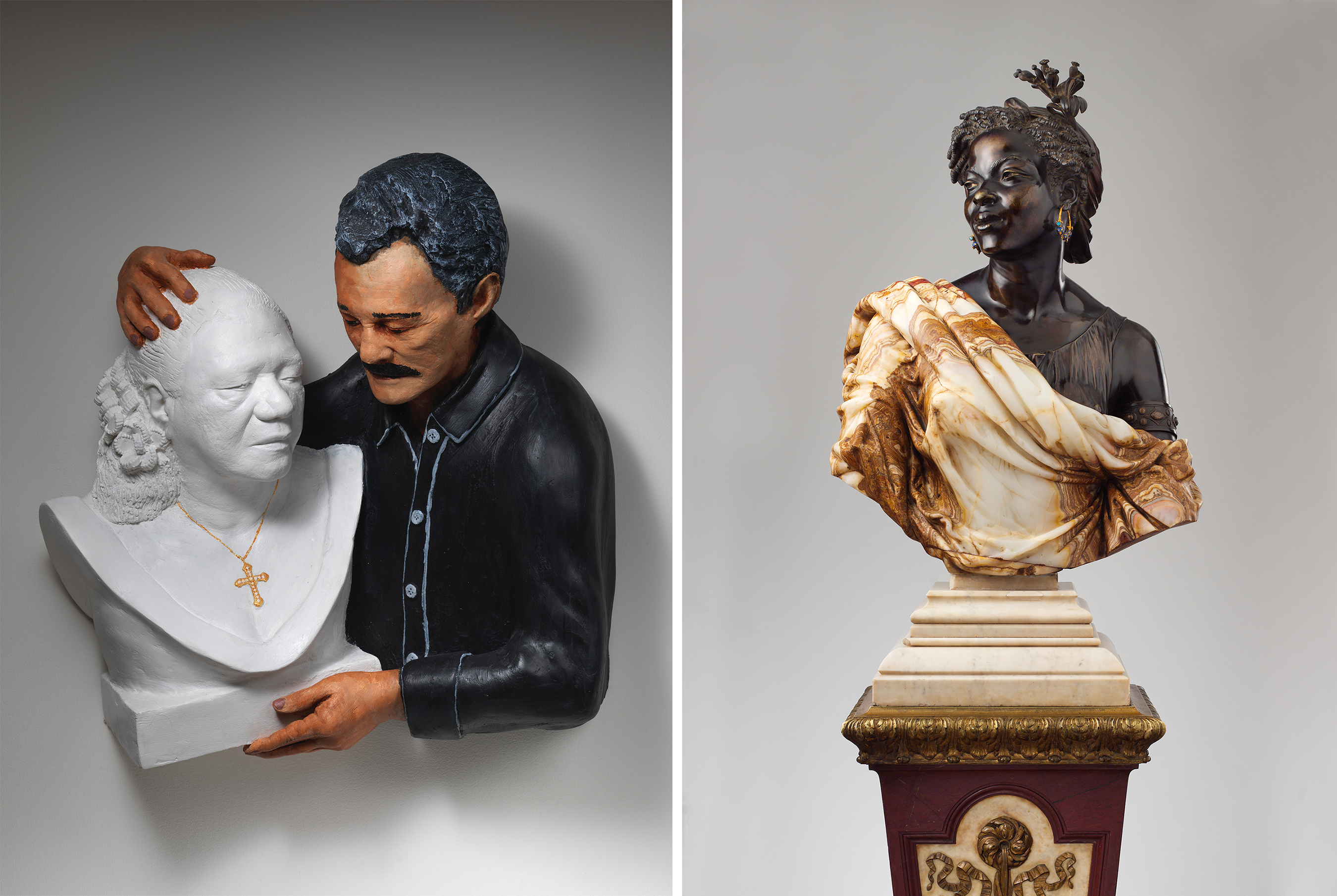 Charles-Henri-Joseph Cordier + Rigoberto Torres
This fraught combination pairs Cordier's elaborate and luxurious busts of idealized African women from the mid-19th century with Torres's intimate portrayals of workers at a New York statuary factory. Cordier's bronze and marble sculptures were supposed to be representations of generalized African women that challenged the European beauty norms of the time, but unfortunately, their creation for a faux-scientific French ethnographic museum only reinforce the racist essentialism of the colonial gaze. Across from them, Torres's two wall-mounted sculptures offer a contrast. The works depict Hispanic males: the first, Shorty, in a stereotypical singlet, sweat band, and mustache; the second, Raul, is the factory owner in a black button-down. Both men are holding white plaster busts, the former at work refining the mass-produced Catholic idol of the virgin, the latter clutching a bust of Puerto Rican icon Ruth Fernández. Though the duo can be read with irony, their grouping with Cordier elicits deeper questions of representation.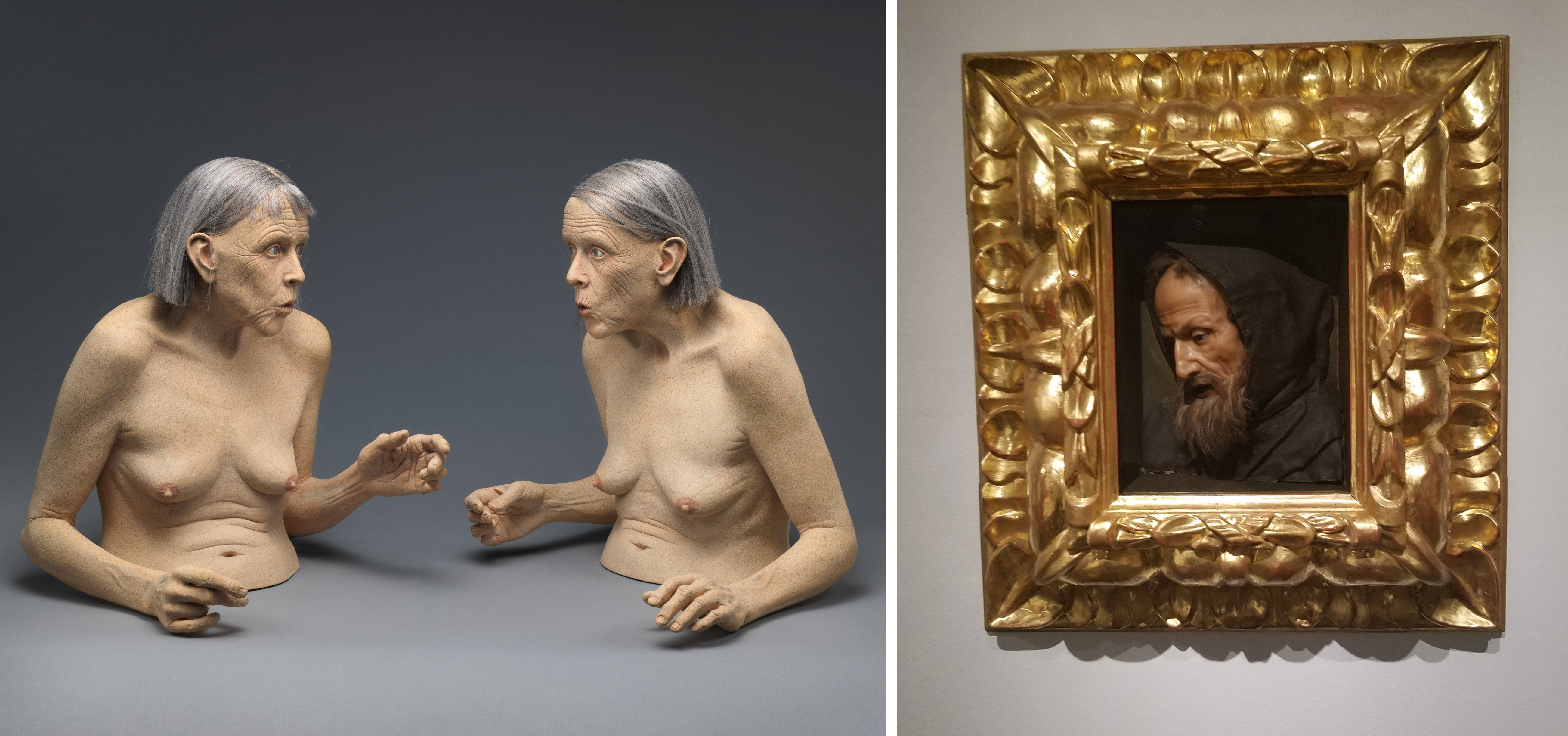 Tip Toland + Angelo Piò
Tip Toland's semi-autobiographical stoneware sculpture of two twinned women in the process of whistling is transfixing. The elderly and nude women are rendered empathetically, in aching detail: wrinkles, sagging breasts, grey hair, liver spots and all. Behind them and to the right, surrounded by an ornate gilded frame, is the 18th-century Portrait of a Monk by Angelo Piò. Composed of wax, human hair, and glass eyes, the figure is set deep within a shadowbox frame. He's looking downward in contemplation, his brow furrowed and mouth slightly agape. Together, the works emphasize the vulnerability of aging, and through their tender renderings, elicit sympathy from their viewers.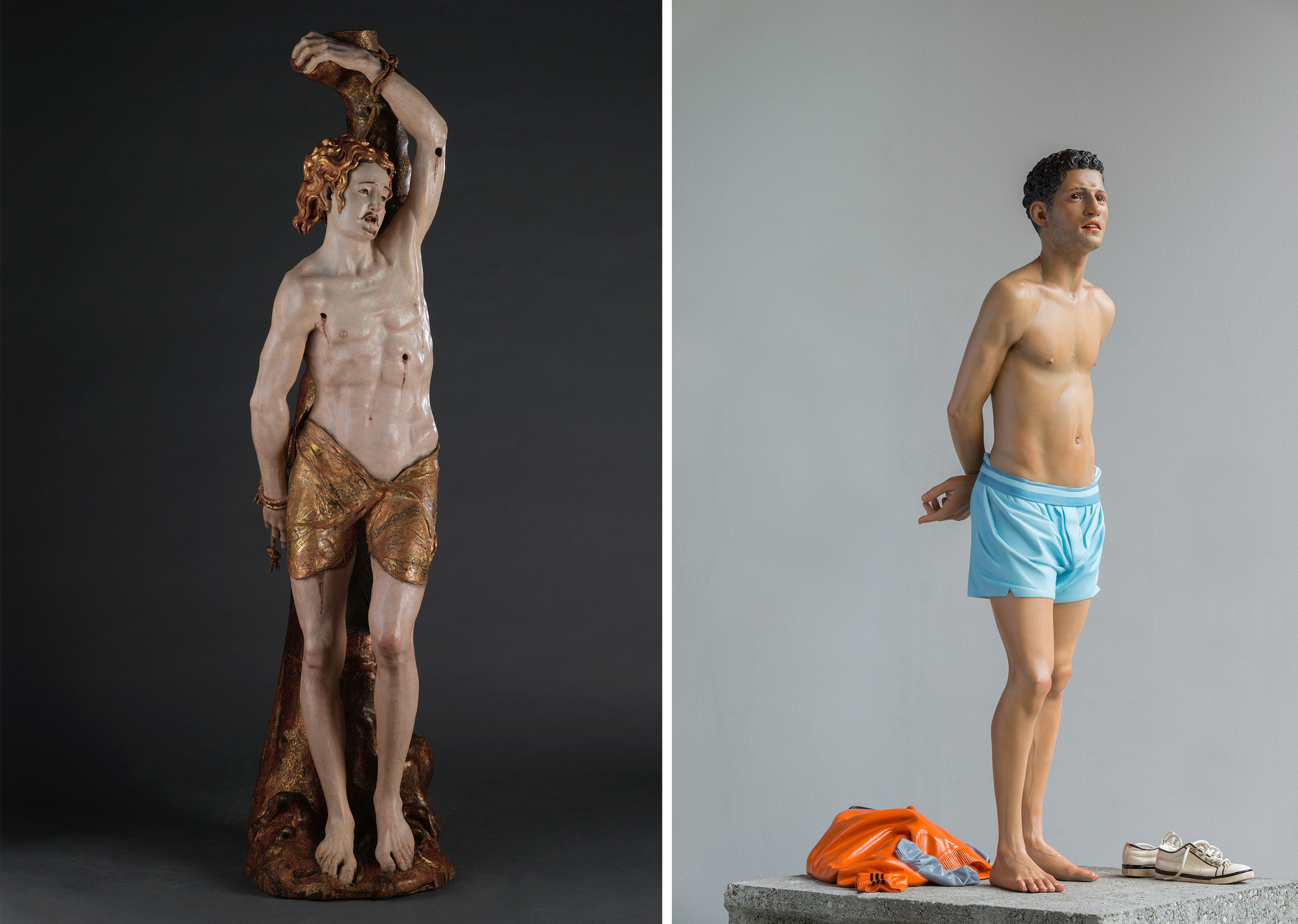 Reza Aramesh + Alonso Bergueute + Nancy Grossman
One of the most provocative groupings in the exhibition: Bergueute's salacious 16th-century sculpture of Saint Sebastian with Aramesh's depiction of a Palestinian male youth, stripped at a checkpoint by an Israeli soldier, and Grossman's robust, leather-bound Male Figure. Both Gergueute and Grossman, albeit across centuries, directly reference prior works by Michelangelo. While all three draw upon a classical Western tropes in their depiction, they also highlight a particular kind of sexualized, defenseless male beauty often at kept to the fringes of mainstream representation.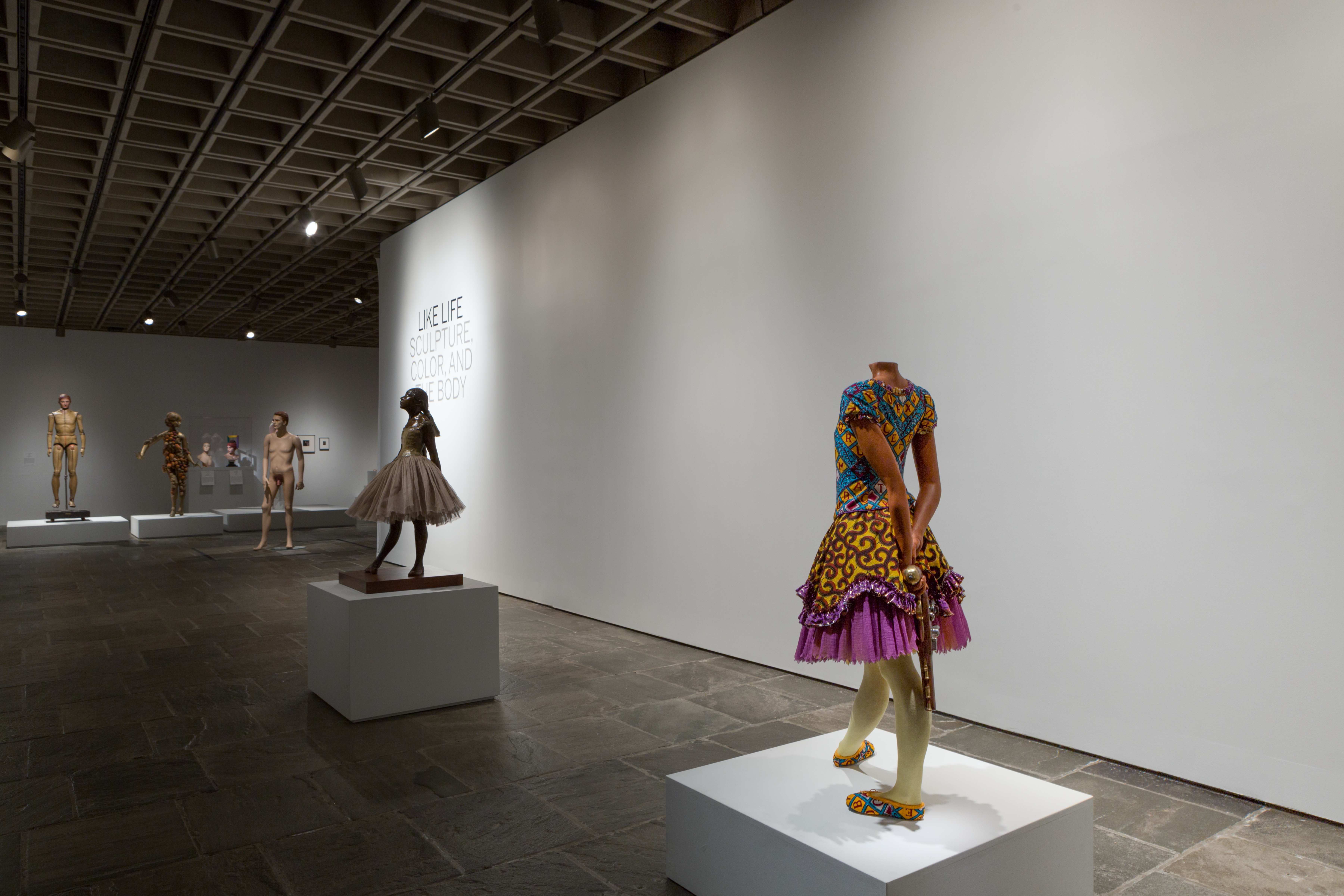 Edgar Degas + Yinka Shonibare MBE
Entering the second part of the exhibition, one is confronted with Degas's The Little Fourteen-Year-Old Dancer, a bronze statuette. When presented in its original wax form with a real tutu and human-haired wig at the 1881 Impressionist exhibition, it appalled critics and observers with its offensive material realism. Adjacent is Shonibare's Girl Ballerina, a near facsimile of Degas'. His dancer, however, is headless and clad in the Dutch wax-printed imitation batik that has become a characteristic marker of West African identity. Tellingly, she holds a dueling pistol behind her back, expressing a larger anti-colonial critique.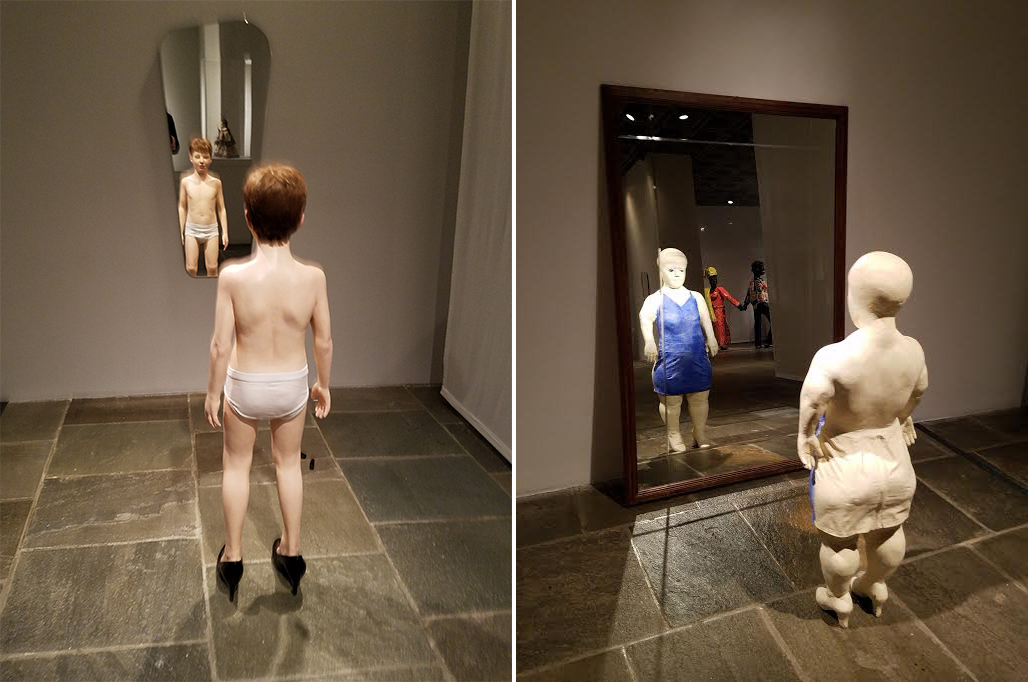 Elmgreen & Dragset + Juan Muñoz
One of the more discomfiting groupings draws attention to the viewer's voyeuristic gaze by presenting figures deep in private introspection. Elmgreen & Dragset's The Experiment shows a young boy in skin-tight briefs staring into a mirror, trying on a woman's high heels and lipstick. The viewer experiences the shock of encroachment on a private moment as they encounter the child exploring their gender identity. Similarly, Juan Muñoz presents Sarah, a woman with dwarfism familiar to the artist, also gazing at her mirrored reflection and wearing a blue dress, its color only visible from the front. Otherwise, the sculpture is all white, and the mirrored blue dress and blue eyes create an uncanny reality, while also referencing the pictorial confusion of Velazquez's Las Meninas.
---
While any exhibition is a series of compromises, Like Life's greatest shortcoming is its prejudice against Non-European art of antiquity, which it has allowed to persist into the present. Though the exhibition has made efforts to include contemporary works by a diverse list of non-Western artists, all older works are of European provenance. This is by design, and made explicit in the museum's texts. The omission is not for a lack of available material: curators could have looked to The Body in Indian Art, a 2013 exhibition at the Palais des Beaux Arts, Brussels, to find South Asian examples of life-like sculpture, or even the Met's own Golden Kingdoms exhibition for indigenous American representations. Their corrective attempts in contemporary art makes the continued past exclusion all the more acute, undermining the endeavor of challenging the orthodoxy of how we interpret great sculpture. Though the overall exhibition is exceptionally provoking, perhaps it required a little more self-examination.
Tagged: