Issy Wood, JOAN CIRCA 2002, 2017. Tamares Group in collaboration with Zabludowicz Collection. Courtesy the artist, and Carlos/Ishikawa, London.
Issy Wood Talks Painting the Tragedy and Ambivalence Lurking in Luxury
A new installation at the Zabludowicz Collection takes cues from an unsung heroine of botanical illustration.
Issy Wood, JOAN CIRCA 2002, 2017. Tamares Group in collaboration with Zabludowicz Collection. Courtesy the artist, and Carlos/Ishikawa, London.
A haunting malaise permeates the artist Issy Wood's work. She often paints strange, sphinx-like women with heavily lidded eyes; long, sharp fingernails; or intricate, curling hair. Then there are her renderings of dogs, interiors, objects, and ornaments—from leather coats, lustrous tureens, and glass teapots to flip phones, plush red car seats, or jewelry—usually cropped and isolated in darkness, as if slowly fading into obscurity.
Painting with oils, and occasionally on velvet rather than canvas, there is a seductive artificiality to the work. The artist jokes that she is a "medieval Millennial", reveling in the timelessness afforded by the classical associations of painting while embedding small clues and allusions to her identity and more contemporary interests.
A few of her pieces are currently on view as part of House of the Sleeping Beauties at Sotheby's S2 in London, and a newly commissioned floor piece comprised of 1,000 hand-painted tiles—in addition to a series of paintings of her constant muse: Joan Rivers—will be shown at the Zabludowicz Collection's London space as part of the exhibition World Receivers opening on March 21.
What draws you towards certain images for your source materials? They range from antique to the contemporary; some are lifted from auction catalogues while others are drawn from that photos you've taken yourself.
You say "lifting" images—a gentle art-synonym for stealing—but I'm convinced the way I configure these otherwise alluring products and garments often lowers them, literally, in tone, or happily switches them from being an advert to an expression of perversion, in the way painting can do. I'm playing with time, too. I lay the foundations for something that hints at the early twentieth century and throw in a mobile phone or a manicure, as a sort of temporal gaslighting. Auction catalogues became a resource during my studies at Royal Academy Schools. Auctioned objects go from one private hand to another, only coming up for air during a sale, and often only appear there because of tragedy: somebody dies, gets divorced, an heir needs money; they can't drain their savings on insured storage or be reminded of their parent/spouse/friend via a Fabergé egg or a set of silverware. Centuries of heritage and ulterior motives are boiled down into a transaction. It made me think about my own family's hypothetical afternoon sale—our emotional provenance, one might say—and I turned to the objects belonging to my maternal grandmother: her taste (possibly being passed down through genetics), her tureens, her silverware, the hideous watch she held onto out of familial duty.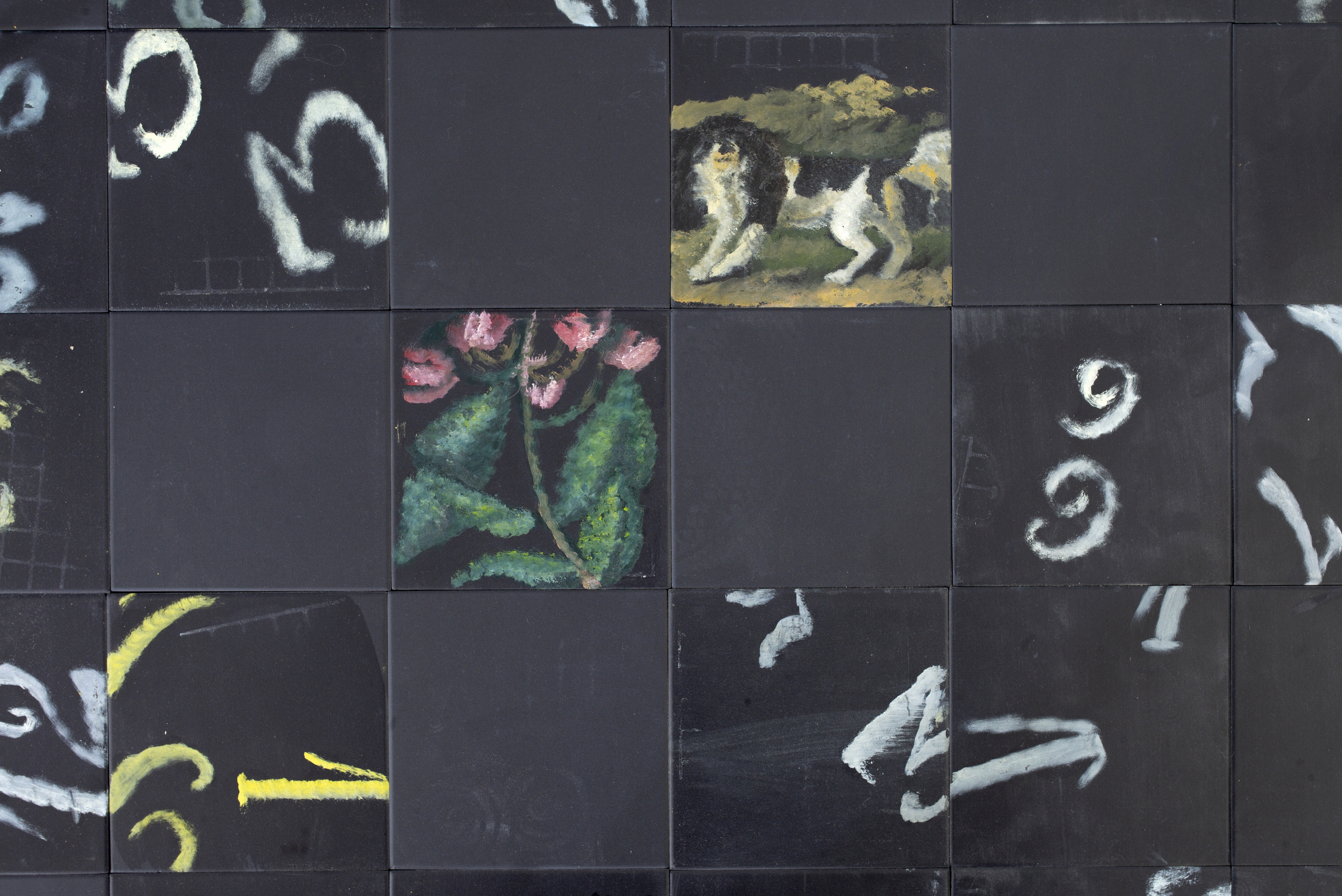 Could you talk about the feeling of melancholy or failed glamour that pervades your work? How might that connect with your paintings of Joan Rivers, and what fascinates you about her?
I'd say it is angst. Melancholy is too endearing. Joan Rivers's pre-surgery self looked enough like my mother that I was able to act on a desire to paint my mother's portrait through painting Rivers instead, without having to address the Freudian practicalities of it all. Through studying Joan, she became an accidental placeholder for issues I'd been working through in my writing for years: humor-as-defense-mechanism, eating disorders, tragedy via luxury, suicide via jewelry, body dysmorphic disorder, extreme plastic surgery, unfettered self-hatred, workaholism, and a skewed view of feminism.
You have hand painted over 1,000 floor tiles for your commission in World Receivers. What inspired this work?
The tiles are my second attempt at paying tribute to an incredible and underexposed spot in Kew Gardens: the Marianne North Gallery. North was a nineteenth century heiress who went on a kind of extended, botanical-focused gap year when her rich landowner father died. She traveled across the world in full corset and bustle to paint flowers and plants, balancing her easel on some treacherous ridge in Borneo. After 13 years, she persuaded Kew Gardens to install her paintings there in exchange for building their tiled gallery. This arrangement might now be the longest-running female solo show in history. I identify—over a century later—with this fatherless need to make a ton of paintings. I wanted to refer to North's horticultural imagery in some of my tiles, but the rest is free-styled, looking like something between a bathroom and a dance floor.
Issy Wood's latest work features in a new exhibition, World Receivers, which opens on March 21, 2019 at the Zabludowicz Collection in London.