Courtesy of Palomo Spain.
Palomo Spain Created a Queer Utopia On the FW19 Runway
"I wanted the cast to reflect the world in which I live," show director Marc Sebastian Faiella says.
Courtesy of Palomo Spain.
At 27, designer Alejandro Gómez Palomo is already something of a menswear vet, even having only shown four previous collections. And so at yesterday's show there was a palpable excitement akin to new blood for a NYFW:M in need of marquee names after mass departures from tentpoles like Tom Ford and Ralph Lauren, both of whom will show co-ed collections versus separate mens/womens. The American buzz around Palomo Spain's first cemented when Beyonce wore the brand to reveal the first photo of her twins in 2017, was re-upped by a front row that included Steven Klein, Susanne Bartsch and NYFW:M ambassador Billy Porter.
Just as striking as the celebrity supporters were the bodies they were fashioned upon: a wide array of nonconformist model "types," which for the most part bucked traditional runway archetypes of masculinity.
They were waifish; they were thin; they walked with flamboyance, at times coquettishness, adorned in ruff-inspired collars, silk-printed pajamas, opera gloves and sequined bodysuits.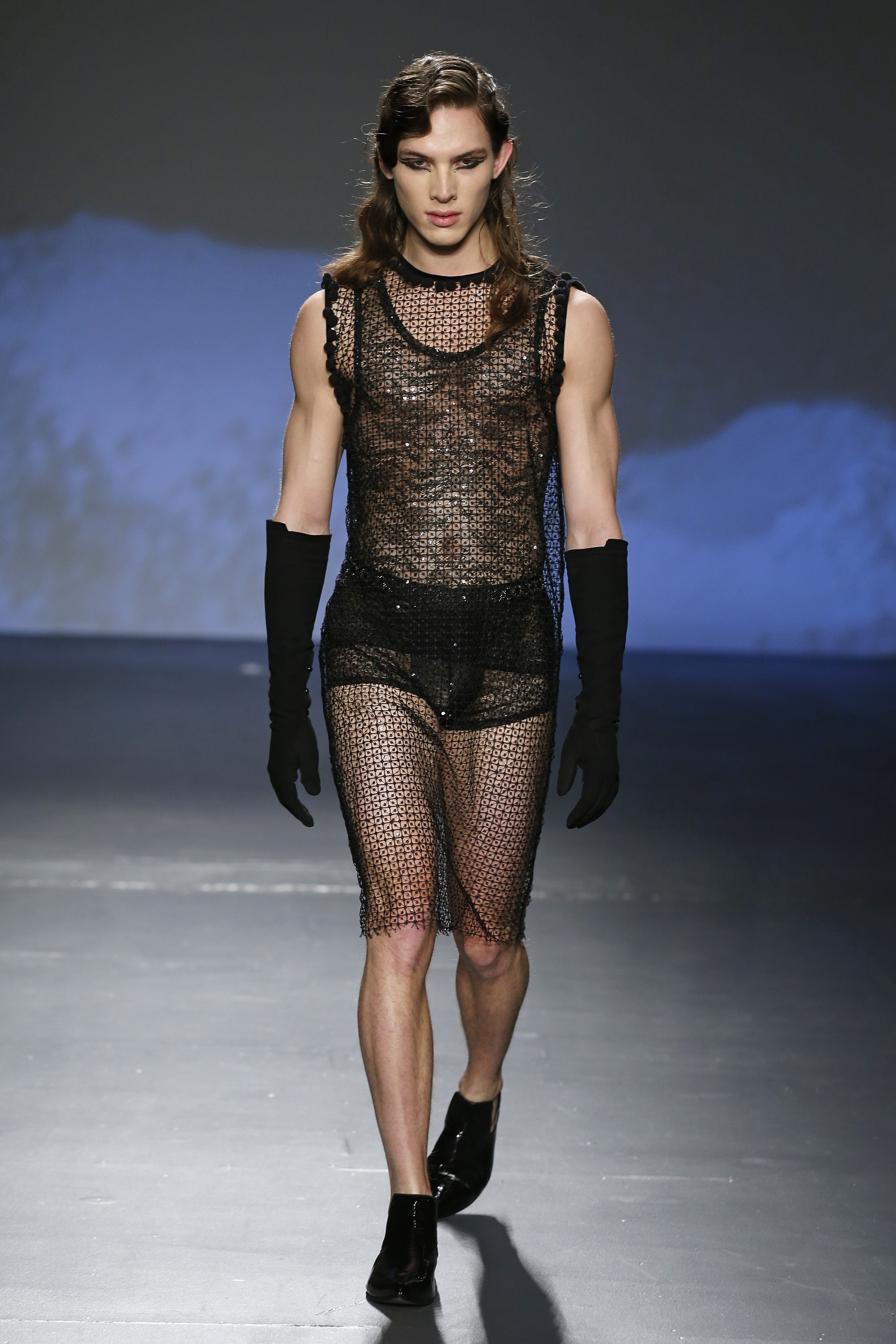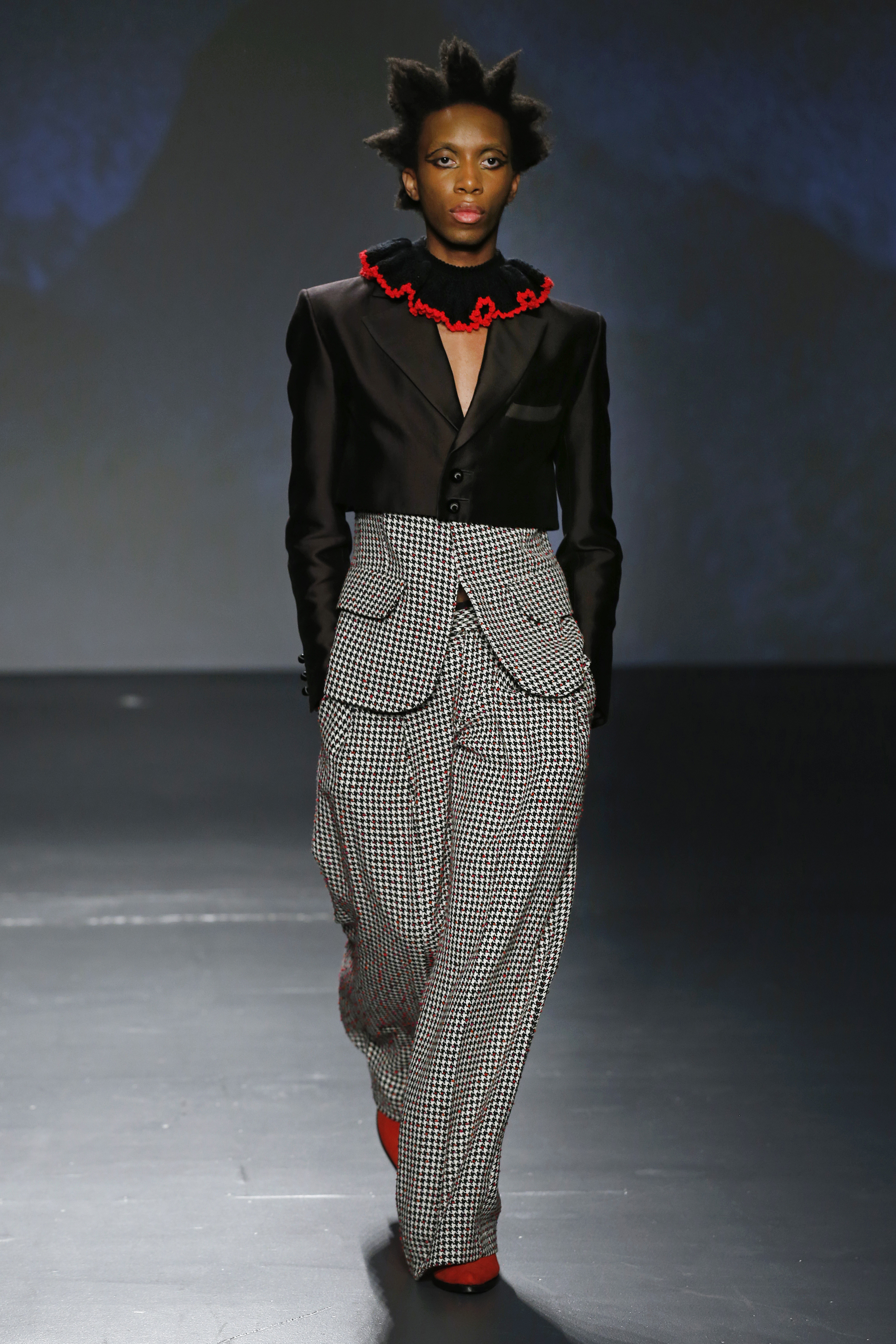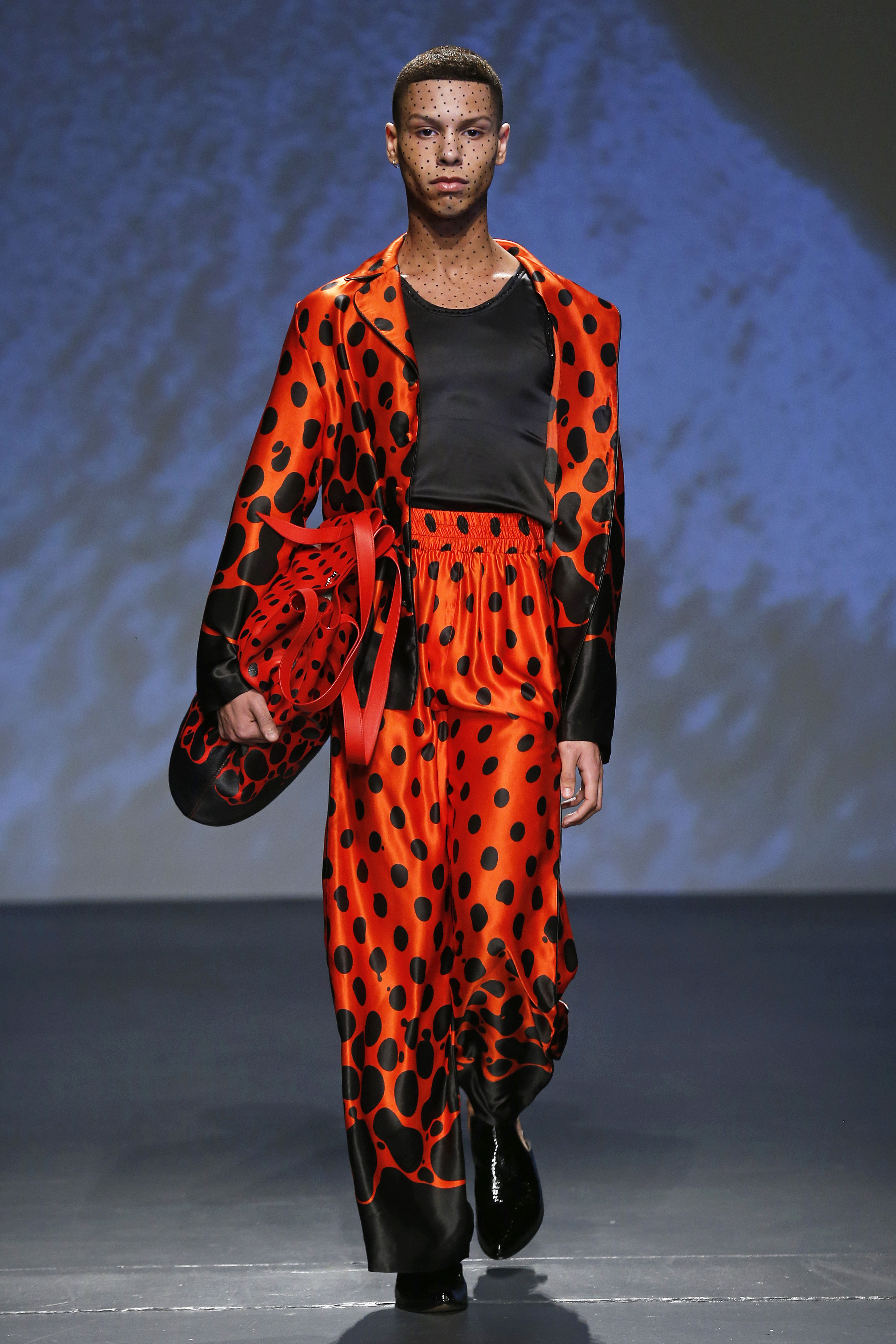 "Walking for Palomo was so unreal and unlike any experience I've ever had; I felt like I was just having a kiki with the girls," model Serena Tea, who uses they/them pronouns, said in an interview after the show. "I didn't feel like I had to be mindful of my mannerisms, making sure not to be too femme because that's what Palomo is all about. Working on a team that's mostly run by queer people is magical."
Among those queer people was Marc Sebastian Faiella, the official Show Director, whose friendship and working relationship with Alejandro dates back to Paloma Spain's first New York: Men's show in 2017. "I wanted the cast to reflect the world in which I live," Faiella says in an interview post-show. "I wanted the cast to be as diverse as possible, not just with people of color but with personality, gender expression, experience in modeling, etc. Models who had never walked a show and those who have walked tons."
What resulted was a cast comprised largely of queer/gender nonconforming models, something that was preferential, but not a mandate. "To be honest, I didn't seek exclusively queer models. Obviously I have a preference for my community but I will give anyone a shot. We had one model, Riccardo, a devastatingly attractive muscular boy, who asked us to put him in a dress because that's how he felt sexiest."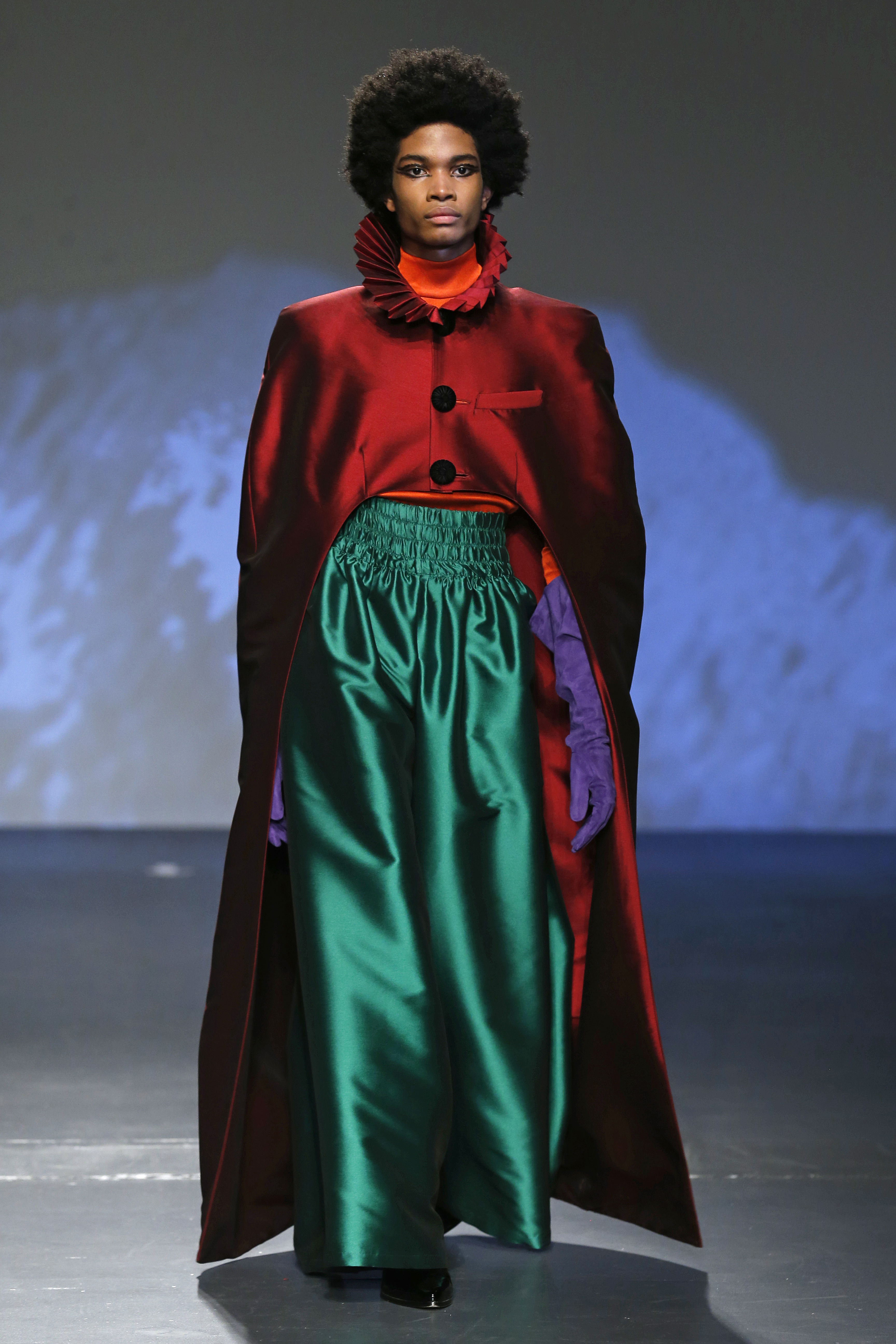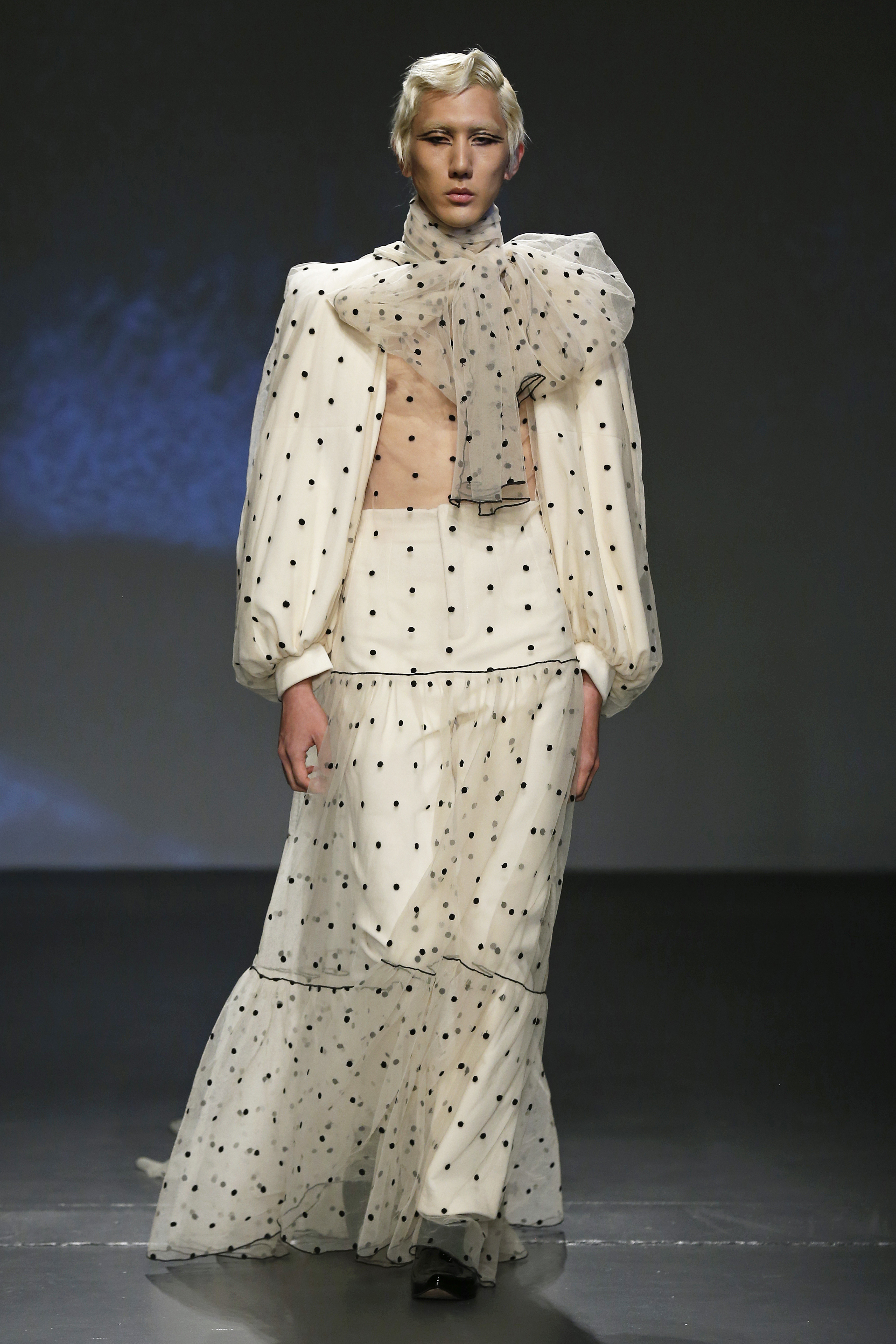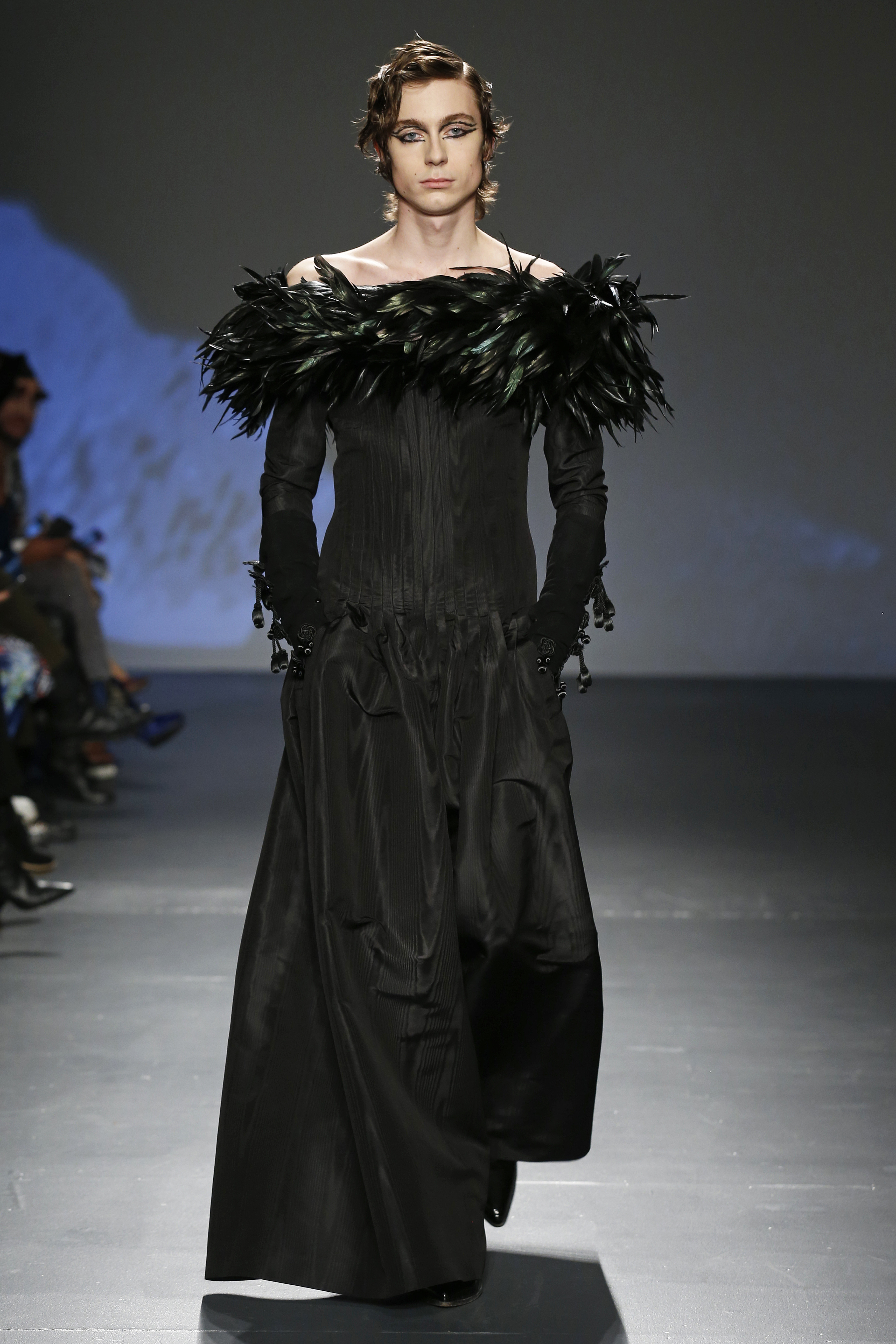 Beyond that, Faiella paid particular attention to model comfort, spending a small amount of time with each of the 150+ potential models. He and his team also asked models how they felt in the clothes. "If they didn't feel comfortable, sensual or like royalty in their look, we switched it until we saw that spark in their walk. It's really magic when that moment happens." Sensitivity was also key, he says, "making sure each model felt good from the moment they walked in to the moment they left, even if they didn't end up confirming the show."
Adding to the importance of comfort, a particularly sensitive subject for LGBTQ+ people who face greater risk of workplace harassment than their cisgender or heterosexual peers, was the atmosphere backstage. Faiella made sure to note everyone's preferred gender pronouns and created a separate zone for models to gets dressed where no backstage photographers were allowed.
It's this shared ethos of comfort and emphasis on unrepressed expression that sets Palomo apart not just on the runway, but as a leader in modern fashion. "Everything the team did was to make the models comfortable as they are the stars of the show," Faiella says. "They bring the clothes to life."
Tagged: