The spread at Mina's. Photo Flora Hanitijo
Meet The Chef Behind Your New Post-MoMA PS1 Warm Up Meal
Mina Stone, Urs Fischer's former private chef, wants to feed you Greek-Georgian food.
The spread at Mina's. Photo Flora Hanitijo
"Everything they say about opening a restaurant is true," remarks the chef Mina Stone while looking out over Mina's, her eponymous cafe at MoMA PS1. "It's like when you have a baby and you don't believe how hard it is until it's there. Lots of sleepless nights and long days."

Clad in a purple tie-dye sweatshirt, with her hair in a messy bun, Stone's enthusiasm for the space shines through. Mina's has been open for just about a month, and already as folks file in and out of the restaurant, several stop to say "Hi Mina!" Even in these early stages, it seems the restaurant has already found its groove.
I visited the cafe in the thick of a New York City cold snap at 4pm—a time where generally, most people are not eating. But Mina's was buzzing; beanie-clad hipsters discussed the museum's show over espresso, and new parents took photos of their babies against the seafoam green walls and furniture thrown into relief by a thin racing stripe of hot pink light that wraps around the seating area. Soul music floats through the space, and against the 14 degree weather, the restaurant felt nearly womb-like.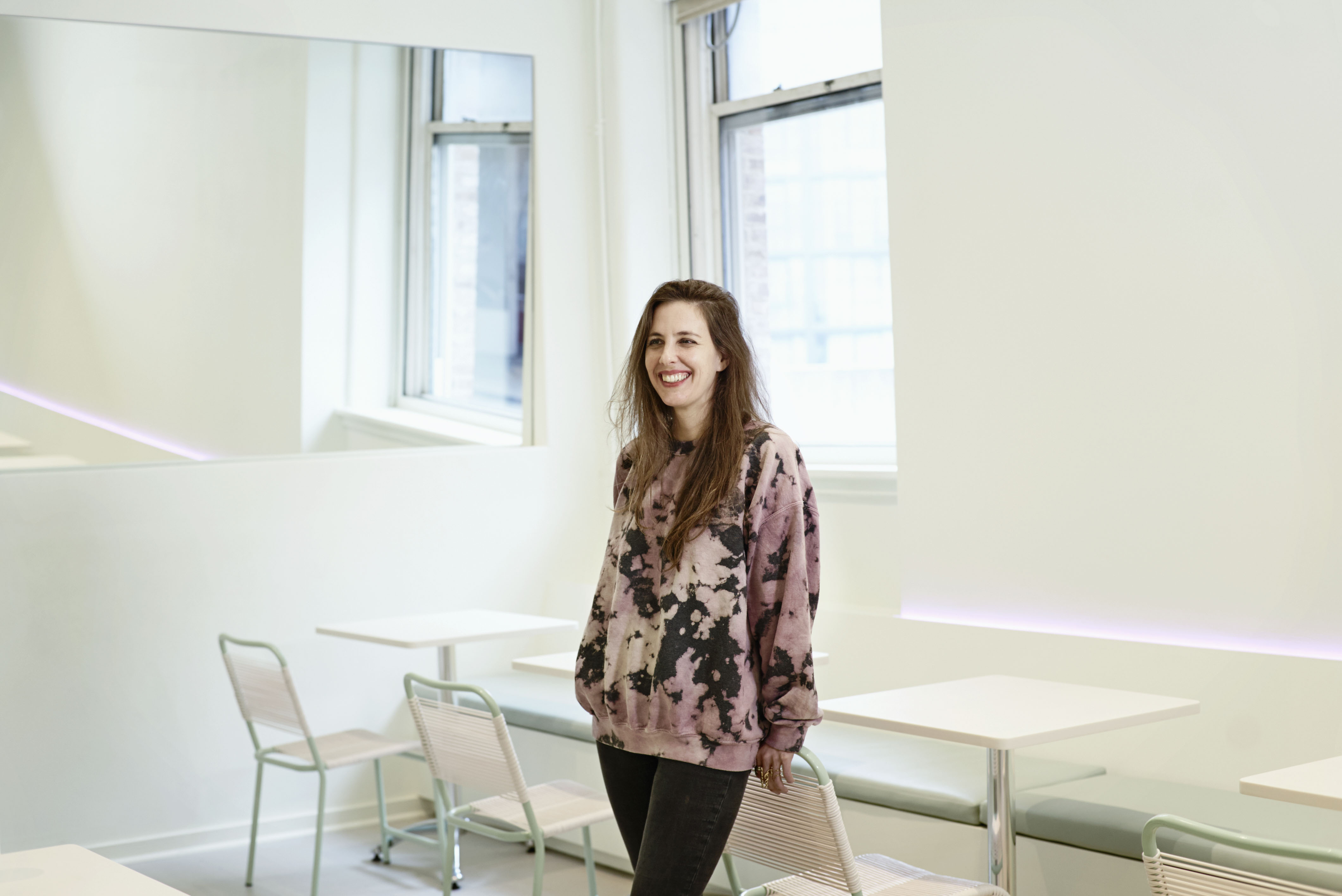 "I remember I came here for Mark Leckey's show. Even though I was super pregnant, I went to the dance party after," Stone gushes. Leckey's exhibit at PS1 was back in 2016, but Stone's history with the art world goes back about ten years before that, when she was a chef dreaming up dishes for the gallery dinners at Gavin Brown's Enterprise. She soon gained acclaim in art circles for her simple recipes that emphasized the freshness of ingredients.
During her time working with Gavin Brown she met Urs Fischer, who was on Brown's roster at the time. The two hit it off, and for the next decade, Stone worked as the private chef at his studio. Fischer once described Stone's work in the kitchen as "true masterpieces." He went on, "It's like eating your favorite work of art. Shortly after, it's all gone. Like a mirage." Her cookbook, Cooking For Artists, published in 2015, features a foreword from the artist, as well as illustrations from Darren Bader, Elizabeth Peyton (for whom she also worked as a private chef), and Matthew Barney, among others.
Stone is half Georgian-Greek, and the restaurant's menu, which includes traditional fare such as peinirli, a decadent egg and feta flatbread, is a reflection of her heritage. While walking me through the menu, she pointed out that one recipe was a slightly modified dish that her grandmother would prepare, and another was a high school friend's favorite recipe from the staple cookbook The Joy of Cooking, just tweaked. "The menu kind of acts as an oral history of my life thus far."

"A lot of young kids come to PS1, so we wanted the menu to be approachable," she explained. To start, Stone laid out five plates of a traditional Greek Mezzethaki; the fava and lentil dip was lighter than air, anchovies swam in lemon juice and drop-kicked my tastebuds awake with a briny jolt, and beet tzatziki popped in both its bright pink coloration and herbaceous, minty flavor. The rest of the menu is a bit more elaborate, but markedly less pretentious and less pricey than other museum restaurants—I think I was once charged about 14 dollars for a beer at the Whitney?—but at Mina's nothing on the menu extends above 25 dollars.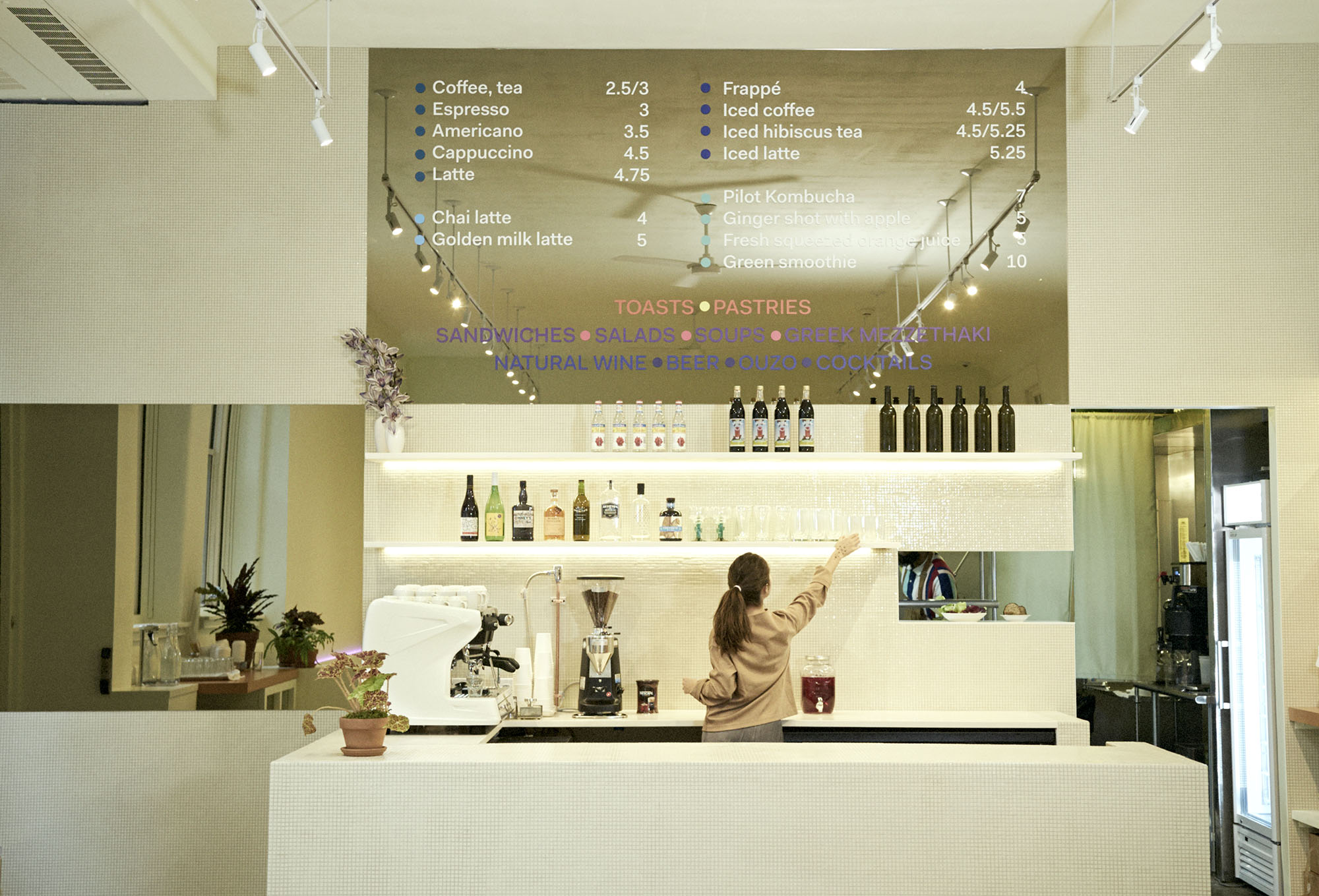 "I also want this to be a place where the museum staff will want to come to eat lunch, so I want their needs to be met." She recalls that while cooking in Fischer's studio, she would not only need to contend with different dietary needs such as vegetarianism and allergies, but also be prepared to serve dense, rich food for assistants who had, perhaps, had to lift a part of one of Fischer's often massive sculptures. "I'm applying a lot of that same approach here," she said.
Despite the stress that comes with running a restaurant, Stone still asserts that cooking for the art-inclined nourishes her. "I get to cook for people who want expression to be challenged. That affords me a lot of freedom." Her only qualm: "I just wish there was more time for me to be in the kitchen."
Tagged: