Divine as Dawn Davenport in Female Trouble
A Brief History of How Diane Arbus Inspired Divine's Dawn Davenport
Meanwhile, Divine is the inspiration for Loewe's new collaboration that benefits Visual AIDS and Baltimore Pride. (See what we did there?)
Divine as Dawn Davenport in Female Trouble
Of all the iconic silhouettes from film history, Divine's portrayal of Babs Johnson pulling a gun in a red dress to become the filthiest person alive is certainly one of the most beloved. The final scene of John Waters's 1972 movie Pink Flamingos has become recognizable even to people who haven't seen it (or maybe are too squeamish to). This month, Divine, his legacy, and the legacy of that image, is getting refreshed for Pride through a collaboration with Loewe, who created a collection of bags and T-shirts (originally part of a larger collection that never came to be due to Covid-19) inspired by Divine and sold to benefit Visual AIDS and Baltimore Pride. It got me thinking about how Divine's legacy goes far beyond Pink Flamingos, and even coincides directly with the photography career of Diane Arbus.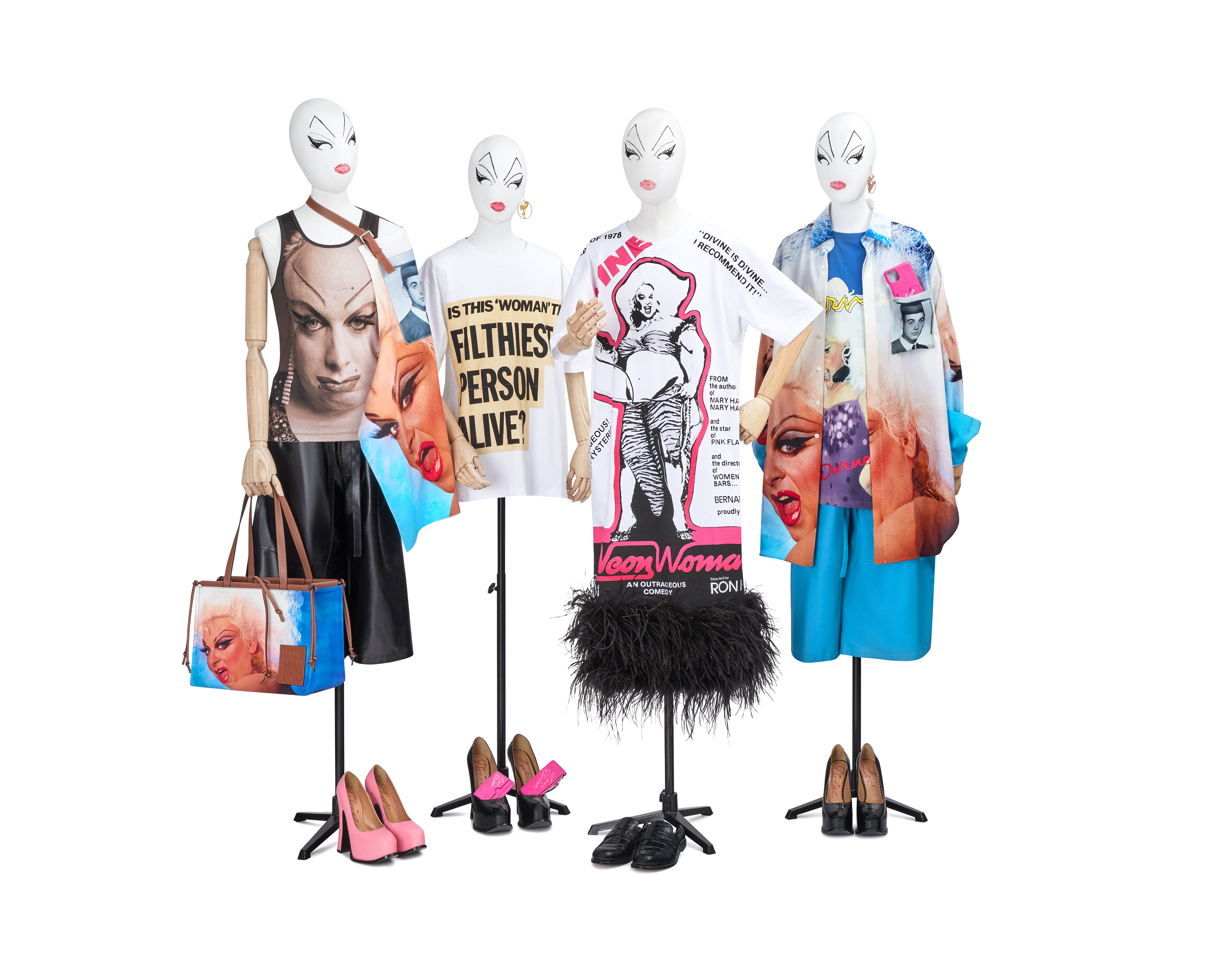 The last time I saw Diane Arbus's photography IRL was at David Zwirner a few years ago. I brought along a friend that wasn't really into art, but generally liked it. He didn't know who Diane Arbus was, had no clue what to expect walking in, and didn't even know that you could go inside a place like David Zwirner without buying a ticket. With these virgin eyes, he made a remark that sticks out to me as one of the most point-blank astute observations I've heard about her photography: "Each of her photos is like a snapshot from a short story I'd really like to read."
Though that comment seemed like a revelation to me at the time, I realize now I must have been late to the game. Critic Ken Johnson has described her as "the Flannery O'Connor of photography," and duh, of course. Her photograph Identical Twins, Roselle, New Jersey, 1967 inspired one of the most famous scenes in horror movie history in Stanley Kubrick's The Shining (you know the one).
Lesser known, however, is her influence over the writing and filmmaking of everyone's favorite counter-cultural figure, John Waters. In a 1993 interview, The Pope of Trash said of perhaps Arbus's most-famed photo, Child with a Toy Grenade in Central Park N.Y.C 1962, "is exactly how I felt as a child." Her influence in Waters's life goes beyond the personal, and is present in his work. Her photograph A young Brooklyn family going for a Sunday outing, N.Y.C. 1966 served as the inspiration for the protagonist of Waters's 1974 film Female Trouble. Waters told Sight & Sound magazine in 2015, "If you look at that one shot, the woman who looks like Divine in Female Trouble, she's holding a child and the other child is drooling, we looked at that picture. That was a direct quote, basically. Diane Arbus was a huge, huge, huge influence."
The camp comedy centered around Waters's early muse Divine, who played Dawn Davenport, a glamorous felon who conflates art with crime. The similarities between the matriarch of Arbus's photo and Divine's portrayal of Dawn is striking: they sport the same jet-black bouffant, harshly penciled eyebrows, and sultry cat-eye makeup (too bad the photo cuts off above her knees, maybe she was sporting cha cha heels on her Sunday outing).
In 1969, Arbus included this photo in a portfolio A box of ten photographs, in which she hand-wrote captions beneath each photo. Her caption extended the work's title to effectively tell a story in itself with an ending that could certainly be described as Flannery O'Connor-esque: "A young family in Brooklyn going for a Sunday outing. Their baby is named Dawn. Their son is retarded. NYC, 1966." Voila: we see where the name Dawn Davenport comes from, and also another through line of the movie, which is Dawn's daughter Taffy who she frequently torments and calls "retarded." Waters corrupted the intended meaning of the photo (as he is wont to often do), which Arbus originally described as a family "undeniably close in a painful heartrending sort of way."
In the portfolio, A young family in Brooklyn… is juxtaposed next to the only photo in the set that doesn't have a human subject: Xmas Tree in a Living Room, Levittown, L. I., 1963. Perhaps coincidentally, and more likely not, the most famous scene in Female Trouble also centers around a Christmas tree in a suburban living room, in which Dawn Davenport flies off the rails when she doesn't receive the black cha cha heels for Christmas she demands, thus commencing her life of depravity and crime.
One of Diane Arbus's repeated mantras is "You see someone on the street, and essentially what you notice about them is the flaw." Much of the genius behind both John Waters and Divine's art is taking pride in that which is considered repulsive, strange, and perverse about themselves, and alchemizing it into beauty and art. And that is truly Divine.