Zoe Buckman, Electricity Traversed My Insides (detail), 2020, Vintage textile and paper. Photo courtesy of Unit Gallery, London
Zoe Buckman's "Electricity Traversed My Insides"
Her new work is part of "Drawn Together," a group show at Unit London which benefits medical non-profits.
Zoe Buckman, Electricity Traversed My Insides (detail), 2020, Vintage textile and paper. Photo courtesy of Unit Gallery, London
This week, Unit London is launching "Drawn Together," an exhibition that joins over 150 artists from around the world to benefit Médecins Sans Frontières and World Vision. The works have all been created during the recent lockdown, and represents where we are at present: online, wanting to connect, and constantly finding new ways to support each other. The British-born, now Brooklyn-based artist Zoe Buckman is showing a new body of work paper that involves embroidery, pain, and transformation. Buckman is also a member of For Freedoms, an artist-run platform for civic engagement, discourse, and direct action for artists in the United States. GARAGE sat down (virtually, of course) with the artist to get a glimpse into her world.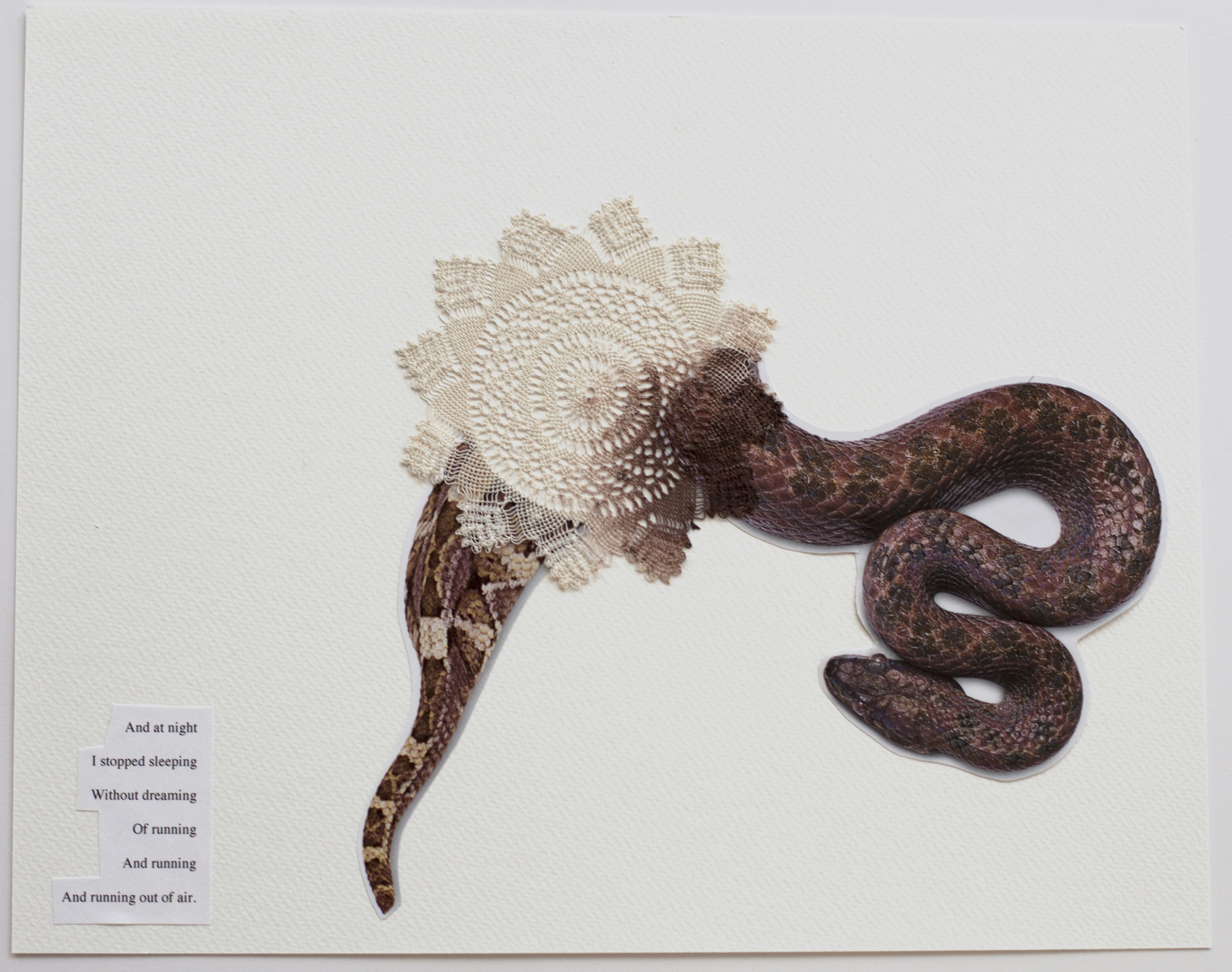 The piece for the exhibition at Unit London, Electricity Traversed My Insides, is striking.
I've been making these new works on paper since lockdown. I'm calling this new series NOMI, like "you don't me." It is the name I gave to the shadow aspect of my psyche some years ago when undergoing Jungian analysis. NOMI has been a constant source of power, creation, and resistance for me. She has, however, at times been caged. The limiting, regulating consequences of quarantine triggered memories of times when I was held back, tied down, or put in a box by masculine forces in my life. This work has a lot to do with the wild feminine and the Madonna/whore complex.
How did you first start using embroidery?
I started using embroidery for my first solo show in 2012 entitled Present Life. I machine embroidered text onto my grandmother's table runner from some dreams I had when pregnant. That is what started my fascination in vintage textiles, particularly ones that have lived with women and been a part of their lives. I am not using wall hangings. I am using textiles from the kitchen, from the bedroom, lingerie, wedding dresses; pieces that have been a part of a person's history. Embroidery is deeply rooted in the history of feminism and female expression. I use text that can at times be confrontational or arresting, and that aspect is important to me.
Montage between mediums is a strength of yours. How did you gravitate toward this?
Before I became a mother, my medium was photography. But the experience of having Cleo was incredibly empowering and it allowed me to examine the labels that I had attached myself to. After having her, I began exploring different disciplines including glass, ceramics, installation, embroidery and sculpture. Text has always come into my work, but not all my work. My mother was a playwright and so I grew up really appreciating language and written word. Poetry, lyrics, and stories are huge influences of mine and I have also been using my mother's writing in my work since she passed away in 2019. Unit London is hosting a major benefit as their first fully digital exhibition, which you are included in.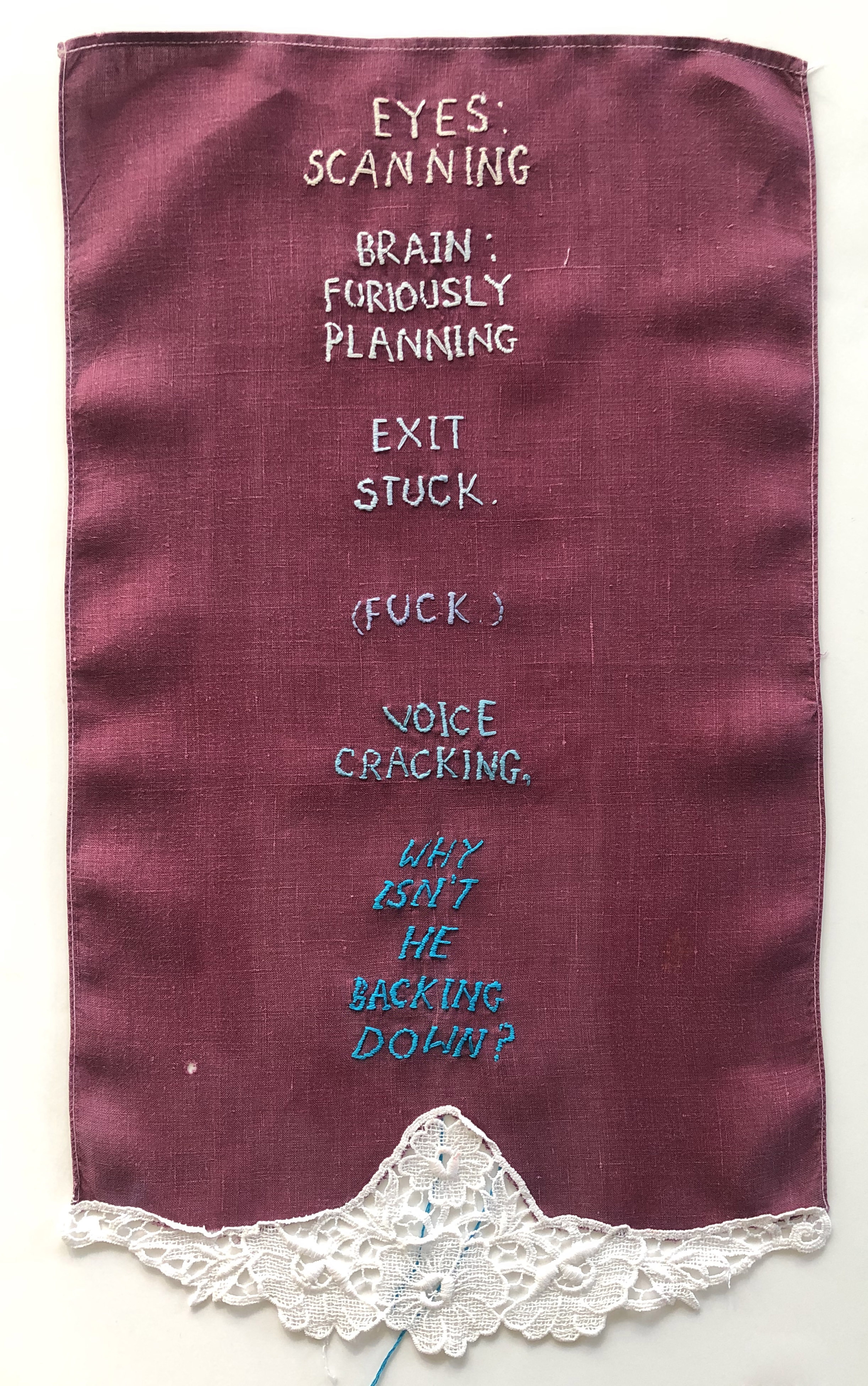 What do you think creative efforts, or artwork, can do to help the current state of global affairs?
This is the first time I've exhibited work online, and though it is a pity we can't have all these art work exist in literal spaces, it also opens up the opportunity for a wider and more diverse audience to engage with the work, which, frankly, is one of the changes needed in the art world. I think that art has the capacity to challenge the status quo, to speak for the people, and to offer a point of transcendence or reimagining. Art has always played a massive part in marking cultural shifts or exploring experiences left out of public discourse.
I am glad to see this show stretching bounds and doing it for the greater good. How has the current era affected your work?
This period has affected my work in so far as it's made me realize what is and is not important to me. It has shifted my attitude towards my practice. I feel that I am making work from a place of outcome detachment: who knows how the work will be seen, when, if it will sell; those things are not in my control and never actually were, so during this time I am doubling down on the practice of creating from a place of pure expression and letting the rest figure itself out, taking comfort in the fact that it is not in my control.
Lastly, why did you start making art?
Because NOMI told me to, ha.
Tagged: