Demna Gvasalia Made Me A Gamer Girl
Balenciaga's Fall 2021 collection is a video game that furthers the designer's lofty vision.
Not to drop a truth bomb but I've never been a gamer girl. It's not like I haven't played video games—you should see me play Mario Kart! It's just never been my passion. When I need to unwind or release my anger I usually like to scream into a pillow or go on a walk for an hour while listening to Hole. When gaming comes up in conversation, I usually say something like, "Not my thing." That is, until I played the Balenciaga video game, Afterworld: The Age of Tomorrow, which, reader, was actually fun.
I have played the Balenciaga video game twice in the past two days. The first time it crashed my computer so I didn't get to finish it but the second time I played the entirety of it while eating some gross frozen dumplings and had a grand old time. The meticulously rendered video game replaces the runway show, and for that matter the fashion video, which creative director Demna Gvasalia has said is something he hates (which is also funny because he happened to do the best fashion video of this year, I still walk around my apartment to this day humming "Sunglasses at Night"). The video game feels like the perfect distillation of this year: it is a bleak shuffle through a digitized dystopia. We are always online, and it's possible that that has been truer this year more than any other year, and Gvasalia has always made clothing that feels like a slightly more grotesque rendering of the current moment.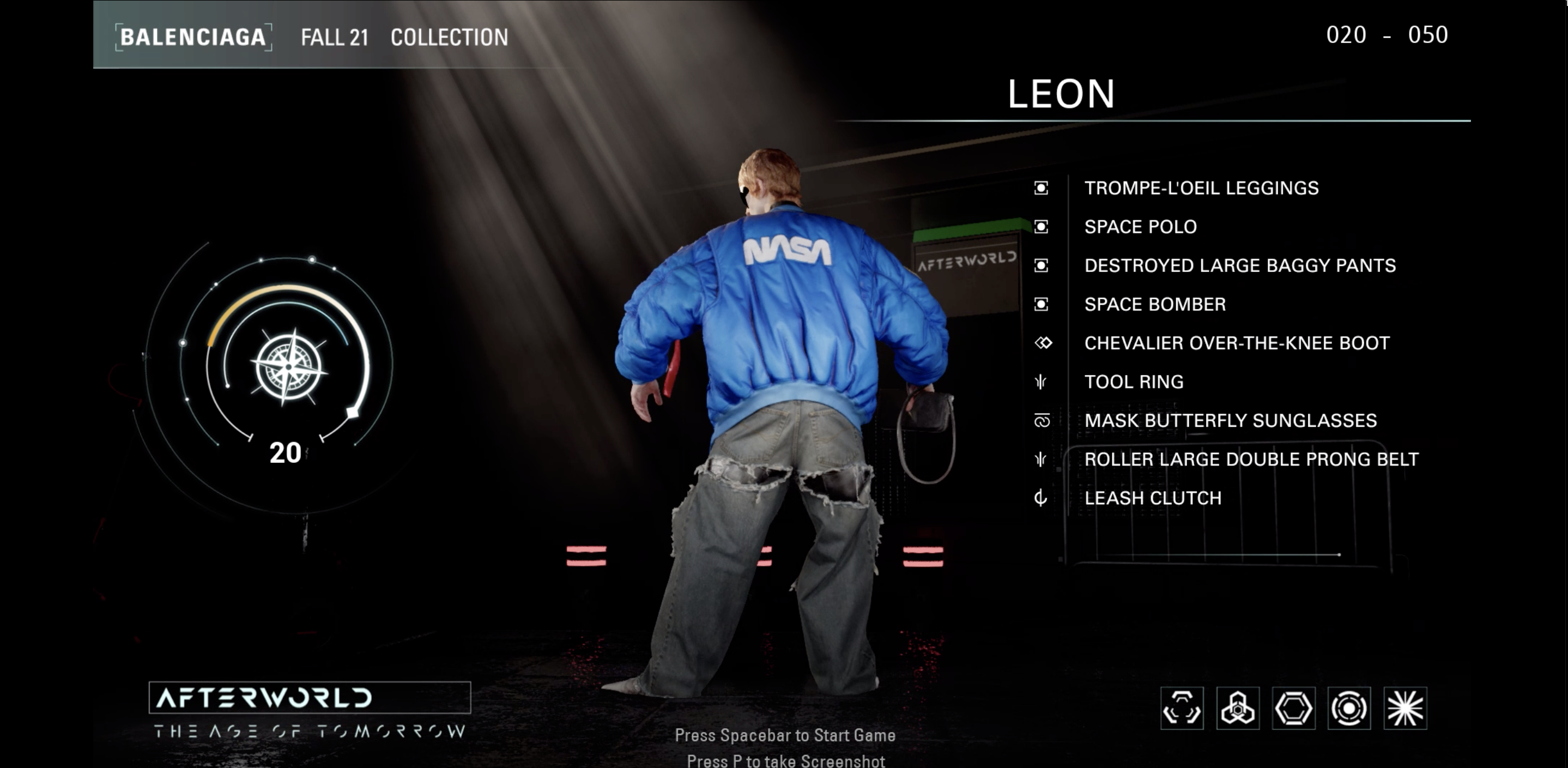 The game itself involves making your character shuffle through brutalist rooms—is it a mall? an abandoned Walmart-turned-Balenciaga showroom?—full of digital models bug-eyed sunglasses, and oversized black jackets fit for a bodyguard or a stroll in the Arctic Circle. One of the best looks involves a flamingo pink and scarlet evening dress paired with gold boots that look like a medieval knight's armor, and a giant black backpack with a American flag on the side. The look feels like a nod to Donna Haraway's cyborg feminism; it feels both woman and machine, like an ironic dream on the integrated circuit. Another excellent look involves more armor, of course, and also what appears to be two pairs of jeans, one pair oversized, the other more of a bootcut. Styled with a T-shirt and another large backpack, the look feels like something a child would wear on a field trip to avoid losing the rest of the group. There's also the Balenciaga Uber Eats bag in the next look, cheeky as hell, styled with a black mini dress and a pair of golden armored boots that go all the way to the digitally rendered model's crotch.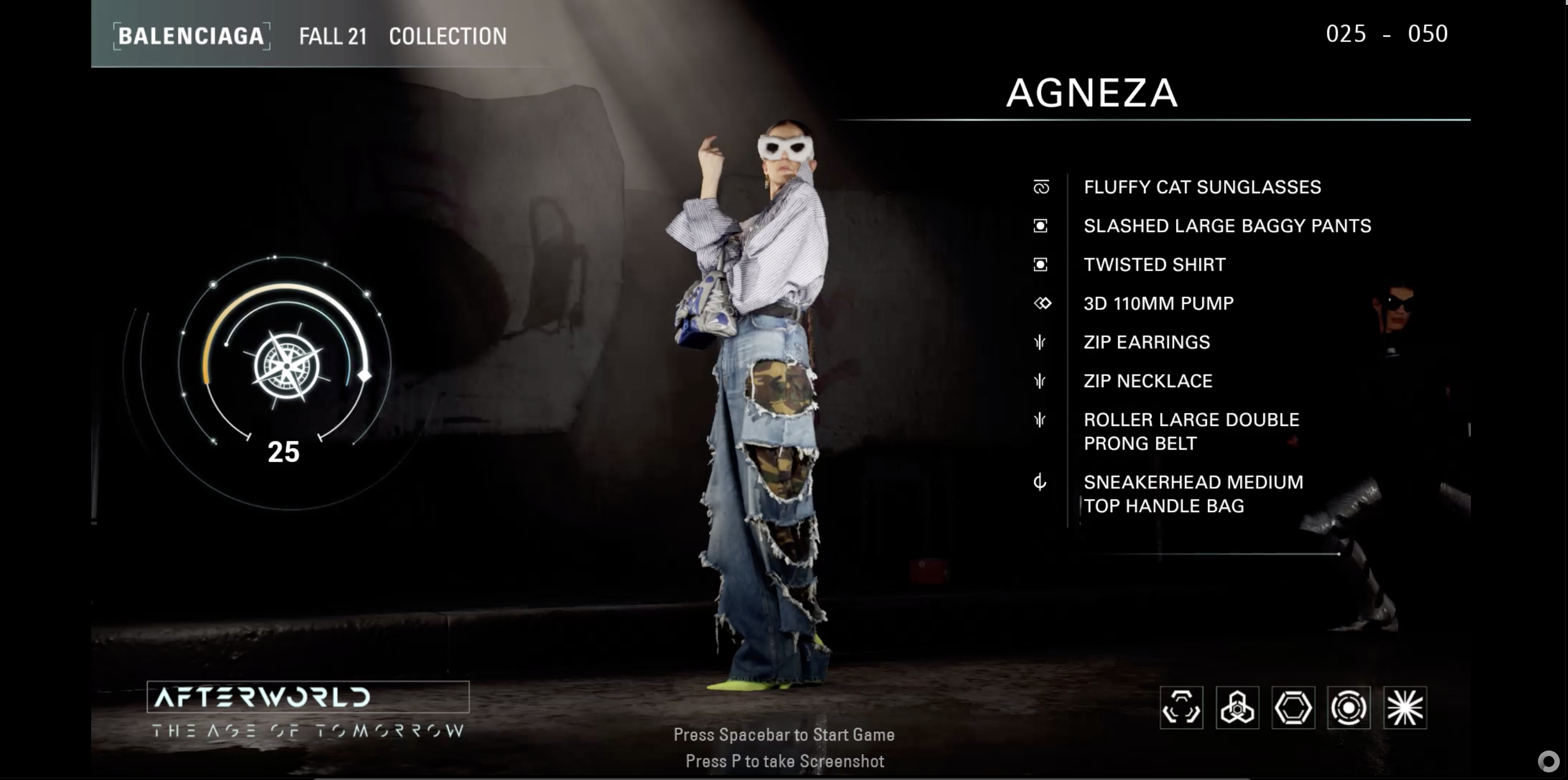 Gvasalia occupies an interesting space conceptually: he's a designer interested in critiquing the late capitalist black hole that we live in and he also benefits from. He does what he sets out to do successfully. Playing this video game and looking at these clothes is an inherently intellectually challenging and stimulating exercise. Gvasalia has never been a designer interested in escapism, utopia, or the obvious. The collection is a reality check in luxury clothes.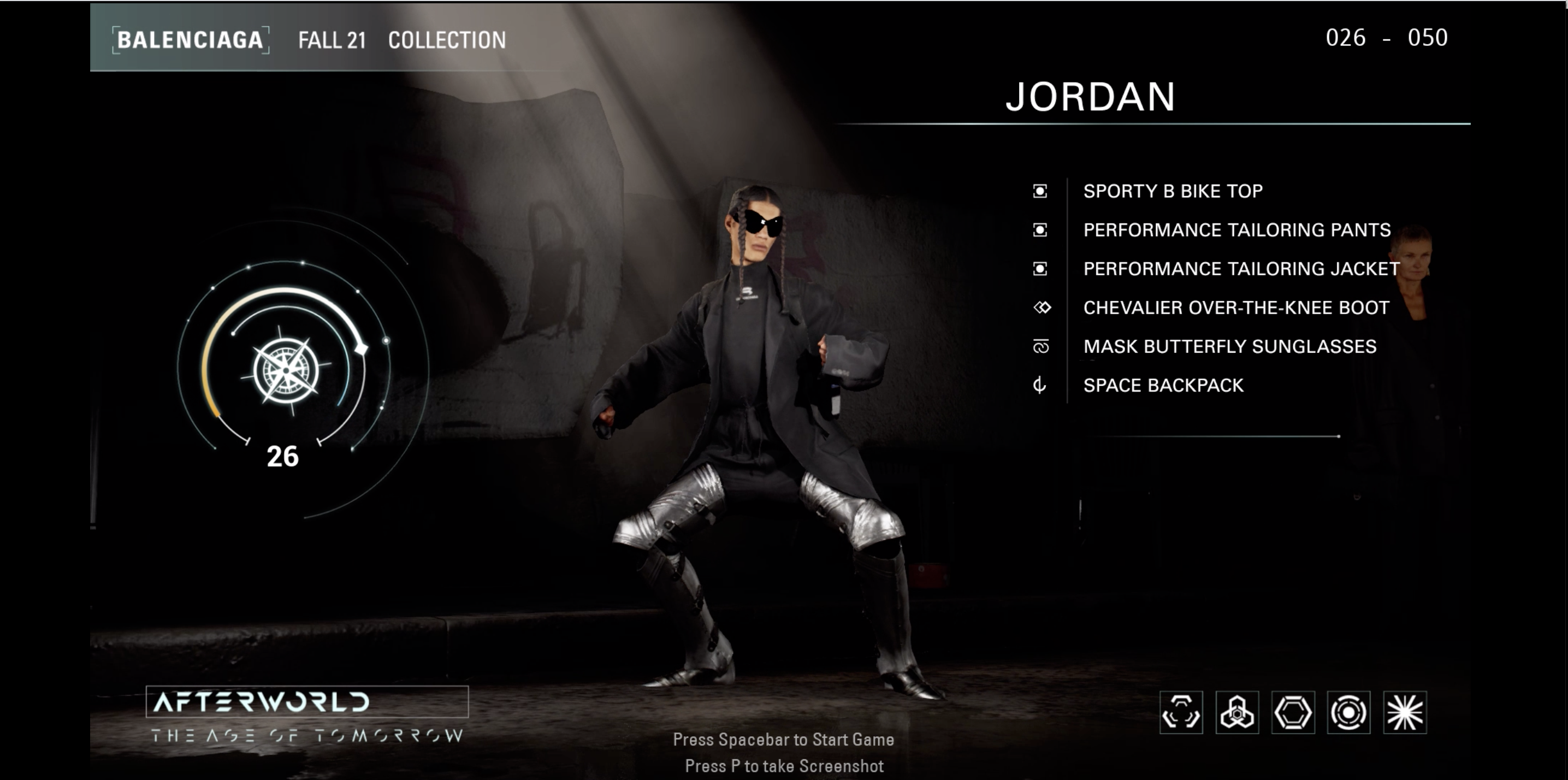 But back to the video game. After walking through a labyrinthine forest, you climb to the top of a mountain, and once there, I was presented with a breathing exercise—a reward for finishing the game that is meant for me, the real person as opposed to the avatar that has been guiding me through this world. When the breathing exercise came on screen, I truthfully didn't know what to do. I didn't give it a shot. I felt too overwhelmed, like I had experienced some kind of sensory overload. I wasn't ready to calm down. Now I am.
Tagged: