Photo: Courtesy of AHF Worldwide
These STD Check Billboards are Going Viral
A series of high-visibility billboard posters have treated LA residents to a sometimes jarring array of familiar images, with an echo of an iconic work of early-'90s art.
Photo: Courtesy of AHF Worldwide
Back in 1994, a Felix Gonzalez-Torres retrospective called Traveling reached Washington, D.C.'s Hirshhorn Museum. Senator Ted Stevens, who Gonzalez-Torres called "one of the most homophobic, anti-art senators," threatened to shut it down. "I thought he was going to have a really hard time trying to explain to his constituency how pornographic, how homoerotic, two clocks side by side were," the artist recalled in a 1995 interview with Robert Storr. "He came looking for dicks and asses. There was nothing like that." Just two clocks touching on the wall.
This was at the height of the culture wars; it was also the peak of AIDS in the United States. In 1989, Jesse Helms, aka "Senator No," had Robert Mapplethorpe shut out of the Corcoran. Two years later, in retaliation for a string of bigoted bans on government AIDS relief, the ACT-UP group put a giant prophylactic over Helms's two-story Arlington house. "CONDOM TO STOP UNSAFE POLITICS," it read. "HELMS IS DEADLIER THAN A VIRUS." Artists and activists were through fucking around. It was during these years, too, in 1989 to be exact, when Michael Weinstein founded the Los Angeles-based AIDS Hospice Foundation. The organization's name reflected the dire prognosis of the afflicted. But the next year, treatments improved enough to rechristen it the AIDS Healthcare Foundation. Today the AHF is one of the largest AIDS nonprofits in the world, with a budget approaching $1.5 billion and clinics in forty countries. In LA, they're known for their funky Out of the Closet thrift stores—and for their unorthodox billboards.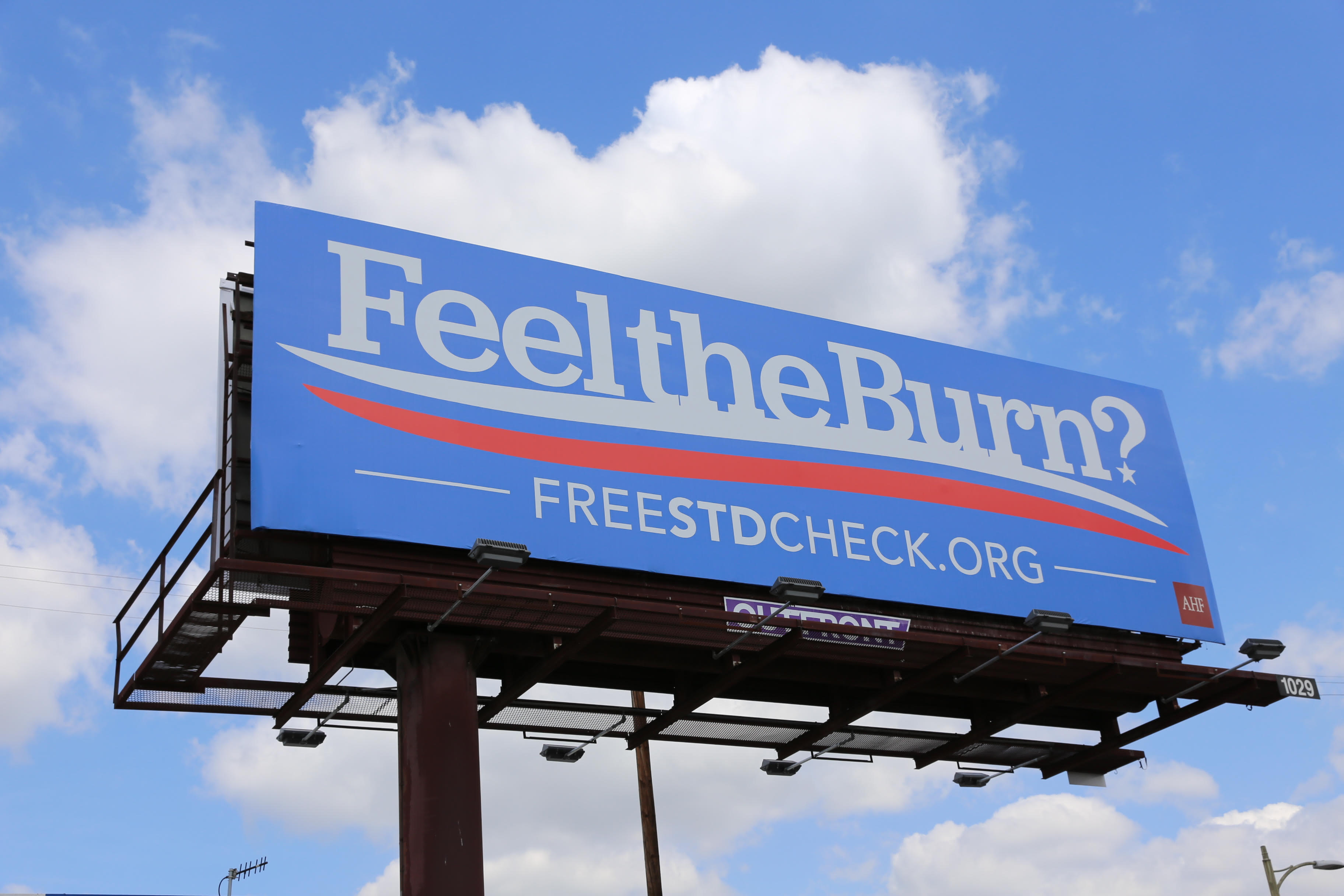 Dour legislators frustrated by the subtext of Gonzalez-Torres's work (even his billboard projects—a lone bird, an unmade bed, all pictured in black-and-white—have a disarming elegance) would have no trouble putting their finger on AHF's message. Their latest image is a riff on the Hokusai's famous wave print, with a sun rising behind the ominous phrase, "Syphilis TSUNAMI." Others parody Lichtenstein, or Dali's melting clocks, or the Mona Lisa. (Why is she smiling? Because she knows she's STD-free?) The idea is to get people talking—and that's exactly what's happening. Angelinos of all ages and orientations can't miss the image of a big red condom, unrolled like a landscape, enveloping slogans like "SAFE OR SORRY?" and "YUP, EVERY TIME." The best, though, are memorably topical. Around the release of the Death Row Records biopic Straight Outta Compton, billboards appeared that warned, in the movie's font, "STRAIGHT OUTTA CONDOMS." When kids glued to their phones were wandering onto disused piers in search of virtual Pokémon, an AHF ad agreed that you've gotta "Catch 'em All!"—STDs, that is. In 2016, when the presidential race was still fun, one witnessed red-white-and-blue billboards asking, simply, "Feel the Burn?"
Around 2007, AHF took its advertising in-house under creative director Jason Farmer, with Weinstein's guidance. Their blend of art-inflected activism brought the tactics of groups like ACT-UP into the Photoshop century. Between too-vague and too-gross is a layer of pop topicality. Yet there's no mistaking the deadly serious subject that these jokes dangle above the gridlock. It is one thing to see a Fiat ad using the gay pride flag to sell cars; quite another to see the 2015 AHF ads that featured barely dressed male athletes sparring in nothing but sports gear—fencing masks and foils, for example—and the text "No protection, no action." It remains their most suggestive campaign. Part of what makes these ads so memorable is how cheesy the jokes are, and how rough-and-ready the design. Before the "Syphilis TSUNAMI", there was another reference to the recent uptick in the disease. An ad that resembled a disaster blockbuster poster echoed, unintentionally perhaps, signs for a Pompeii exhibit at the Getty Villa. It's a Syphilis Explosion. Hot lava spews. The ads are almost art, in their self-reflexive way—except their message is bare as can be. "HIV? No Problem?" Three monkeys slap their foreheads, splattered with some kind of Warholizing filter. AHF's culture jamming is as catchy as it is cringeworthy.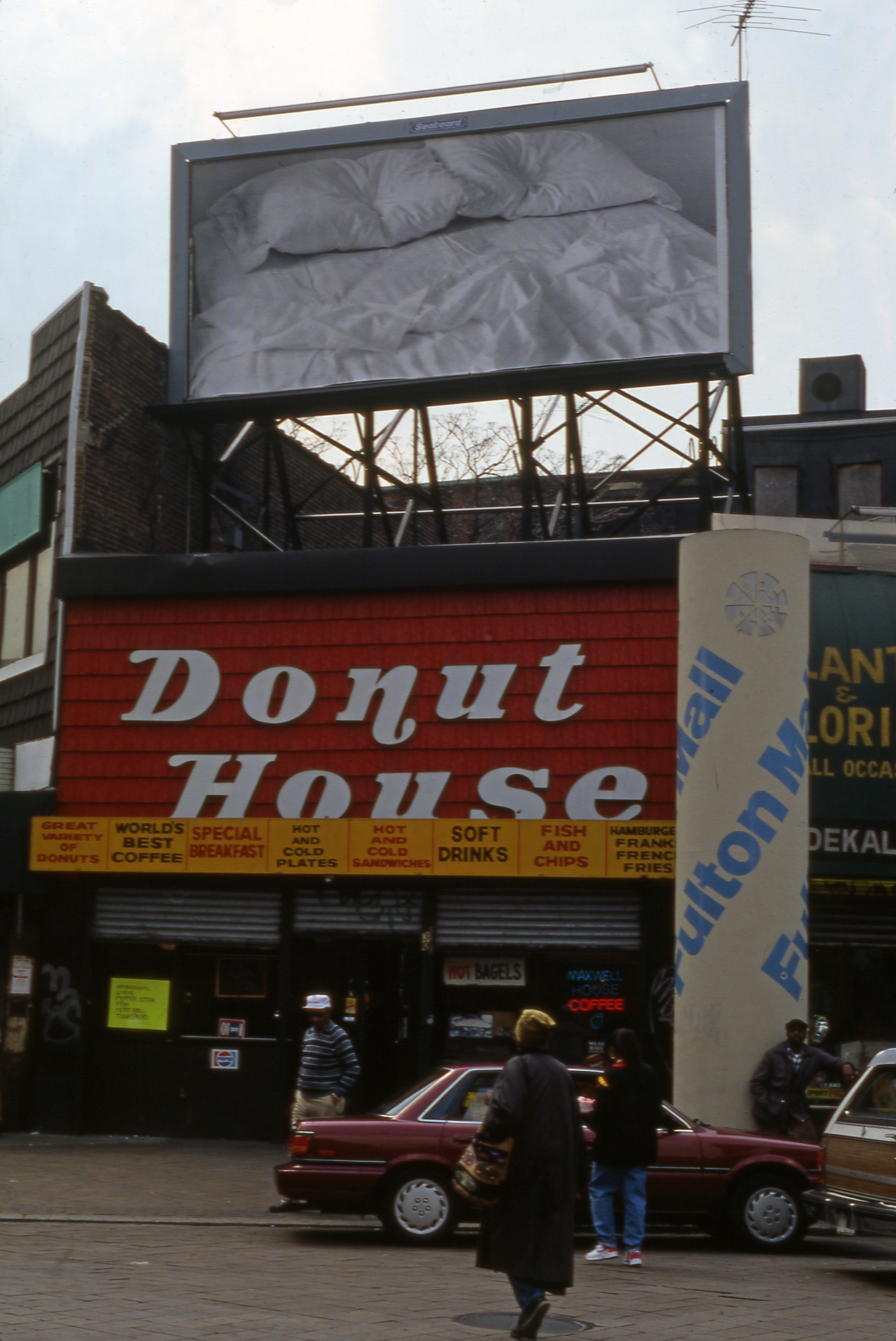 The culture war is a proxy war, a moral and ethical conflict carried out in the realm of aesthetics. Helms understood this. Gonzalez-Torres understood this. AHF understands it too. They also realize that sex, despite being timelessly human, is also a sure way to sound out social fault lines. The AHF billboards, funny but frank, keep sexual health on people's minds. Not only this, their images keep sex—gay and straight—part of the shared physical and psychic fabric of major American cities. This at a time when transgender military service members face unjust and vindictive discharge, and when the NEA and NEH have been bled nearly to death. What's at stake here, as always, are public perceptions of private space; sex and sexuality as debated in the fora of fine art, images, and advertising.
Given this commitment to civic culture, it's not surprising that Weinstein and the AHF would branch out into other spheres of public policy. Weinstein has backed California laws that require adult film performers to wear condoms. In the 2016 election cycle the AHF took a stand (along with Bernie Sanders) against the pharmaceutical industry with California Proposition 61—a measure that would have pegged the state's prescription drug costs to the prices negotiated by the US Department of Veterans Affairs. Big pharma poured in millions to defeat the measure, making it one of the most expensive contests of the year.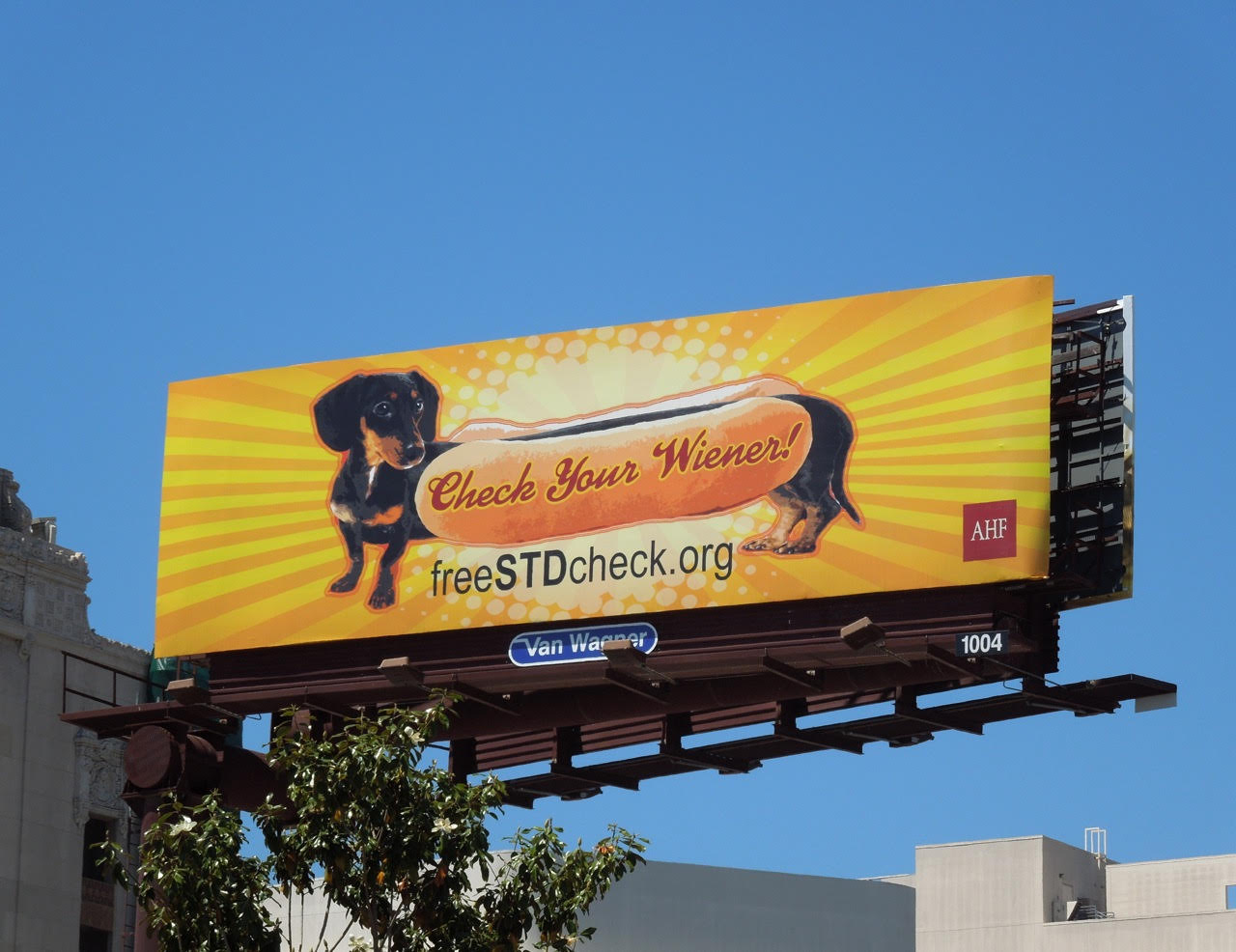 Then there was Measure S. Weinstein's latest cause—slow growth urbanism—is harder to square with the mission of AHF. This past spring, his foundation pushed hard for a local ballot measure that would have frozen new multifamily construction in LA. (Critics point out that among the buildings that would have been put on pause was a tower going up across the street from AHF's Hollywood headquarters.) In their zeal, their Measure S ads crossed a line. A few days ahead of the vote, citizens opened their mailboxes to find frighteningly realistic eviction notices, headed "THIS COULD BE YOU OR A LOVED ONE." Measure S failed. But their billboards still read "Stop Manhattanwood." In other words, don't let LA become NYC.
AHF has a way of turning their paranoia against their own ideological constituents. Politically, the AHF advocates condom-only prevention—and works to undermine advocates of PrEP, a drug known to effectively prevent transmission of HIV. One series asks, simply, "Trust Her/Him?" picturing wary couples in bed having second thoughts—men with men, men with women. It's the morning after; the sun-blown bedroom features an unfinished brick wall, like a sandblasted artist loft. The couples are all clothed.
But these ads do something besides strike fear; they put beds in public. Above Donut Time and Jiffy Lube, Koreatown and the Sunset Strip, they air our private lives. The AHF has to reach a wide audience. Which is why, perhaps, the AHF tries not to skew too somber. Felix Gonzalez-Torres, on the other hand, often said that he made art for a public of one: the artist's partner, Ross Laycock, who died of AIDS-related causes in 1991. Gonzalez-Torres himself would succumb to the virus in 1996. In this period, between 1989 and 1991, the artist made some of his most powerful and enduring work—the touching clocks, the strings of lights, the go-go dancer on his platform gyrating to music only he can hear—and the AIDS Timeline (1989), with Group Material. He also made a billboard: "Untitled" (1991), a black-and-white shot of an empty bed, the sheets crumpled, two dimples still in the pillows from two lovers' heads. The missing bodies are Gonzalez-Torres's and Laycock's—but they are also any two of us. Where Mapplethorpe could be explicit, Gonzalez-Torres's peaceful image offered a public catharsis to lovers of all inclinations. As the artist points out, most of us were born in a bed, most of us sleep in one, and most of us will die in one, too.
Gonzalez-Torres said he wanted the sidewalks, the clocks, and the beds to take on a kind of relentless, redolent meaning. "The thing that I want to do sometimes with one of these pieces about homosexual desire," he said, again to Storr in Art Press, "is to be more inclusive." Depending on your views, such a permeating image can be a blessing or a curse. "Every time they see a clock or a stack of paper or a curtain, I want people to think twice," he declared. "I want them to be like the protagonist in Repulsion by Polanski where everything to her becomes a threat to her virginity. Everything has a sexual mission, the walls, the pavement, everything."
AHF's gimmicks gnaw at you like doubt. Gonzalez-Torres's work persists, too—because it recedes into a silence and emptiness that the passerby fills, but also can never fill—since the bed is only an image, after all, way up on a post. Ultimately, the AHF billboards, perhaps in spite of themselves, draw out the intimacy and isolation of the metropolis; cities of sex and density. Billboard towns.
Travis Diehl