Hassan Hajjaj, Kesh Angels, 2010
Hassan Hajjaj is No Shrinking Violet
The photographer's retrospective opens this week at the Maison Européenne de la Photographie in Paris.
Hassan Hajjaj, Kesh Angels, 2010
Hassan Hajjaj, the British-Moroccan photographer, is known for his bold aesthetic. Bold, meaning a shitload of patterned rugs, potent colors, plastic sunglasses, and even knockoff labels that show a new side of Morocco that many haven't seen before–far beyond the mint tea and couscous.
Now, he's having a retrospective at the Maison Européenne de la Photographie in Paris opening September 11. Featuring 30 years of photos, the retrospective features everything from his early snapshots to his most recent series of Moroccan artists. Whether or not his famous portraits of stars like Madonna, Cardi B, and Will Smith will be in the show remains to be seen as he is a self-proclaimed "not a celebrity photographer-photographer."

His photographs explore the subjects of identity, heritage, and global capitalism as seen through a Pop Art lens that is also influenced by contemporary fashion photography, and the work of Malick Sidibe. Hajjaj shoots his subjects on the streets with natural daylight, wearing robes, hijabs, djellabas, and even the trademark Moroccan hat, the fez.

It's something he has been doing since the 1980s when he first arrived in London. Hajjaj first made his name in the fashion and music worlds, except back then, he was a nightlife promoter. He later became a fashion designer, creating a streetwear brand named R.A.P. R.A.P (which stands for Real Artistic People), and was worn by acts like Soul II Soul, Bionic, and Ekow Eshun, before eventually turning to photography.

For GARAGE Hajjaj walked us through some of our favorite pieces pieces, soon to be unveiled at his Paris retrospective.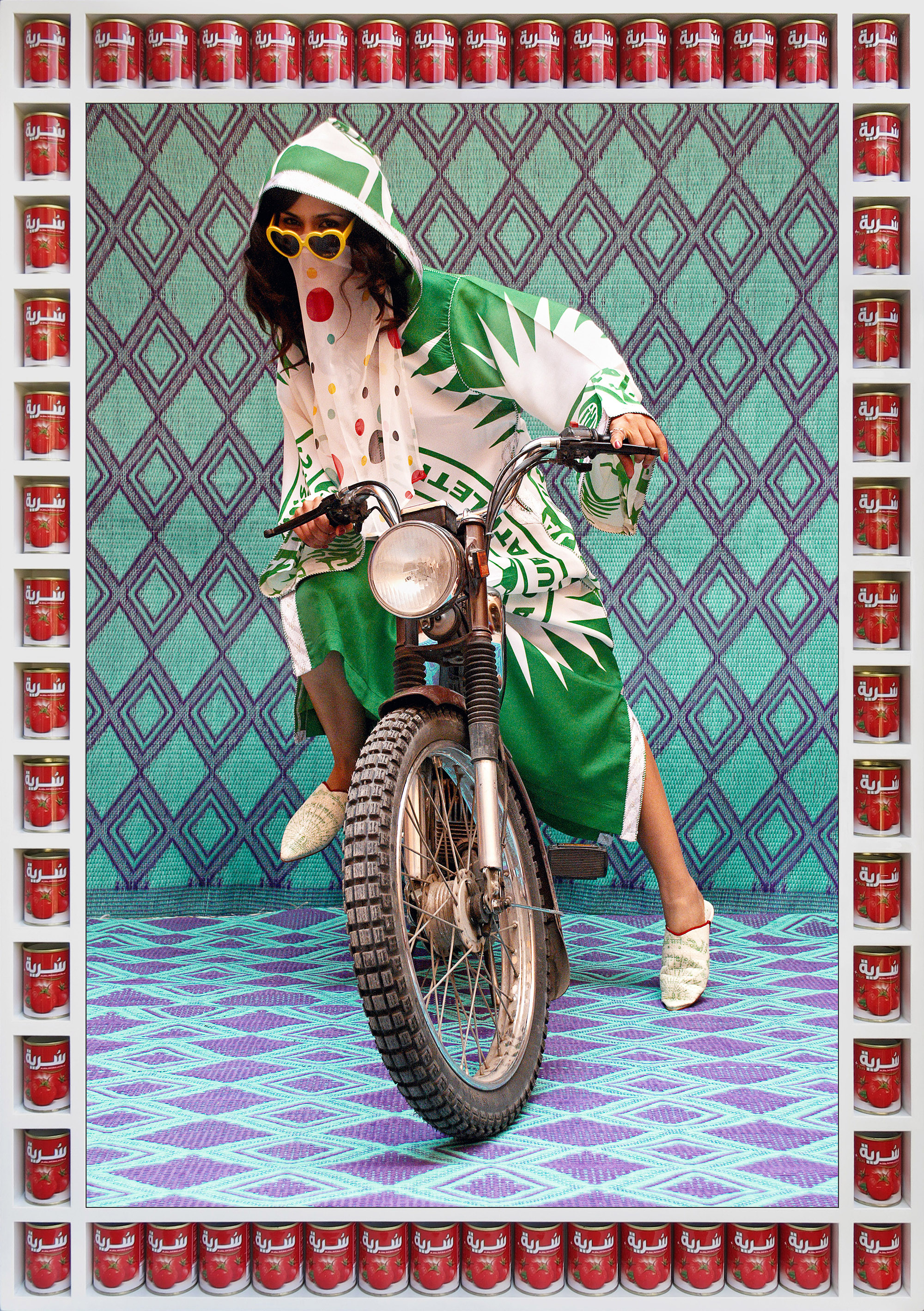 Kesh Angels
His best-known series is 2010's Kesh Angels (a take on Hell's Angels, with "Kesh" being short for Marrakesh), featuring a girl biker gang he met in the city's center. "This was a more popular series because of the timeliness and women wearing veils, it stuck out in people's minds," he said. "I have a big love for this series."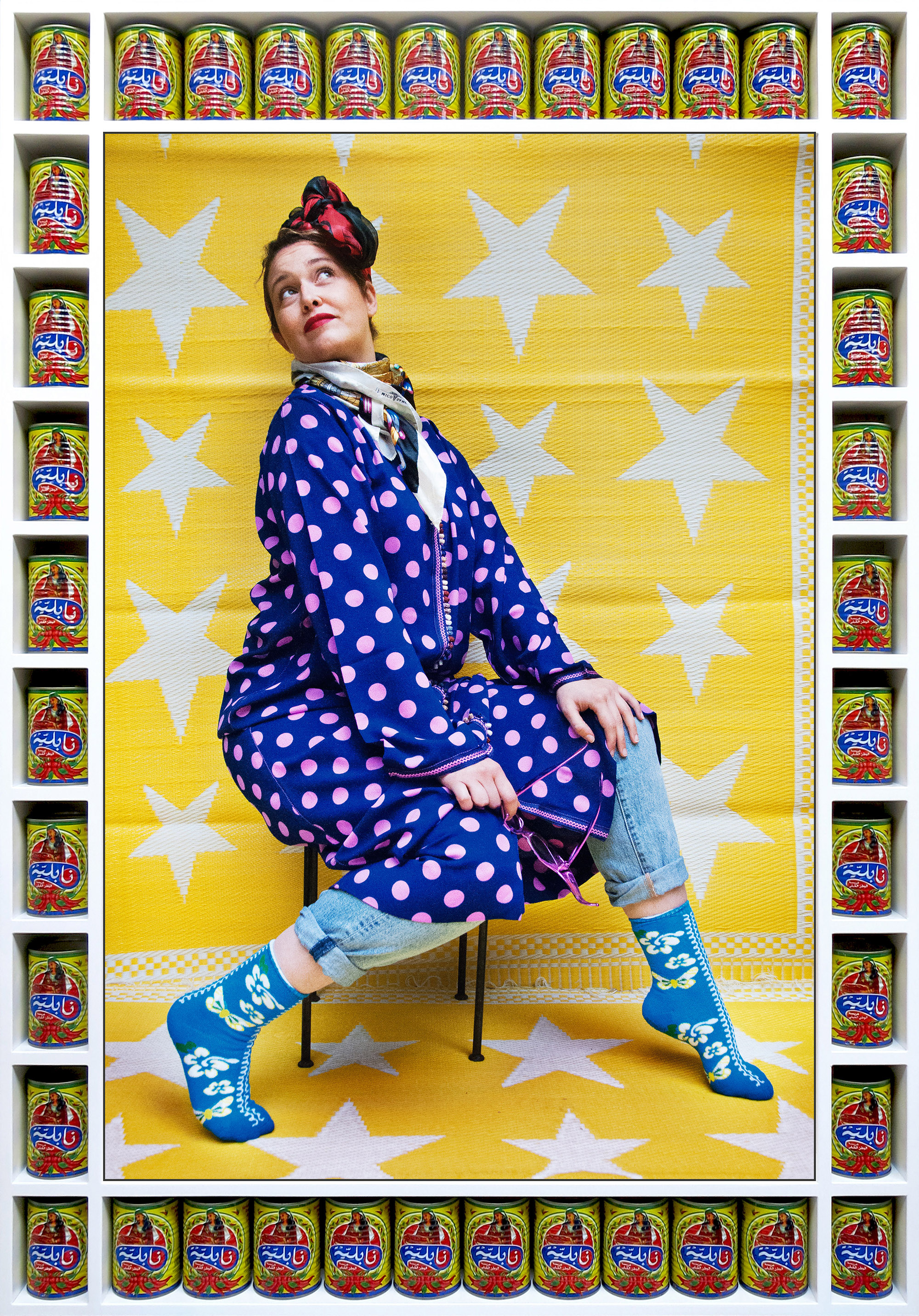 Meryem Benmbarek
This photo is from his My Rockstars series, where Hajjaj shoots (mostly) North African creatives and characters as his models (he credits their names in the title of their portrait, so people can find their work). Meryen is a Moroccan film director and screenwriter who recently won best screenplay at the Cannes Film Festival for her feature film, Sofia. "I am shooting Moroccan culture, but also, the artists, male and female," he said. "I think it's important to have both—photographers, boxers, snake charmers, dancers, artists, if I can show this and make it global, it makes me very proud."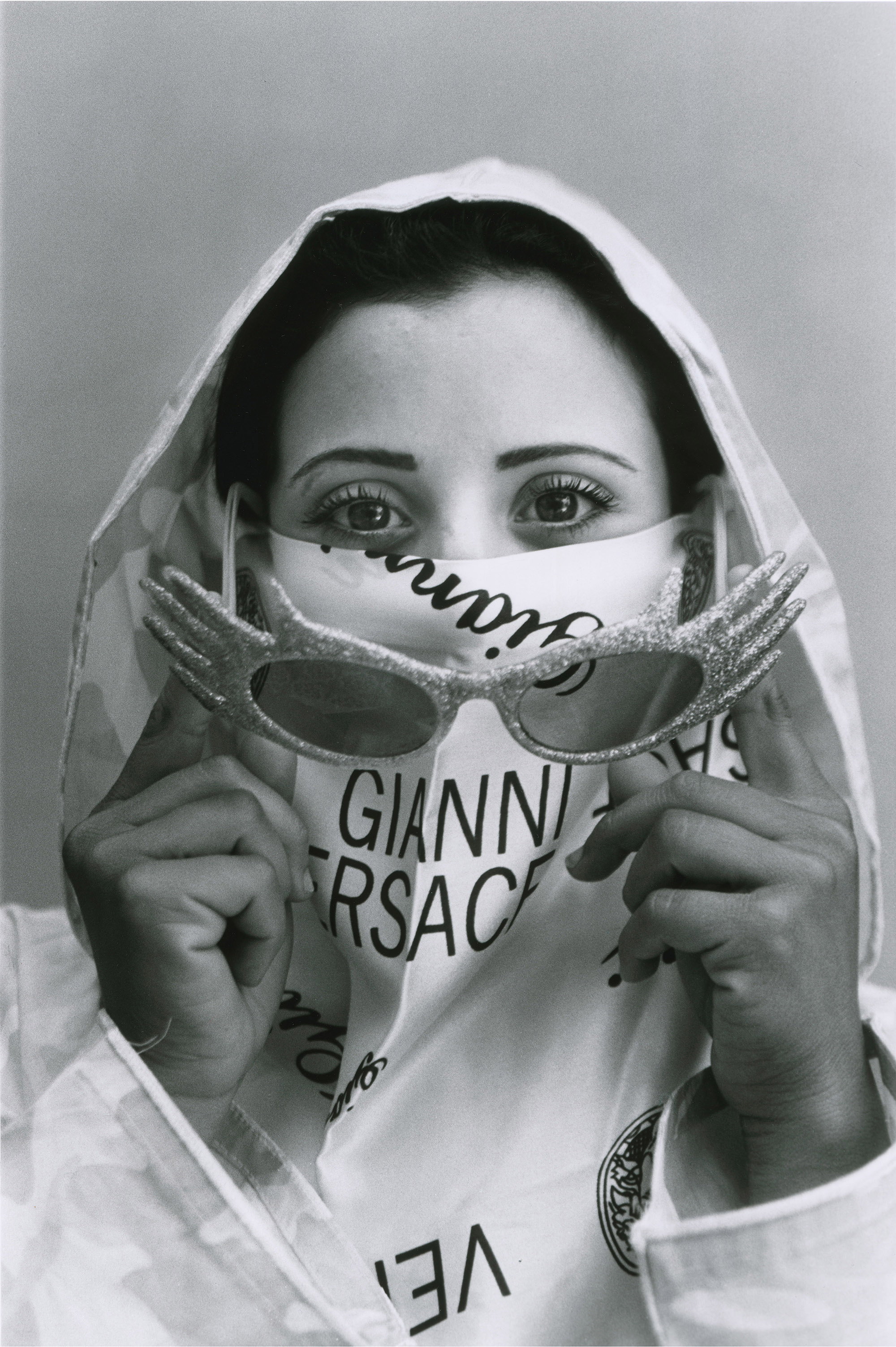 Untitled
This black and white series ties into his early love of black and white photography, which is partly where he started back in the 1980s. "I'm a huge fan of black and white photography, people just don't know that," said Hajjaj. "Most know my color work. This exhibition is an opportunity to show my work from the past; I wanted to show this side of my work as well."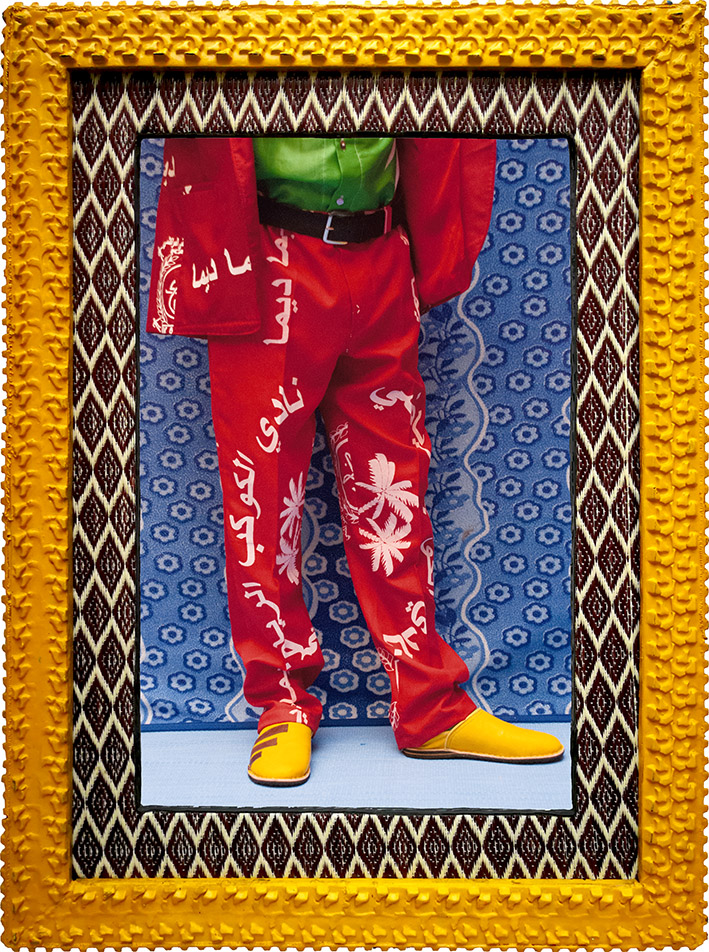 Kawbab Legs
Similar to his My Rockstars series, his Legs series focuses on the art of the outfit—but excludes the faces of each local style icon. "It's a series where I found myself shooting a lot of shoes and pants, so turned it into something," said Hajjaj. "They're all street shots, whether it's London, Paris or New York, or Dubai, L.A., Marrakech." He adds, "Everywhere I go, I shoot."
Alo Wala
Alo Wala is an Indian tropical bass group. He's always keeping an eye out for young artists, especially from Morocco. "It's growing, but there still needs to be more education, more galleries, more photography magazines in Morocco," he said. "There has been a major shift over the past five or seven years, which is a great thing to see."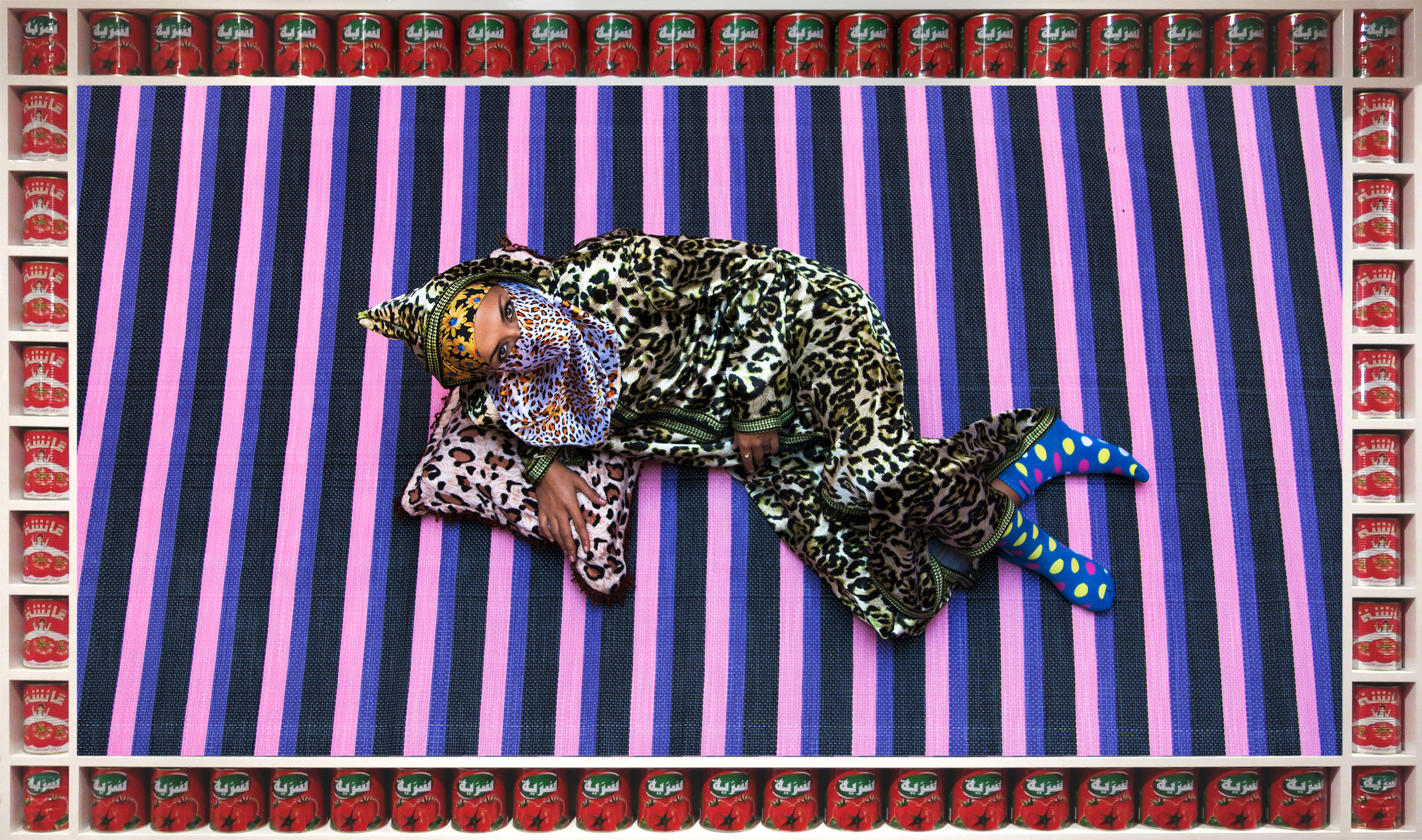 Alya
Hajjaj is known for this over-the-top, loud combination that is defining the contemporary North African aesthetic. "Fashion was always there, I used to have a fashion store and a streetwear label until 1992, so it came into my work naturally," he says. "[Fashion] wasn't something I set out to do—it was something that just felt true to me."