Shauna Taylor with Damien Hirst tattoo. Photograph by Hedi Slimane
Inked: The Time I Got a Damien Hirst Tattoo on My Vagina
Shauna Taylor remembers becoming a living canvas for the British artist in an up-close-and-personal project for GARAGE Magazine's 2011 debut.
Shauna Taylor with Damien Hirst tattoo. Photograph by Hedi Slimane
In 2011, GARAGE Magazine realized one of its most ambitious projects to date: eight artists were commissioned to design a tattoo, each to be inked onto one of nine volunteers and photographed by Hedi Slimane. The participants became walking canvases, forever carrying artworks by Richard Prince, Jake & Dinos Chapman, Jeff Koons, Damien Hirst, Paul McCarthy, John Baldessari, Dr. Lakra, and Raymond Pettibon. Here GARAGE's Executive Editor, Michael Polsinelli, revisits one of the original participants, Shauna Taylor, the recipient of the most intimate, infamous and painful tattoo of them all . . .
Shauna Taylor was living in New Cross, London, jobless, filling her spare time with drawing and parties, and looking for work . . .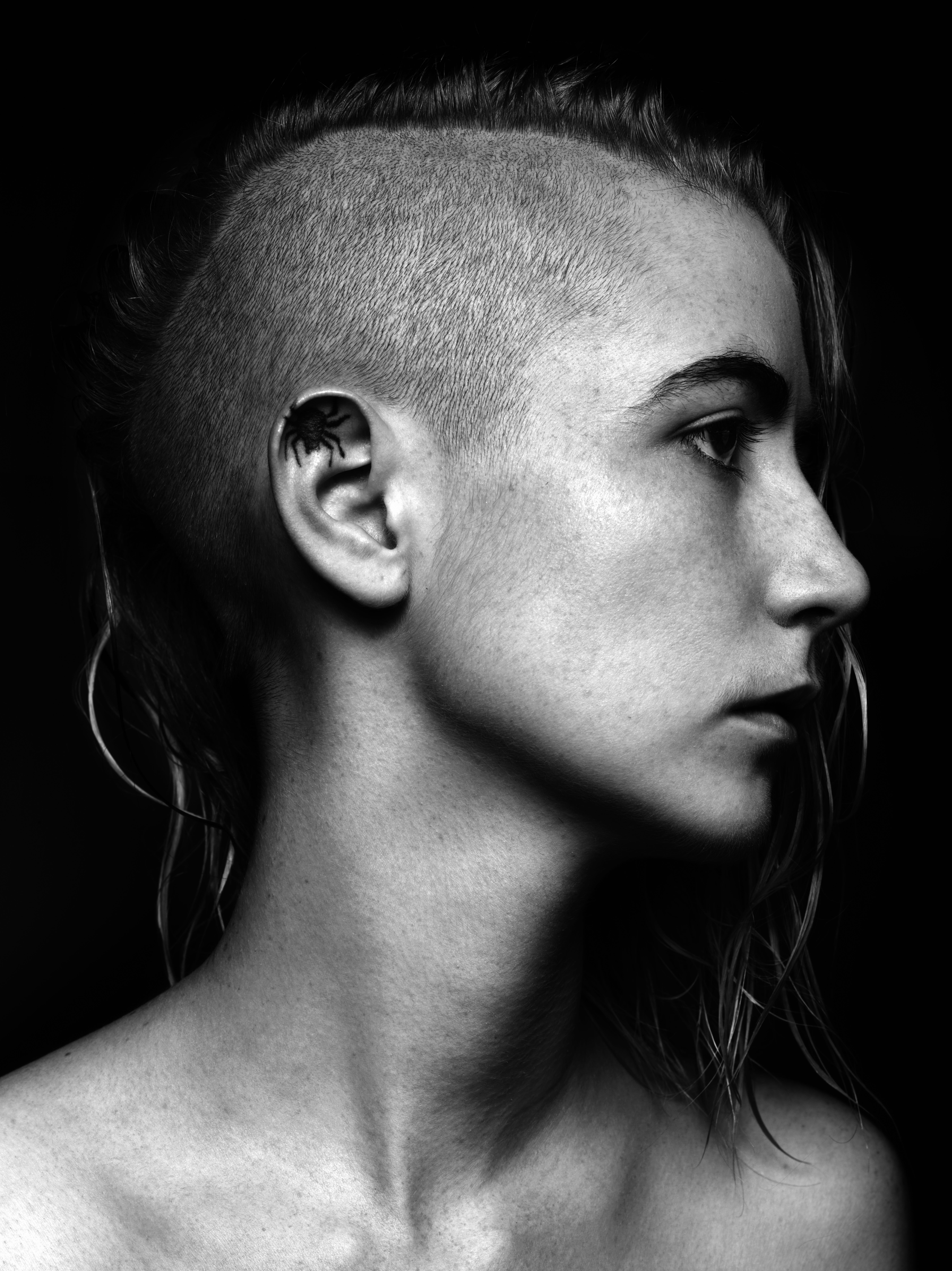 I applied to a poster that was up in my housemate's studio at Chelsea College of Art. I can just remember it saying something like, "New magazine tattoo collab! If you want to be involved, e-mail," and I thought fuck it, free tattoo! I had no idea it would be such an amazing project. I sent over a photo of myself and a lovely lass called Becky replied. She told me more about the project and I was like, "Woah, sounds unreal!"
I must have got in there a bit late because all the other participants had been chosen, so they were left looking for a suitable person for the butterfly. The e-mail read that the only tattoo left was designed by Damien Hirst and meant for a vagina. My first reaction was "WHHHAAAT that sounds UNREAL! UP FOR IT!" He'd designed the butterfly specifically to sit across both flaps (can I say flaps?). I went into the GARAGE offices to meet the team, then get an e-mail saying, "We all really like you but we need to see a photo of the area." So I grabbed my housemate and was like, "you have to take photos of my vag."
I think I met Mo Coppoletta for the first time for a consultation. The first stage of the tattoo was done in front of a film crew. Mo is really professional and a nice guy, so it wasn't awkward at all. I kinda wasn't bothered about where it was, I was just concentrating on not fainting because the pain—OMG!. When we were done, I was like OMG I have blue flaps! It's so big and swollen, how will I be able to get home? But once the swelling went down I was like yeah, this is SOOO GOOD!
I met Damien after the tattoo was finished, during the filming of Ryan Hope's documentary Skin. I was filmed showing Damien my vag and then we all went for a beer afterwards. I remember having a tampon in at the time and thinking, shit, I actually have to get it out and just hold onto the string while Damien is staring at my vag, and this is being filmed! The Chapman Brothers were there too.
On the photo shoot, Hedi was amazing. Super chill and cool. When I got to his studio he had a tabletop or something on an angle and was like, "Hey, lay on that." I think the girls from GARAGE had told him not to make my shot look suggestive. It was a really quick shoot. I got flown to LA for it, so I had a few days to have fun with some of the other participants.
The tattoo's a nice little ice-breaker! It's a good thing to talk about because people have either heard about it and are like, "OMG, no way, that's you!" Or they haven't heard about it and are really curious. My girlfriend at the time would get so pissed off at me because people would ask to see it and I would just whip it out. It was my party trick.
An art historian called Ole Wittmann found me on Instagram and was so interested in it, he e-mailed me questions and recently published a book about tattoos, skin, and the human body. I was a big influence on this and he sent me a copy. It's a shame it's in German.
When the GARAGE project first came out it had a lot of publicity and I used to read articles about it and how disgusted people were. People would say such horrible things about me in response to the project. I remember one guy commented, "Just what you need when you sleep with a girl for the first time, a mental image of Damien Hirst." Anyway, I have so many stories, I could be here all day.
As told to Michael Polsinelli