At Y/Project. Photograph by Kristy Sparow for Getty Images.
Jacquemus, Koché, and Y/Project: "Elevating" Sweatpants Is No Longer Enough
Three of Paris's creative young brands show how streetwear and sexy are done in fashion's capital city.
At Y/Project. Photograph by Kristy Sparow for Getty Images.
Now that we've finally made it to Paris Fashion Week, you might wonder why all those big American designers—Proenza, Thom Browne, Altuzarra, and Rodarte—are decamping for this city (and it's not some kind of penance for that Paris incident on The Hills). Ralph Toledano, president of the Fédération de la Haute Couture et de la Mode, put it bluntly in WWD earlier this week: "There are brands that are timeless and casual that make up for their lack of creativity though entertainment, which is fine, and then you have the creative brands and for that, Paris has always been the place to be."
So far, Dior tested us on our art history reading and Saint Laurent took over the expanse of the Jardins du Trocadéro, but a handful of Paris's smaller brands showed us the hold streetwear has on ready-to-wear clothing. It's not enough to "elevate" a pair of sweatpants or slap rhinestones on a pair of sneakers: Paris's younger designers engage critically and technically with their references and inspiration sources—from streetwear to Shakespeare—such that what's "next" is not only in the silhouette but in the DNA of the design process. What I mean is that there is an awareness of the ethics of inspiration, rather than a simple urge to combine sources in a way that feels inventive or new.
Take Koché, the LVMH Prize finalist line by Christelle Kocher that takes street-y garments and works them into feminine finery. In this collection, Nike sweatpants and jeweled royal purple flats were paired with a football jersey whose satin body was woven into an elegant basket pattern; slices of a zillion striped polos were pieced into a shingled train skirt; and soccer jerseys were chopped and screwed into bias-cut satiny sundresses, the ubiquitous "Fly Emirates" slogan webbed with Chantilly lace. It could have felt Here's To You, Miss World Cup!, but there was a socially conscious undercurrent to it, both in the show's venue—the Church of Saint-Merri, known for its religious pluralism and support of gay marriage—and in the use of French soccer jerseys: Kocher has signed a multi-season agreement with the Paris Saint-Germain soccer club, so this was a collaboration in earnest, not the cherry-pick of inspiration that fashion sometimes is.
That these garments were also shown on men and women, with a range of bodies and racial backgrounds, also gave the show a sense of social consciousness. While a diverse runway is de rigeur (even trendy) on New York runways, that philosophy hasn't quite thrust itself fully onto the catwalks of Paris.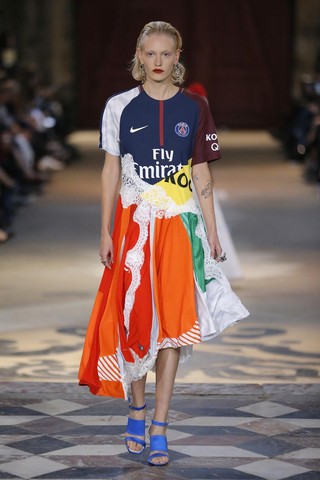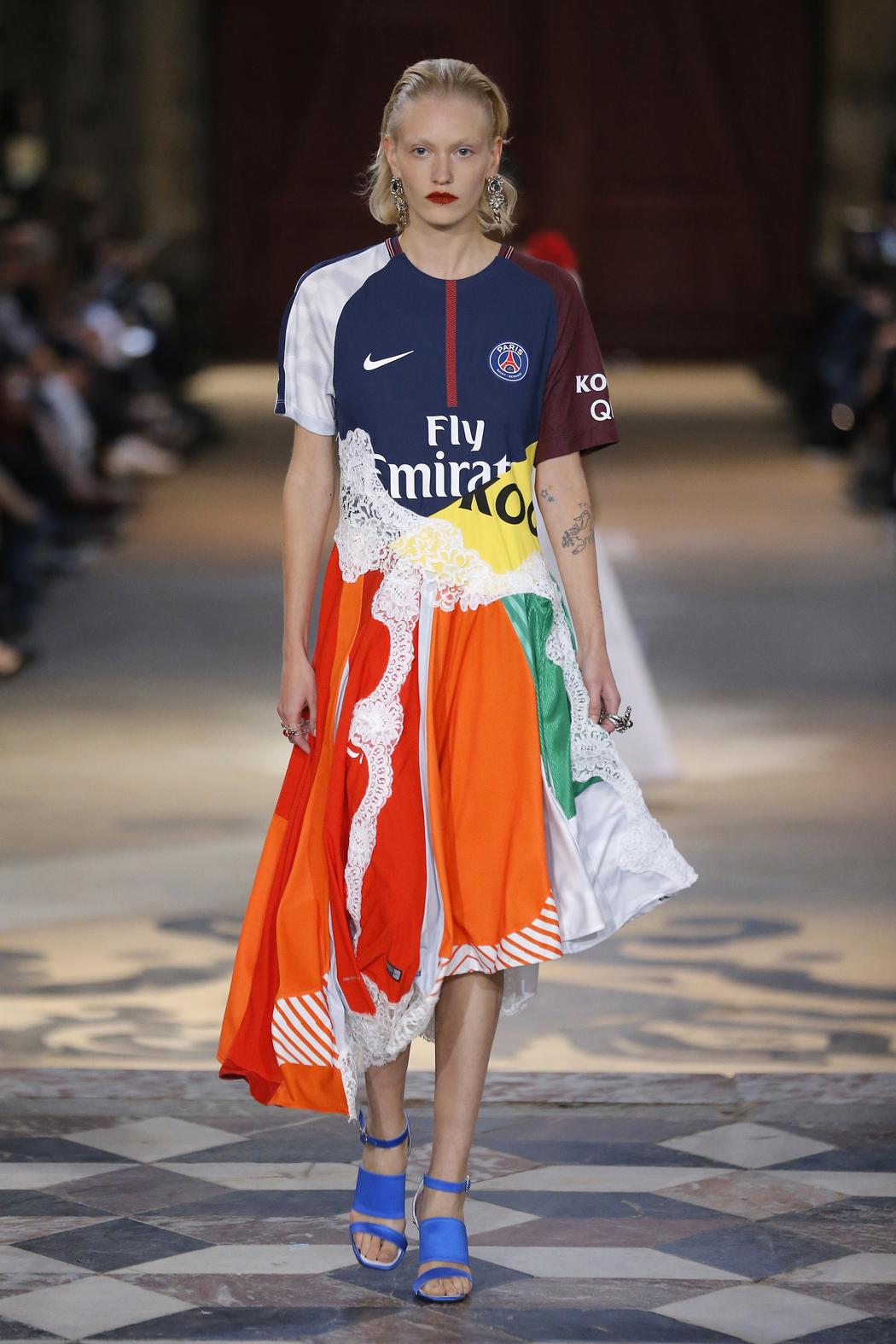 Later, the place to be was Y/Project, who opened their show with the song the moody thrashes of "Dopesmoker" by the heavy metal band Sleep—which was bad-ass! Y/Project is a bad-ass label, after all: another brand based in streetwise garments, which designer Glen Martens layers with highly ornate, essentially Baroque references, like he's playing lead harpsichord on a Megadeth record. Martens likes his layers literally: layers of belts, layers of shirts with an extra pair of sleeves hanging down the front like a menswear pussy bow, shirts tailored on top of other shirts, trench coats boasting petticoats, giant shorts sliced at the thigh and worn with slouchy boots. En garde, club kids! It was a lot of a lot, and it makes you wonder: is it still cool to look like you want to have sex?
Jacquemus showed that it is, at the week's opening show at the Picasso Museum. Designer Simon Porte Jacquemus has recently assembled a small cult around a fervor for outrageously huge hats, and at the after-party outside in the museum's courtyard, as splendid-looking people drank Cosmos in the rain (you can't script this stuff!), women rhapsodized about the sexy simplicity of the collection. It included Madame X straps, skirts draped thigh-high, and plunging necklines that felt nonchalant rather than erotically commanding. The models were rosy-cheeked and dewy-lipped—very après-sexe.
The designer, a Rei Kawakubo acolyte, makes clothing that feels fashion-y, with the big hats and giant earrings and slightly bonkers asymmetrical draping, but the simplicity of the fabrics and restraint of his weirdness make his revealing garments feel almost homespun or pastoral. (And God Created Jacquemus!) This seems to be the clothing women really want from a ready-to-wear label right now: it was sensual, it was joyful, it was a little weird, it was…inspired by his mom! It made me think of how the French sculptor Frederic Auguste Bartholdi modeled the face of the Statue of Liberty on his mother and the body on his wife. Whoa, mama!