Jannis Kounellis, Untitled, 1984, iron shelves, soot, courtesy of the Prada Foundation
The Prada Foundation's First Single-Artist Show is Sophisticated, Scorched Chaos
Fire was an important element of the late Greek artist Jannis Kounellis's practice, with the live indoor flames to prove it.
Jannis Kounellis, Untitled, 1984, iron shelves, soot, courtesy of the Prada Foundation
For the Greek-born artist Jannis Kounellis, who worked for most of his life in Italy and was a key player in the Arte Povera movement, the inherent contradictions of being an immigrant were a central theme of his practice. The sometimes opposite desires of retaining a connection to his roots (and all the ancient culture tied up in them) and embracing the progressivism of his adopted homeland were part of what drove him to create a tactile, sensorial, kinetic body of work.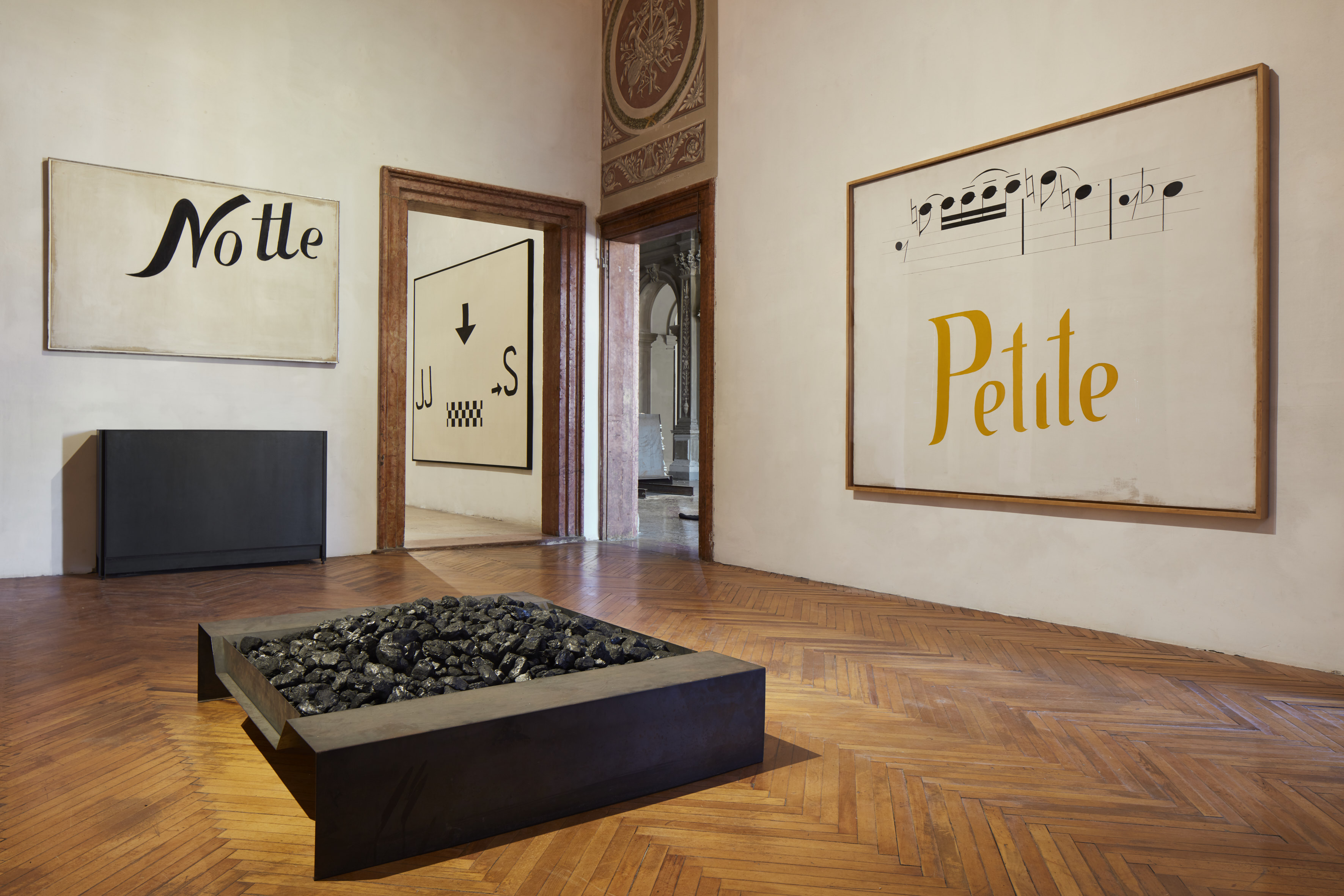 A retrospective of Kounellis's work at the Prada Foundation in Venice is all about contrast—between different artistic materials, between the art and the venue, and between the show and everything else going on during this year's Biennale. It was curated by Germano Celant, the art historian who coined the term "Arte Povera." Speaking with Celant, who has worked with the Prada Foundation since the 90's, earlier this week, the word "dialectical" came up a lot: "Being an immigrant creates a dialectical moment with another culture," he said. "And in life, freedom has to live with rigidity, nature has to live with industry. All of his work was based on this dialectical moment because he was kind of in this dialectical situation."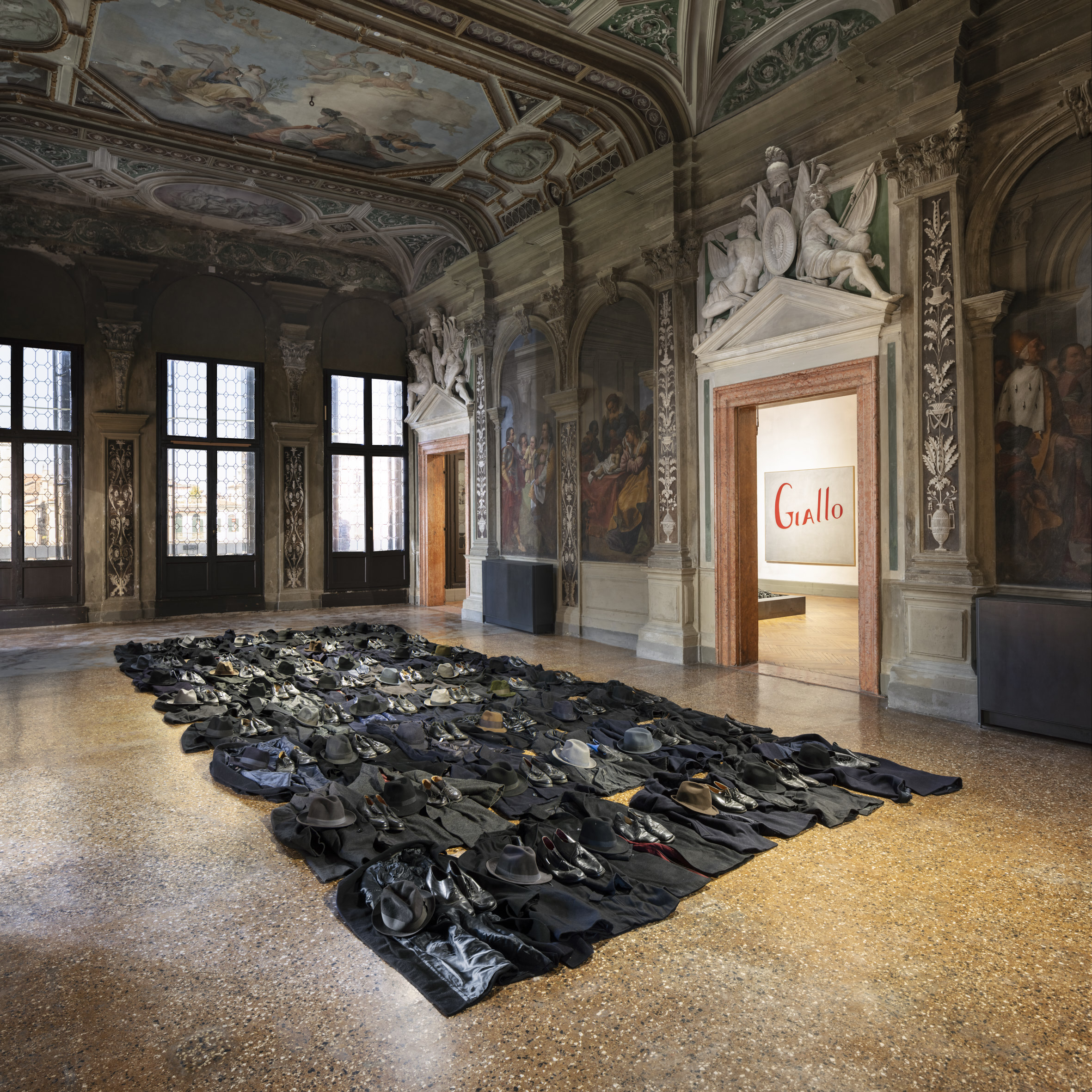 The show, which runs at Ca' Corner della Regina, the foundation's Venetian venue, until November 24th, incorporates more than 60 works spanning the artists career from the early 1960s until his death in 2017. Celant avoided some of Kounellis's more iconic works like Untitled (12 Horses), for which he installed a team of horses in a pristine gallery space, in favor of a more holistic, chronological exploration. The first few rooms recreate the conditions of his early gallery shows, before giving way to a more open, free-flowing amalgamation of paintings, sculptures and site-specific installations made up of materials like soil, cacti, wool, coal, cotton and "materials" like fire and live music.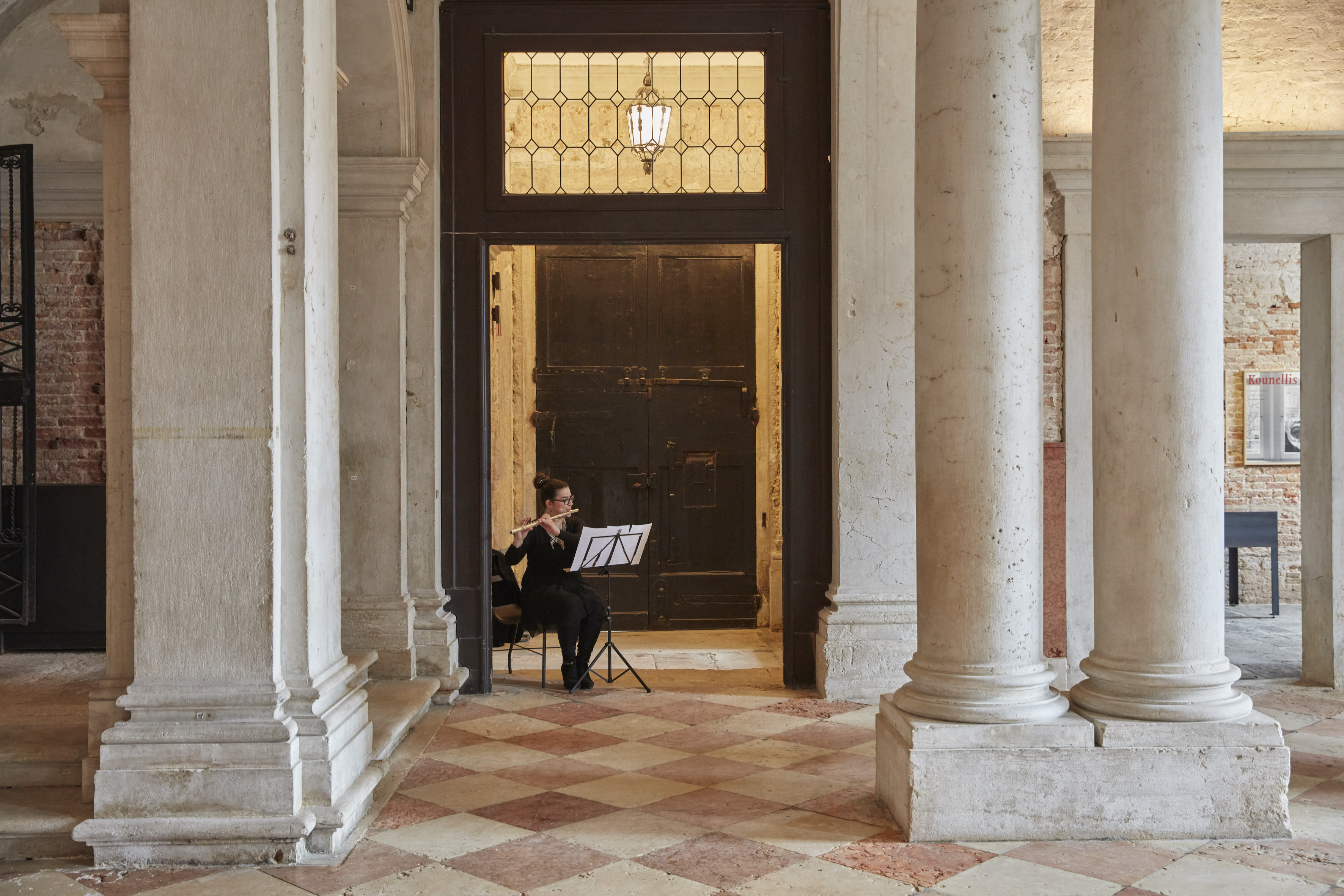 Fire was a particuarly important element of Kounellis's practice—both the thing itself and the smudged, smokey traces it leaves behind. Multiple pieces include blowtorches, oil lamps and candles that are lit at intervals throughout the day, adding a slight whiff of danger to the proceedings. (Celant noted, probably correctly, that you could never do a show involving fire in an American museum. Viva l'Italia.)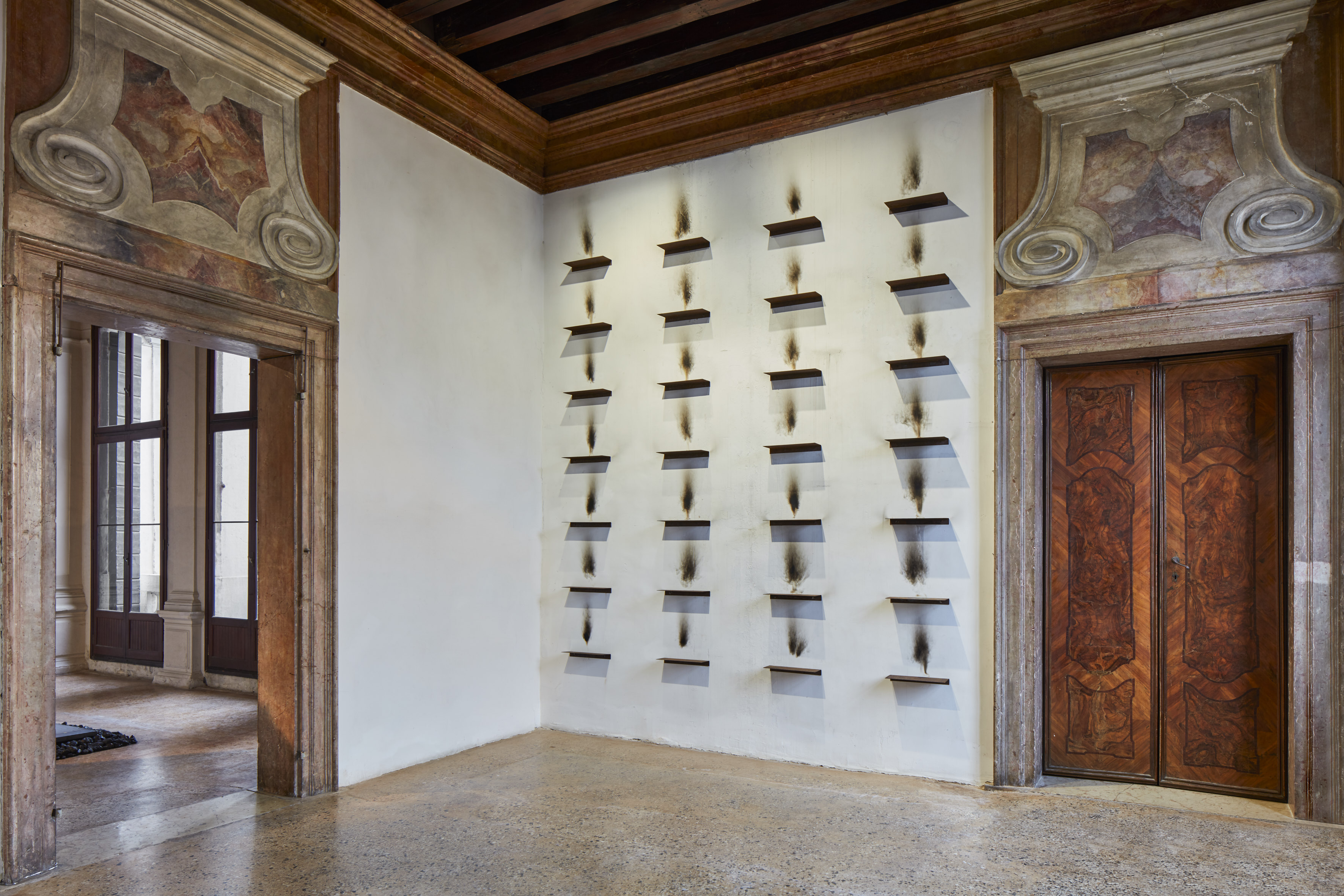 And much of his work affects multiple senses: on the top floor, shot glasses of grappa fill a room with the liquor's astringent scent, and in the staircase, neat piles of fragrant coffee grounds on metal platforms line the wall. Sound, too, was important to him—he thought of his paintings as "scores," incorporating music and note fragments to be chanted, sung or played. Throughout the exhibition, a cellist will sit next to one of them, repeating the same chunk of of Mozart over and over. In the stone entrance hall, a group of strategically placed flute players give the effect of music emanating from the building itself.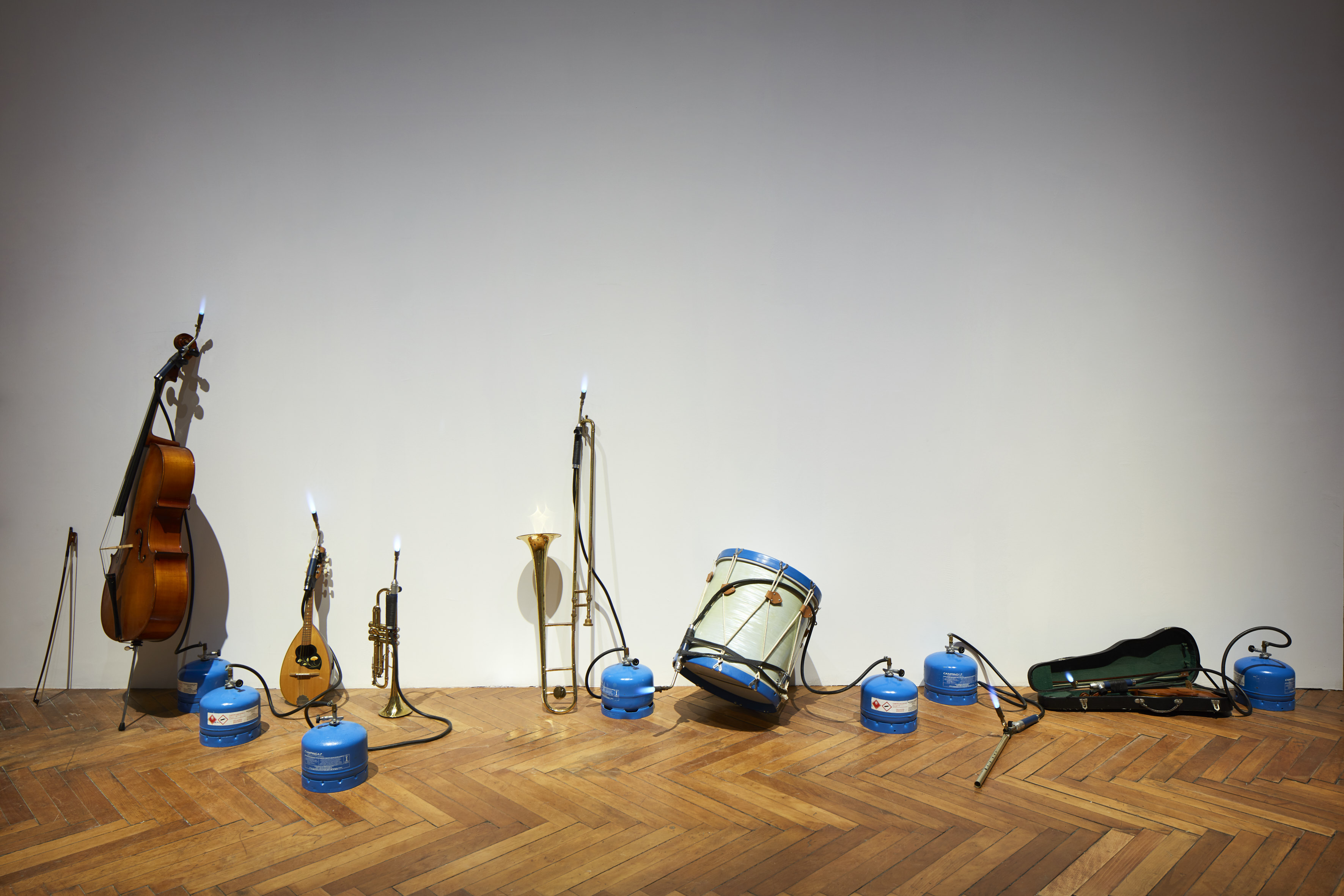 It's the first single-artist show ever organized the foundation, which usually does a blockbuster-y, thematic group show to coincide with the Biennale. And Celant noted that showing Kounellis at their Venetian venue (a grand palazzo with frescoed ceilings, ornate but crumbling moldings and elegant stone staircases) as opposed to their Milanese one was a highly deliberate choice: "Milan would be wrong—contemporary, white walls," he said. In terms of the theme of contrasts, Kounellis's more ephemeral work lent itself particularly well. "In this moment, I think it's a political statement against the consumerism that, you know, the idea that you can sell, buy everything," said Celant, noting that he wasn't trying to be polemic, just historic. "You can't buy fire," he said.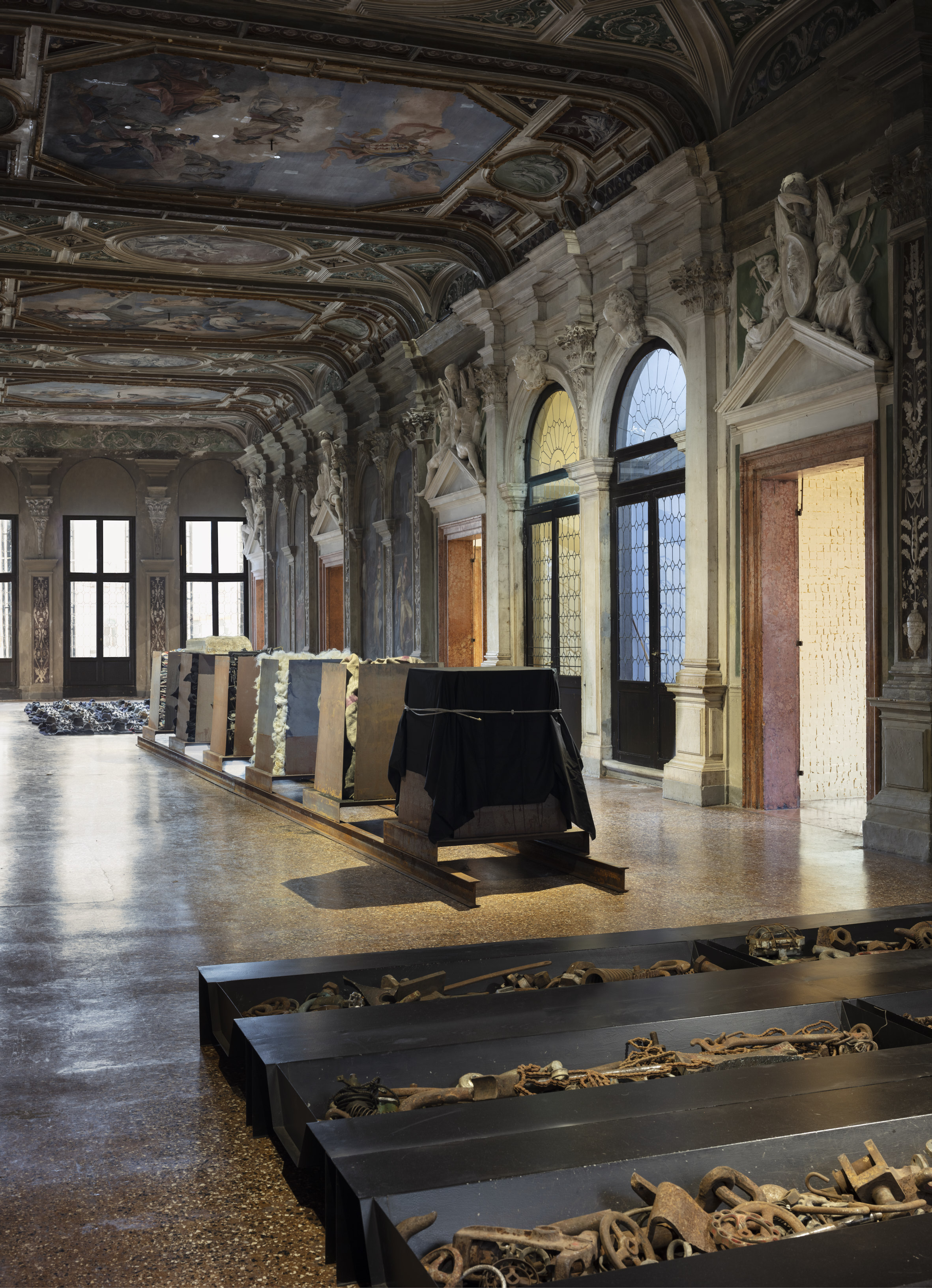 Walking through the show feels like being in a particularly elegant art-slash-music school at recess. It's low-key, sophisticated chaos. And it really is a genuinely refreshing contrast to the slick exhibitions going on at museums and palazzi in the rest of the city during the Biennale, where nothing's technically for sale, but major commercial galleries seem have a hand in just about everything (see: David Zwirner artist Luc Tuymans at Palazzo Grassi and the Gagosian-organized Georg Baselitz show at L'Accademia).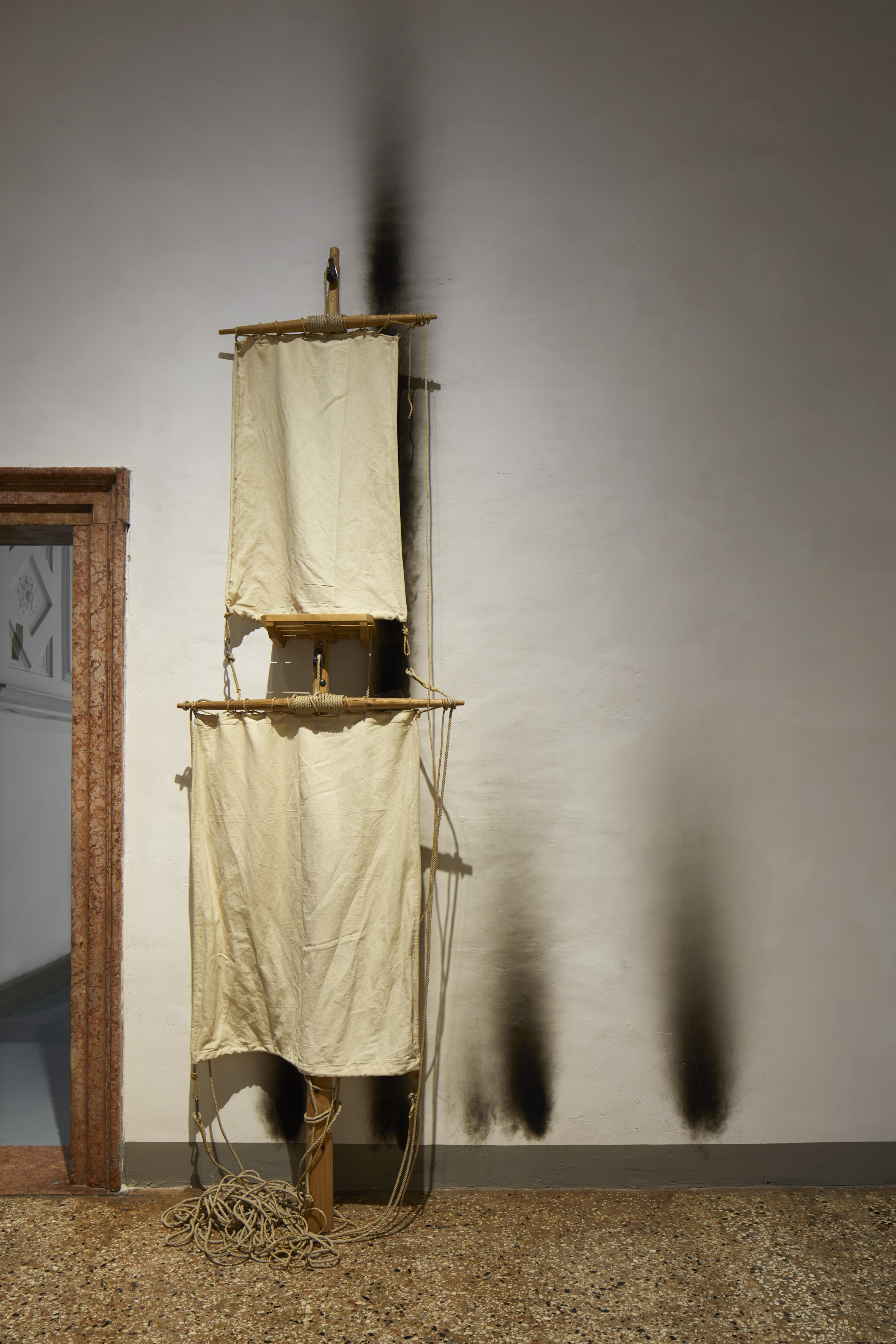 One piece Celant would have liked to include was one involving live parrots, but even though they got away with setting things on fire, bringing in animals who have a tendency to bite proved to be an issue. But he would have welcomed the additional destabilizing element. Celant summed up Kounellis's efforts, and the feeling of the show, in the exhibition's accompanying essay: "By getting the public to react emotionally and physically, he tried to bring people closer to reality, where art is not a dead indication, but life."