Brad Pitt at ArcLight Hollywood on April 5, 2017 in Hollywood, California. (Photo by Axelle/Bauer-Griffin/FilmMagic)
Why is Brad Pitt Carrying This Stupid Little Murse?
I can't explain why I hate it, but I do.
Brad Pitt at ArcLight Hollywood on April 5, 2017 in Hollywood, California. (Photo by Axelle/Bauer-Griffin/FilmMagic)
It's the first full week of January, and it's very cold outside, and it's getting dark too early, and my gums are bleeding for no apparent reason, and I don't like this photo of Brad Pitt, I'm sorry. I just don't.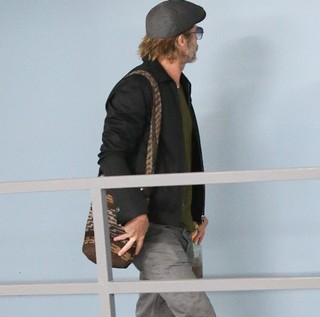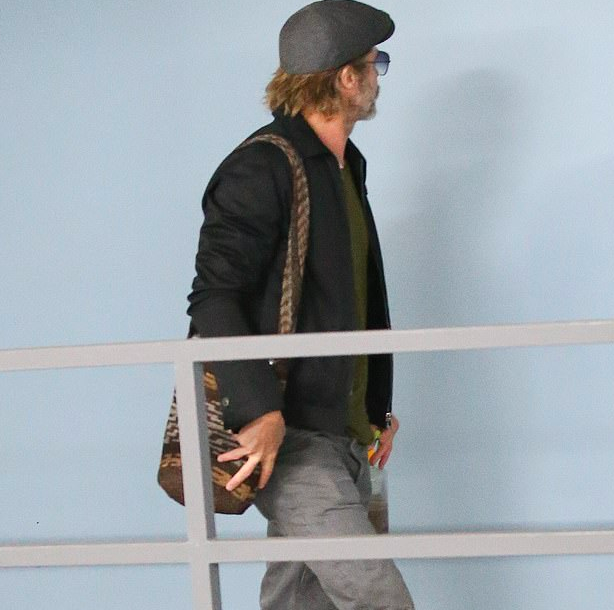 The Daily Mail, in its inimitable style, described Pitt as a "brunette bombshell" in an "olive-green tee" who was "contrasting his top with silver jeans and a grey pageboy cap." This all sounds like a look I would very much enjoy—peak Off-Duty Actor Eating Protein-Style In-n-Out at LAX, or, like, Jackson Maine in 2002—if it weren't capped off by a murse (n.: man purse, but you knew that.)
I wish to acknowledge upfront that I'm being unpleasant here, seeing as Pitt is currently going through a divorce from Angelina Jolie. Even though Pitt received joint physical and legal custody of the couple's six children, we know from prestige television that splitting up with one's hot wife still constitutes a climactic moment in a handsome 55-year-old's life, and not a time during which Pitt's Google Alert needs to ping with news of some rando fashion blogger yelling about his dumb bag. (Just kidding, his PR person's second assistant handles the Google Alerts.)
That said, I'd like us all to take a closer look at this "cloth print handbag."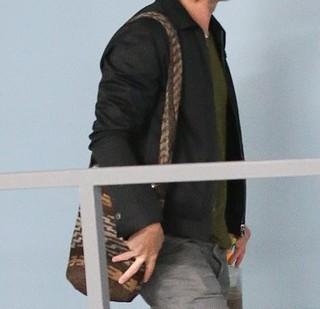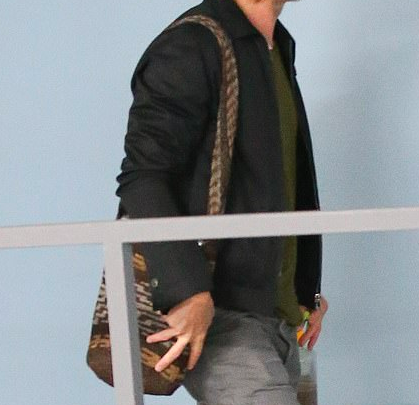 Ceci n'est pas okay. This is not an acceptable way for Brad Pitt to transport his items, and it has nothing to do with the essential purse-ness of the bag itself; it has more to do with how it looks, hanging insouciantly off Pitt's shoulder, in tandem with a pageboy cap. A pageboy cap! Who does he think he is, Keira Knightley in Love Actually?
Let's admit it, Pitt—while an actor of great range and charisma—has, if left unchecked, severe Douche Tendencies; remember when he taught GQ's Michael Paterniti about the majesty of matcha green tea and said this, out loud, to another human being?
"I've never heard anyone laugh bigger than an African mother who's lost nine family members. What is that? I just got R&B for the first time. R&B comes from great pain, but it's a celebration. To me, it's embracing what's left. It's that African woman being able to laugh much more boisterously than I've ever been able to."
Simply put, this is not a man who is sufficiently absent of sin to wear a murse, much less to pair it with an affected hat. Furthermore, we know that handbags are men's territory now. Couldn't Pitt at least have slung it cross-body like a boho clout pack?

Stories