View of EBO CLUB™ at Shoot the Lobster, L.A. Photo courtesy of Martos Gallery and Ebony L. Haynes.
Fake it 'Til You Make It: The Artist Bootlegs of EBO CLUB™
An exhibition as shop in L.A. pays homage to the art of the knock-off with DIY Nike, Tommy Hilfiger, Lacoste, and Supreme swag.
View of EBO CLUB™ at Shoot the Lobster, L.A. Photo courtesy of Martos Gallery and Ebony L. Haynes.
The art of the bootleg, especially when it comes to designer fashion knock-offs, has caught fire in recent years. What was once the scourge of the industry is now a hot commodity, sent down Gucci runways and sold by Vetements at the brand's very own garage sales. Such labels are effectively recuperating the profits of pirated merchandise and now selling that, too, at a generous markup. Now, through August 26, a timely show at Shoot the Lobster's L.A. gallery, EBO CLUB™, brings bootlegging back to its illicit roots.
EBO CLUB™ is a shop of artist-designed "fakes"—T-shirts, beanies, and sweatshirts that start at $40 a pop—commissioned and produced by gallery director Ebony L. Haynes. On the racks you'll find items with graphic designer David Alcorn's logo for The North Face reworked by artist and designer Peter Paquin to read "The Worst Case," including missiles dripping from the stylized graphic of a monument in Yosemite National Park. The Nike swoosh is now an airbrushed smiley face on T-shirts by Devin Troy Strother; the Lacoste gator a friendly smiling cloud by "post-pop" collaborative FriendsWithYou. Mario Ayala collaged his dreamy portraits of urban L.A. with the ubiquitous Supreme logo, while Sayre Gomez's versions of Nautica gear look like a love child between the apparel brand and Newport cigarettes.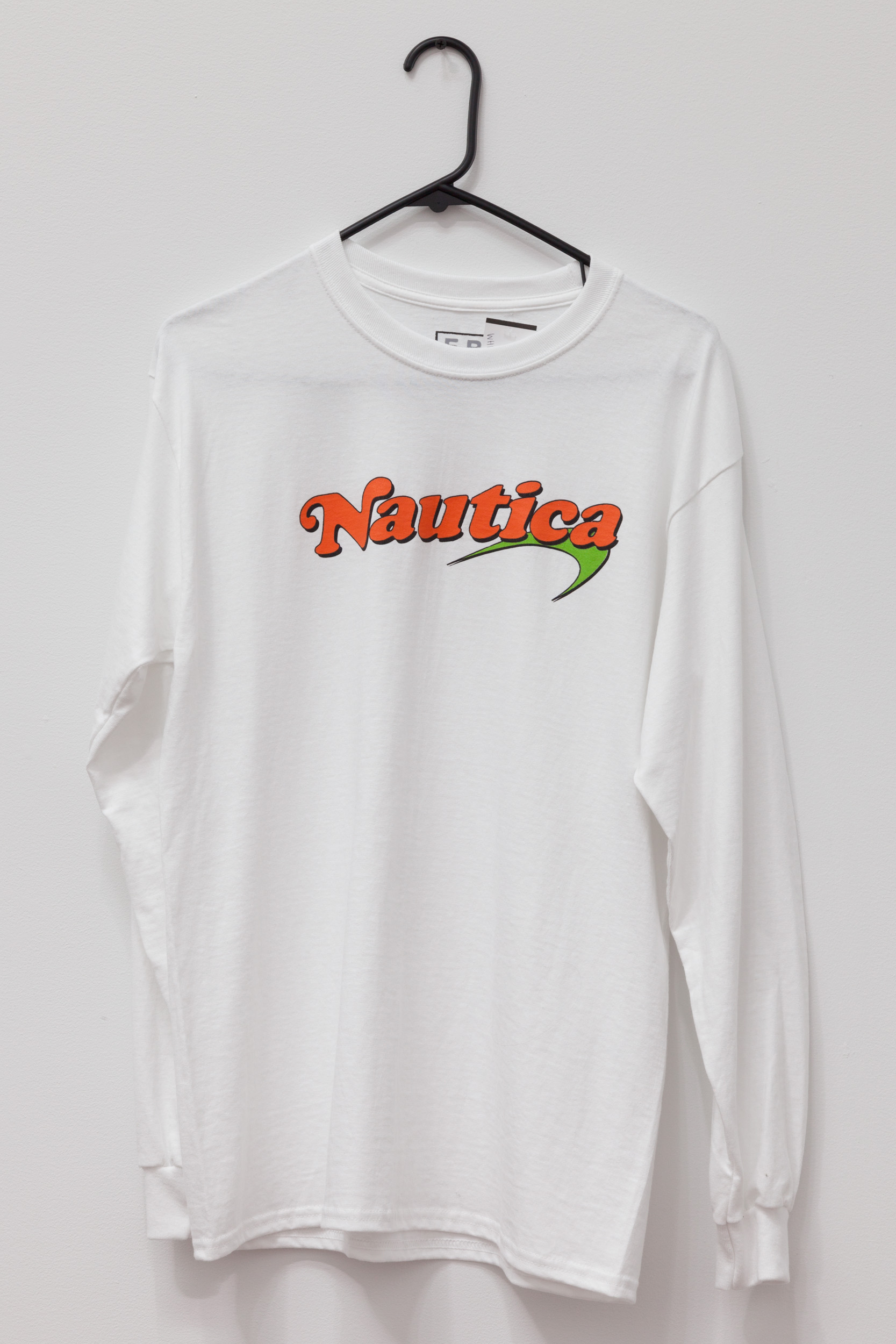 Class and exclusivity are always an element of building a brand name, and status symbols remain an aspirational commodity. Take Tommy Hilfiger, for example, "a brand that has shuffled a white, middle class aesthetic into and out of popular black fashion," according to artist Kandis Williams. For her pieces at the club, she's replaced the designer's name on the familiar red-white-and-blue rectangular logo with "Alice Modjadji," an homage to the Ugandan activist, insurgency leader and spiritual healer Alice Lakwena.
According to Haynes, bootlegging has a long history as a method for disenfranchised communities to participate in cultural realms they've been shut out of, or to access other necessities. When local legend Jimmy Jams—who created the iconic T-shirt, "Don't Squeeze the Juice," around the time of O.J. Simpson's murder trial and produced the Ebo Club merchandise—"started working on the street corners after the L.A. riots, 'bootleg' meant something deeper," says Haynes. "He was selling water and diapers and basic necessities for cheaper than the stores [were]. Yes, it was a hustle, but it was something for the people and with limited profit."
An important precedent here is Harlem couturier Dapper Dan, who took sartorial piracy to extravagant heights in the 1980s by "Africanizing" the aesthetics of Gucci, Louis Vuitton, and other labels until his operations were shut down in 1992 by lawsuits filed by those two houses as well as Fendi. "Dapper Dan recognized, very early on, a lack of accessibility to a huge group of cultural trendsetters in their own right, as well as the cultural markers and commercial tropes of 'making it,'" explains Haynes. It wasn't until last year, when Gucci lifted the puffed sleeves of an LV knockoff he had designed in the 1980s, that Dapper Dan came back into the spotlight in an unexpected partnership with the fashion house. "I absolutely believe Dapper Dan more than deserves his due and credit," says Haynes, "but don't forget the litigious red tape [that the fashion industry] put up around him before the culture vultures honed in. Appropriation happens from the top down all the time, and people rarely question it."
In this first edition of what Haynes hopes will become an annual project, Ebo Club may have unwittingly tapped into hypebeast culture. On opening day, shoppers were waiting outside before the doors were unlocked. (The line wasn't Supreme-drop-huge, Haynes notes, but a small group was waiting to grab the FOLA pieces, KunleIRAK™'s take on FILA.) Despite its success, in the true spirit of real fandom, it's not about the money. "I don't think the artists would ever participate ever to get rich," says Haynes. "It's about something bigger than dollars." Anyone who wants to flip Ebo Club goods on eBay, however, is welcome to mark up the prices as they please, she notes. "That's all part of the bootleg game."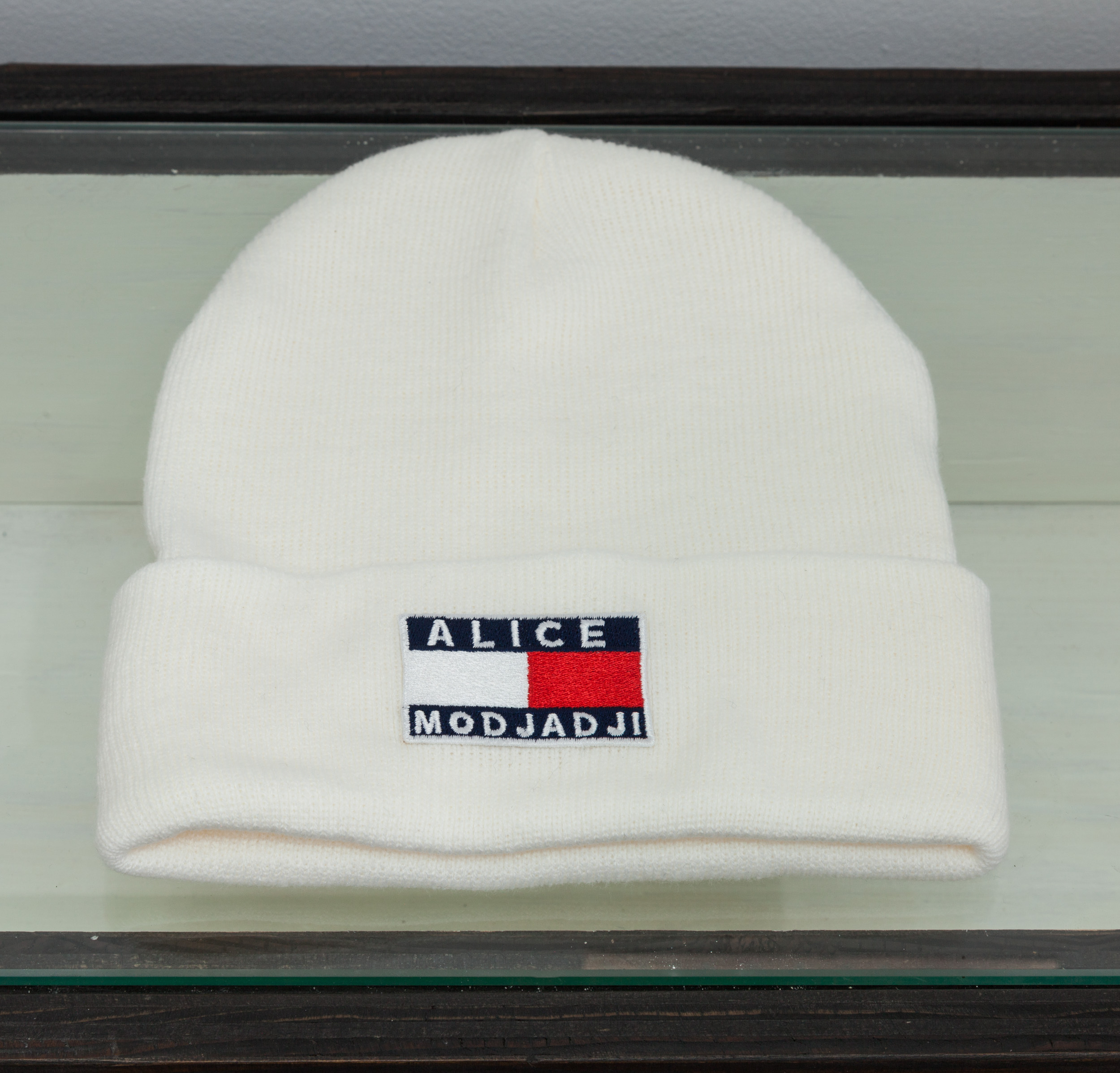 EBO CLUB™ runs through August 26 at Shoot the Lobster in L.A.