Photograph by Astrid Stawiarz for Getty Images.
Eckhaus Latta and Rodarte: Sexiest Brands Alive!
Two Whoopi Goldberg-attended shows demonstrate new definitions of female "sexiness."
Photograph by Astrid Stawiarz for Getty Images.
"Wonderful, wonderful, wonderful, wonderful." That's what Whoopi Goldberg had to say to Mike Eckhaus and Zoe Latta after their Spring 2019 show in Bushwick on Saturday. Whoopi was wearing Birkenstocks with sock and a batwing denim-on-denim jacket; it reminded me of Ottessa Moshfegh's recent words of admiration for Goldberg, who is also a major presence in her recent book My Year of Rest and Relaxation: "I think she, in her really peculiar Whoopi Goldbergness, is so powerful of a presence that her authenticity seems to make all of the pretension around her look just as absurd as it really is."

Watch your back, Bieber! There's another fashion week savior in town.
Anyways: In addition to its appeal to Whoopi Goldberg, one thing I like about Eckhaus Latta is how sexy it is. Phoebe Philo is no longer at Céline—excuse me, Celine—but the silhouette she pioneered remains the fashion standard: loose, diaphanous, and wealthy. On the other side of the shape spectrum are Yeezy, Balmain, and Saint Laurent, and its fast fashion cousin Fashion Nova—sexy and empowering indeed, but at times physically uncomfortable (wearing latex can suck!). And unfortunately, the fashion world seems to associate this silhouette with cheapness—an association entangled with stereotypes about race and class.
But Eckhaus Latta's sexiness is on a different spectrum. It neither swaddles opulently nor clings—it's just easy. There were lots of cobweb knits with breasts jiggling through, and bellies peeking out from above low-slung jeans, and even a windowpane skirt set with no lining. Latta told me after the show that these "negative space garments and the showing of skin" were inspired not by a desire to reveal the body but by reliable T-shirts well-worn with holes. "It's this kind of ease of sexiness or ease of being in one's body—it's not about this reposturing of someone's identity," she said.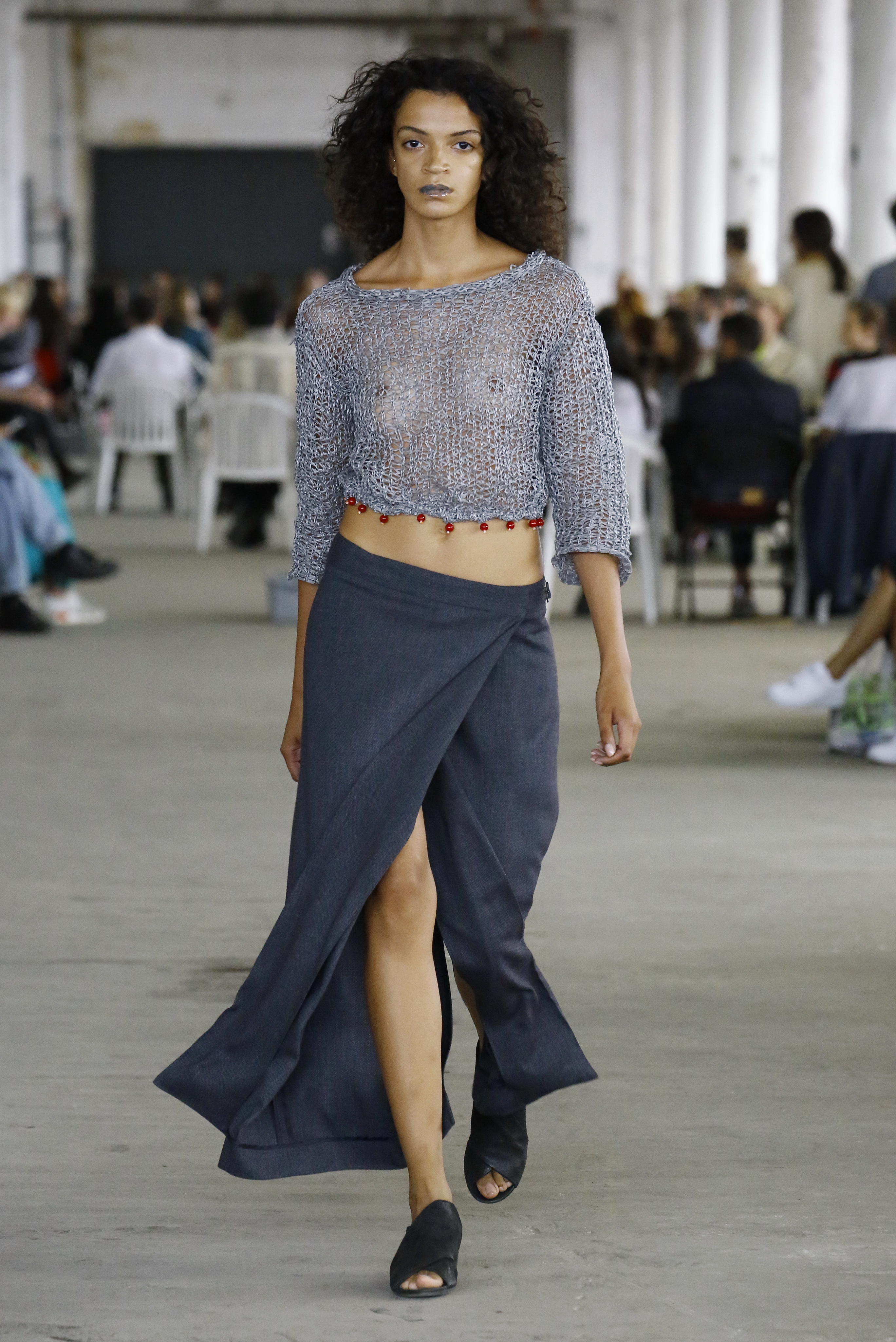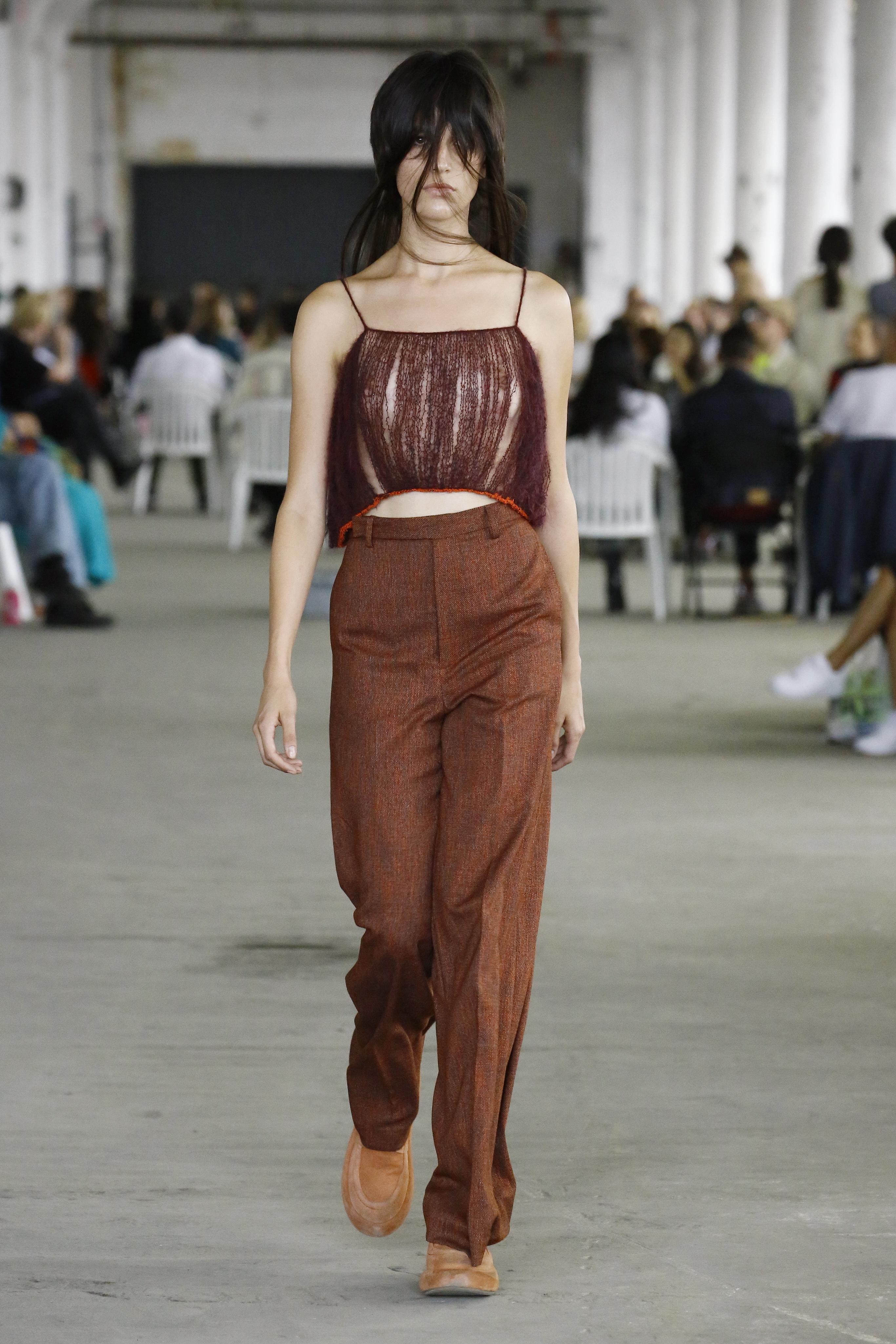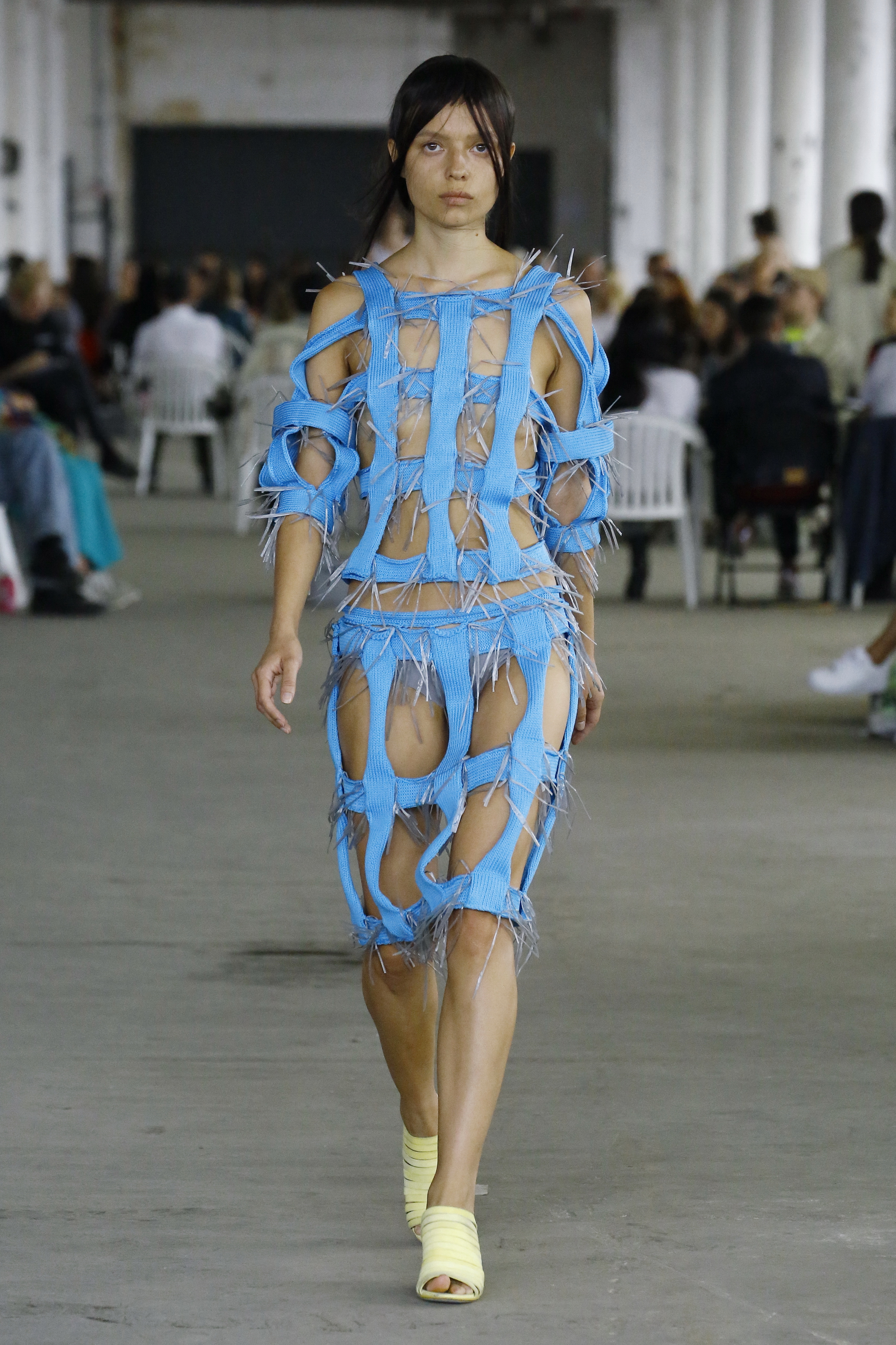 Eckhaus added that "we also don't expect everyone to wear those pieces," though he's surprised by the number of people he does see wearing them. "It's just inherently something we're interested in, always, is the play of body and clothing, and it's not about sexiness but a feeling of comfort."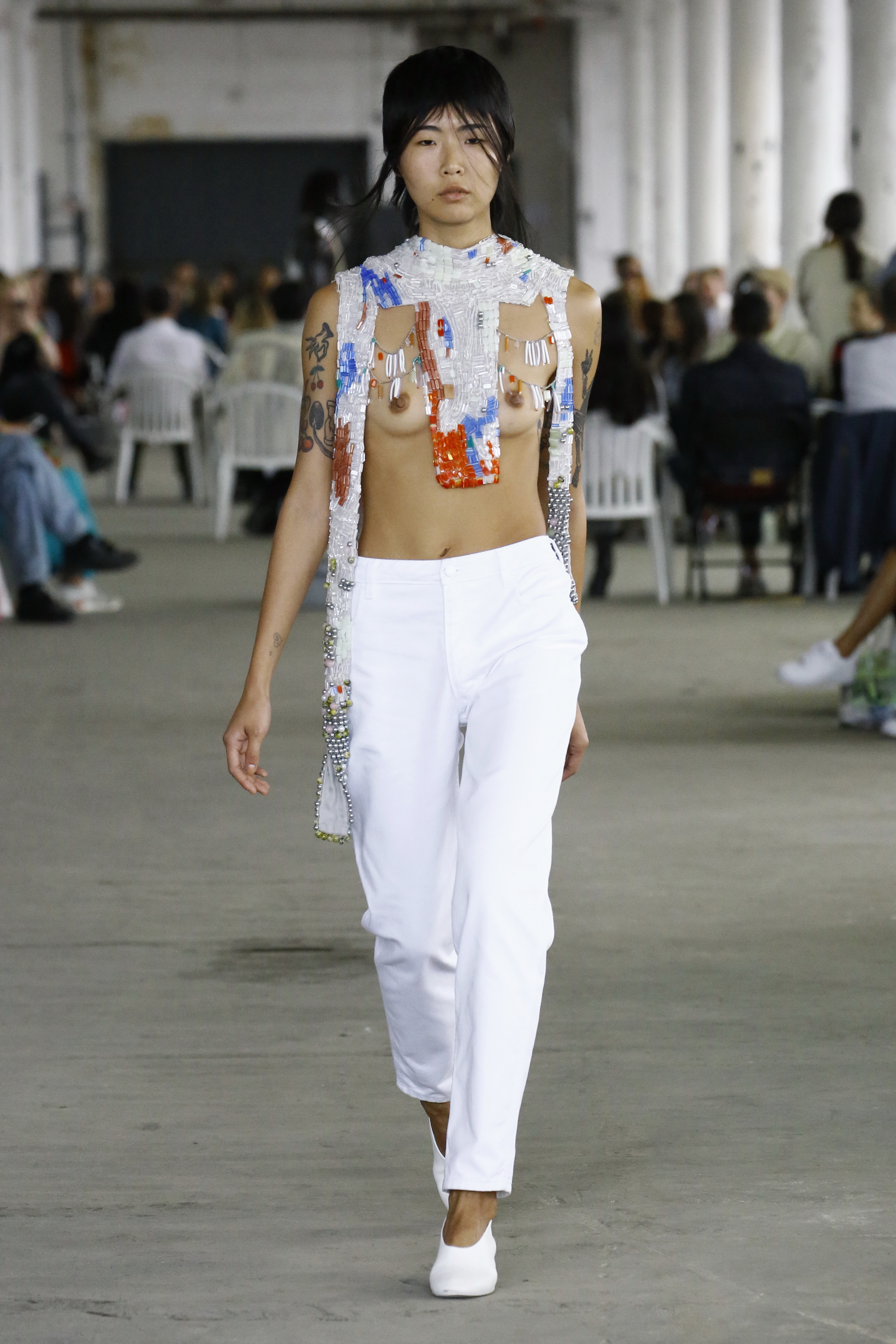 I thought about this a lot over the summer, when a number of women were tweeting and talking about how it was so effing hot outside, and we should be able to wear whatever we need or want to in order to stay cool. Comfort doesn't have to mean covering up, and sexiness doesn't have to mean no cover at all.
Rodarte was also looking sexy, kind of like Gucci with a dirty mind. Staged in a marble cemetery in the East Village, there were little bottles of Fiji water under each seat, which had all the humor of a Dorothy Parker rhyme because it was pouring rain. That made the show like a music video—you know you're doing something right as designers when the weather can be on brand for you.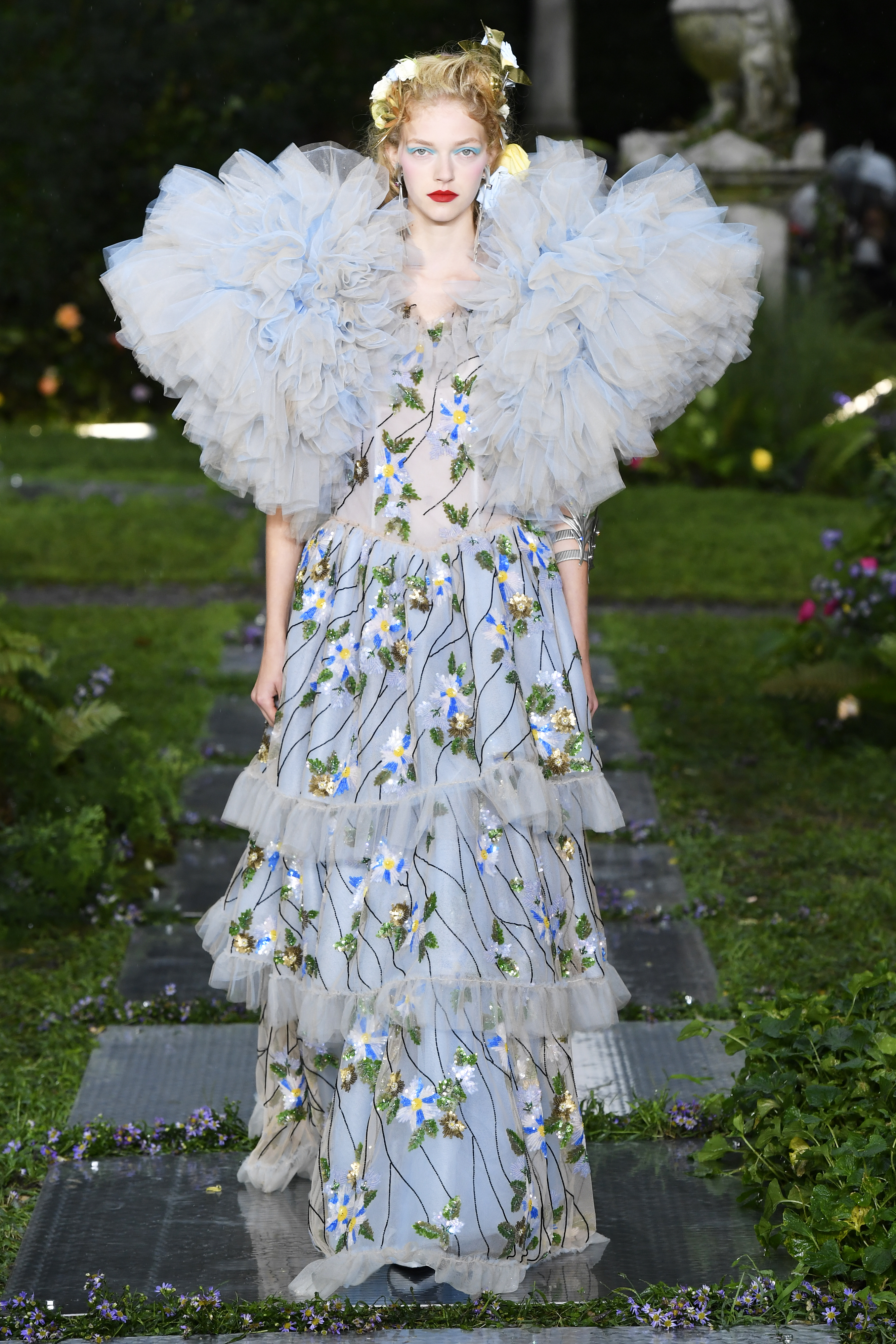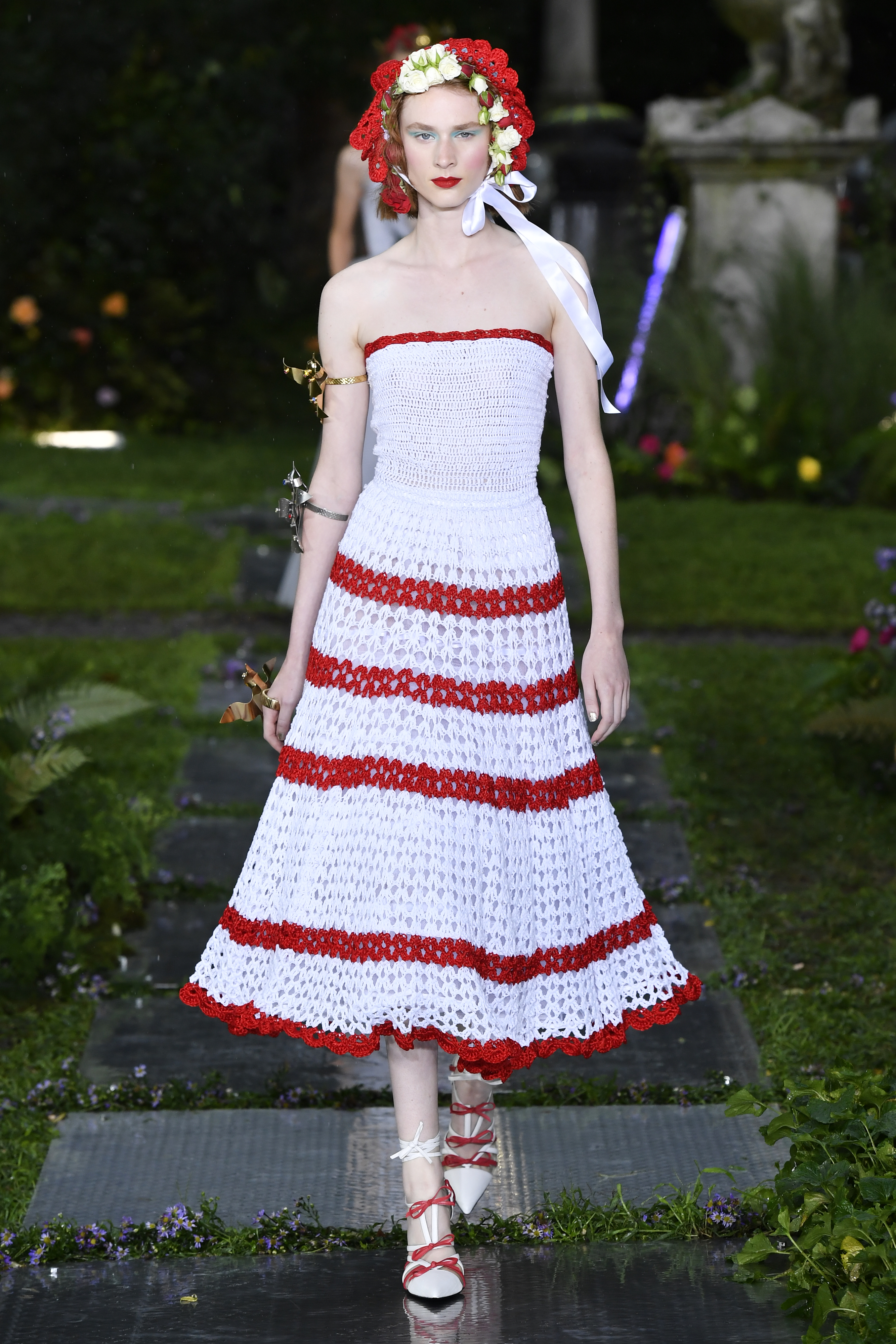 I really like that Rodarte moved to Paris. It seemed to help them realize that it's okay just to be really beautiful—you don't have to be bizarre first and pretty second. But back in New York, they injected the bizarre in again, with fantastic results: giant heads of tulle, leather flounces, some lilac and hot pink lace dresses that were so tacky they worked. (There was a strange cha-cha ribbon interlude that wasn't so successful.)
It made me wonder: could Rodarte ascend to the throne that Marchesa no longer holds? There still is a place on the red carpet for a brand that can define the glamorous side of femininity and sexiness in the public eye, and there is a huge group of actresses, especially ones in their twenties, thirties, and forties, who would have the time of their lives winning awards in these dresses (or losing gracefully).
Or, you know, they could at least start with Whoopi: she was at Rodarte, too.