The gym at 21c Museum Hotel, Bentonville, featuring Virginie Barré's Fat Bat. Courtesy of 21c Museum Hotels
Wake Up Next to Art in This Hotel-Gallery Hybrid
The 21c Museum Hotel combines a room of one's own with a visual program that's more than just window-dressing.
The gym at 21c Museum Hotel, Bentonville, featuring Virginie Barré's Fat Bat. Courtesy of 21c Museum Hotels
After a pleasant drive through downtown Bentonville, Arkansas, I arrived the Deborah Berke Partners-designed 21c Museum Hotel on a crisp January afternoon to sniff out whether this company's integration of art into its accommodations was really more than just high-end decor. The lobby was immediately promising; not many hotels are in a position to welcome guests with artworks by Kara Walker, Lina Puerta, Hector Zamora, Do-Ho Suh, Chen Lei, and Serge Alain Nitegeka—inclusions in a group exhibition called Labor and Materials, which was scheduled to open that evening. There was yet more art in the elevator and the corridor en route to my room.

Unlike traditional museums with designated visiting schedules, 21c hotels exhibit publicly, 24-7, and with Southern hospitality the sizable contemporary collection of their founders, Laura Lee Brown and Steve Wilson. Established by the philanthropist and collector couple in Louisville, Kentucky, more than a decade ago, the chain has evolved into a multi-venue project with outposts in the Midwest and the South. The Bentonville branch also boats a museum near-neighbor in the shape of the Crystal Bridges Museum of American Art.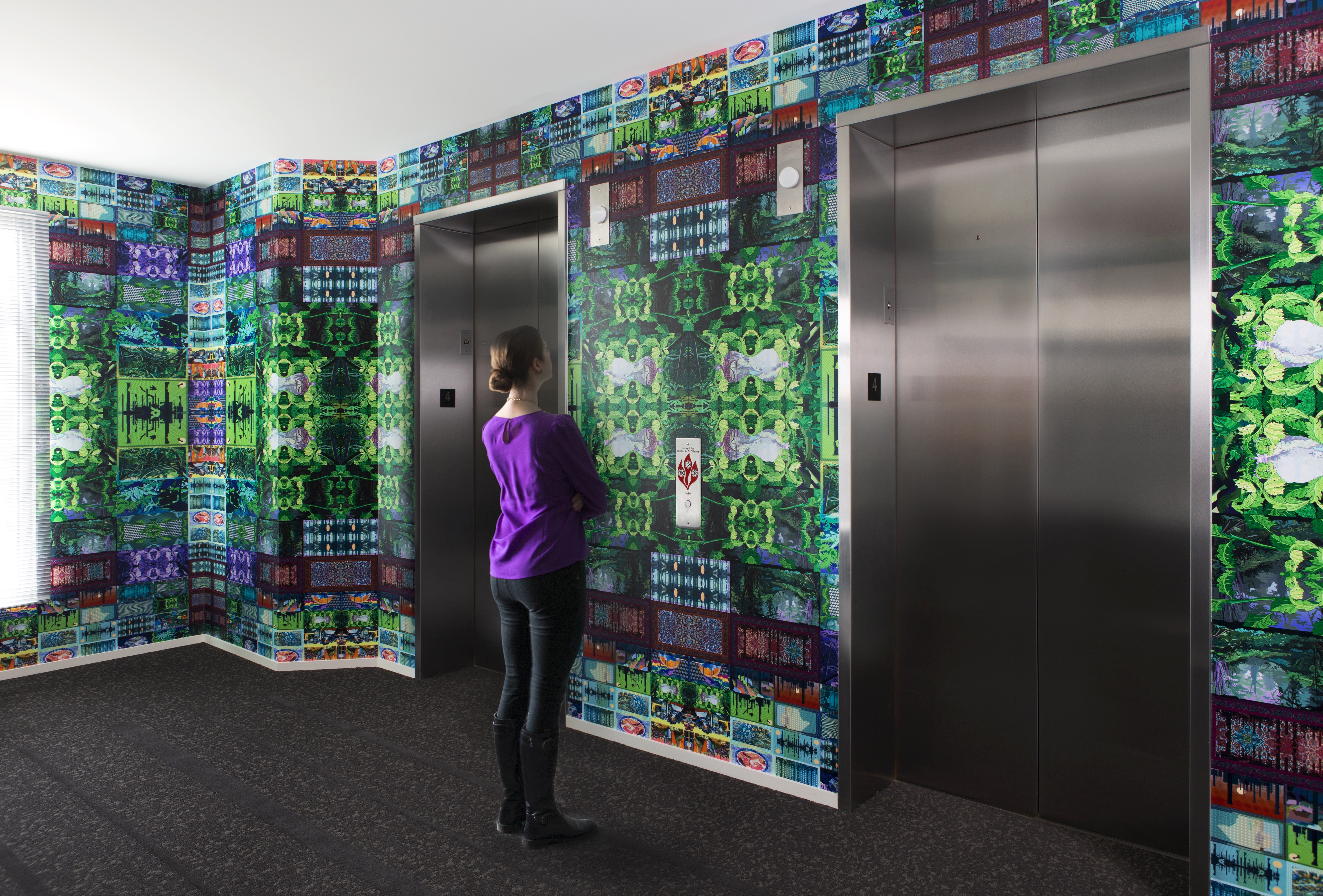 After a quick shower—my room's do-not-disturb sign featured an image of Serkan Özkaya's 2006 sculpture Baker's Apprentice, and the TV was streaming video art—it was time to explore further. First off there was Virginie Barré's Fat Bat, an overweight Batman figure with wings spread wide suspended ominously from the gym's ceiling, then Johnston Foster's BuzzKill installation. Blanketing the ceiling of the hotel's Hive restaurant was a larger-than-life bee hive and a swarm of enormous model bugs, suggesting an outsize sweetener for the meals being prepared by resident chef, Matthew McClure.

A speech by the hotel-museum hybrid's director and chief curator Alice Gray Stites kicked off the evening; next came a panel about creative labor and the challenges of surviving as an artist in the face of economic instability. In line with this consideration of employment and its value was Labor and Materials's consideration of work in general as both a sociopolitical routine and a peculiar dynamic enacted between producer and consumer—a relationship not unlike that shared between artists and their publics.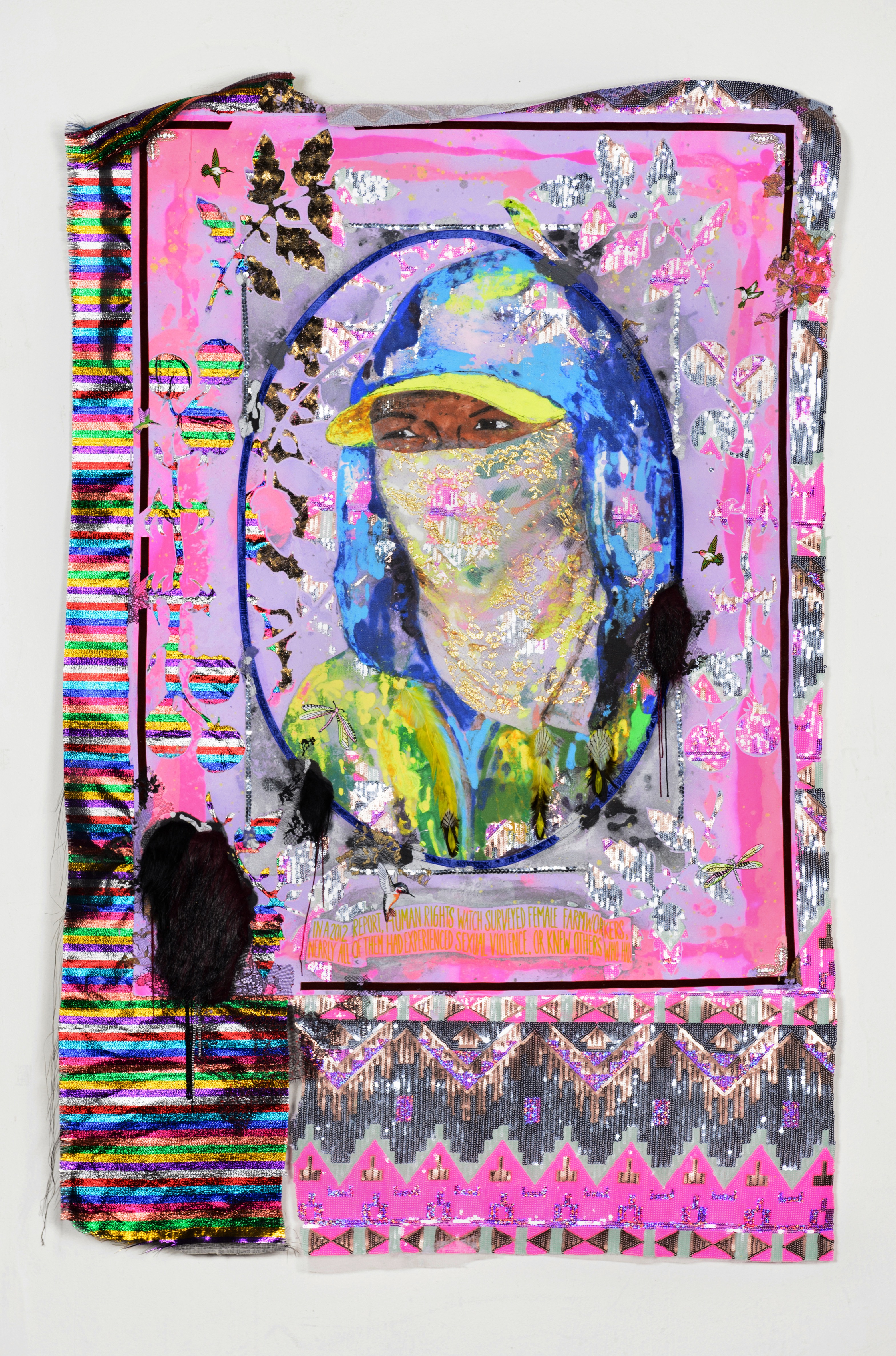 Walking me around the works she'd sited around the hotel's lobby, viewing rooms, and immediate exterior, Stites noted that the show was originally installed at 21c's Oklahoma City location. Stites, who touts a unified vision of 21c's various outposts, works to orchestrate cross-pollination among the venues, aiming to spark wider discussion. In this case, she aimed to present the show's photographs, sculpture, paintings, and moving image works as prompts to the ongoing consideration of labor as a phenomenon skewed—perhaps inevitably—by flawed economic systems and the often-unpredictable impact of new technologies.

Elsewhere in the show, Zanele Muholi's photography series Masse and Minah shows the artist and other African American women engaged in a series of domestic activities, while Ramiro Gomez's softly colored mixed-media paintings offer elusive narratives populated by service-industry employees, furthering a commentary on racial inequality and economic hardship in the workforce. (Of course this is a topic that's particularly resonant in the environment of a hotel, where sheets are changed and toilets cleaned on a daily basis by workers that remain unacknowledged by many.)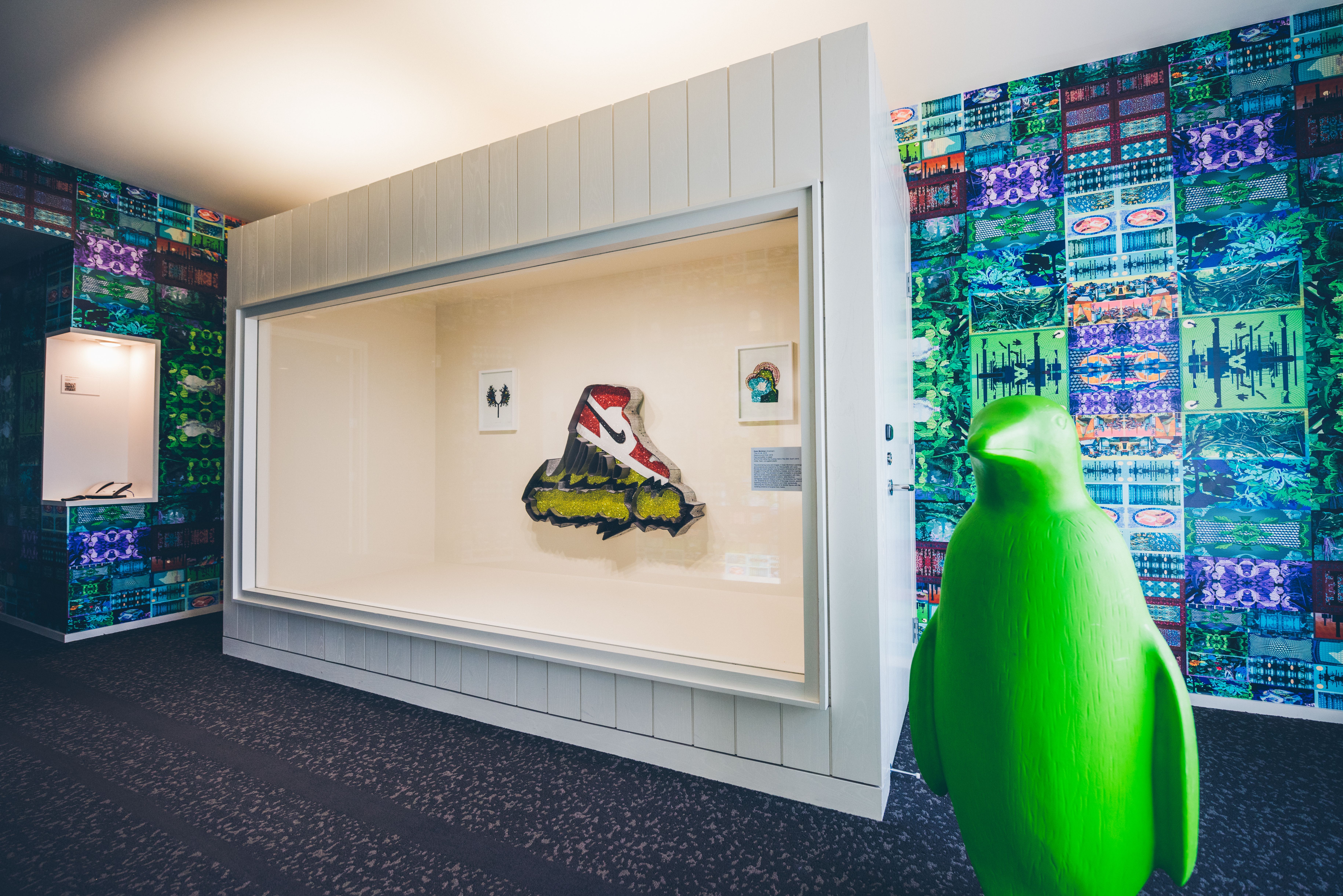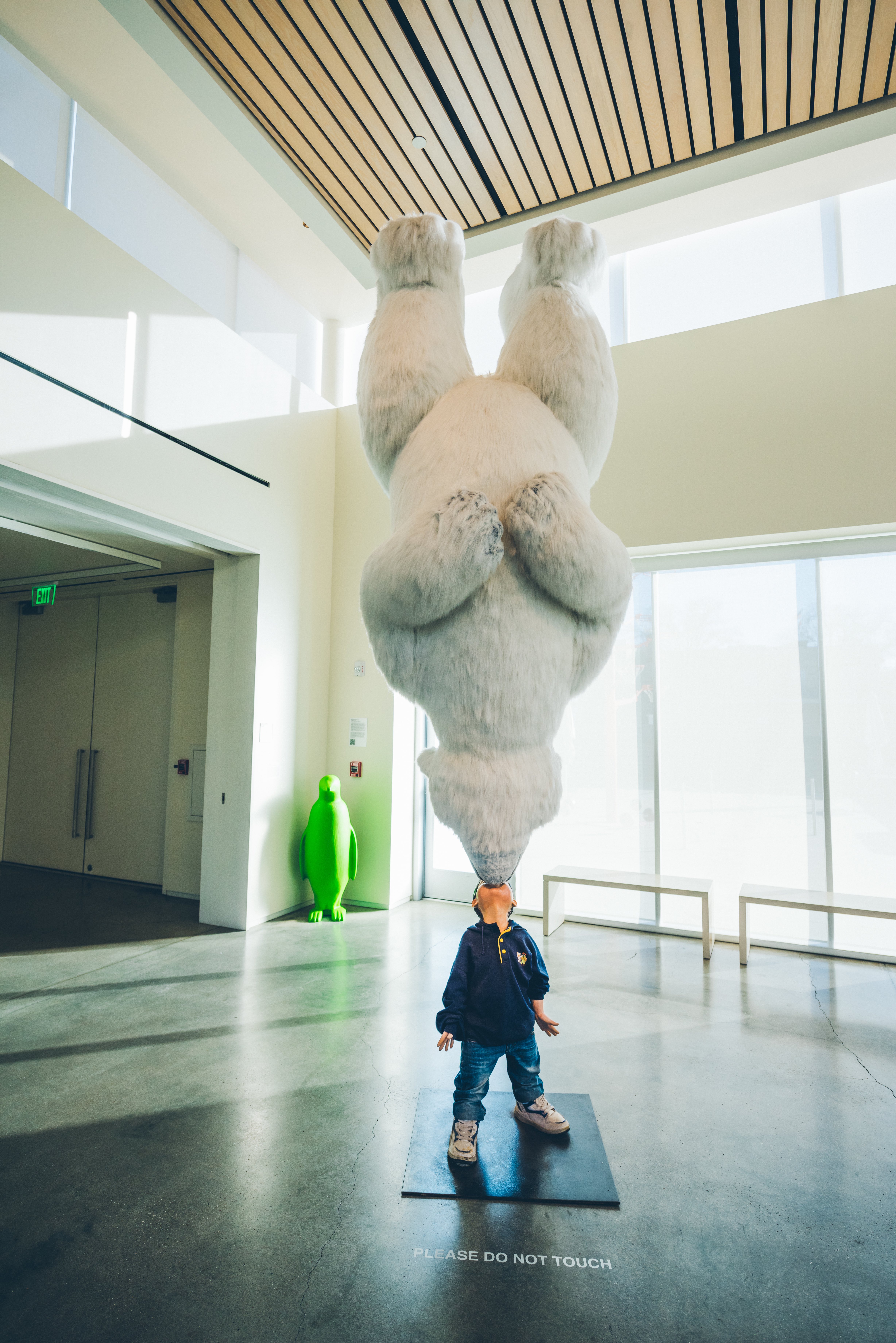 21c offers a specific set of conditions for art viewing. Ephemeral works and the fleeting moments they present take on a special resonance in a space defined by comings and goings, short stays and travel plans. The experience of meeting exhausted mine worker Miroslaw's piercing gaze in Pierre Gonnord's large photograph whenever the elevator doors open, for example, has a particularly acute impact. And some projected bird's-eye footage of rough waves in a darkened room also caught my eye during a drowsy after-hours trip to the lobby; SUPERFLEX's hallucinatory film Kwassa, Kwassa, documents the efforts made by the people of Anjouan to reach European soil on makeshift boats. Elsewhere, Daniel Jackson's The Thousand Yard Stare (Possible Future Me), an eerie mixed-media installation featuring a mannequin slicing up vinyl records, a crow perched on his shoulder, seemed to materialize in an alcove as I approached the window for a look at Alexandra Arrechea's permanent outdoor sculpture, Orange Tree.

Trapped in a Sisyphean loop, Jackson's figure reminded me of the nearing sunrise and the futility of resisting sleep. Before the morning check-out, I revisited Alejandro Cartagena's Car Poolers, a set of inkjet prints depicting Mexican workers traveling behind pickup trucks, and Electronic Village, a group of Plexiglas-covered miniatures that chronicle artist Karine Giboulo's experience at a Chinese factory where she, as a faux company CEO, was exposed to backdoor operations. Finally, on my way out, I bade farewell to Walker's African Boy Attendant Curio with Molasses and Brown Sugar, a figure familiar figure from her celebrated 2014 installation at Brooklyn's Domino Sugar Factory—perhaps the grandest memorial yet to labor's racially charged history.

Privileging the word "museum" in its name, 21c asserts a commitment to art in a context with its own demands and rewards. And by integrating the work into its setting with formal and thematic sophistication, it succeeds surprisingly well in escaping—even subverting—the bland anonymity of standard corporate digs.