Alex Israel and Rimowa CEO Alexandre Arnault. Photo courtesy of Keith Baptista.
Alex Israel Has Built A Gigantic Rimowa Suitcase on an L.A. Street Corner
In time for Frieze L.A., a pop-up roadside attraction that recalls a staple of California quirk.
Alex Israel and Rimowa CEO Alexandre Arnault. Photo courtesy of Keith Baptista.
Heading north on Los Angeles's La Cienega Boulevard, the thing is hard to miss: a multi-story, half-opened suitcase sculpture, painted in a sugary, sunset ombré of blue and pink. The installation is, for all intents and purposes, an outdoor gallery for a collaboration between artist Alex Israel and the luxury luggage brand Rimowa. Yet to someone unfamiliar with the activation, its presence is not immediately clear. But, as Israel says, the edifice has a distinctly, gloriously Golden State purpose.
"There's this amazing tradition in Californian architecture of 'the roadside attraction building,'" he noted at a press preview of the pop-up, which will exhibit his suitcases—actual carryon versions of the monolith—through the duration of Frieze (and where prospective buyers can get on a waitlist for the launch). "You might have heard of Randy's [in Inglewood], the donut shop with the giant donut on top. Or, in the Valley, there's a bar in the shape of a beer barrel. When I was a kid, there was a hot dog place called The Tail o' the Pup, in the shape of a hot dog." Israel, born and raised in Los Angeles, fully embraces the chromatic, beautiful and yet often weird veneer of his hometown. A quirky building in the shape of a suitcase to sell slick (though arguably as quirky) real-life suitcases? On brand and very meta—though it harkens back to a time before "meta" entered the popular lexicon.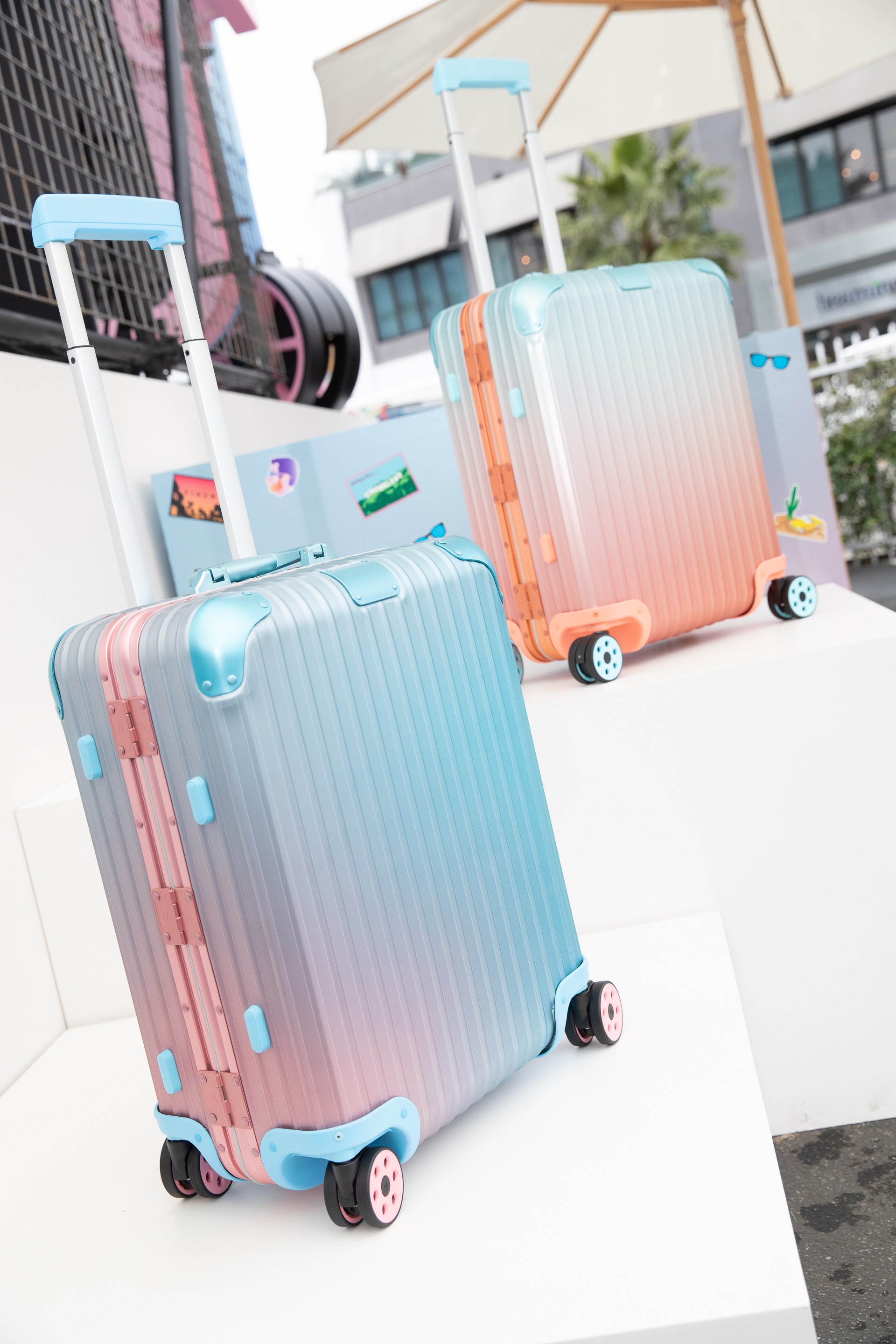 "You have to check out this book, California Crazy, by Jim Heimann. It covers this phenomenon…and you know, when you think about it, it makes sense. Out here, we're such a car culture," Israel added. "These are destinations, and billboards in their own way." Heimann's book, published by Taschen, depicts such other examples as a stockings store with an enormous recreation of a female leg on its roof, or even instances that don't logically link with what the venue is peddling, like an ice-cream store in the shape of a bulldog smoking a tobacco pipe for instance.
Israel's suitcases are available in two colorways: the aforementioned blue-and-pink sunrise and a more sunset-leaning saccharine orange to pool blue fade. The dye—tricky to pull off on Rimowa's grooved aluminum—clearly echoes Israel's airbrush paintings. "The sky, the Los Angeles sky, the Los Angeles sunset… it's kind of my favorite thing to look at." Israel looked up, the Hollywood Hills disappearing into a cold mist. "The complete opposite of what we have today. A clear sky here gives me a sense of wellbeing. It makes me feel happy."
Will he keep the XL-faux-suitcase, as a work of monumental art? "I mean… I don't know. I definitely don't have room for it!"
Tagged: