Revisiting the Art World References of 'The L Word'
Remember that S1 Catherine Opie cameo?
Screengrab via Netflix.
The L Word is soon to rise from the grave after being off the air for almost exactly ten years, but its import has barely flagged among the women-who-love-women contingent, many of whom have been so starved for representation for so long that we're forced to stare at a slightly fuzzy snapshot of queer life that dates back to the Bush administration. (N.B.: "The Bush Administration" would be a great name for a lesbian bar.)
Was the show often confusing, cheesy and over the top? Absolutely.
Was Jenny a monster? Sure.
Was the show a prescient glimpse into L.A.'s burgeoning art scene? Hard yes!
The locus of The L Word's engagement with the Los Angeles art world largely comes courtesy of Bette, the pantsuit-shrouded, take-no-prisoner director of the fictional California Arts Center and eventual Dean of the School of the Arts at CU. Bette's taste in art tended toward the avant-garde, especially for the early 2000s, and explored the question that generations of RISD students have filed sleepily into fluorescent-lit lecture halls to address: what is art?
Through Bette's work, The L Word was able to firmly establish art as one of its many recurring themes; as Margaret McFadden writes in her essay "'L" Is For Looking Again: Art and Representation on The L Word," the show "makes visible and critiques the kinds of stereotypical and objectifying portrayals of women and of queers that are normative in US culture—in both popular cultural forms like Hollywood film and pornography, and high cultural forms like painting, sculpture, art photography, and experimental video." Let's take a trip down memory lane with some of The L Word's greatest forays into the art world, shall we?
Catherine Opie's cameo.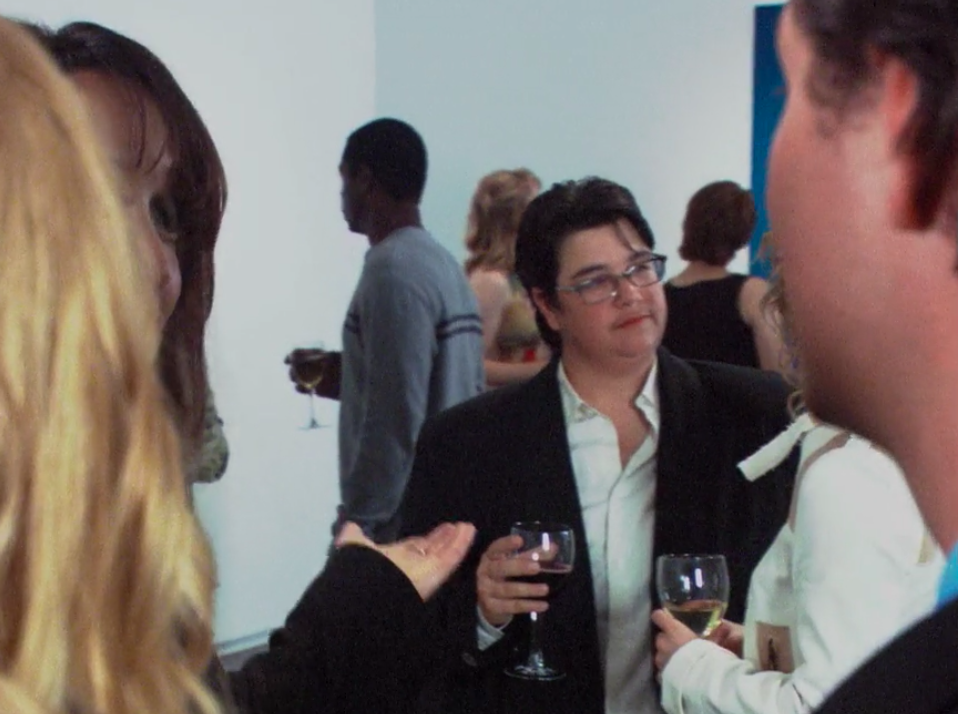 Photographer Catherine Opie has devoted decades to capturing gay life and sexual identity on film, photographing everything from drag kings to L.A.'s leather dyke community; her work exists within the L Word-verse from the show's outset, with images from her first solo show appearing in the show's opening credits.
In a flashback to Bette and Tina's first meeting in S1E12, Tina's boyfriend of the moment (what a chump!) brings her to Bette's gallery opening, asking Bette, "How would Catherine Opie feel about us blowing up that print there to about five-by-six feet?", indicating one of the signature Opie portraits that hangs on the wall. "Why don't you ask her yourself? She's right over there," Bette responds, indicating Opie standing nearby. Opie doesn't get any lines in the episode, but her presence automatically puts the show in conversation with Opie's legacy of overtly sexual, unapologetically queer work.
The Jesus sex video.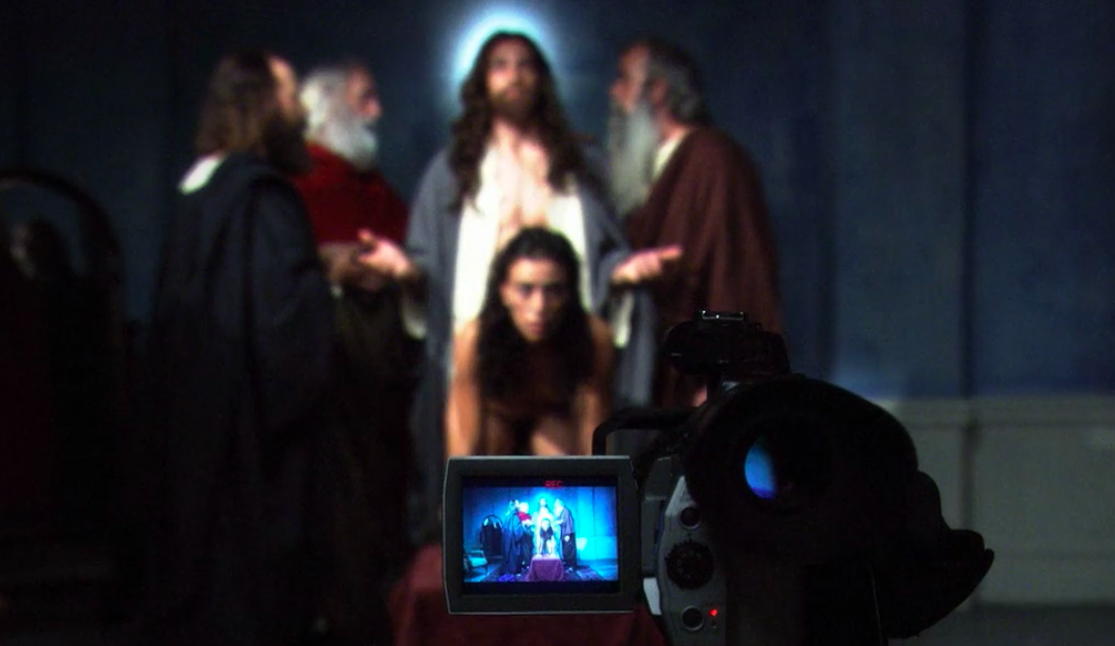 S1E10, "Luck Next Time," opens with a woman being—let's not dance around it—fucked by Jesus Christ himself, as we pan out to reveal that the whole thing is being videotaped for an art piece.
Over at the CAC, Bette is aglow. "Look at her face. She's searching for feeling. It's like she's longing for faith, she'd do anything to get it, to feel it," Bette whispers breathlessly, adding, "I love this work." Then, of course, a flower delivery guy comes in and passes judgment on the work, because straight white men have been ruining art since the dawn of time.
The "Provocations" art show.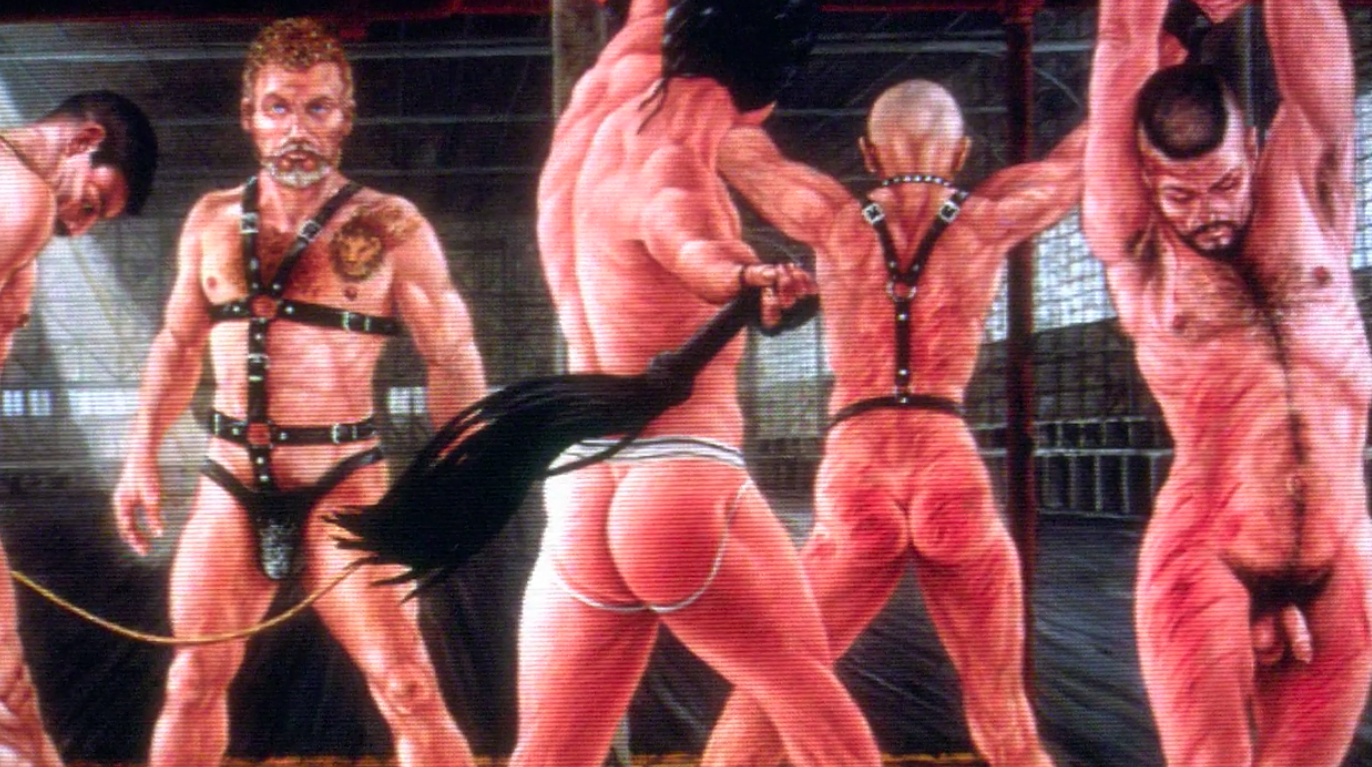 In the S1 finale, the much-discussed "Provocations" art show that ignited a season's worth of controversy in The L Word-land finally goes up at the CAC and instantly becomes a site of protest from the Christian right, likely because of its overt sexuality (Catherine Opie's self-mutilation? Jesus copulating? Images of bound, nude men engaging in S&M? Pretty controversial stuff for 2004!)
Lisa Yuskavage's name-check.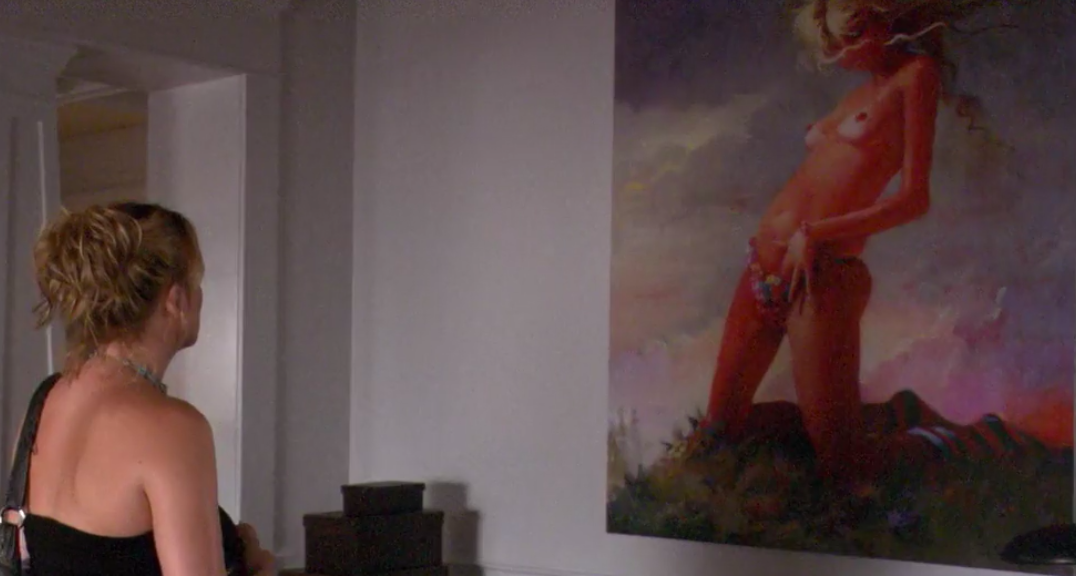 "Jesus, you lived with that?" asks Tina's lesbian feminist lawyer, Joyce Wischnia, as she takes in the nude, candy-thonged Lisa Yuskavage hanging on Bette and Tina's wall while she and Tina tour the house in preparation for a court case. "She's one of Bette's favorite painters," Tina explains, rushing to add that Bette bought the piece before Yuskavage got famous—so hipster! Wischnia doesn't really care, she just snaps a photo of the painting in order to enter it as "community property."
Bette's Kiki Smith prints.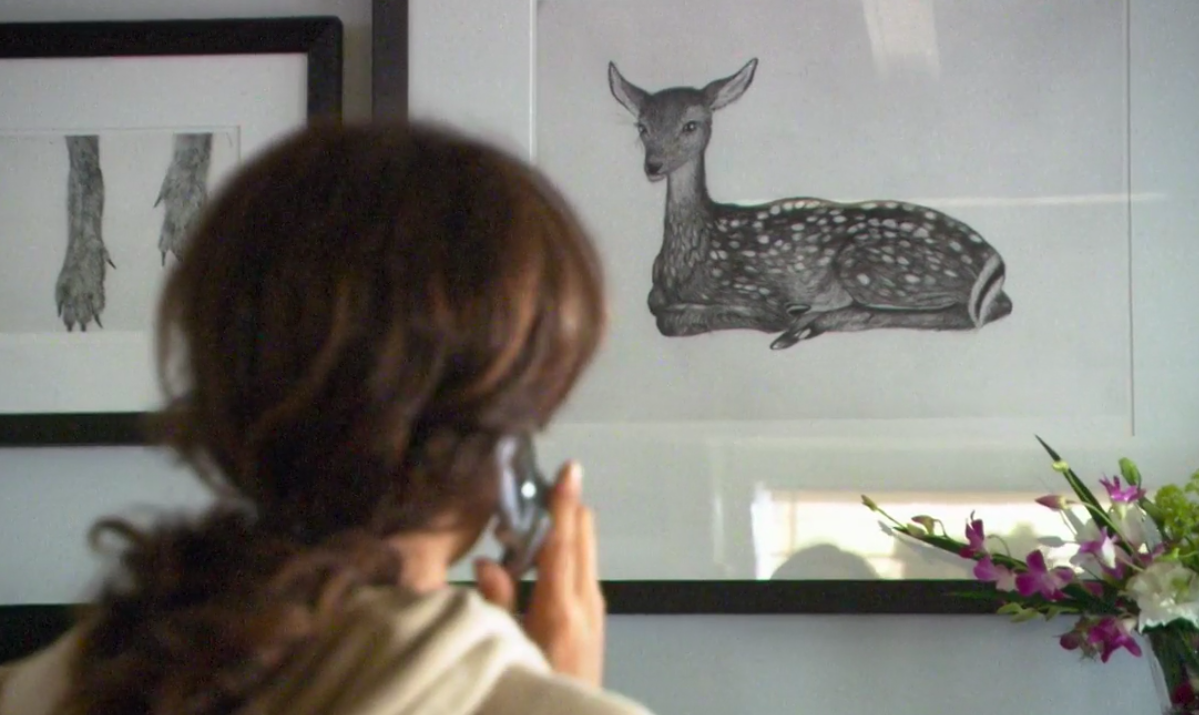 Smith, described by NPR as "something of an elder stateswoman for younger woman artists," is referenced as the first artist whose work Bette ever collected. After Bette loses her job at the CAC at the end of Season 2, Season 3 sees her trying to provide for her new family by auctioning off her personal art collection; she considers parting with "one of my Mapplethorpes," but draws a line at her Kiki Smith prints, explaining that they were the first in her collection.
"Core" by Jodi Lerner.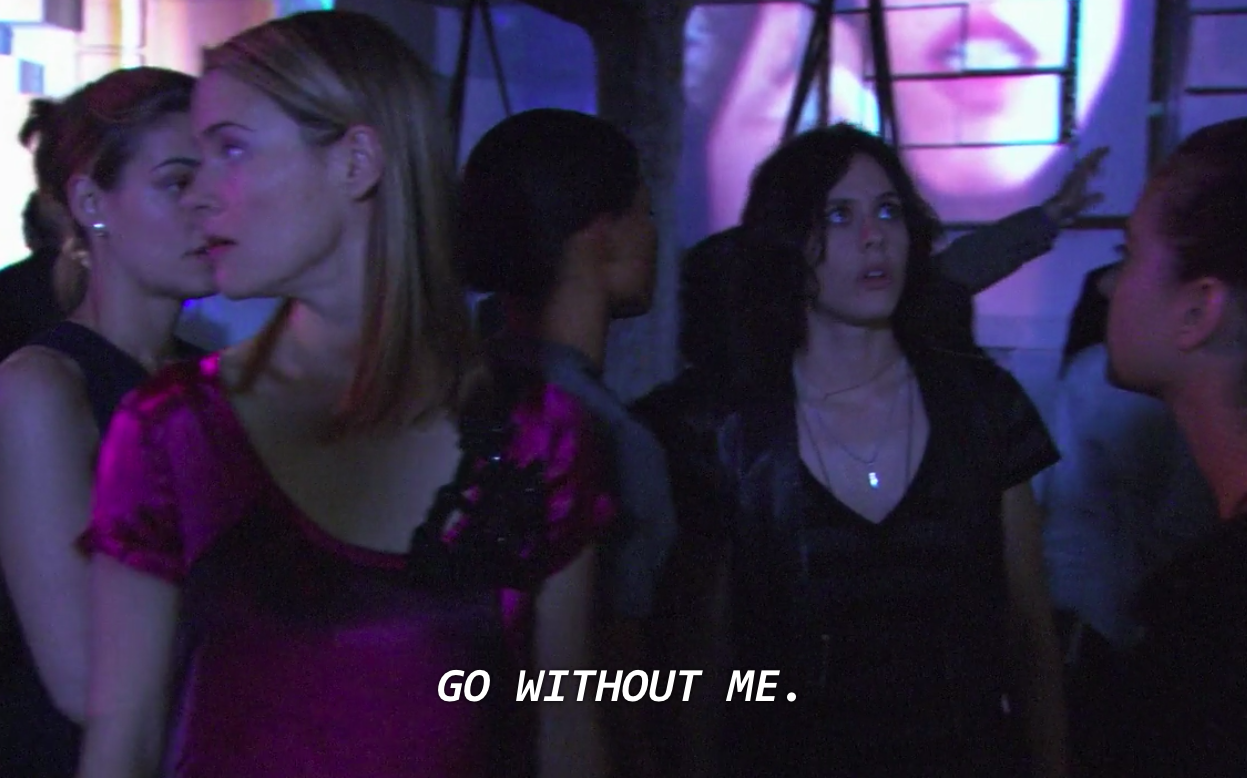 In S5E12, Bette's jilted ex-lover Jodi Lerner (played by Marlee Matlin) debuts an immersive audio-visual installation that consists entirely of Bette onscreen, sending her trademark mixed messages: "Leave me alone," "Fuck me," "Go without me," et cetera. This comes as a major shock to Bette and her friends, but hey, it's a valuable lesson never to screw over an artist!
Tagged: