A T-Shirt for Prep School Gangsters
Real Nancy Jo Sales heads only.
Photo by Ben Park.
I love t-shirts, that is obvious, but my true love is magazines. An in-depth trend piece, a bizarre tale, a celebrity profile, a well-styled editorial - a good magazine can provide hours of entertainment. I have collected hundreds of magazines over the years, some obscure and some more mainstream, all stuff I just had to have. Some might say, I have a … problem.
Prep School Gangsters was a seminal article penned by the legendary Nancy Jo Sales in December of 1996 for New York Magazine. It spun the tale of a group New York City rich kids who fetishized hip-hop, wore North Face Nupste jackets, did graffiti, committed petty crimes, and sold weed to their private school classmates ("We sell to Dalton, Trinity, Horace Mann, Spence, Chapin, Columbia Prep, mad girls from Brearley...") It clearly defined an archetype that still exists today. The story is referenced often and has in some ways taken on a life of its own.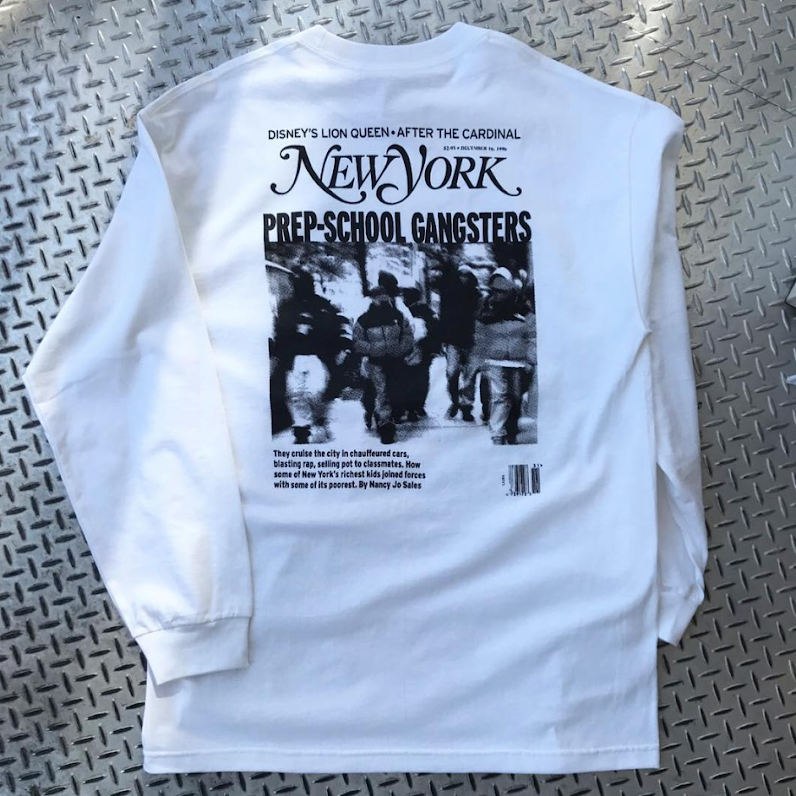 Anyway, it'a rare when my two loves collide, but when they do: WOW. I was doing my usual fourth hour of Instagram scrolling per day, when I came across a t-shirt so good, I audibly gasped. Paper & Ink collaborated with The Old New York on a white long-sleeve t-shirt that reprints the NY Mag cover in black and white. It seems to only be available at SLON in Osaka, Japan, but I have my people on the case. This t-shirt … will be mine.
Tagged: