Anne Imhof Gives Good (and Confusing) Sex at the Tate Modern
Like only some sex, the performance lasts four hours.
Sex, a six-day run of immersive performances at the Tate Modern, will be unlike anything you've seen before; unless, of course, you happen to have seen two previous works by Anne Imhof: Angst (2016) and Faust (2017), both endurance-based performances with the same dark, Batailles-meets-Berghain sensibility, and with the same indelibly and ineluctably hip visual style. Situated in the Tanks, the two "raw…subterranean spaces" in the Tate which first housed oil, Sex has two sets, one designed to raise the audience and one designed to raise the players, both of which look suitably industrial, severe, and photogenic. The crowd, in PVC and sportswear a la Off-White, ditto.
"There's no narrative [in Sex]," the artist says, "but there has to be a dramaturgy. In this piece especially, I was putting these peaks beside each other, these peaks and troughs, a moment of a high and then a dagger down after." At first, she was going to call it Death Wish. Sex, she thought, was better: "as a title, it feels more open." Like only some sex, the performance lasts four hours, and like some sex, too, its thrill is in its nearness to the possibility of evil, or of chaos, or of death.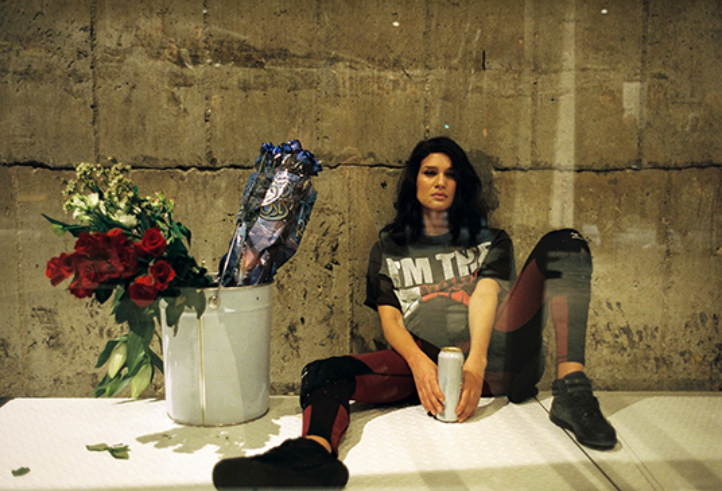 Sex, whose too-fast-to-live-too-young-to-die props include a motorcycle helmet, Marshall amps, a set of leather whips, innumerable vapes, a set of stainless-steel S&M shackles and God knows how many cans of lager, feels as nihilistic as it does youthfully hedonistic: walking into the first Tank, whose set was structured like a pier but looked more like a set of gallows, atop which a long-haired kid in a black hoodie glowered like a wraith, I told the artist that I felt a little like I'd wandered into not just the tail-end of an especially hellish rave, but literal hell.
"My studio in Frankfurt is in the red light district," laughs Imhof, "and sometimes it is like going through the gates of hell to get there. It's true that making Sex, we were talking a lot about the way that sometimes I tend towards extremes, because that's what interests me; but it's more about melding these extremes, letting them blur into one thing, and the space you have in-between when there are two sides of something. What is the line that exists between them? It's about a longing for that line to not exist. It's about a longing for nonlinear time."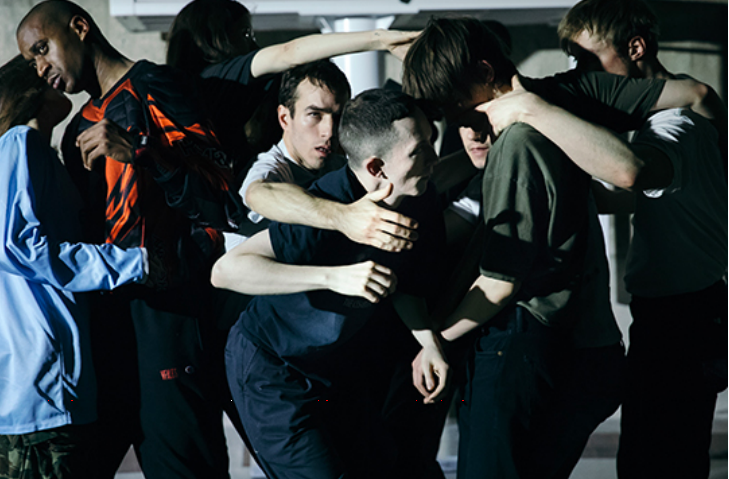 Time, in Sex, stretches like time on a comedown, or like time in sex. It has the elasticity reported by survivors of near-death experiences: time experienced like " Alice in Wonderland…when she fell down the rabbit hole," a neuroscientist named David Eagleman once said, observing in a study that when people are in mortal danger they are apt to record memories in greater detail, making seconds feel eternal. Four hours spent immersed in Sex feel, alternately, like four minutes or four years. Notable moments, thrilling and discrete, are spaced-out by long stretches of intertia. Every so often, something minor and yet not minor occurs. A blonde boy, at first seemingly preoccupied with slapping his own face, explodes into a dervish, spinning like a violent top; a gorgeous super-femme dressed in a t-shirt that says LOVE MACHINE sings, acapella, I am death, no-one can tell. Flowers, bunched and drenched in lighter fluid, blaze. To a score of swelling, liturgical music, a male dancer drops a single mattress at the feet of the poet and audience member Eileen Myles, kneels on it, crashes, and then vapes. "What would millennials do given an eternity?" I tapped into the Notes app on my phone. "Text and vape, duh."
Born in Giessen, Germany, and educated at the Städelschule, Anne Imhof has been showing postgraduate work for fewer than eight years, making her rise to art world fame as unusual as it is impressive. Sex uses a cast of fifteen, many of whom worked on Angst, or Faust, or both; Imhof's partner, the fine artist and Balenciaga muse Eliza Douglas, has been essential to all three works. "I think we have developed a working method that's very diverse," Imhof suggests, "so we'll meet up to do a piece together, but just as much of the working process is getting together and watching movies that we like, or even watching too many YouTube videos. It's almost like working with a band."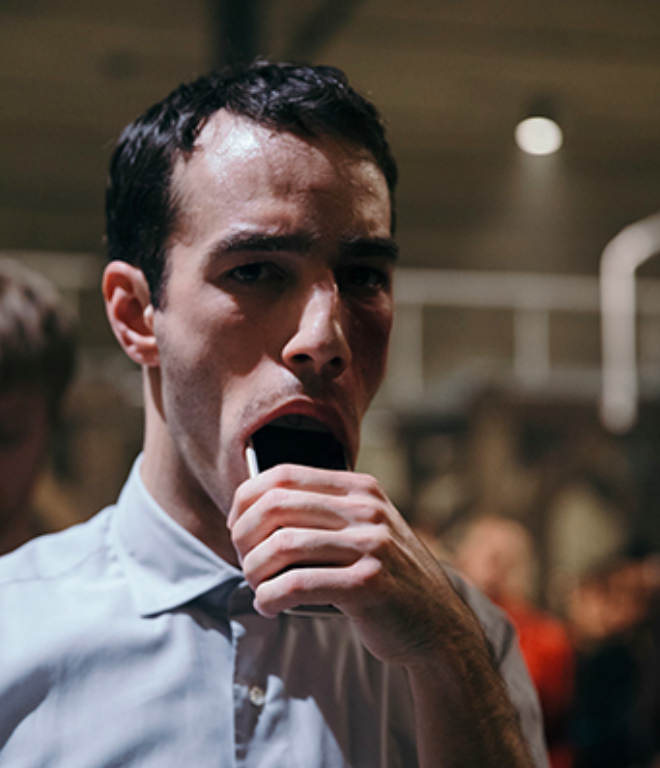 Like Thomas Jerome Newton, the alien played by Bowie in The Man Who Fell To Earth, her interest is in "energy — the transference of energy." Often, this energy is sexual, destructive, black as biker leather. "Sometimes people get angry inside [on seeing the work]," she admits. "I do wonder why that is. Or otherwise, people get very affected by the work. During Faust in Venice, people followed the performers; at one point, we had to have security people to take them from the pavilion to our apartment."
"Fashion is an art form," a hot goth girl, who was not part of the show, snapped at her boyfriend during the performance. "So who cares?" Who indeed? A strong aesthetic does not necessary preclude a meaningful experience, even if it does invite documentation in the age of Instagram. In its sprawling, bad-trip mania, Sex resembles nothing so much as the latest film by Gaspar Noe, Climax, in which dancers spiked with acid fight and screw in an abandoned school-house, sound-tracked by thunderous, ominous EDM: cinematic, and not unlike being fucked on drugs, or just plain fucked.
"For me," says Imhof, "there's a connection between the artist and the production of art, and [sexuality], this thing that's in us that can provoke shame and hatred, or that you cannot really access: something uncanny." In spite of the many clips and photographs I saw of Angst and Faust, both works remained impossible to access in the same way as, present and not seeing through the medium of a screen, I found myself accessing Sex. Like certain natural phenomena, Imhof's work denies the camera-phone its essence, so that images that result from the audience's gaze are beautiful and framed like art photography, but are still nothing more than images: an iPhone photograph of a tsunami, or a sunset, crystalline and yet markedly less affecting than the real thing.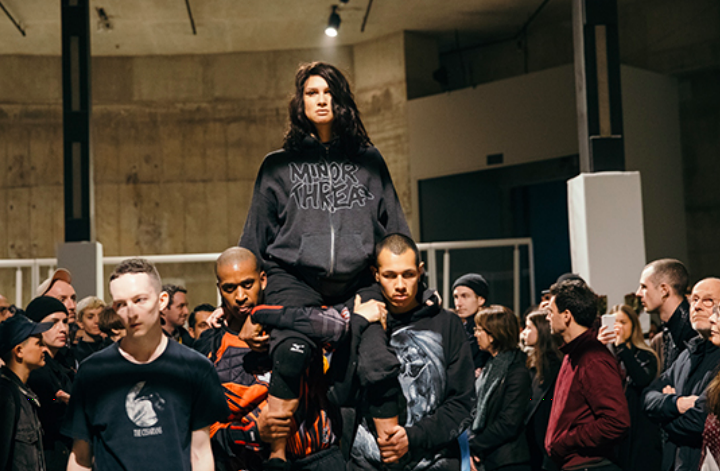 Not that Anne Imhof minds — a painter who first trained as a photographer, her personal style is effortlessly counter-culture chic enough to look as at home in Interview as in Artforum, and though her long performances are gruelling and at times opaque, she has not shied away from using the same visual style to make high fashion into cool, angular art for W magazine. In Sex, performers receive their instructions from the artist via text-message, meaning that often they are texting, and more often that they appear to be brattily, millennially glued to the dumb, bright screens of their phones.
The iPhone, like the landline in the films of David Lynch, becomes less a modern nuisance than it does a conduit, a means for Imhof to be there and not there, a participant and a civilian; it would not make sense for her to deny the audience the same alchemic tool. "Of course, [in allowing audience photography] I'm losing control," she shrugs. "It's like something that eats up the work, in a way. And on the other hand, it becomes this archive that's quite touching, because it's made by so many other people from their own position, their own angle, their own presence inside the space. So I feel ambivalent about this kind of photography."
"It's interesting," she muses, "because at the beginning [of producing Sex], we were talking about how it's important to not focus too much on any one thing, because once people can describe it too clearly, its universality and its inherent power get lost." Proof, if proof were needed, that Sex has retained its power is the fact that I left unable to fully articulate to friends or to my partner what exactly I had seen, except to say that it was something. To describe the events of the evening literally or linearly would seem to be beside the point — the point being something more like chemistry, or ritual, or what Imhof describes as "celebrating art as something undead." Better to paraphrase Mae West on actual, physical sex, and say: Sex is emotion in slow-motion.