Are These Golden Gucci Ear Masks The Next AirPods?
Or are they just a 'Lord of the Rings' reference?
Gucci is known for for its larger-than-life Fashion Week stunts, from Jane Birkin bursting into a surprise performance to models carrying their own decapitated heads down the runway, so it was really only a matter of time before they took the extremely normal step of casting models' ears in pure gold.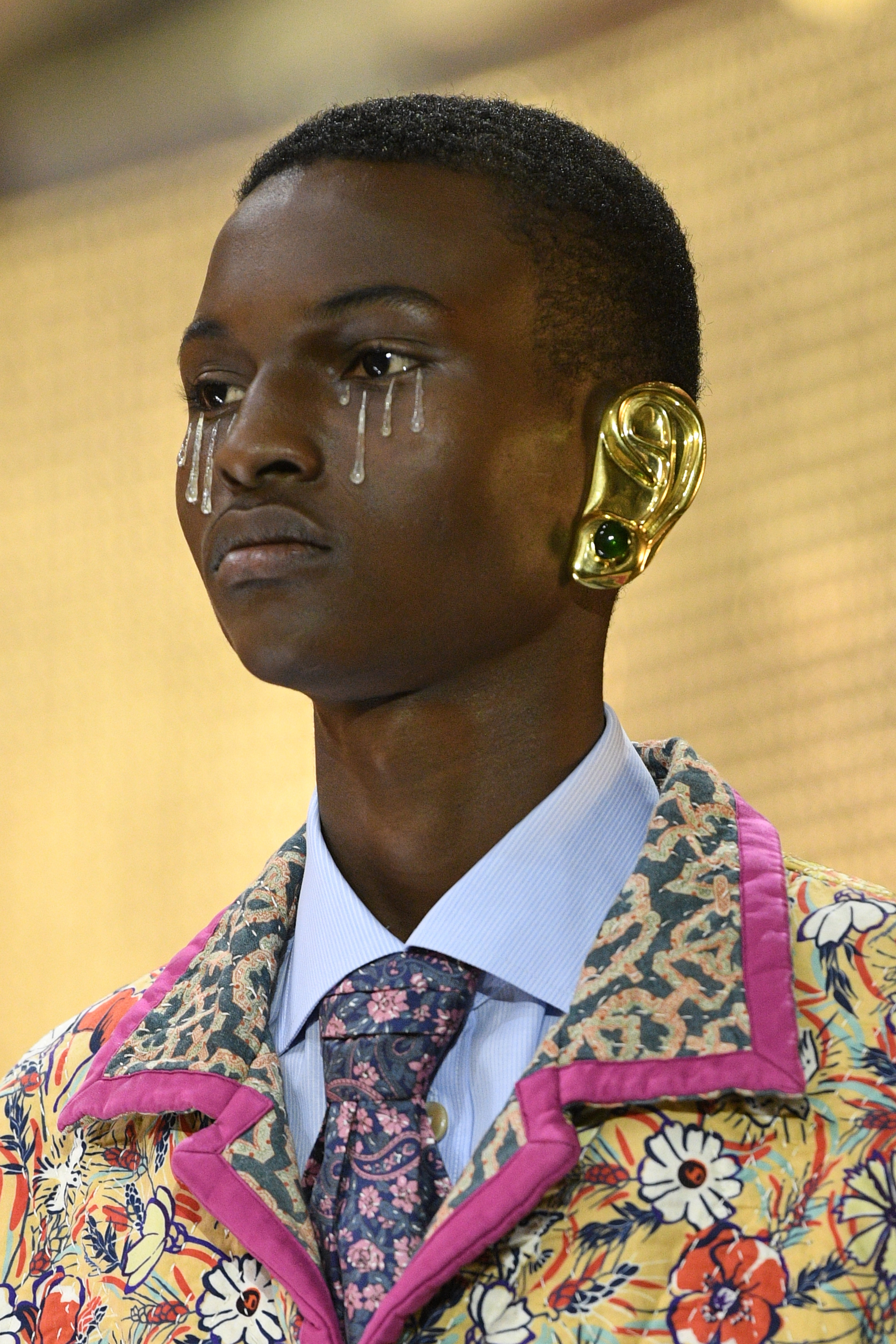 The Gucci golden-ear look is a real amalgam of worlds: one part haute couture, three parts Arwen the elf princess from Lord of the Rings, two parts Ancient Egypt (as envisioned by Chanel) and one part Terminator. (While we're delving into fantasy fiction, the ears also conjure up the ostentatious frippery of the Capitol elites from The Hunger Games—it's easy to imagine Effie Trinket weighting her ears in gold)
Ultimately, though, these Gucci ear masks ask a dangerous question: do we have to bling out our entire external auditory systems now? Don't forget, aural fashion is a slippery slope—just a few years ago, nobody had even heard of Airpods, and just this past winter, the triple-digit wireless headphones were de rigueur at Men's Fashion Week. Next season, will the uber-cool hat boys of New York and Paris be huddled outside shows, desperately pressing their iPhones to their ears as they struggle to hear through a Gucci ear mask of pure gold?
Perhaps AirPods aren't the most prescient comparison; with their (presumably) world-muffling properties, maybe these ear masks are more akin to earmuffs. After all, when you're flying a private Boeing to Japan with Kim and Kanye, the raucous cries of North, Saint and Chicago can be so taxing; just fasten your golden Gucci noise cancelers over your ears, pop an Ambien, and doze off until you're somewhere over the North Atlantic Ocean.