Kusama in the Infinity Mirror Room-Phalli's Field at the Castellane Gallery, New York 1965.
Everybody Needs a Little Limitation: The Dotty Art of Yayoi Kusama
For GARAGE Issue No. 2, Mark Kidel took a deep dive into the psyche of Yayoi Kusama, the artist whose goal is self-obliteration.
Kusama in the Infinity Mirror Room-Phalli's Field at the Castellane Gallery, New York 1965.
In 2008, a painting by Japanese artist Yayoi Kusama sold at Christie's New York for $5.8 million, one of the highest prices ever paid for a work by a living woman painter. There is some irony in this, given Kusama's lifelong dedication to what she calls "self-obliteration," an artistic practice close to therapy that aims to break down the ego and reunify the person with the cosmos. In fact, her self-obliteration was so successful, at least in terms of the art world, that after her fame in the heady 1960s — when she rivaled Andy Warhol at self-promotion — she was all but forgotten outside her native Japan until, in 1993, she was the first woman awarded a solo show at the Japanese Pavilion of the Venice Biennale. A show at MOMA in New York followed, establishing her influence on minimalism, pop art — Claes Oldenburg in particular — and performance art.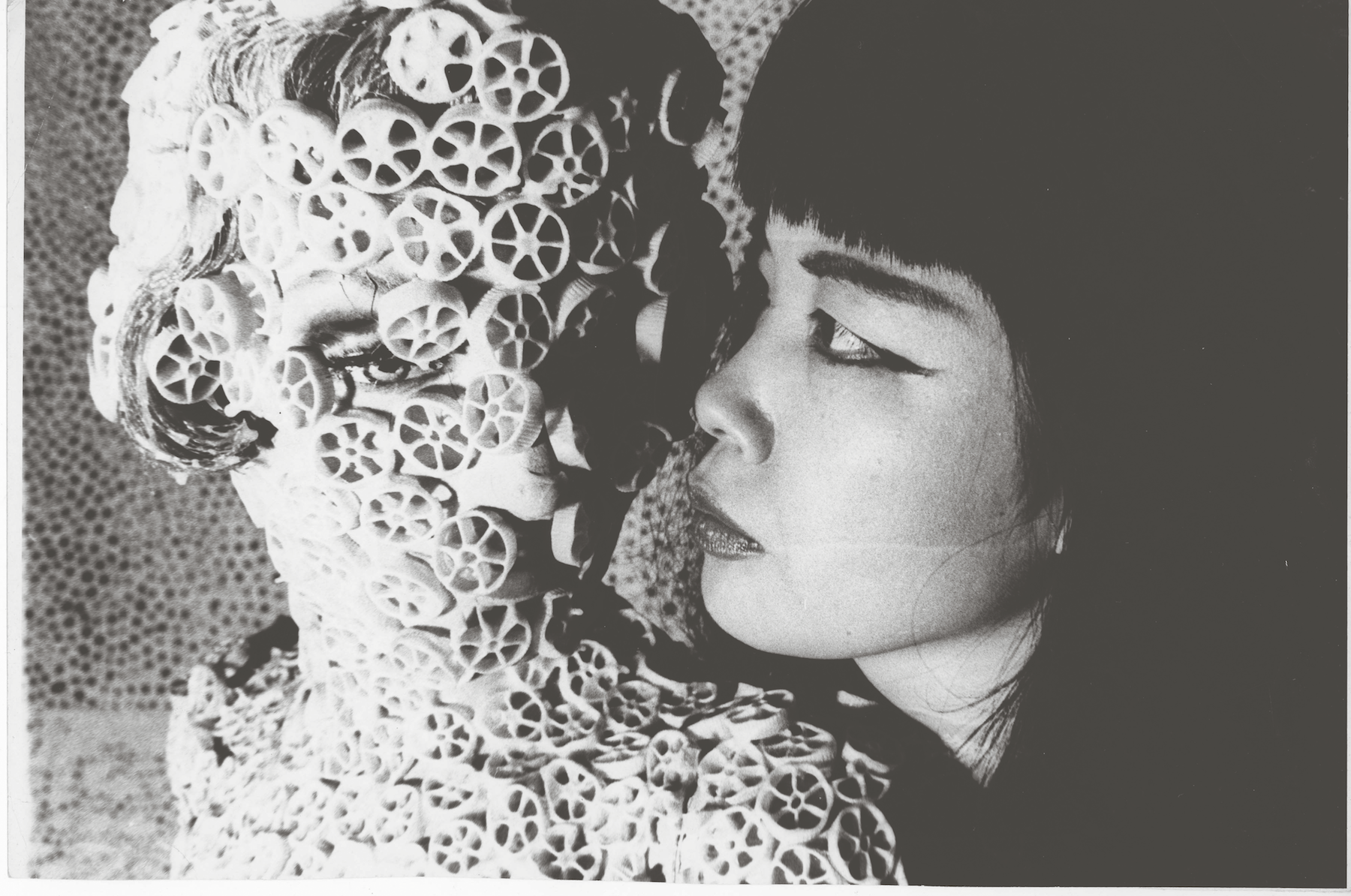 All great artists are to some extent outsiders, calling into question that status quo. Yayoi Kusama is more radical, an artist whose work derives from the hallucinatory visions from which she has suffered since the age of 10. "One day I was looking at the red flower patterns on the tablecloth," she recalls. "When I looked up, I saw the same pattern covering the ceiling, the windows, and the walls, and finally all over the room, my body, and the universe."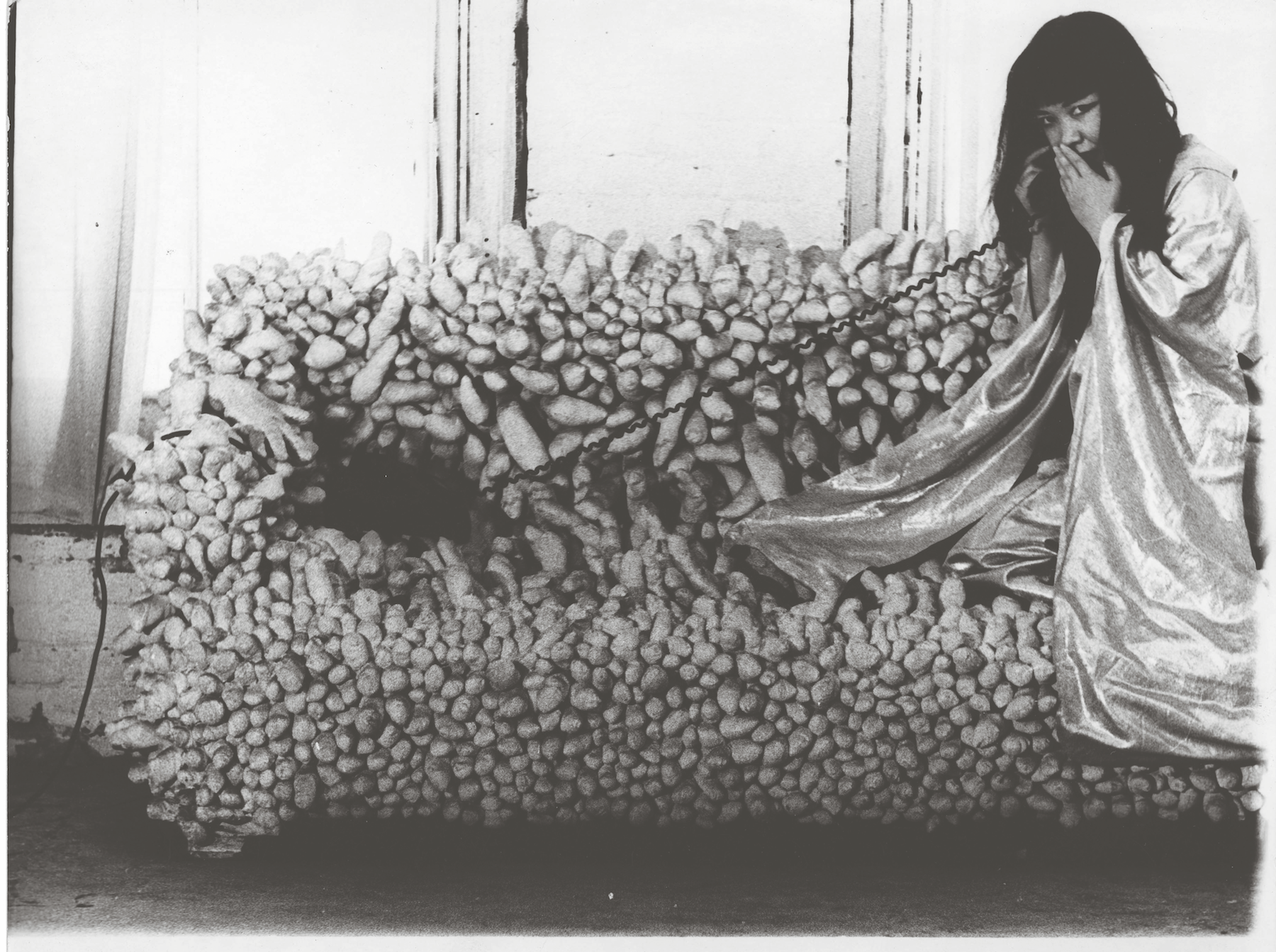 Kusama had grown up in a wealthy, traditional Japanese family, but her mother beat her regularly. When she was a teenager, her parents, alarmed at their daughter's artistic ambitions, had her examined by a psychiatrist, who diagnosed "schizoid tendencies." Kusama escaped to New York in 1957, determined to make it, and armed with a few introductions she had obtained after writing to Georgia O' Keeffe. She made her name with a series, Infinity Nets: very large canvases obsessively painted with small circles and curves. The paintings, inspired by her quasi-mystical visions, had mesmerizing effect. She also created immersive installations, the Infinity/Mirror Rooms, elaborate sense-bending spaces that reproduced her hallucinations and were intended to disorient those who stepped inside, as if she wished to take them into her own madness.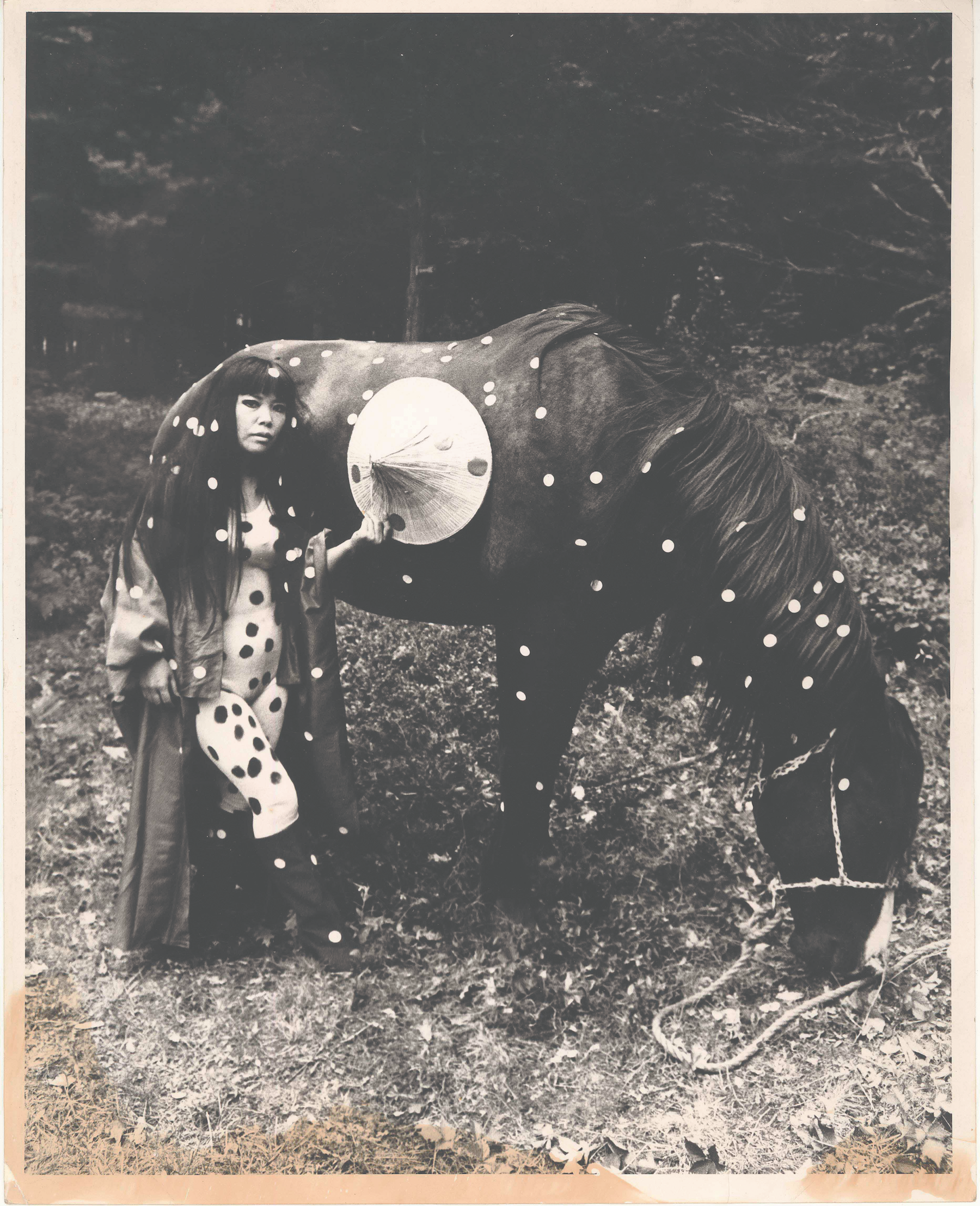 Kusama's obsessive streak — and her fear of sexuality — found expression in series of chairs, tables, and boats, surreal sculptures that featured forests of half-erect penises. Donald Judd, who had become a close friend and who was likely influenced by the proto-minimalism of the Infinity Nets, helped construct some of these Accumulation sculptures, which were painted white or silver as if to purify them of their undeniable sexual charge. Kusama was for years the companion of Joseph Cornell. Some of his boxes featured doll-like figures whose frozen sexuality reflected their shared discomfort with matters of the flesh.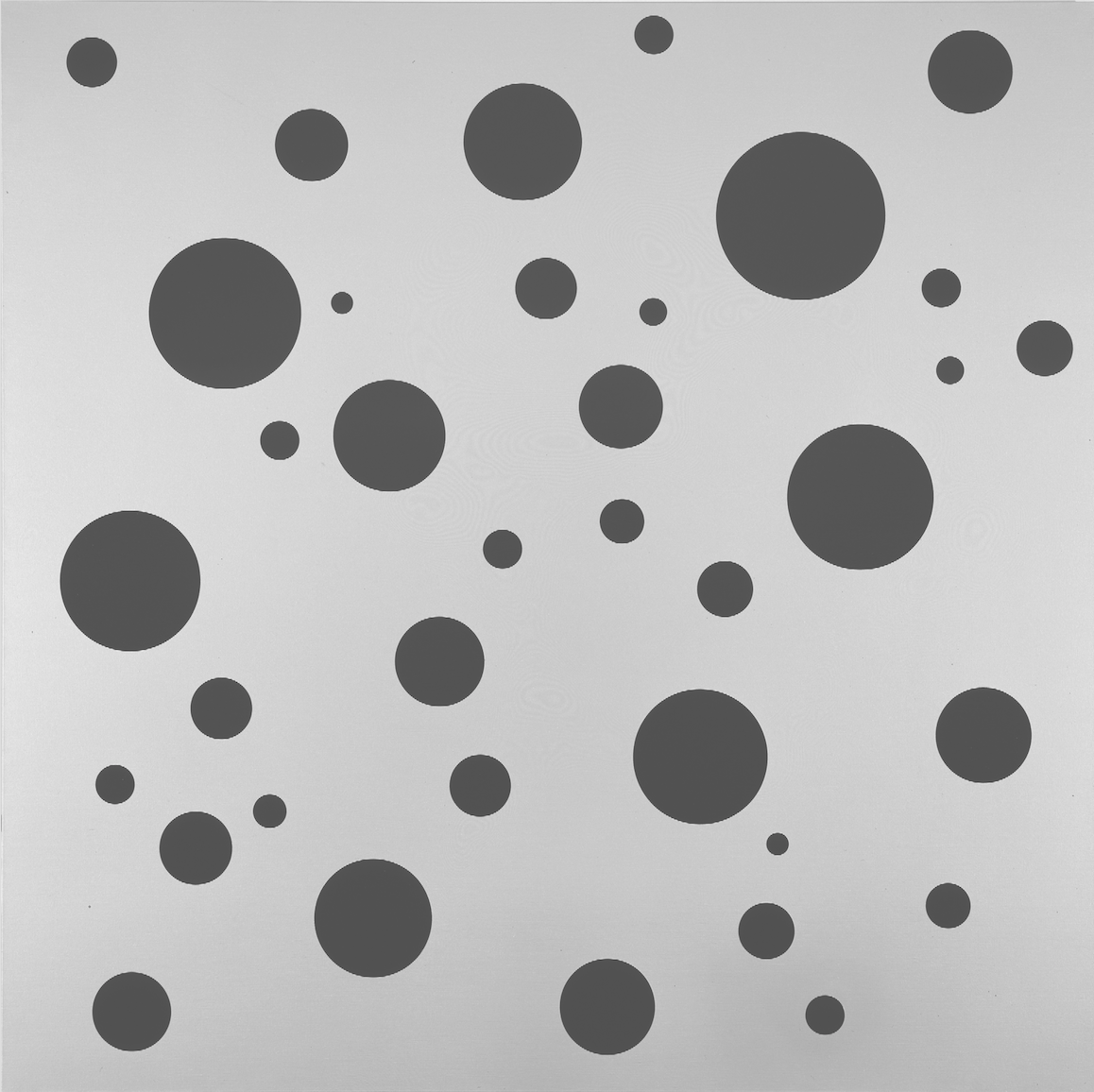 Kusama took to performing: she would go to the supermarket wearing a dress from which rose a multitude of phalli. She eventually staged naked happenings, Anatomic Explosions, in which she always remained fully clothed and in control, a self-styled magician who enabled the "self-obliteration" of the participants. She would paint their bodies with polka dots and apply more dots to the pavement, walls, or whatever surfaces or objects presented themselves nearby. In Self-Obliteration, her most important film work, Kusama is seen applying her trademark polka dots, a form of yantra for the promotion of self-obliteration, and endlessly repeated for increased potency, to a horse, a cat, the trunk and leaves of tree, water lilies, and the water itself.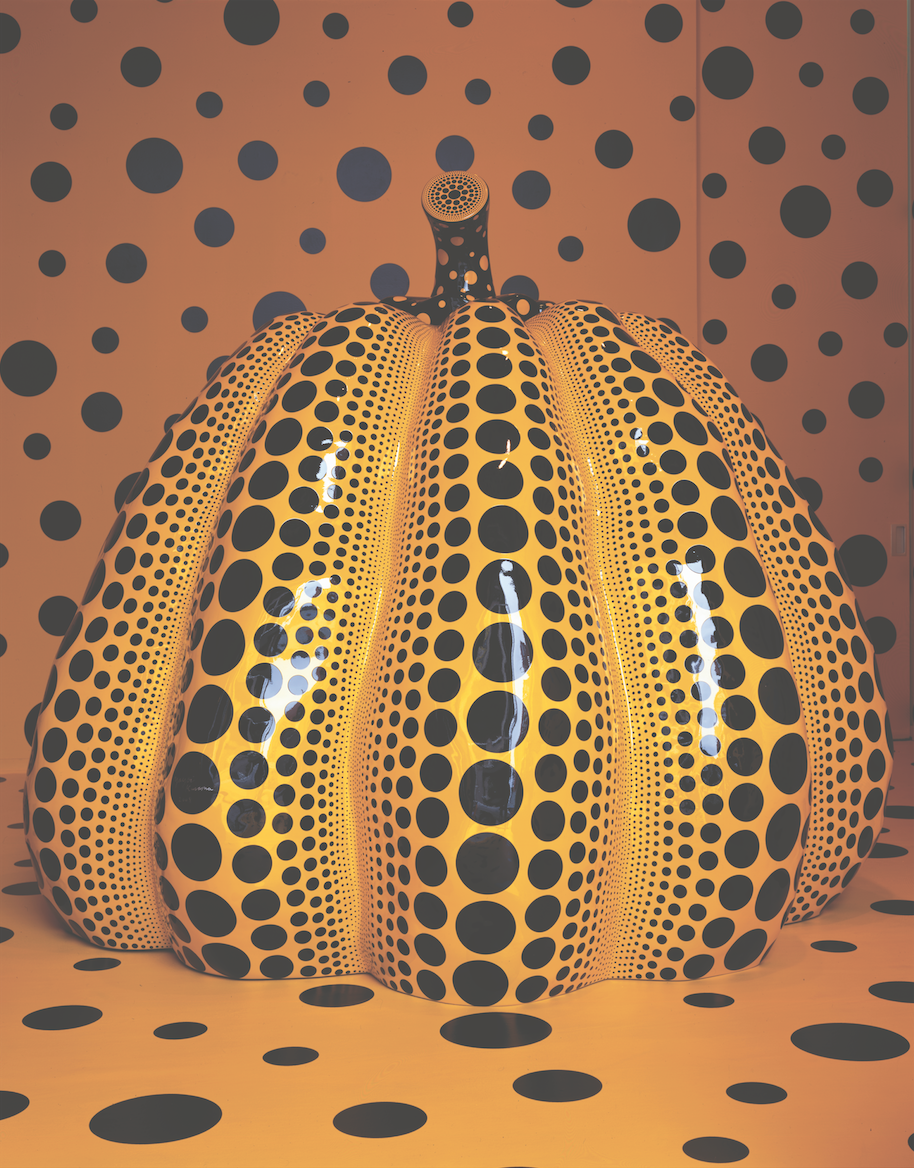 Kusama staged happenings all over New York. Decades ahead of Occupy Wall Street and very much according to the spirit of the times, she staged a naked event outside the New York Stock Exchange in a playful protest against capitalist domination. There were homosexual orgies as well as homosexual wedding, for which she designed a dress. Gender differences and sexual orientation were, from Kusama's perspective, misguided person-centered diversions from the unified cosmos, beyond the limits of individual personality, to which she aspired in life and art. For her there was little if no boundary between the two, and long before later artists put themselves into the picture — not least Cindy Sherman — Kusama figured large in her installations and the photographic documentation that accompanied them.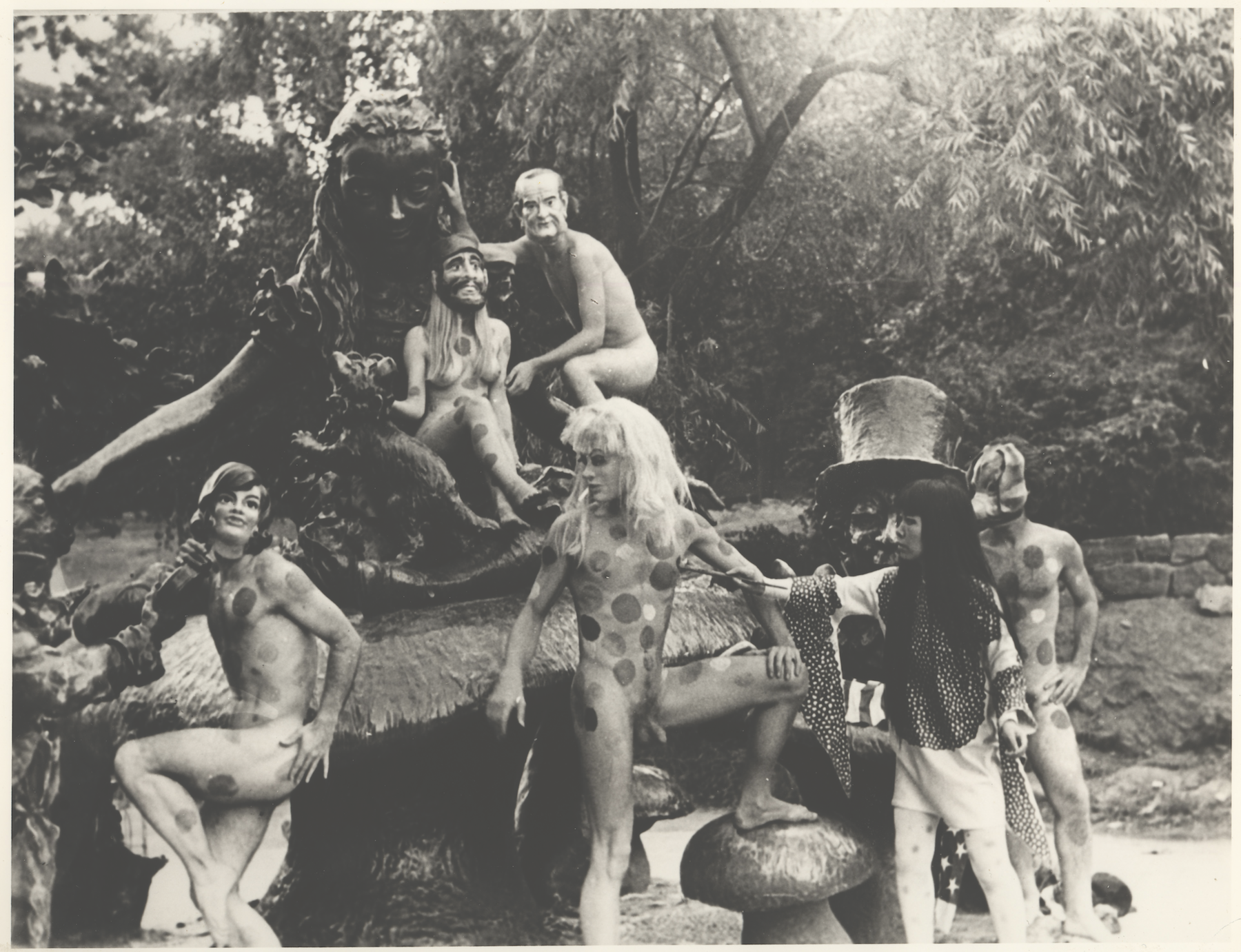 There is a fragility in Kusama — as a person and an artist that complements her determination and staying power, but playing so hard with boundaries between life and art, sanity and madness, in the competitive hothouse of Manhattan, took it troll. She returned to Japan in 1973, on the verge of a nervous breakdown, and was diagnosed with rijinsho — literally, "separate person syndrome." In the West, we see ourselves as separate individuals, only partly connected to others and the world around us. For the Japanese, identity does not arise out of individuality but out of profound and inalienable belonging, expressed in maximum conformity. Anything else is thought of as deviance — or worse, madness. Paradoxically, Kusana, recognizing her separateness from an early age, did not seek solace by conforming, but by making art that "obliterates the self" and connects her and others with nature and the universe. The connection is spiritual rather than social, and this is perhaps why her art has universal appeal, well beyond the confines of the culture that produced it.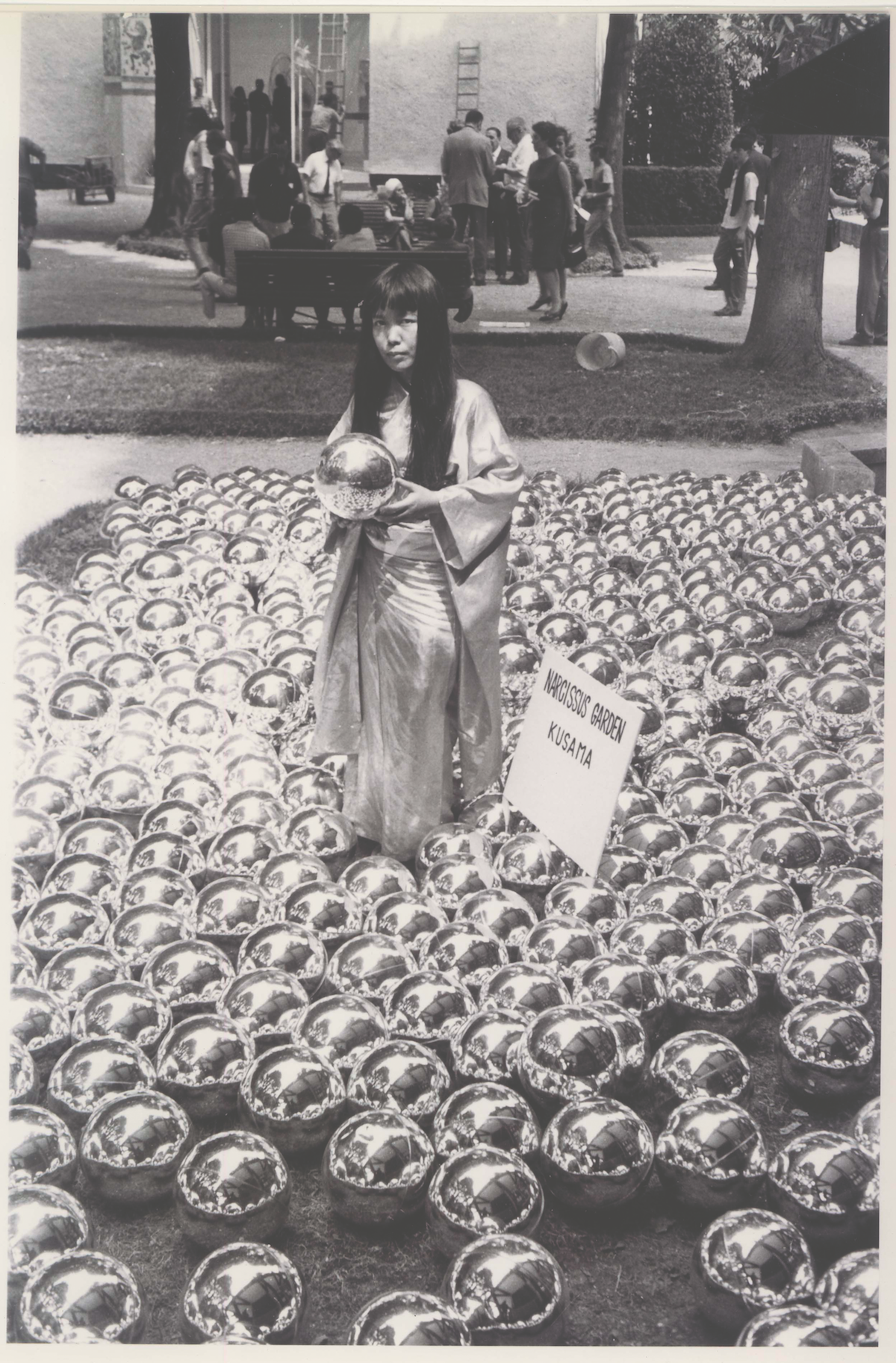 Four years after returning to the country of her birth, she was hospitalized. She has remained the voluntary inmate of a psychiatric institution ever since. Her studio is a short walk away. The hospital is a comfort zone rather than a prison; she can come and go as she pleases. Paradoxically, the secure boundaries Kusama has chosen allow her to be free, perhaps more so than she has ever been.