Photo by Chris Prentice-Popken
Banksy's Back...in Midwood
Everyone's favorite street artist has left SoHo behind to place two new murals at a defunct Brooklyn gas station.
Photo by Chris Prentice-Popken
While crowd-pleasing street artist Banksy's work hews toward the predictable, the locations he selects for are anything but. Recently, the elusive British prankster has been on another of his periodic New York sojourns, the most recent results of which have appeared far from the limelight in the unassuming Brooklyn neighborhood of Midwood. An abandoned former Mobil gas station on the corner of Coney Island Avenue and Avenue I has been attracting an unusual amount of attention since last Friday, when two familiarly styled murals appeared overnight on the walls of the semi-derelict structure.

The larger work of the pair of works shows a man in a suit and hard hat wielding the jagged red line of a rising graph over the heads of a fleeing crowd; the other depicts a seal balancing a red ball on its nose. As has become customary, there was some doubt over the murals' authenticity until their images appeared on the artist's Instagram this morning. Hyperallergic's Benjamin Sutton speculates that the man-with-crowd mural may be a comment on gentrification—or the ruthlessness of capitalists in general—while the seal piece remains more open to interpretation (perhaps it's just, uh, sealing the deal?). Sutton also reports that, according to an employee at the functional gas station across the street, the works may have appeared as early as March 10, with the first fans and photographers arriving soon afterward.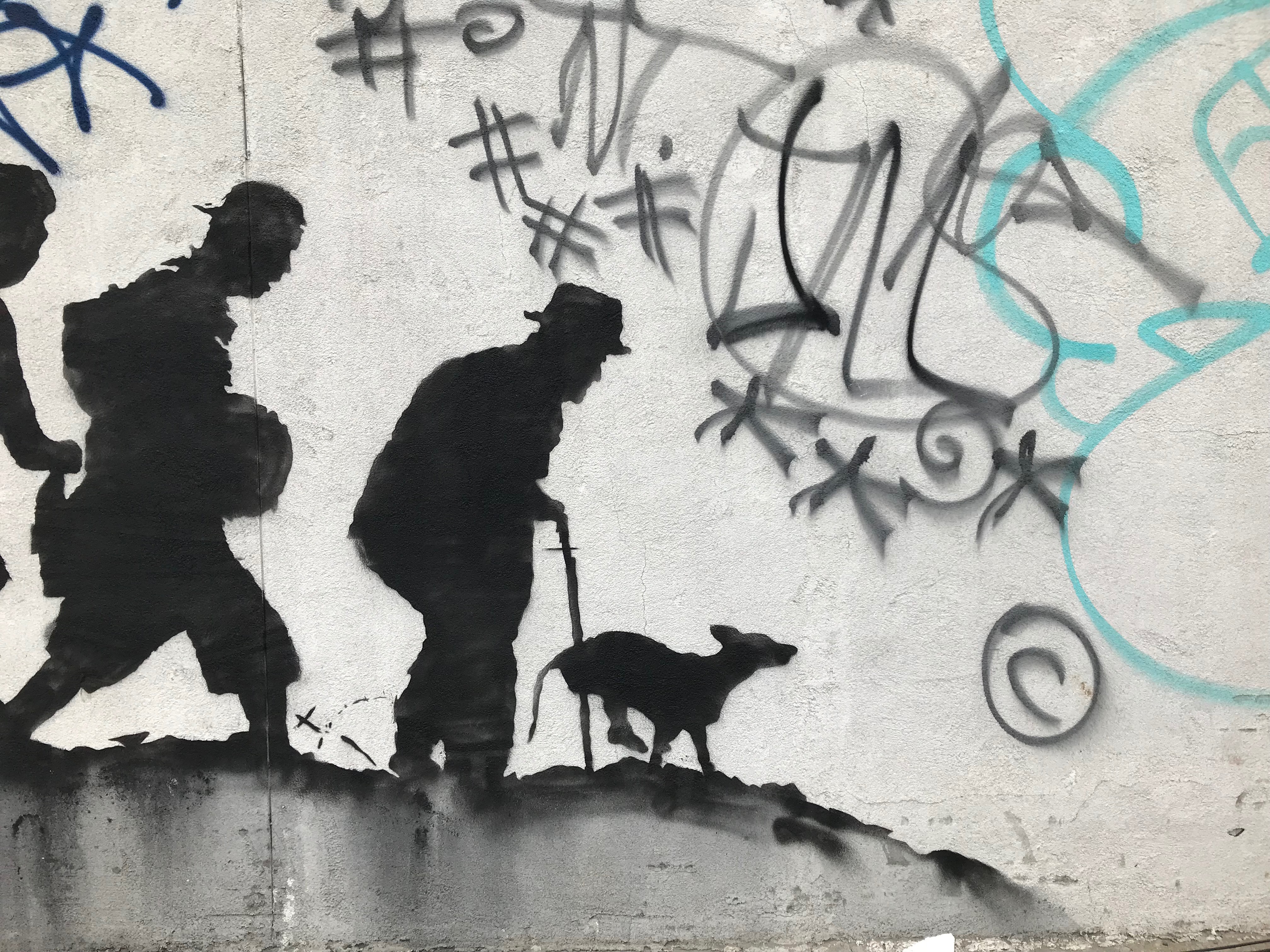 Banksy's last noteworthy contribution to the New York cityscape—his first in the city since a month-long tour in 2013—was in a far more high-profile spot, the storied Houston Bowery Wall, which was first decorated by Keith Haring in 1984 and has been home to a commissioned series of projects by other artists since 2008. Earlier this month, our roguish hero placed a 70-foot mural in the prime location protesting the imprisonment of Zehra Doğan, a Turkish artist and journalist who was arrested this time last year for painting a watercolor of the ruins of Nusaybin, a Kurdish town destroyed by the Turkish army in 2015. He also stenciled the image of a rat on the face of a clock that adorned the exterior of a condemned former bank and post office on the corner of Sixth Avenue and 14th Street (this just in: it's already gone).
When GARAGE went to take a look at the Midwood murals this morning, urban entropy had already set in, with various additions having been made to both pieces by less readily identifiable hands. The seal's ball and one of the running figures now both feature the black stenciled image of a bearded man—Fidel Castro?—while the larger piece is attended by a cloud of rather less distinguished-looking tags. And leaned against the wall next to it is a sheet of plywood spray-painted with the slogan "Let all that you do be done in love."

Tagged: