Photo by Dominique Charriau/WireImage
"I'm So Upset That I Spoiled It." An Exclusive Interview with Ulyana Sergeenko
It's not enough.
Photo by Dominique Charriau/WireImage
Ulyana Sergeenko, the Russian couturier known for her 1940s-style silhouettes and exquisite furs, unexpectedly ended up in the fashion industry's glare this morning when her friend Miroslava Duma posted the flowers the designer sent on on Instagram stories, revealing a racist note quoting the title of a Kanye West and Jay-Z song.
Twitter, Instagram, and bloggers immediately attacked the designer for her racism. Sergeenko posted an apology on her Instagram, writing, "I am deeply sorry to everyone whom I might have offended," denying claims that she is racist and adding, "I have certainly learned my lesson and am grateful for it." She also wrote, "And yes, we call each other the N word sometimes when we want to believe that we are just as cool as these guys who sing it"—an admission that seems almost impossibly ignorant. How Duma, a world traveler and businesswoman, would have found the note appropriate to post in the first place reveals a stunning lack of awareness.
But in the fashion world, which is particularly attuned to racism at the moment, such a mea culpa is not enough. The diffusive end to her note didn't help matters: "There is enough anger in the world, please, can we stop it here?" (Sergeenko's apology has since been deleted from Instagram.)
At a preview for her show this afternoon, her design partner, Frol Burimskiy, led me through the collection while Sergeenko held back and remained glued to her phone. I had requested the interview, if you can believe it, because I'd been struck by the diversity of the models in Sergeenko's Fall 2018 show when I was here for Couture week last July, and wanted to speak to her about her casting process.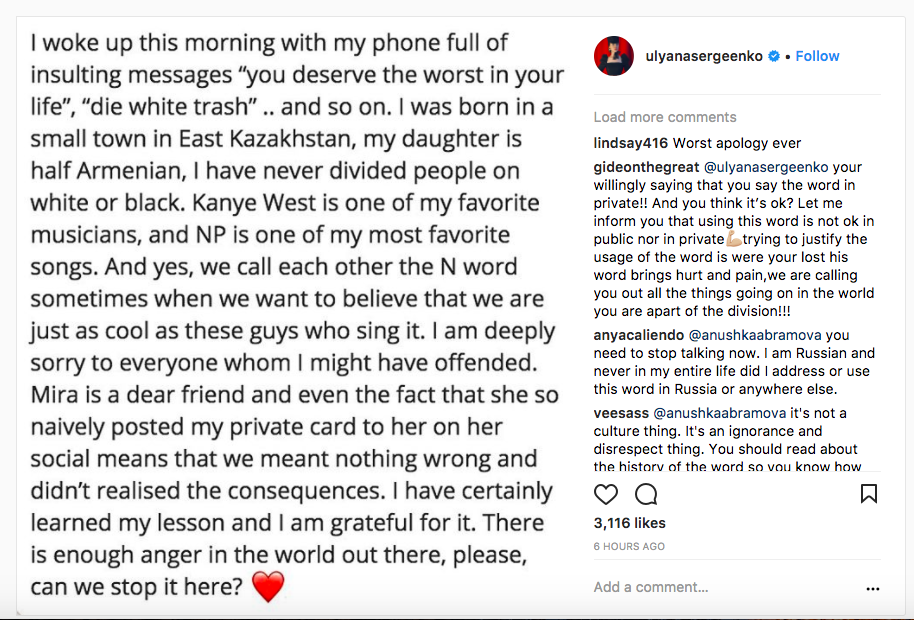 Unfortunately, Sergeenko decided to hold a presentation instead of a runway show, placing the dresses on mannequins in wings that flanked a tea parlor in which porcelain, specially designed for the occasion by a Russian manufacturer, was displayed in great opulence alongside tea cakes and sweets. Of course, this meant there were no models. As I thanked Sergeenko and Burimskiy for taking me through the collection of exquisite handmade lace and coats appliquéd with pink mink flowers, I asked Sergeenko about what had happened that morning. Tears almost welled in her eyes. "I'm so upset that I spoiled it," she said of her show.
"With no intention," Burimskiy chimed in. "It's surprising. But c'est la vie."
Unfortunately, c'est is not la vie for much of the world, and Sergeenko's inability to acknowledge the real harm she caused is extremely troubling—that intentions don't matter here, and the casual use of a racial slur among friends is entirely wrong. Because Sergeenko's work is exclusively couture (and a limited run of demi-couture), she is mostly unknown to casual fashion observers outside her major market. A designer who was unfamiliar to the average reader of Teen Vogue or New York Magazine has now sealed a reputation as a racist. As couture week continues to answer for its relevance in a world that prizes social awareness and intelligence above beauty, this kind of incident stings.