Why Do Artists Make Toys?
You can get a Jackson Pollock plastic bear! But should you?
Where there is art, there are snobs. It has always been this way. Michelangelo was criticized for taking on what was seen as too much commissioned work. The purists saw him as a sell out. Little has changed in today's art world. Popular artists—dare we say successful ones—are subject to the same rebukes that Michelangelo faced centuries ago.
But few things draw the ire of the art world elite like toys. Toys? Yes, toys. Art toys, to be precise—the kind made by Medicom Toy or the Brooklyn-based artist Brian Donnelly, a.k.a. KAWS.
"Collecting toys should be left to actual children," says Chris Black, GARAGE columnist and Partner at Public Announcement. If you like an artist, the purists say, don't buy a toy—"instead spend your money on a print, lithograph, collectible book, or even visits to the museum," says Black.
But, despite the apparent taboo, art toys seem to be increasingly popular with consumers—and with artists, too.
In March of last year, Medicom Toy unveiled a collaboration with Jackson Pollock Studio that saw 27.5'' Be@rbricks statuettes vinyl-wrapped with the American artist's work and sold for roughly $600. Be@rbricks are, essentially, plastic bears dressed up like recognizable characters—SpongeBob or Storm Troopers, for example—or used as a canvas for an artist's work, like with Pollock.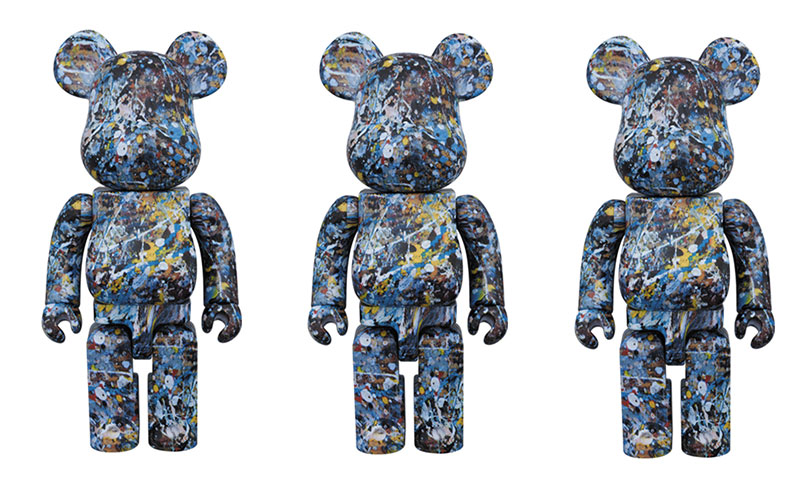 That $600 has the potential to be a sound investment, though. A December 2017 collaboration between Medicom Toy and the estate of Jean-Michel Basquiat was an almost instantaneous sell-out at similar price points and the largest versions can now fetch upwards of $1000 on the resale market. And those who purchased an open edition pink BFF from KAWS in March of 2018 saw their $285 purchase explode in value—the 13" figurines now go for roughly $1400 on the resale site StockX.
Chris Tsang is the owner of Mindzai, a Toronto-based boutique that is among the first online destinations for art toy collectors. Tsang was a collector himself before opening eight years ago. "That's how it all started," he told GARAGE, estimating that his personal collection counts 800 "pieces." Speaking as a business owner, Tsang refers to them as "art toys" or "lowbrow designer toys,"—it sounds almost self-deprecating, like Tsang is aware of the way some see the statuettes. But speaking as an individual, he refers to them as "pieces" and explains that he "primarily sees them as art—even the mass market [ones]."
Emmanuel Plat is the Director of Merchandising for the Museum of Modern Art's Retail division. In his eyes, the customer seeking out the MoMA-exclusive KAWS Blue BFF, for example, "see art toys more as collectibles than works of art or toys. They understand the scarcity of these objects and are always on the lookout for the next release."
Black, on the other hand, points to something other than scarcity to explain the popularity of art toys: "Price. These hunks of plastic, or even worse, stuffed plush, are wildly affordable for people from all walks of life."
But, that scarcity has contributed to the creation of a market not unlike the traditional art market. "The old stuff continues to climb up in price," explains Tsang, adding that when customers first come to him "it's a piece of plastic that looks cool, but then they start to research more, to get involved, to seek things out and act more like collectors."
Where Tsang and Plat both agree, however, is in their evaluation of the market. According to Tsang, the art toy "business has gotten bigger and more diverse. There are more artists now." Toys by late artists like Jean-Michel Basquiat and Jackson Pollock sit alongside those by contemporary artists like KAWS or Mika Ninagawa. Plat agrees that "art toys are certainly a growing category."
One of the driving forces behind the category's growth has been the interplay between art and pop culture. In both 2010 and 2018, Medicom Toy collaborated with SpongeBob SquarePants and, since 2016, KAWS has worked with Uniqlo, Peanuts and Sesame Street. Such collaborations draw attention to the category as a whole. "The entry level customer getting into Be@rbricks might not know who an artist is, but they know pop culture stuff," explains Tsang. A Peanuts toy may eventually lead them to discover a Keith Haring one and, eventually, the artist's other work.
Arguably, though, art toys offer more than a springboard into the art world. When KAWS was approached by the Japanese brand Bounty Hunter in the late '90s, he saw the opportunity to turn one of his fantastical characters into a toy as a chance to dabble in a medium he felt was otherwise unavailable to him. Speaking to Kathryn Branch of T Magazine in 2011, the artist explained, "I always saw making sculptures as so unobtainable, like you need patrons. So when the idea of making a toy came up, it was like the only way I could see my work three-dimensionally. So instead of making this monumental 10-foot thing at the time, I made a thousand 8-inch things.
Medicom Toy has been a longstanding partner in KAWS's quest to make thousands of 8-inch things, and the company has also worked with a handful of artists, or their estates. The appeal of these plastic figurines, which vary in size from a few inches to a few feet, is that, ostensibly, they look like they could have been painted over by the artists themselves.
(The snobbism sometimes reaches the artists themselves. When a Vanity Fair reporter drew comparisons between Michelangelo's commercial work and KAWS, the artist replied, in self-deprecation, "Oh yes, me and Michelangelo. Did he make toys and T-shirts with Uniqlo too?")
Despite that, at the MoMA Design Store, toys are increasingly treated like art. According to Plat, the Merchandising Director, everything sold at the MoMA Design Store, including art toys, is "reviewed and approved by curators from The Museum of Modern Art […] we follow the guidelines suggested by the Museum in our selection process."
Maybe Tsang is right in asserting that it's the art snobs missing out. "If you don't like it, don't buy it," he says. There's someone out there who will scoop it up. And maybe in 10 or 20 years, they'll be selling it for 10 times what they paid to someone who once couldn't be bothered to consider a piece of plastic a piece of art.