Chloë Sevigny arrives. Photo: WorldRedEye.com
We Went to a Miami Mall to Watch Chloë Sevigny Go Down a Slide
The launch of Carsten Hö​ller's newest installation was a nine-story thrill ride.
Chloë Sevigny arrives. Photo: WorldRedEye.com
"I like to do dirty things," said artist Carsten Höller by way of explaining his decision to erect one of his grown-up playground slides at the Aventura Mall outside Miami. Nine stories high, with twin corkscrewing descent tubes enabling two people to go at once at speeds up to 15 miles per hour, it towers over the mouth of an outdoor dining piazza at the edge of the mall's swoopy new wing, with its Topshop and its Tesla showroom.

"It sounds really wrong. It's a shopping mall," he admitted when we met up in the swanky lobby of the Fontainebleau Hotel, which, like the mall, is owned by collector Jackie Soffer's family real estate firm. "They're very nice people, these art collectors, from what I've seen. But it's still a dirty context. It's contaminated."
And this he likes. Holler trained as an entomologist before turning to art, and the Aventura Tower is his latest parascientific experiment on how fellow humans. Is it a sculpture? A tourist folly? A beacon of unscrupulous hope for South Florida personal-injury lawyers on the hunt for greedy clients? (There are 22 "Slide Operation Instructions" posted by the slide, the last being: "Please use the slide at your own risk.") Any and all of those things at once, depending on how you look at it. Or maybe what it "is" doesn't matter at all.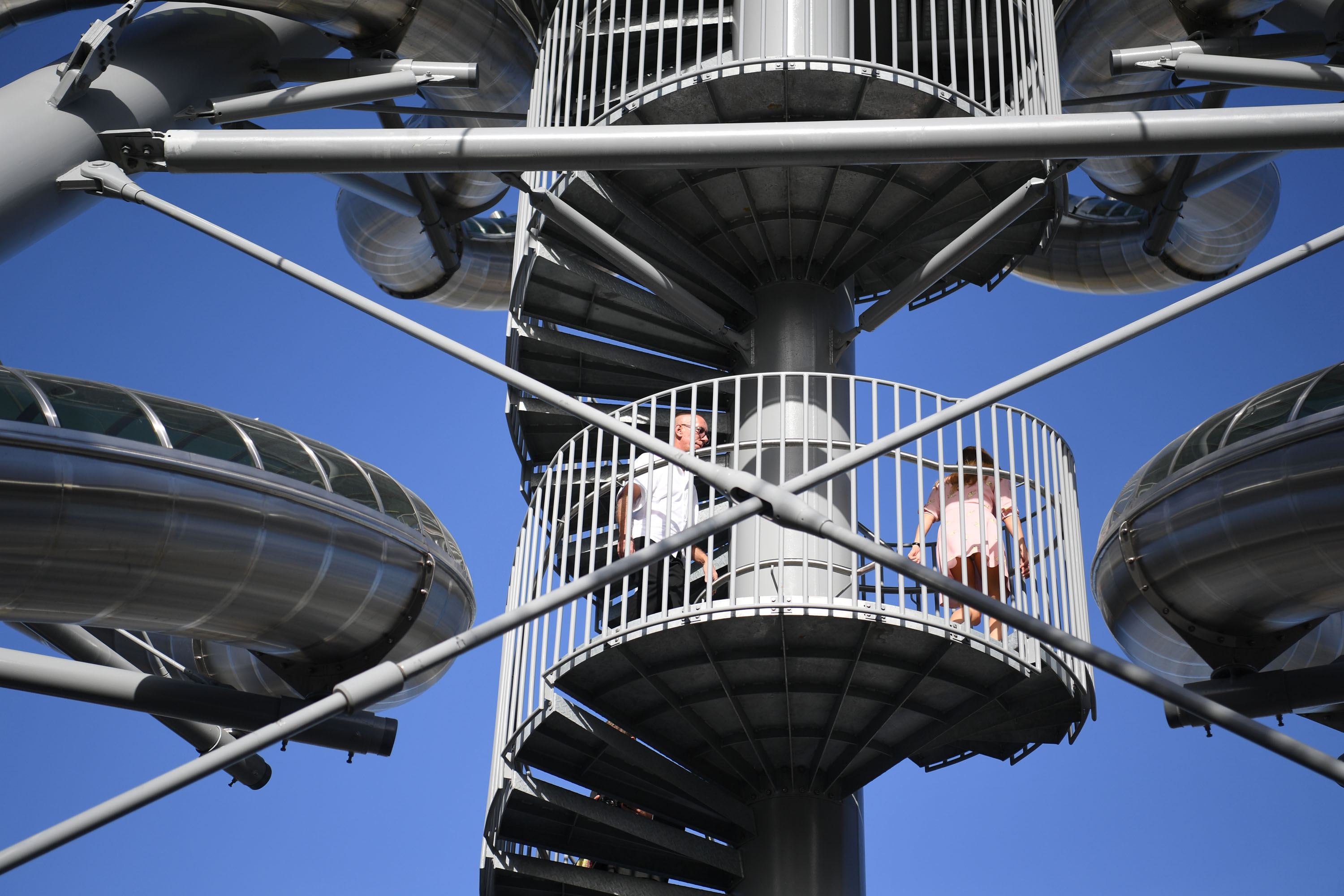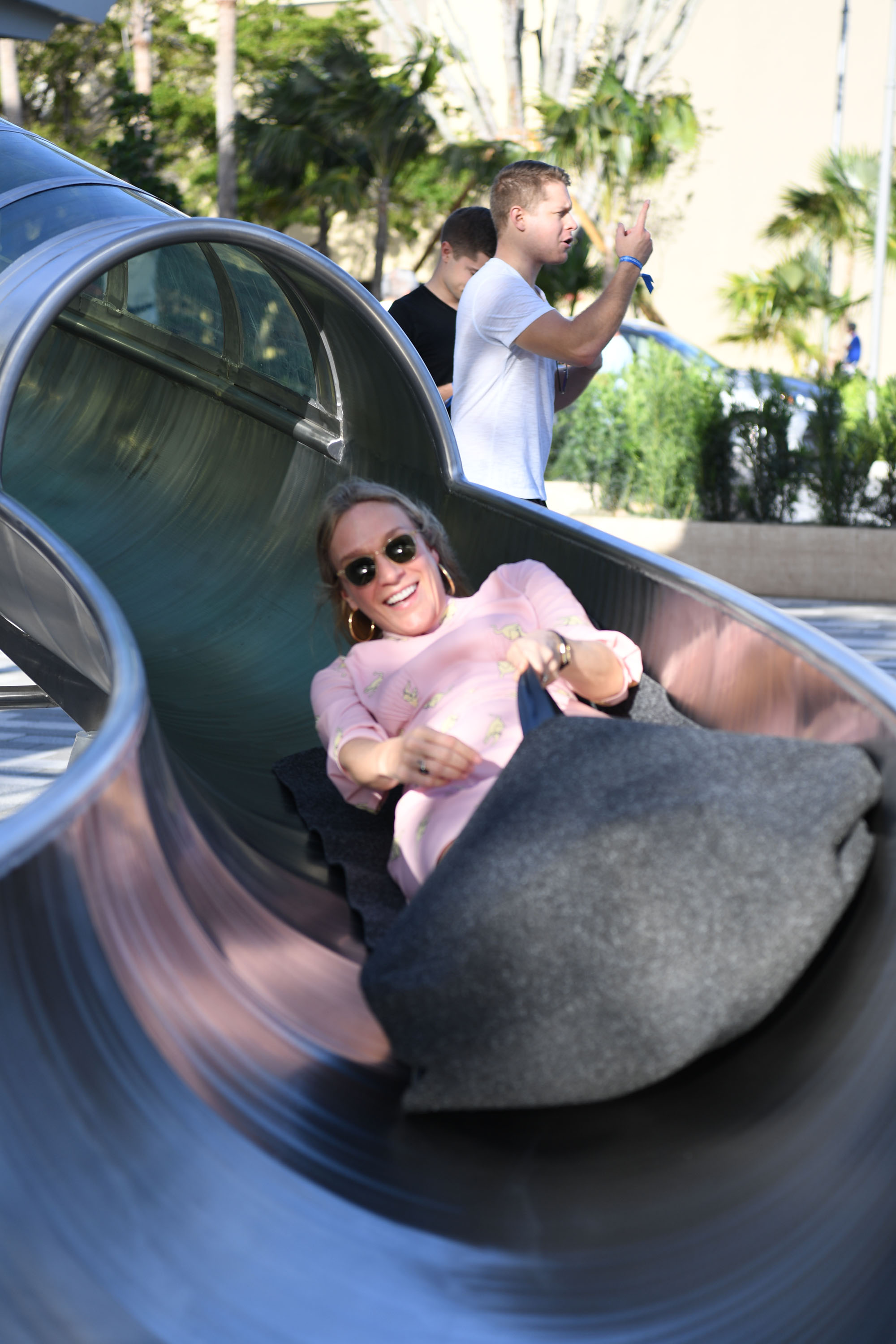 "You can have maybe a majority of the people going there and not see it as an artwork," Höller agreed. It was now the day after the slide had officially opened with a kind of arty carnival: jugglers, a New Orleans-style band called the Bad Apples, and a flash mob that appeared whenever Pharrell's "Happy" played. Karolína Kurková and Harmony Korine were on hand. That afternoon had culminated, at precisely 4:20, with Höller and his friend Chloë Sevigny sliding down at the same time. She let out a lusty yawp. (The two became friends in 2008 when she was a part of an earlier experiment called Revolving Hotel Room, in which she slept overnight at the Guggenheim.) Later that night, he'd ended up at Gucci Mane's birthday party, which happened to be taking place at the Fontainebleau nightclub, LIV, and went on 'til all hours. Höller described the bling-and-swag-culture encounter to me with anthropological zeal.
This isn't the easiest time economically for America's malls. Meanwhile, museums have come to feel more and more like malls used to be—thronged, cacophonous spaces. So what's a cutting-edge mall to do? Becoming more like a museum might help, and Aventura, which is one of the largest malls in the country, has the advantage that Soffer was already a major collector. When the Fontainebleau re-opened in 2008 after a billion-dollar renovation, she installed a soothing James Turrell behind the check-in desk. And long before Holler's tower rose, Aventura's was already decked out with installations by Louise Bourgeois, Donald Baechler, Gary Hume, Julian Opie, and others. More recently, the mall installed a whimsical cluster of water-spouting bronze sculptures by the Haas Brothers called, for some reason, Gorillas in the Mist.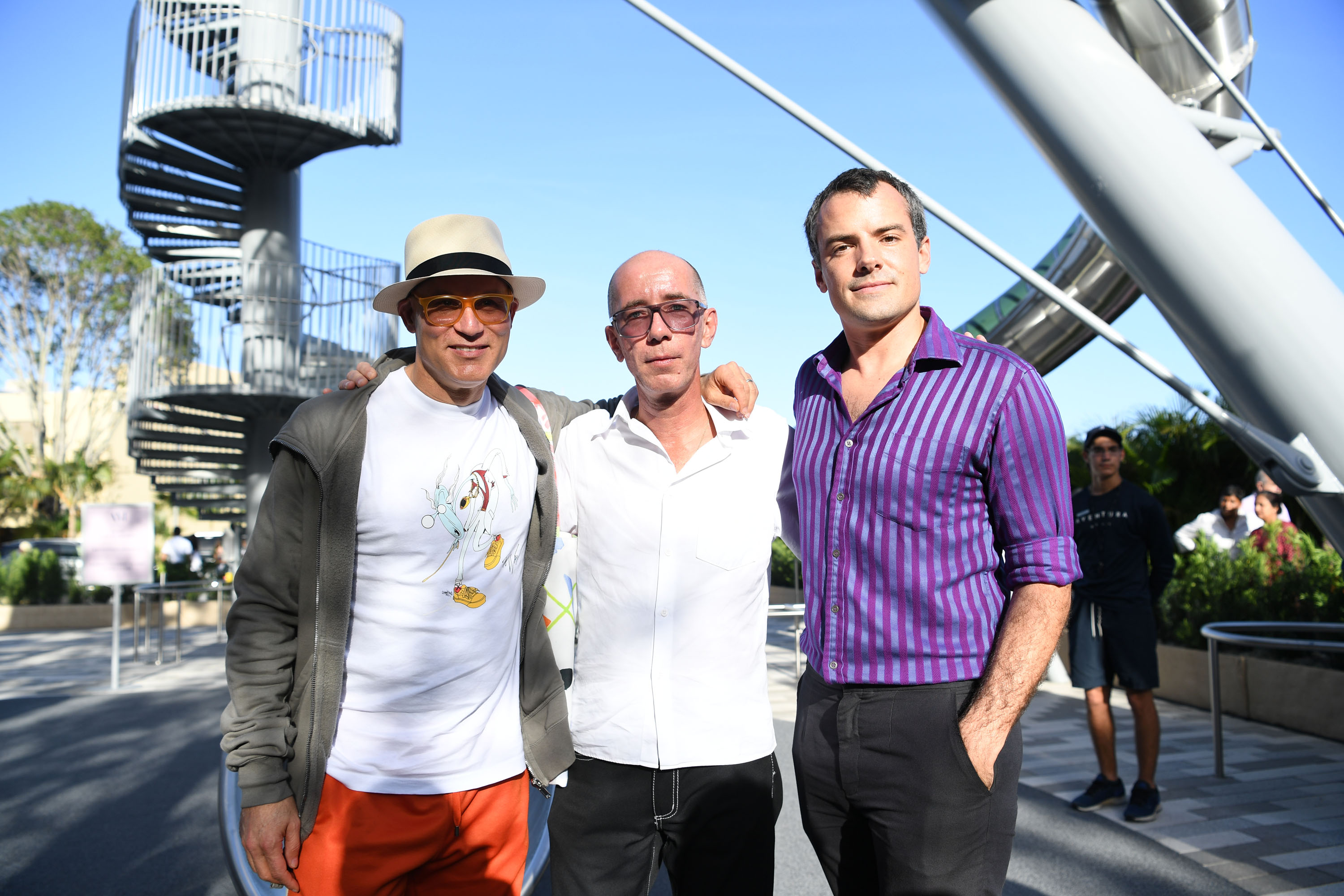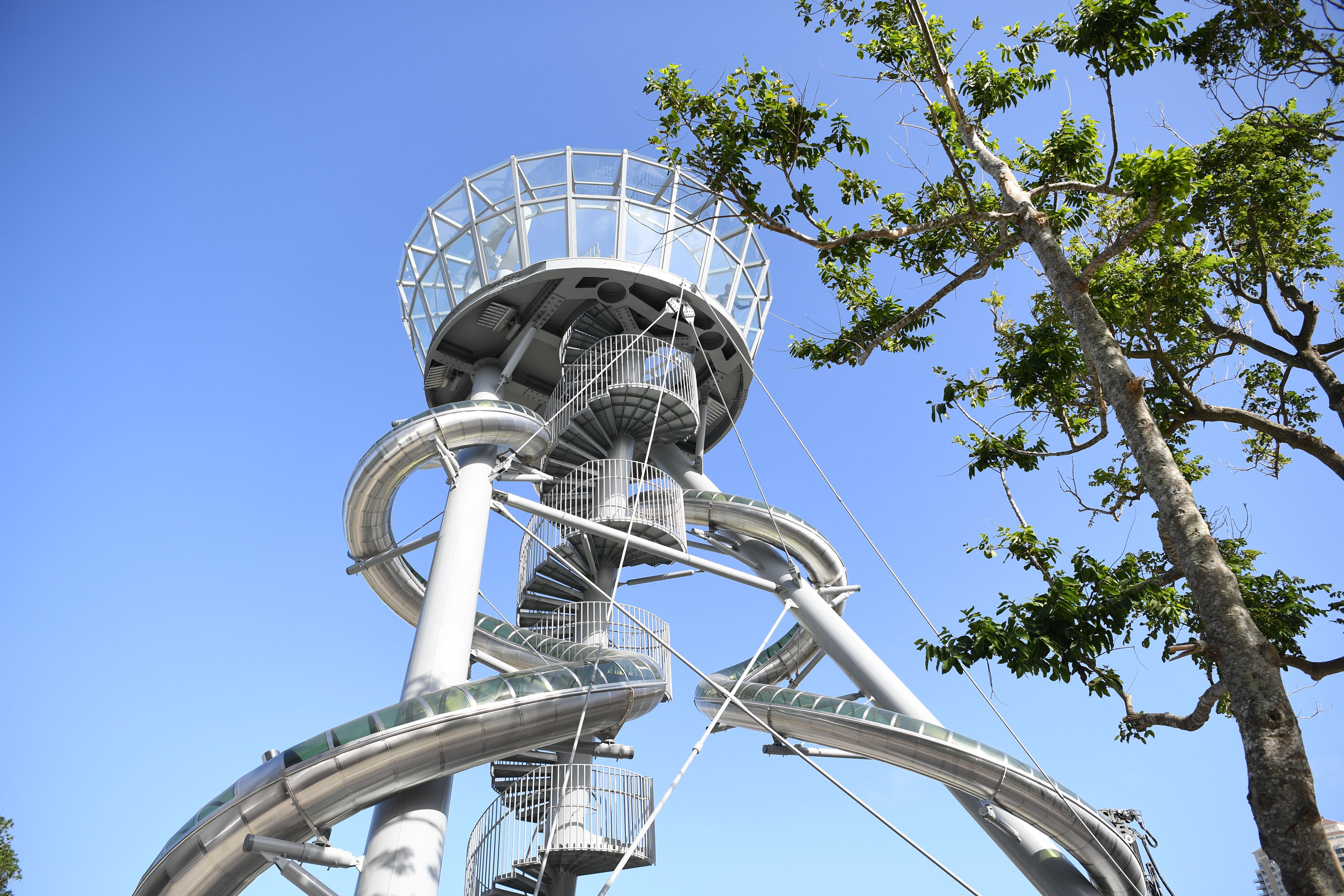 "It's a common artistic strategy to take something from outside of its context and put it in a museum," Holler noted, instructively. Much of his output riffs on this Duchampian insight, except instead of exalting the readymade as a hands-off experience, he frames his project as a laboratory within which to study willing volunteers. This is how he explains the origin of his art-slides. "I think they should be everywhere so I was happy to make as many as possible," he said, "even at the risk that I become the Slide Artist, a stigma I'll never get rid of." He's done iterations at Tate Modern, the New Museum, and for the personal use of Miuccia Prada. The first was commissioned in 1998 for KW Institute for Contemporary Art in Berlin, because of what he describes as a "misunderstanding" on the part of its then-director, Klaus Biesenbach.

"I did a show in 1996 in Cologne called Gluck, which means happiness and good fortune and luck," he remembered, "and I wanted to level people's mood. I wanted to make an amusement park landscape. People come in, they use the things that I provide, and come out happier than when they came in, as if they had all seen a very good movie." He pauses, remembering. "One of the things I had in Gluck was like a hut built with this strong matting. On the hut there was a slope, and you could get a sledge and slide down." Biesenbach called and asked him: "Didn't you do a slide?" "I thought: that's a great idea. So in some ways, it was Klaus's idea."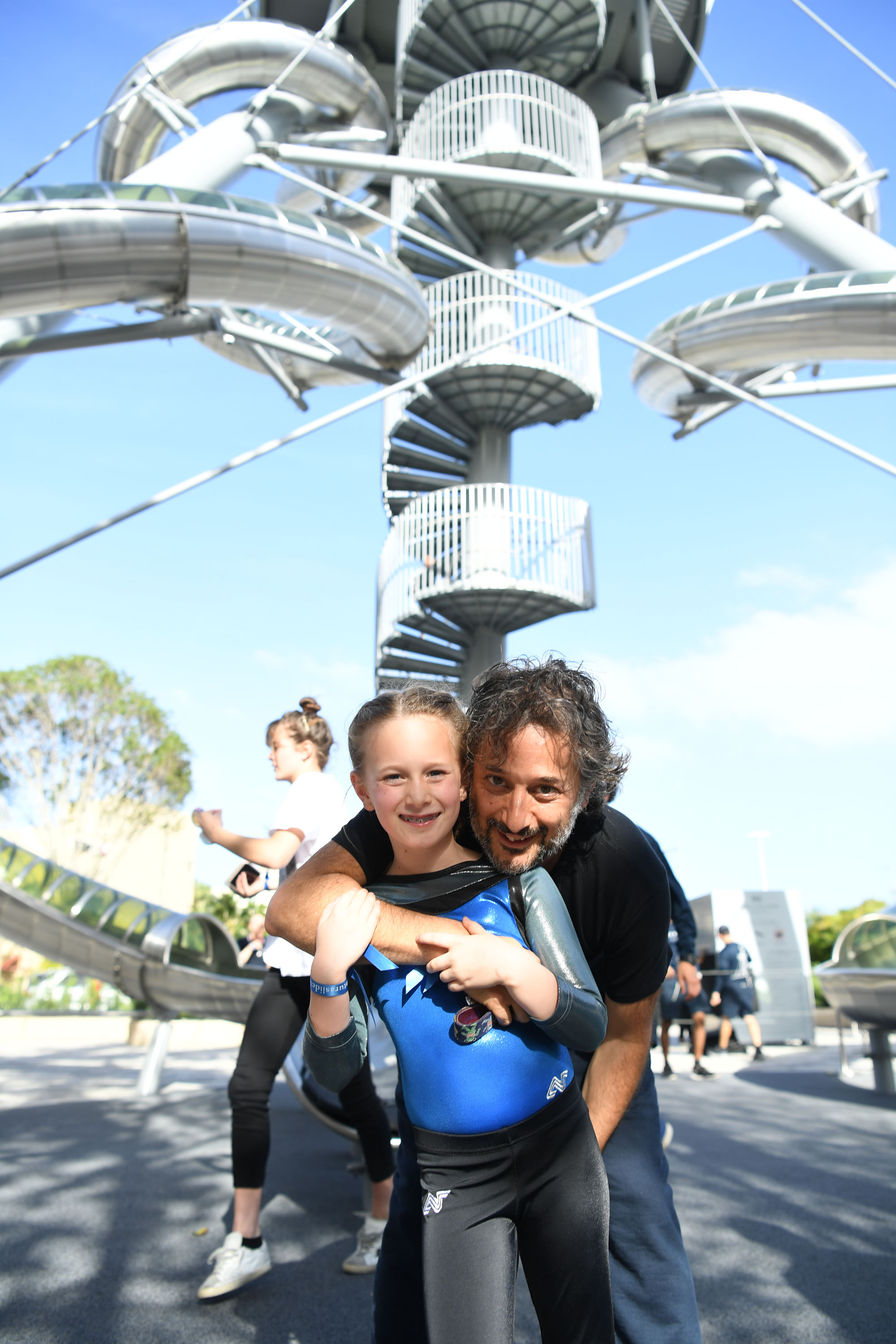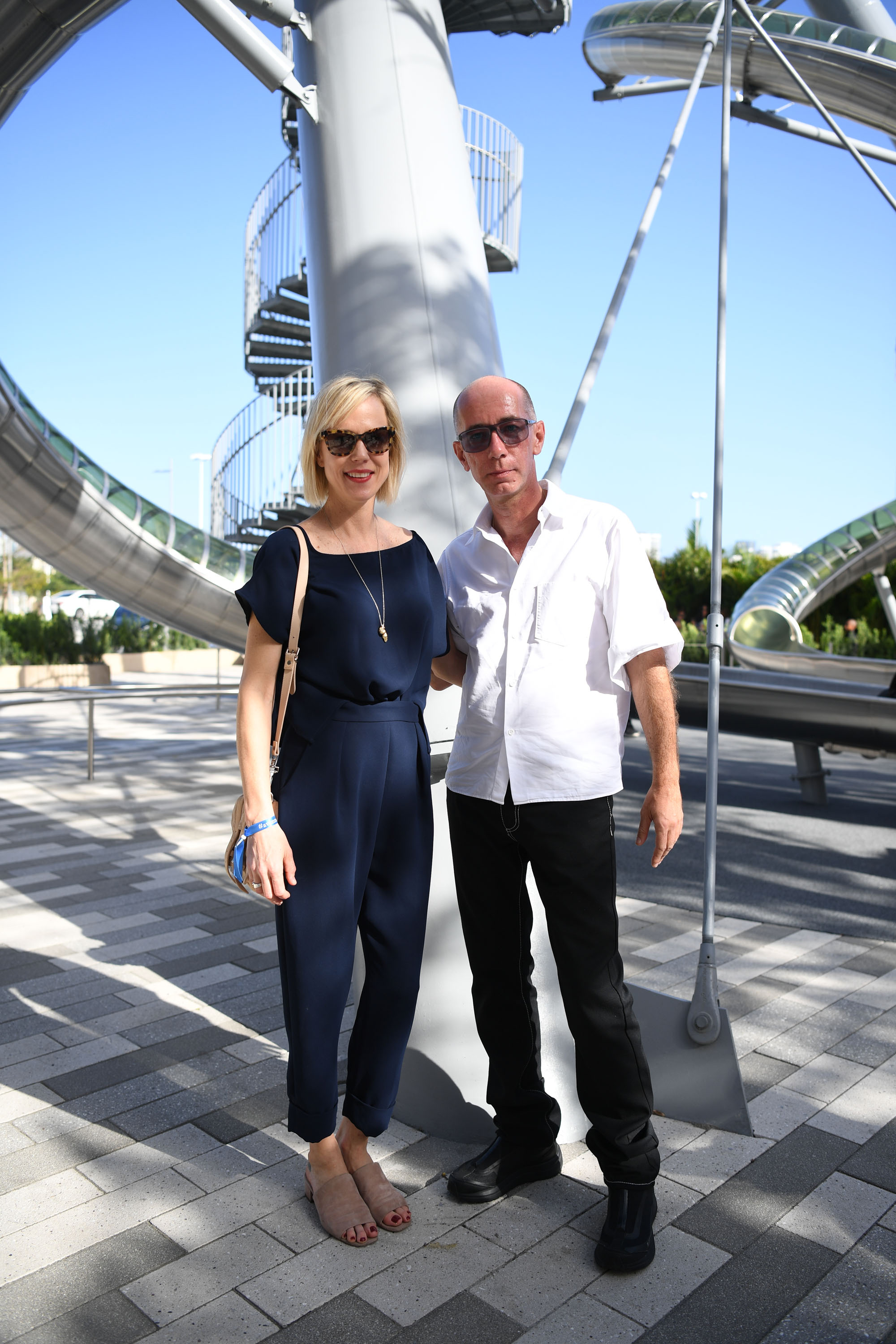 The basic tube form of the Höller slide hasn't varied much. "I was happy to find a company early on to work with," he said. "I wanted it to be architectural, without too much of a playground reference." And because the company meets German safety standards, it's helped him get past museums' concerns about danger to their partons. "It's safer than stairs. The slide is the safest way to get from one place to another." He continued with his pro-slide proselytizing: "We have somehow agreed on the idea that slides are for children. Why did we do that?"
Soffer commissioned a slide after seeing the version Höller did for the Vitra corporate campus in Germany. Vitra's was his first freestanding slide: he thought of it as "a sculpture but also a landmark in a way, which is why we put the clock on top, like in a railway station or a church." (The Aventura one has a clock on top, too, its axis shifted so that what should be noon is, in fact, an hour later, another one of his subtle fuckings-with-us.) In Vitra, the corkscrewing tube and its tilted support also seem to take some inspiration from Tatlin's Monument to the Third International, an echo less apparent in Florida.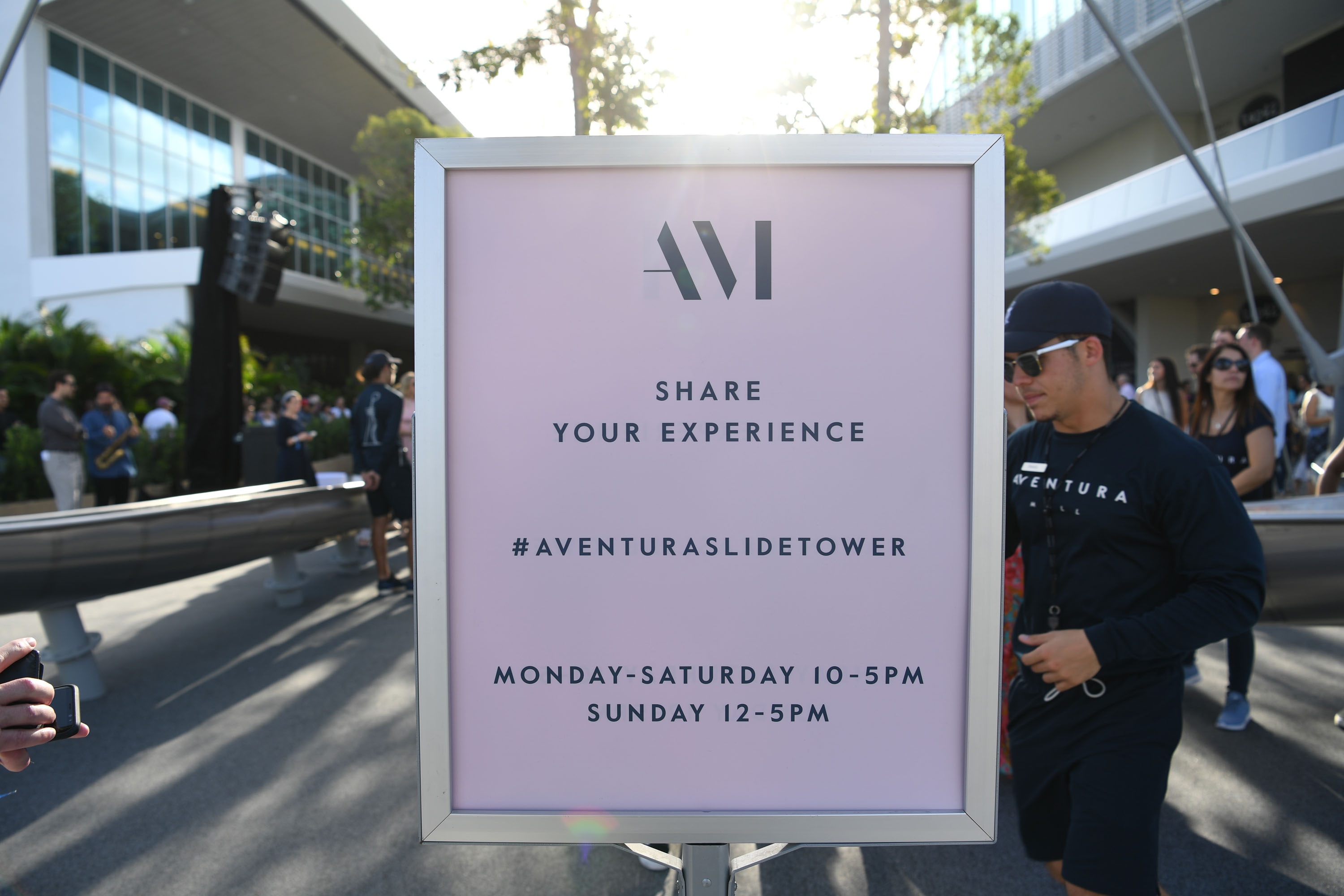 But while the slides are now firmly linked to Höller in the popular imagination, there's nothing (much) stopping us from building our own. "It doesn't have to be a Carsten Höller slide," the artist insisted. "Slides can be done by other people. Architects can take my idea. I don't know why they don't. I actually do: now that I've done so many of them my name is so associated with slides," and they don't want to be accused of copying him. "But they don't need me. It doesn't bother me, purity. I just want to move on. There is so much art now, I just feel saturated. I don't want to know about the next hot new artist. I don't care. I want to know about ideas."