Kathleen Hanna onstage at Panorama in 2016. (Photo by Noam Galai/Getty Images)
Kathleen Hanna Is the Brains Behind Your New Favorite T-Shirt
"Buy an amazing shirt and send a girl to school," declares the pivotal punk singer.
Kathleen Hanna onstage at Panorama in 2016. (Photo by Noam Galai/Getty Images)
Like so many daughters of the late '90s and early 2000s, I found a soundtrack for the depths of my anger in the signature screeches of Bikini Kill. The pivotal riot grrrl band's front woman, Kathleen Hanna, has spent decades encouraging women to get loud for the right reasons, and her latest venture is no different—she's paired up with the nonprofit Tees 4 Togo to raise money for West African girls' education.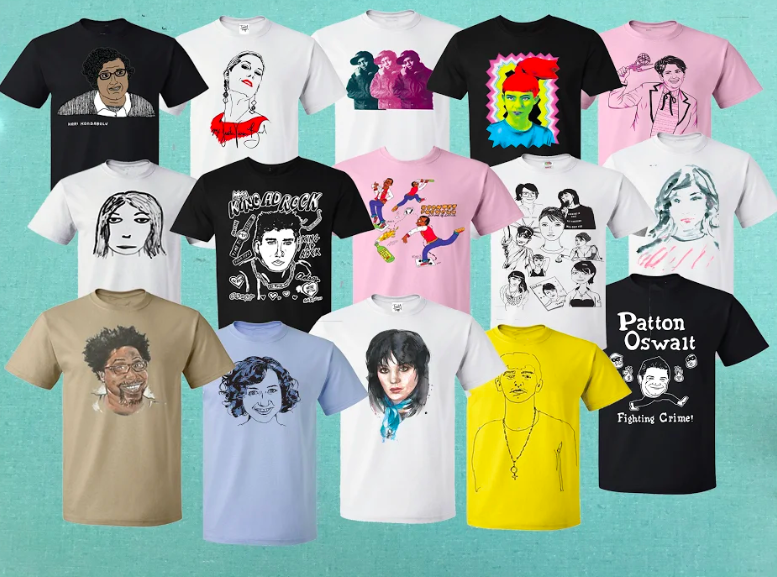 Tees 4 Togo commissioned a lineup of illustrators and artists (including Hanna and her husband, Beastie Boy Adam "Ad-Rock" Horovitz) to grace 15 T-shirts with the likenesses of everyone from Grimes to Kim Gordon to Kristen Schaal to Hari Kondabolu, with proceeds from each $40 shirt going to the Dapaong, Togo-based nonprofit Peace Sisters. "I've been designing and selling T-shirts for years with my bands [Bikini Kill, Le Tigre and The Julie Ruin]," Hanna told GARAGE, adding, "I drew a pic of a record player—I think it's a pretty bad drawing—but it ended up being the logo for a Bikini Kill singles record that was just released. People have gotten tattoos of it, and it's amazing to see your artwork out there in the world, living, moving around."
"[Peace Sisters founder] Tina Kampor used to be a teacher in Togo where she grew up, and she saw that starting in sixth grade, a lot of girls were having to stay home to take care of younger siblings, take care of the house and work on agricultural projects instead of getting their education," Hanna explained. "Tina saw girls dropping out of school and was like, 'How can I help?' In the U.S. she became a nurse and started sending money home, and in 14 years—just on her own salary—she sent 130 girls to school."
Now, Hanna and Horovitz have mobilized their friends from the art and music worlds to lend their images to Tees 4 Togo. Hanna wondered what she could do to help, and thought, as she tells GARAGE, "Well, I have access to this amazing group of artists and performers who are friends of mine, maybe we can do something together."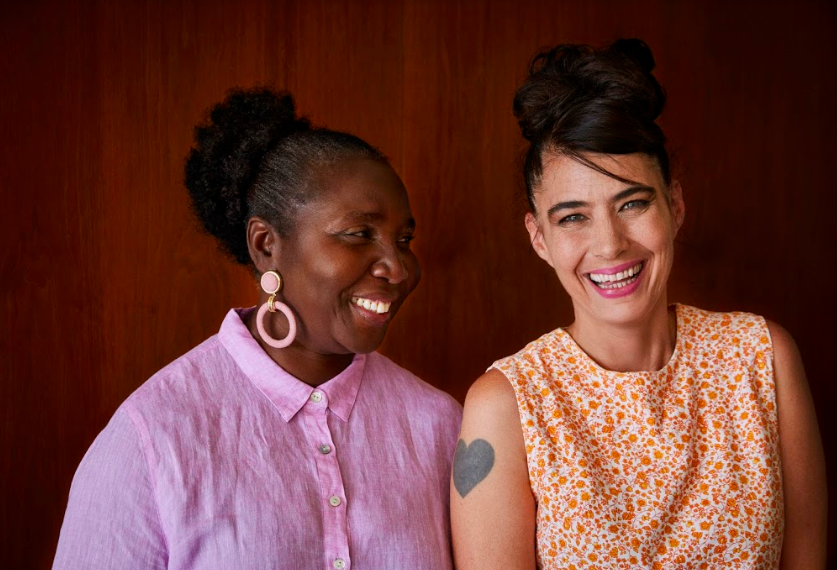 The importance of the T-shirt in Hanna's onstage and personal wardrobe dates back to her earliest days in front of a crowd, she says. When asked about her all-time favorite tee, Hanna wistfully recalled, "There's this shirt I bought at a thrift store in 1990, it was originally black but had turned dark gray because it had been washed so much, and someone had added small iron-on letters that said, 'Looking is free, but touching will cost you.' I was like, 'Whoa, who made that?' It was a fascinating shirt to me as an object."
"Everyone in Bikini Kill wore that shirt at one time or another, and it got passed on—Ian Svenonius from Nation of Ulysses wore it for a while. It was passed around between people in bands, and in 2004 or 2005, I was in L.A. playing a show with Le Tigre and my old friend Andy Coronado [of Wrangler Brutes fame] came up to me and said, 'Hey, I have something for you,' and just handed it to me. It's moth-eaten, with all these holes...I took a picture and hung it on my wall because I was like, that shirt has been around the world. I want to get a nicer bra so I can wear it!"
As Hanna and I exchanged goodbyes at the end of our conversation, I launched into a high-pitched "I never do this, but..." sentence, stammering out something extremely unprofessional about watching a spoken word performance of Hanna's on repeat during the secondhand stress and rage of the Kavanaugh hearings.
We sat in silence for a moment.
"Do you want me to sing something for you?" Hanna asked gently.
"....Yes, please."
Without hesitation, Hanna launched into the chorus of "Rebel Girl," and I died quietly, thanking a god I don't entirely believe in that I'd recorded the conversation. As we hung up, I logged on to the Tees 4 Togo website and clicked "Purchase" on a drawing of Hanna, telling myself that it didn't entirely count as embarrassing fangirl behavior, since my purchase would send a Togolese girl to school for a year (plus the cost of books!). Okay, fine, it's still embarrassing, but at least it's embarrassing for a good cause.