It's Official: Fashion Is Still Obsessed with Surf Culture
The influence was everywhere at the menswear shows, including at AMBUSH where, yes, there were fully functional surfboards.
In five days, the best surfers on planet will head to the shark-infested waters of South Africa's Jeffreys Bay Beach on the sixth stop of the World Surfing Tour. Jeffreys Bay boasts the best and most challenging waves, and for the first time the Women's tour will be joining the Men's at the iconic break. It is an historic event, and it's programming shakeups are as hotly anticipated by surf stans as those that rocked the Spring 2019 menswear circuit were for hype-beasts. For those few of us who's enthusiasm for Fantasy Surf Leagues is equally matched by our love of fashion, the comparison is clear, and at the intersection of our very bizarre Venn diagram sits the spring collections of AMBUSH, M1992, and Jacquemus.
When Yoon Ahn of AMBUSH presented her collection "Waves" last week at the Atelier Brancusi in Paris, she made sure to come correct with the metal work. The metallic surfboards upon which glowing and dewey skinned beach babes leaned, looked not unlike those oblong sculptures that sprung from the French artist's atelier in the early 20th century. Try as we might to make the connection, that wasn't what the designer was going for. Instead, Yoon sought inspiration in the easy, breezy, island life of Hawaii.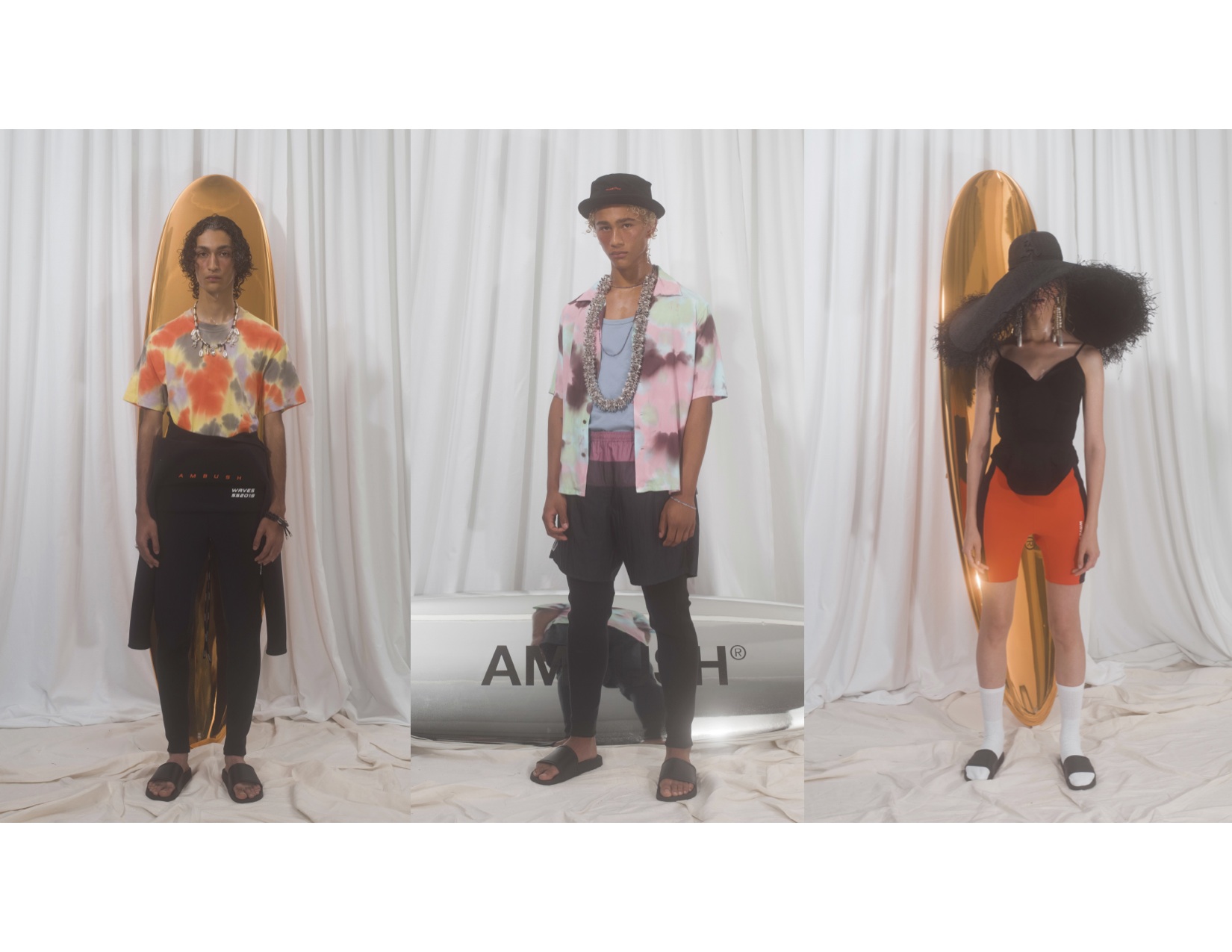 Growing from a small accessories brand, AMBUSH has become a juggernaut on the sportswear circuit, but jewelry is what Yoon does best. It's why the indie darling of Tokyo's style set was tapped by Kim Jones to lead the jewelry design team under his stewardship at the new Dior Homme this season. Men's jewelry isn't exactly a home-run market—more often than not it's precariously perched on the line between understated and throughly heinous. But Yoon has struck a delicate balance where adornment is less of a statement. It's effortless, and cool, and young, but technical and incredibly refined. In a way, it's just like surf style. And maybe that's why I struggle to recall a piece of jewelry more perfect than the knock-out "lei" she fashioned from thin silver flowers strung together into a wreath, or her puka shell necklaces rendered in semi-precious metals. Other highlights of the collection included large straw hats, as well as wetsuits rolled down to expose tie-dye tees as suitable for your dad as they are for your burner ex-boyfriend.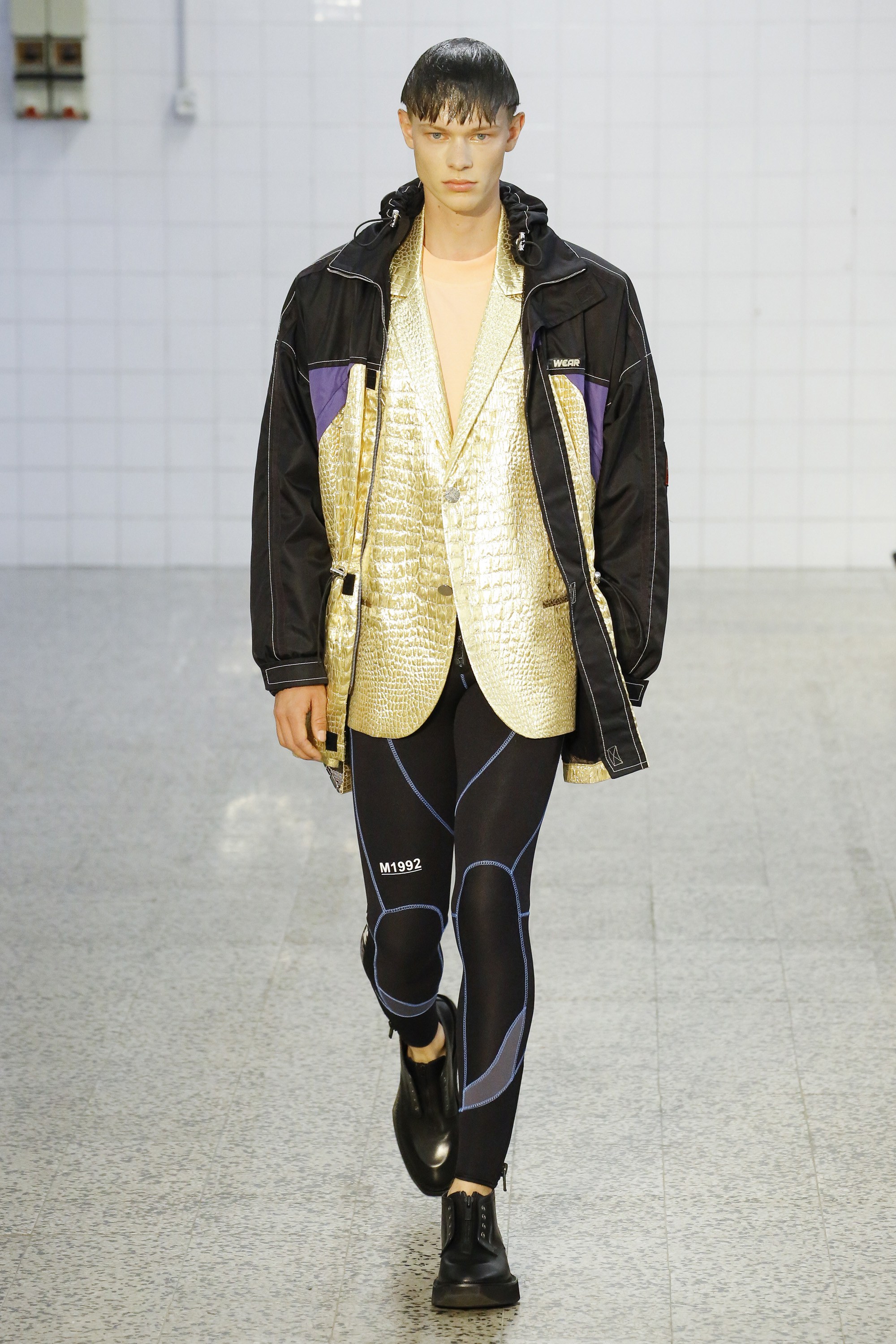 Earlier in Milan, local label M1992 also showed a wetsuit under a metallic crocodile sport jacket for the flashier thrashers on the scene. (With any luck we'll catch a celebrity surfer donning this look to satisfy the dress code at Nobu Malibu— after all, Kelly Slater is set to return to the waves post-injury at Jeffreys Bay!).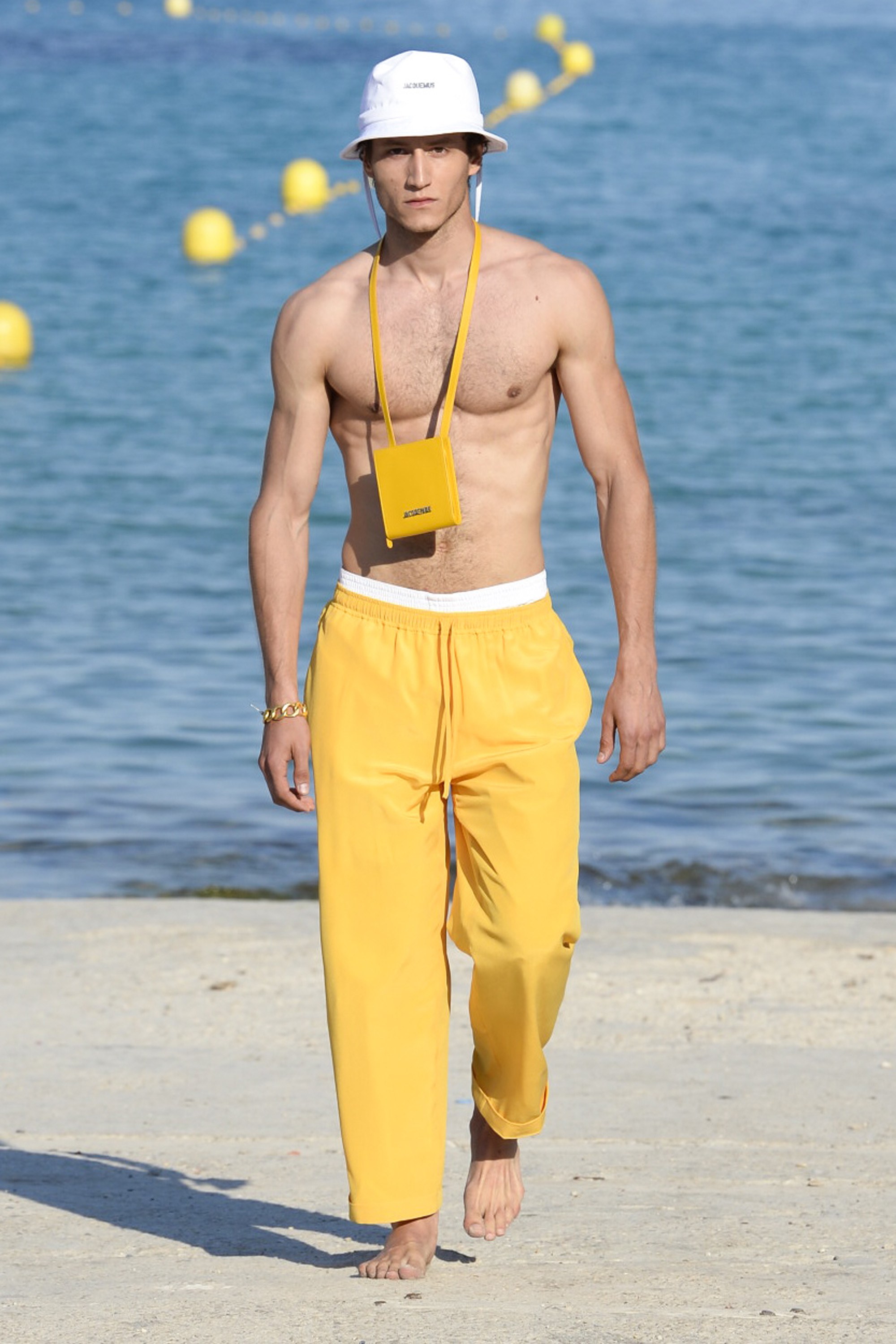 Yesterday, Simon Porte of Jacquemus brought the point home at his hotly anticipated menswear show on the beaches of Marseilles. He, too, showed oversized straw hats on hunky bronzed and barefoot models who would look at home at the top of a lifeguard tower. Small travel bags hung from their necks in lieu of whistles but the abs were still there and chiseled enough to grate a a local cheese.

The effortless cool of surf culture and it's oft-ripped style is exactly what fashion needs right now, and if the Spring 2019 menswear collections are any indiction, it may be time to revisit that whole mantra: "No shirt, No shoes, no problem."