Photograph via Getty Images.
I Tried Every New Salad at Sweetgreen. Is Sweetgreen...Bad?
I wanted to explore the nuance and full range of Sweetgreen's mission to connect people to real food.
Photograph via Getty Images.
On a recent sunny Saturday afternoon, I, Chris Black, your fearless wellness correspondent, agreed to risk life and limb to test the new Sweetgreen Spring Menu at the always busy Soho location. I dodged sorority girls post-Equinox, a guy with a bleached bowl cut and face tattoos, and banker wives in faux-distressed Golden Goose sneakers to bring you this unfiltered report.

I decided to try only the three new salads (they also added warm bowls, but I'm all set on those—that's how dogs eat). When I approached my salad artist, I tried to explain that I was doing a new menu tasting. I wanted to explore the nuance and full range of Sweetgreen's mission to connect people to real food. They looked at me, puzzled, and said: "What do you want?" Ok, so no pleasantries! I see how it is. I quieted my winning personality and ordered Nancy's Chopped Salad, Beets + Goat Cheese, and the Spring + Asparagus Herb. (Full disclosure: I have been a vegetarian for 20 years, so I made a few necessary changes and asked for medium dressing—cheat day!)
As always, tables were scarce; I balanced three salads in my left hand while I stared down an Advanced Basic—SoulCycle leggings, Noah "Violent Femme" t-shirt—who was done with her salad but was taking up valuable table space finishing up a phone call. The audacity! Who still talks on the phone? Apparently, hotties! Finally, she left, and I took off my coat, settled into the hard wooden bench, and spread my bounty onto the table: a cornucopia of millennial bourgeois delicacies.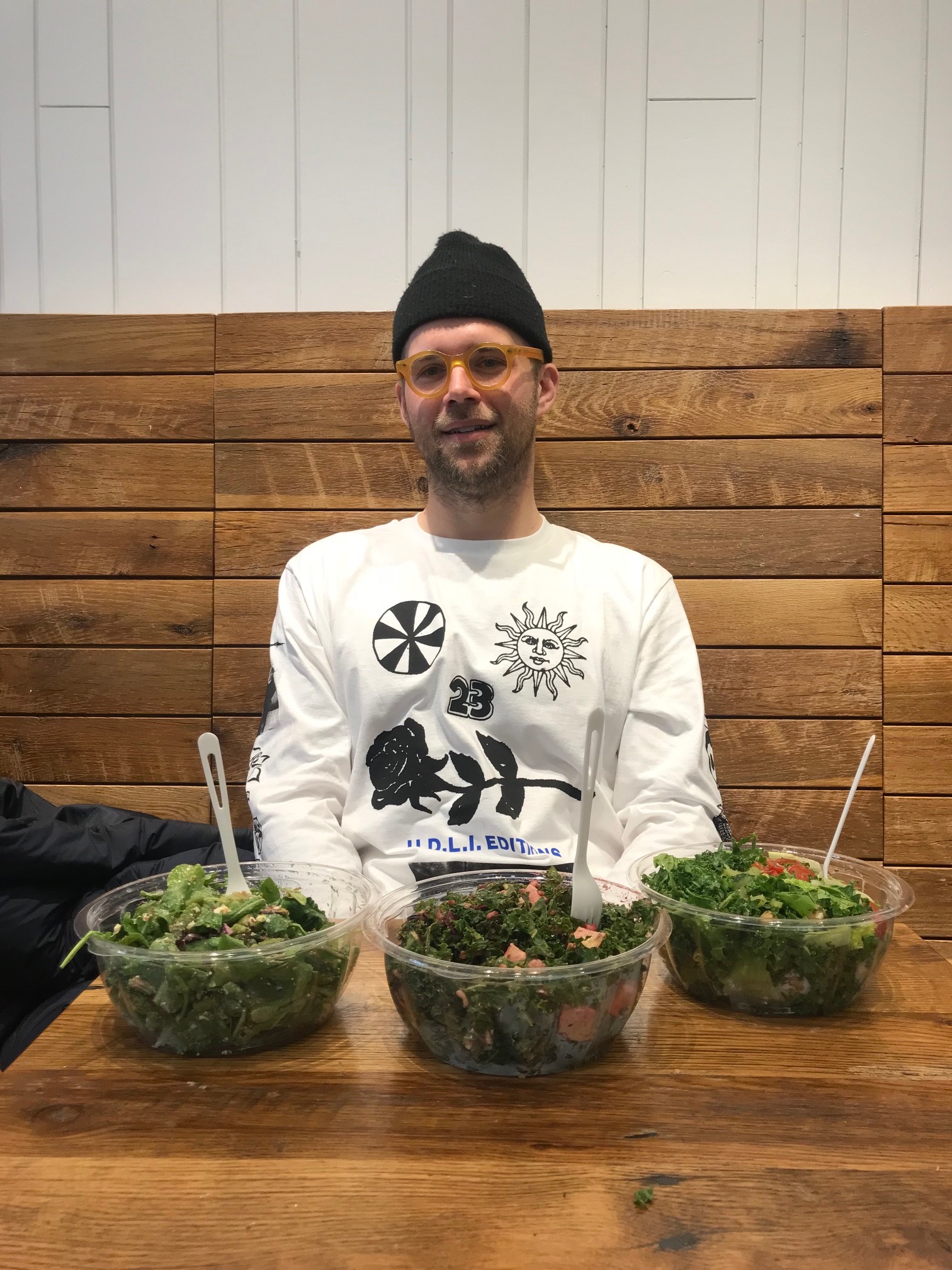 I decided to start with the much-hyped Nancy's Chopped Salad, a fast-casual take on famed chef Nancy Silverton's much-loved Los Angeles lunch staple. Nancy is a genius, and I love her, but her salad, served at Sweetgreen, tasted like the house salad at a suburban Pizza Hut buffet. Maybe it was the celery? But it tasted cheap. I like my salads to be rich and luxurious, a delicious lettuce base littered with an assortment of high-end artisanal toppings. This thing tasted like water featuring tomatoes. Only order this at Mozza. Rating: 5/10.
Next up was the Beets + Goat Cheese. I was not excited about this one because I am not a goat cheese guy; I don't like food that comes from anything with a beard. But the extreme amount of beets made the salad appear to be doused in blood, which was kind of funny. I did substitute chicken for tofu, but I don't think that made much of a difference. The walnuts gave it a nice crunch, and like everyone who casually follows RapCaviar on Spotify and stays up too late looking at memes on Instagram, I live for shredded kale. But the goat cheese was overwhelming: one wrong bite and your mouth tastes like sour dirt. If you leave off the goat cheese, this one could work. Rating: 6.5/10
I saved the best for last: Spring + Asparagus Herb is a home run! When I was looking over the ingredients, I could tell this was going to be the winner, and when I took my first bite, the mouthfeel (#foodfluencer bingo!) was…excellent. The lemon-marinated asparagus, shredded cabbage, and spicy broccoli worked in perfect harmony. The cucumber tahini yogurt dressing was distributed evenly. The feta wasn't overpowering, and the za'atar breadcrumbs elevated the salad to a Michelin-star level. Of the three, it also happens to be the lowest in calorie (320!) which is a great bonus for those of us who are watching our figure. I am not ready to abandon my beloved Shroomami, but this is a solid back-up. Rating: 8.5/10
I am glad that I pushed myself out of my comfort zone. This new menu didn't exactly get my tongue wagging, but to be fair, it is hard to improve on greatness! Sweetgreen is still the finest fast casual restaurant in the five boroughs. Don't @ me.