You missed a spot: View of Cathy Wilkes, MoMA PS1. Photo: Courtesy MoMA PS1. Photograph by Pablo Enriquez
Can Cathy Wilkes's Retrospective Be as Sad as It Seems?
Cathy Wilkes's retrospective at MoMA PS1 has a melancholic cast, but there's hope among the ruins.
You missed a spot: View of Cathy Wilkes, MoMA PS1. Photo: Courtesy MoMA PS1. Photograph by Pablo Enriquez
The materials in Cathy Wilkes's MoMA PS1 retrospective have been loved to death. Fraying baby blankets and bed sheets, chipped china and other household wares—all seem literally mummified by care. Many were probably well worn when Wilkes picked them up and worked them into her assemblages and installations, domestic tableaux whose scuzzy surfaces convey physical and emotional loss. The home evoked here is on the verge of collapse: its wallpaper yellowed and peeling, its walls riddled with mold.
Installed generously across seven galleries and three corridors on the third floor of MoMA's schoolhouse kunsthalle, Wilkes's works have plenty of room to breathe. Some galleries have only one on display, tacked up quietly on the wall or tucked into a corner. The show opens with a cross-section of Wilkes's practice: a vitrine with small objects from mixed-media installations made between 2004 and 2012—including a plastic bowl filled with sullied shards of a broken mirror, and a jar of Bonne Maman jam black with rot—and several larger objects, like a baby stroller and a small sink stocked with disposable razors. The short sink, like the stroller, seems fit only for a child, who we can assume wouldn't need to shave. Subtle yet queer pairings like this one abound in Wilkes's work. Here, and throughout the show, seemingly domestic settings are made to feel slightly off, like milk on the turn. Femininity, motherhood, and our cherished notions of family are preserved in a state of decay.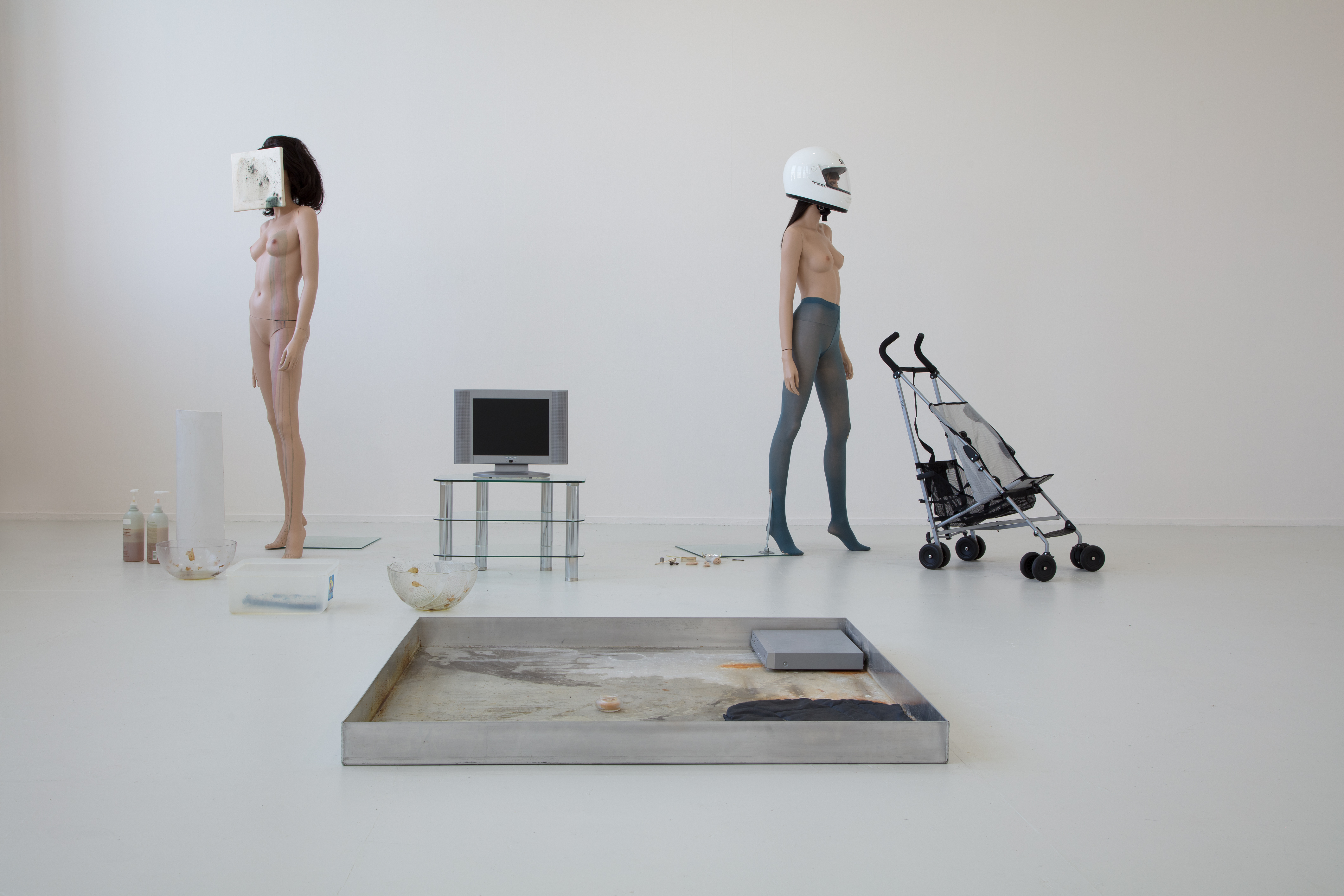 In the next open gallery, another stroller appears askew near a nude female mannequin. A small painting on canvas has been affixed to her face like a mask. Another topless mannequin, dressed in dark blue hose and a motorcycle helmet, poses beside a cluster of small kitchen wares: a baking pan, a silver bowl, clay forms that resemble hunks of bread. It's hard not to think of Isa Genzken's Schauspieler figures here, though Wilkes's palette is more subdued, recalling the work of Marisa Merz. Along the opposite wall, a row of empty marmalade jars completes the image of an unkempt kitchen. Perhaps these poised women are shedding the strictures of domestic life, learning to enjoy the cool air on their naked skin or revving up a motorbike for a quick escape.
Mothers and their children appear more explicitly in several installations. In one untitled work from 2013, two small figures made from rosy fabric and plaster perform chores around an infant doll. One wipes the baby's face with a napkin, while the other soaks strips of fabric in a small basin—for what we can't be sure, perhaps a bandage or a swaddling blanket. Another work from 2013, Untitled (Possil), At Last, includes two childlike figures dressed in smocks who flank a parent; the adult is huddled around a bottle in a possible reference to alcoholism. Ceramic jugs and glass bottles are scattered across the floor, littered with ceramic shards, a comic book and small, well-worn footstools. One jug reads "Tennant's Beer," recalling the working poor in Wilkes's native Ireland, many of whom struggle to quell their addiction and make their rent. In nearby corners, porcelain dinnerware has been stacked up like an inventory of family heirlooms, ready to pack up or pawn.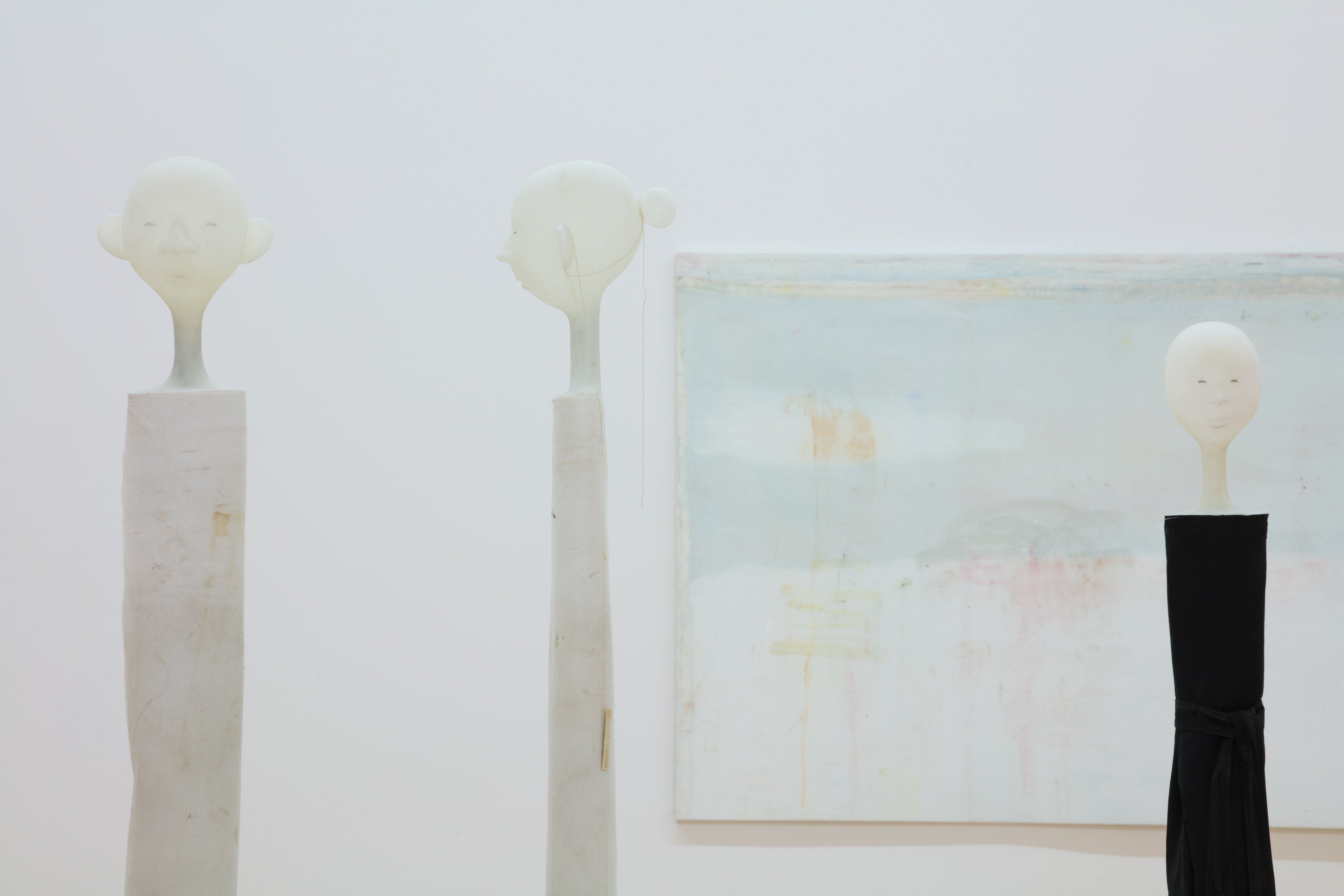 Not everything in this exhibition is melancholic. Over a dozen of Wilkes's 'paintings' are on view here; made of bed linens and other gauzy fabrics stretched over boards or wooden frames, they could be remnants of a lived-in home or windows out of one, onto the world. Splotches of yellow might be sweat stains or other bodily fluids, but their soft patches of blue are the color of summer sky.
Tagged: