Hey Mr. D.J.: Gerard Byrne, In Our Time, 2017. Photo: Damien Elliot, courtesy Lisson Gallery
In Gerard Byrne's New Show, Video Hasn't Killed the Radio Star
A new video installation by Gerard Byrne situates artist and audience alike in the particular atmosphere and sense of time associated with live talk radio.
Hey Mr. D.J.: Gerard Byrne, In Our Time, 2017. Photo: Damien Elliot, courtesy Lisson Gallery
You could sit in Gerard Byrne's In Our Time for hours. When the work was first shown during Sculpture Project Münster, it occupied a warm music practice suite in the German town's enviable public library. Visitors descended to the basement and made their way to a small, darkened room, in which the noise was deadened by heavy doors and soundproofed walls. Within, Byrne's audio-visual work transported one to a comforting wood-lined radio studio in the US from which a deejay with a voice like diner coffee went about an accomplished live broadcast.
Now In Our Time is at Lisson Gallery in New York. Soundproofing and brick-colored curtain on the walls gently evoke the atmosphere of the Münster music room in Manhattan. For Byrne, both gallery and library play important roles as public spaces, which he sees as echoing the idea of "radio as public space." All are sites for the free sharing of experiences and ideas.
There is no precise where or when to In Our Time. Ever present, whether in voice or on screen, the deejay is dressed in a cocoa turtleneck and oatmeal zip-up cardigan. His goatee beard is neatly trimmed, but graying. Chipper, if a little world-weary, he goes through the familiar litany of commercial radio content—intros, songs, news bulletins, jingles, phone-ins, adverts—yet like Byrne's restless camera, they never settle in one time or place. Songs are announced, but the track cued up is from a different artist and a different decade; the news bulletins are non sequential; the deejay is drinking from a "Don't Mess With Texas" mug, but the jingles are from stations across the US. The one thing that adheres to a real-time logic in the work is time itself: unfolding over 12 hours, In Our Time literally takes place in our time.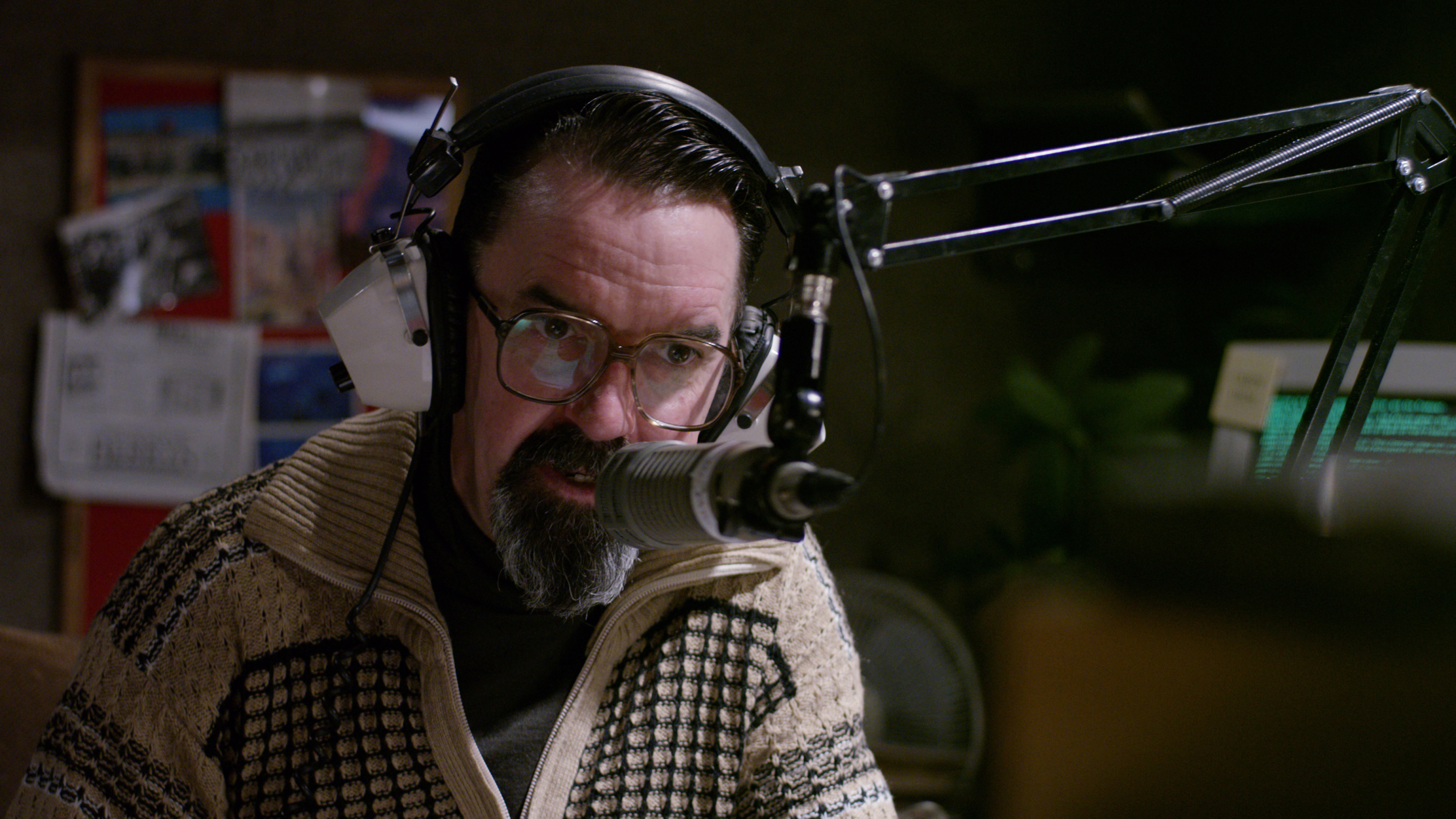 "I was interested in radio as a model of time," confirms Byrne. "With radio, you turn it on, and it's usually in the middle of something. You listen for a while and then turn it off, usually in the middle of something else." Rather than a complete, structured, codified composition, radio is "an endless, modular, pattern-based structure," that you can dip in and out of. The broadcast is always there, seldom deviating from its familiar structure.
Byrne's previous works have frequently drawn on archival media. For New Sexual Lifestyles (2002) he restaged and filmed an intellectual debate on sexuality that had been published in Playboy in 1973. In Why It's Time for Imperial, Again (1997) he used the stilted text of an advertorial interview between Chrysler's chairman Lee Iacocca and Frank Sinatra that had appeared in a 1980 issue of National Geographic.
While not drawn from a specific era or existing text, In Our Time shares these works' uneasy retrospection. The physicality of the radio studio—with its vast mixing console and walls strung with instruments and equipment—is intoxicating, and Byrne's camera pans lovingly across the aged wooden panelling, plastic switches, and patinated surfaces. Like the deejay's wholesome cardigan, it evokes nostalgia for more innocent times. "Maybe it does hark back to an ideal of the public sphere—when you see the shrill Trumpian America of today, you can see how clearly that has passed," says Byrne of the decades evoked in the work. "It's not necessarily smug generational nostalgia: the work is connected to ideas of the polis, of the public sphere pre-Facebook, where people listened to the same thing at the same time."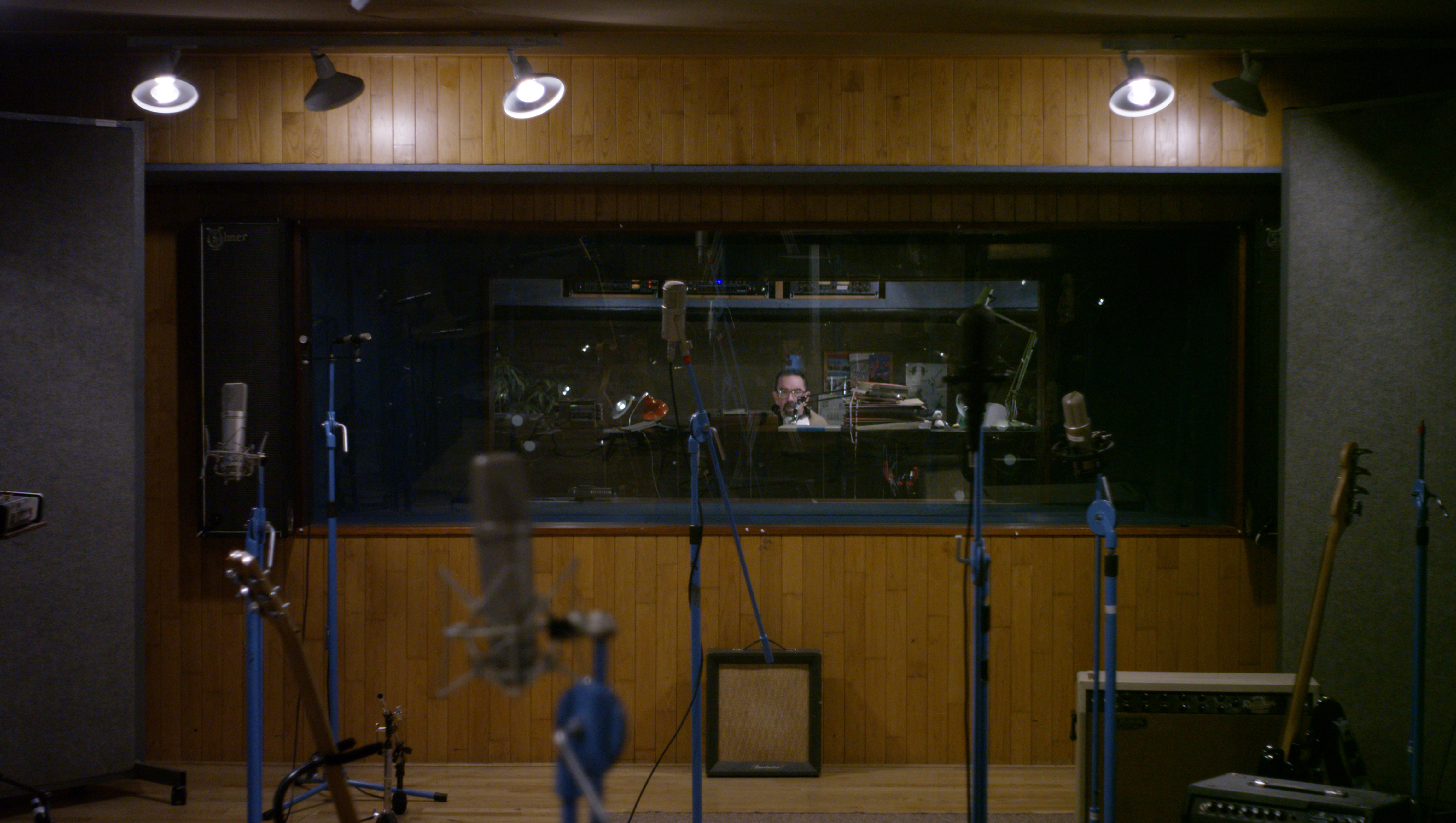 The parallel presence of the ongoing radio broadcast has been replaced, in our time, by a sense of the constant present: podcasts that start when you want them to, decades of music available to be discovered afresh by successive generations, bespoke 'radio stations' generated by Spotify algorithms that ensure that what you listen to in the near future always resembles what you've been listening to in the recent past.
The film itself was shot at the Westland Studios in the artist's hometown of Dublin, with the set built around the Studios' existing SSL 4048 E Series mixing console. In the adjacent recording suite, we occasionally see a group of female roadies setting up and testing instruments for a live session that never happens.
Building beneath the endless chat and retro comfort, In Our Time delivers a sense of permanent immanence and claustrophobia that recalls the enclosed dramatic scenarios created by Samuel Beckett. "Nothing happens, nobody comes, nobody goes," as Beckett's Estragon says in Waiting for Godot. "He does end up as this Beckettian character, trapped in his world," says Byrne of his deejay, ever-present on screen. "It's like going to the zoo."
Gerard Byrne: In Our Time is on view at Lisson Gallery, New York, through December 22, 2017.
Tagged: