High heels: Kenny Scharf, Having Fun, 1979. Acrylic on canvas. Collection Bruno Testore Schmidt, courtesy the artist and Honor Fraser Gallery, Los Angeles
MoMA Revisits Club 57, Basquiat's Haunt of Choice
A comprehensive nostalgic trawl remembers, but doesn't quite reproduce, the freewheeling DIY spirit of an early-'80s downtown New York hub.
High heels: Kenny Scharf, Having Fun, 1979. Acrylic on canvas. Collection Bruno Testore Schmidt, courtesy the artist and Honor Fraser Gallery, Los Angeles
All that wasted youth, the idle time and the ennui, the manic energy bumping up against the boredom, the dreams persisting against the diminished expectations of a collective "no future," and the immense creativity unleashed through all this, utterly DIY and dissolute. The most vital capital of our culture is marvelously on display in MoMA's archival survey of art and artifacts from the subterranean church youth group/performance venue/dive-head-first bar located at 57 Saint Marks Place in the now impossibly tawdry and distant daze of yore.

More an exhumation and conjuring than an explication, as much about the evidence as it is about the acts themselves, Club 57 the show doesn't quite bring these glory years back to life, but lets them cluster like revelers on a crowded dance floor, a parade of wildly imaginative antics whose high drag, absurdist themes, happenstance ingenuities, and lurking desires are in part memorial to all the beautiful souls we've lost.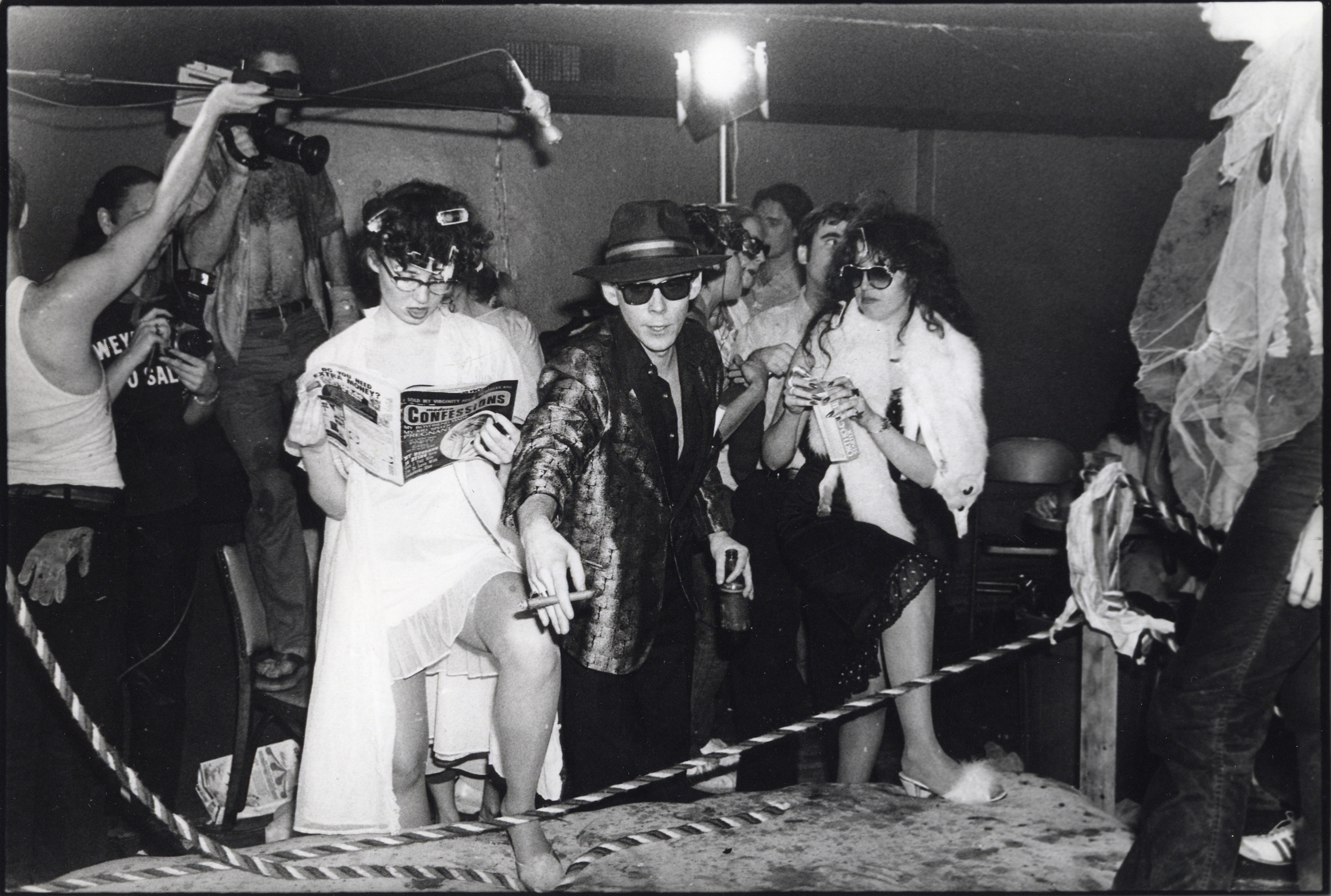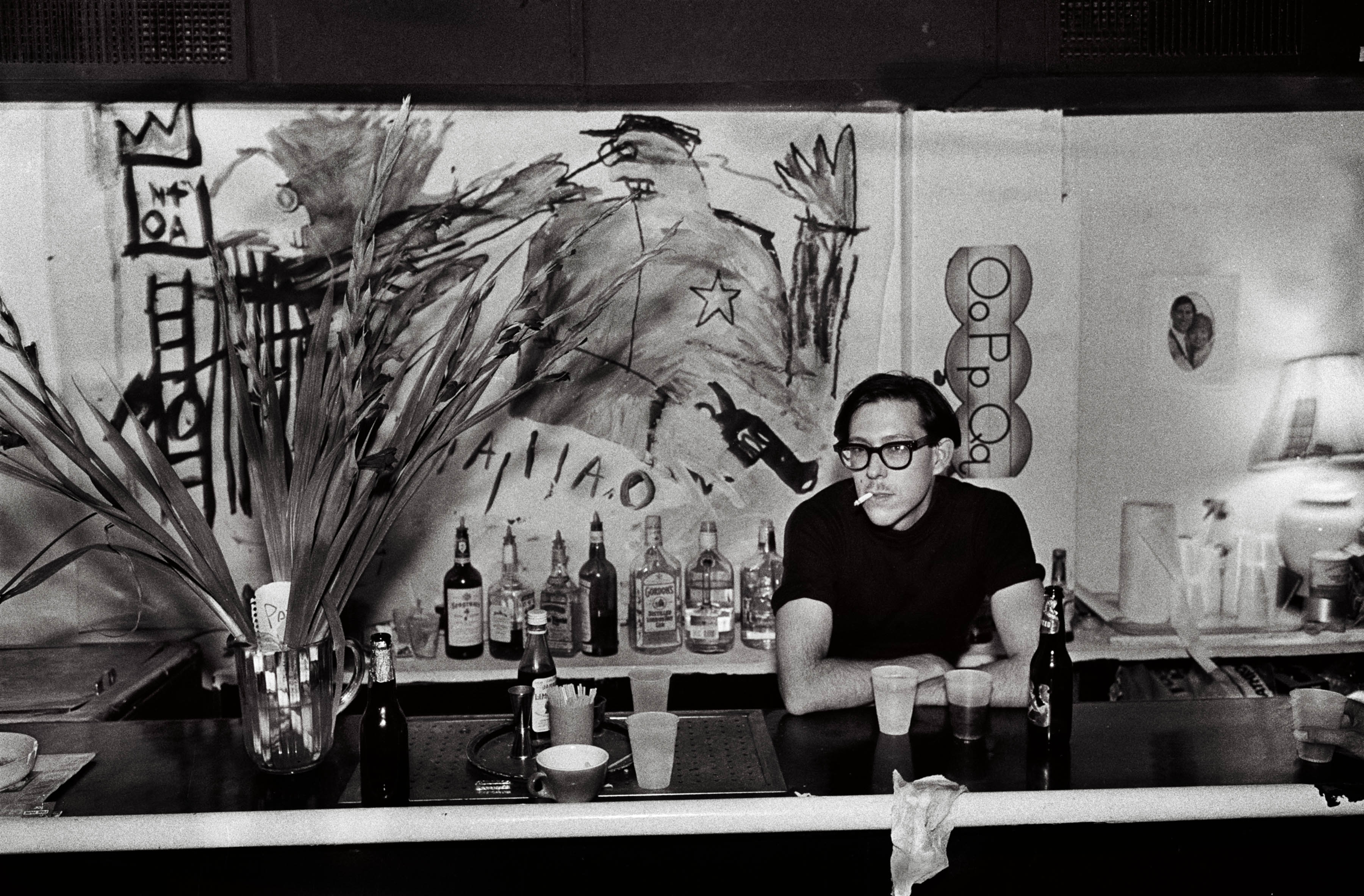 Ably assembled by curators Ron Magliozzi and Sophie Cavoulacos (both of MoMA's film department), this exhibition is evidence of the degree to which ephemera has become a new fetish among collectors, museums, and libraries as these last generations of analogue, handmade culture disclose their tattered legacies to the digital age. If all this appears decidedly underwhelming in today's society of the spectacle—the paintings and sculptures small and scavenged as befits an impoverished generation employed as little as possible to get by, along with a clutter of forlorn mementos including fliers, invitations, home(made) movies, zines, photos, and even answering machine messages—it's a reminder that then, as now, the medium was the message.
This is the mass media of the underground in its halcyon days, a vision of the world expressed by a postwar generation that was always being warned against watching too much TV, and which embraced the dissemination of ideas via the then new technology of the photocopier. The latter is in fact so much in evidence here that it may make a perfect companion to the Experiments in Electrostatics show of copy-machine art forthcoming at the Whitney.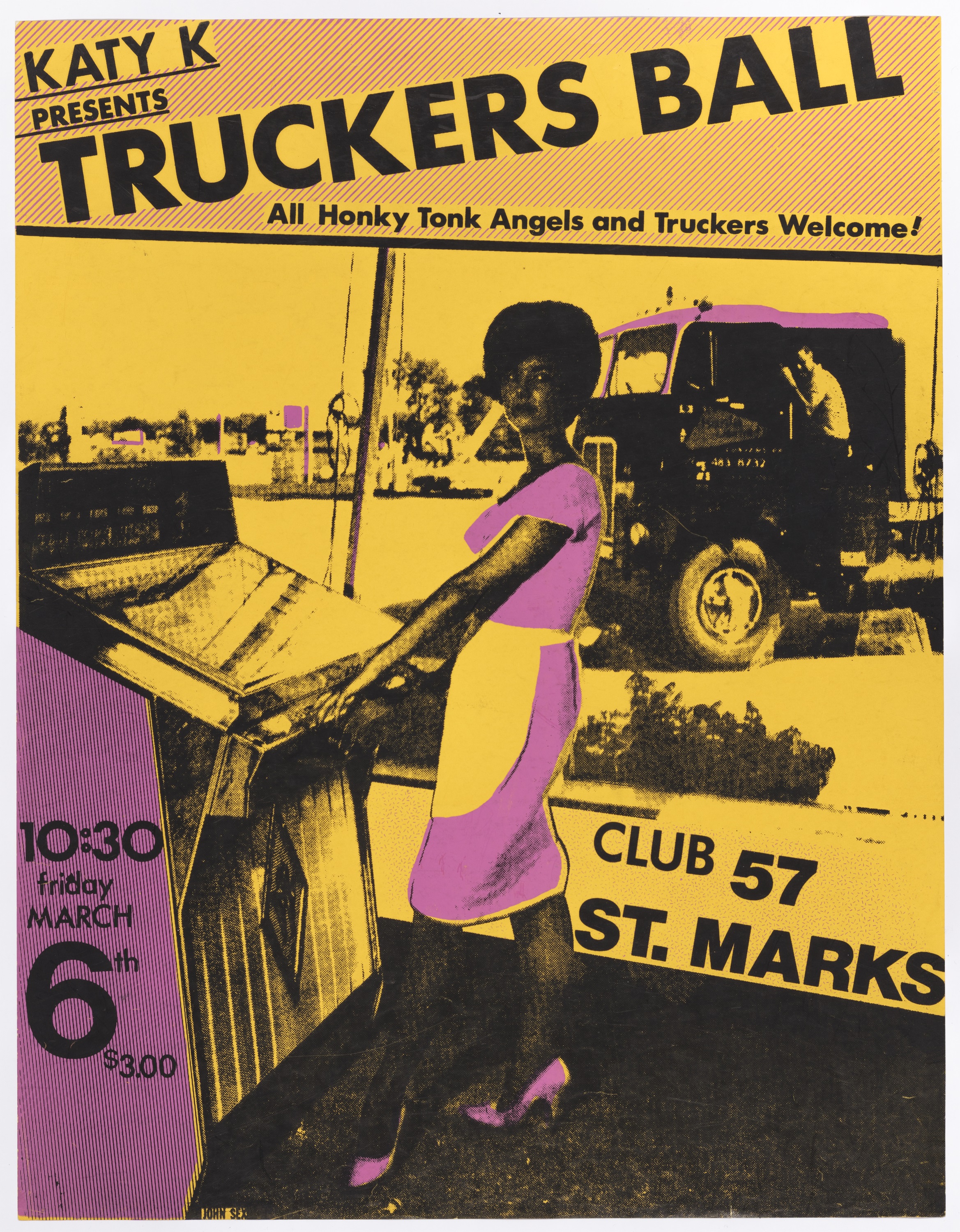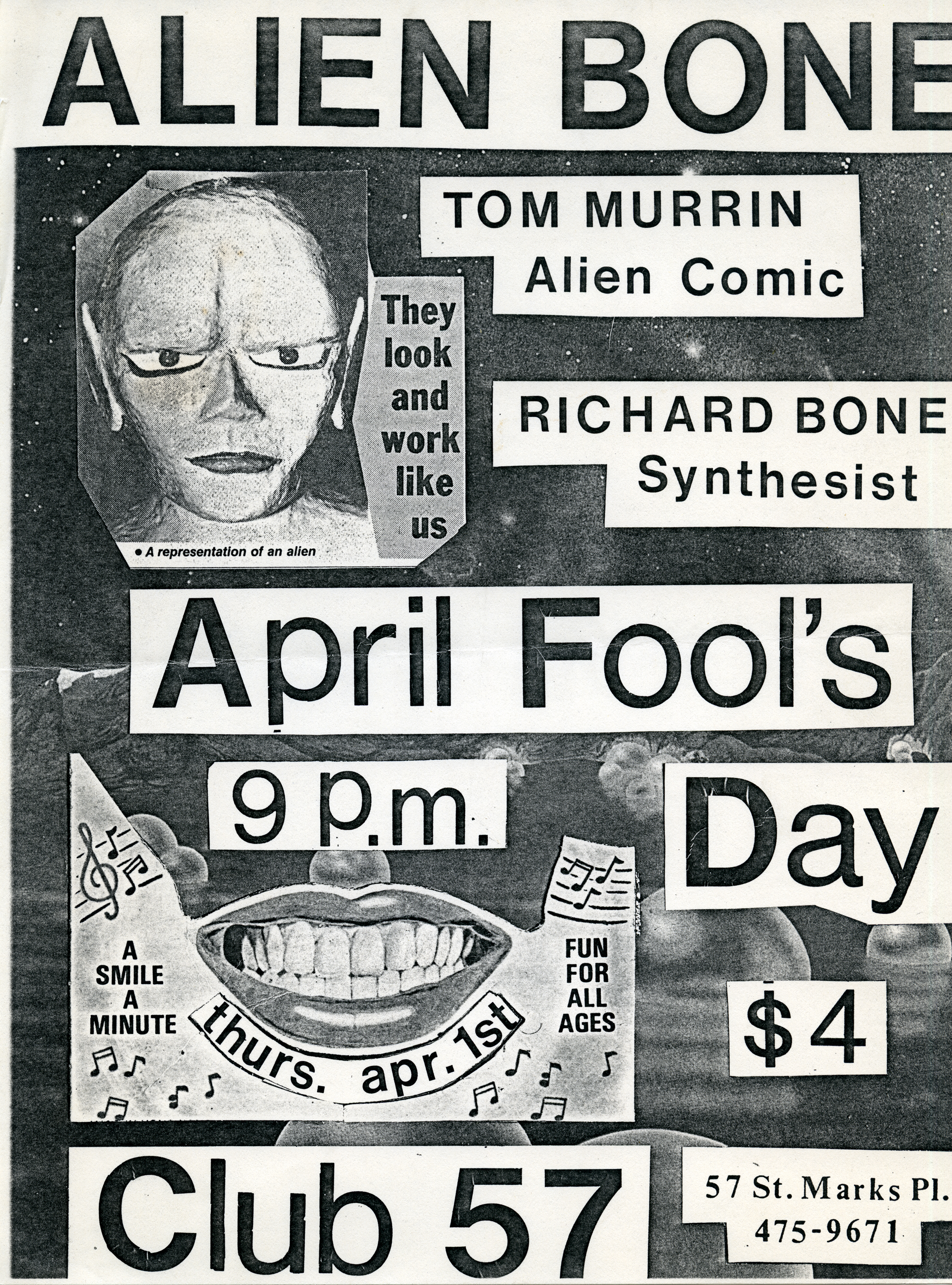 Though no doubt buoyed by the fact that Club 57's core first-generation membership (and it was a members-only club, as a way of getting around serving booze in a church basement) consisted of figures like Keith Haring, Kenny Scharf, Ann Magnuson, Joey Arias, Klaus Nomi, Tseng Kwong Chi, Stephen Tashjian, John Sex, and (most famously) Jean-Michel Basquiat have come to define that era more than anything on display in galleries at that time, the real treat of this show is all that has been unearthed through the obsessive preservation and research at the heart of this curatorial project.

This wider embrace, showcasing not only the usual suspects but also those not so obviously associated with the frivolous, spontaneous, and fearlessly amateurish ethos of Club 57 (Donald Baechler, Michael Halsband, Ellen Berkenblit, Duncan Hannah, John Ahearn, Fab 5 Freddy, Dan Asher, and Richard Hambleton [who died on Sunday, aged 65]) and the amazing talents of artists like Frank Holliday, Peter Grass, Arch Connelly, Robert Hawkins, Bruno Schmidt, Marcus Leatherdale, Sur Rodney Sur, and M. Henry Jones, whose once formidable place in the downtown constellation has been sadly neglected. In its inclusiveness, democratic spirit, and abiding sense that anyone can do anything (here we enjoy watching painters like Haring and Scharf moonlight as performance artists, for example), MoMA's non-hierarchical assembly is true to the time.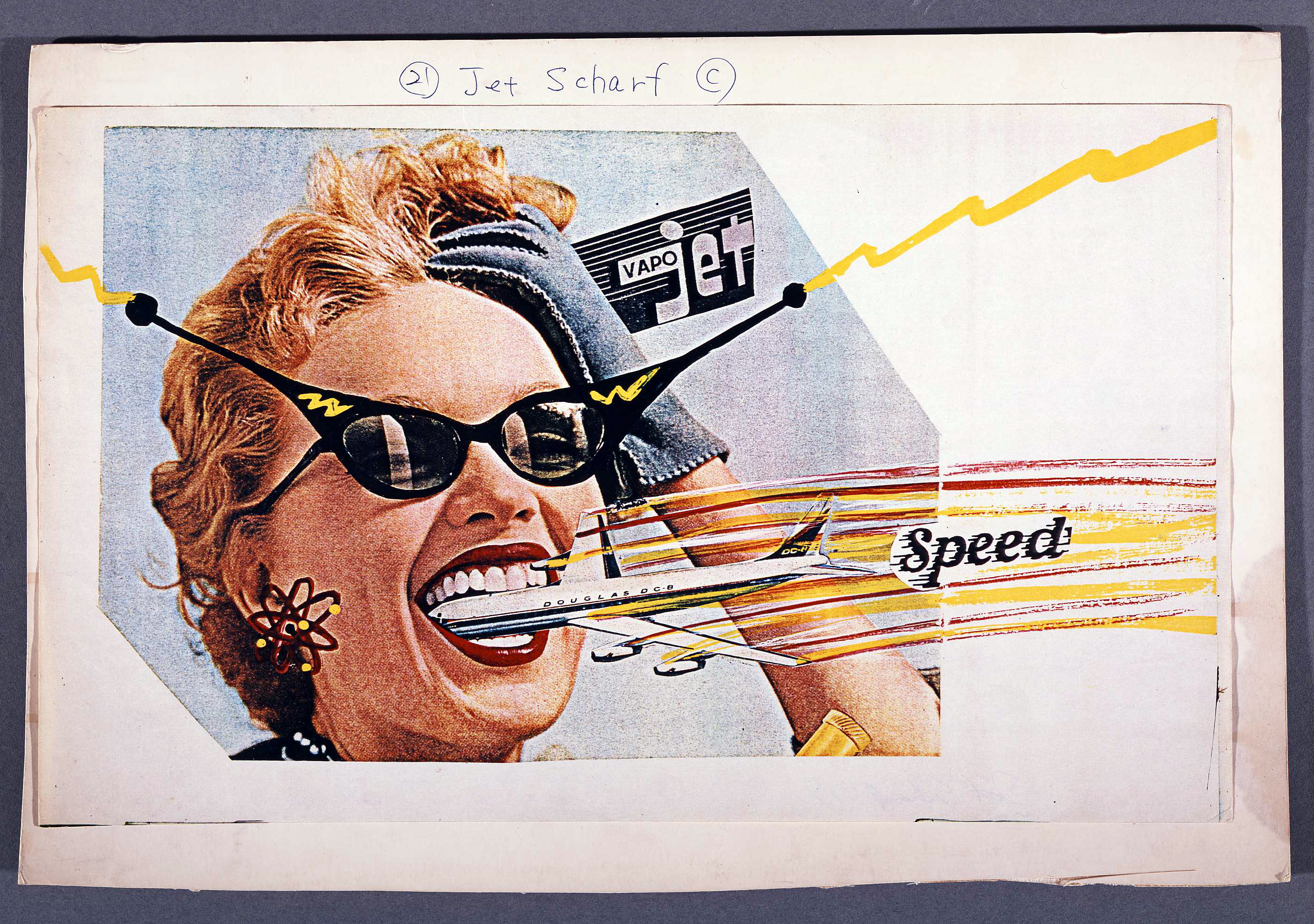 Club 57: Film, Performance, and Art in the East Village, 1978–1983 is on view at the Museum of Modern Art, New York, through April 1, 2018.