Photograph courtesy of Yankee Candle Company.
At Yankee Candle's Soho Pop-Up, the Sweet Smell of Selfies
If you can't experience the new Yankee Candle CandlePower experience, don't worry: our experienced shopper experienced it for you.
Photograph courtesy of Yankee Candle Company.
You know you're in the right place when you walk through long white curtains made of candle wicks (!!!!!) and a man holds a circular lid to your nose, asking, "Balsam and Cedar?"
The right place is the Yankee Candle pop-up in Soho, next to Zara and an office building where the security guard will direct you down one more door. The mammoth brand is part of an "interactive, multi-sensory shopping experience" called CandlePower in a high-ceilinged, 5,000+ square foot space at 503 Broadway, which some visitors might recall as Old Navy. But instead of smelling like $7 flip flops and failing retail, it will smell like twelve different candles burning at once from now until January 3, 2018.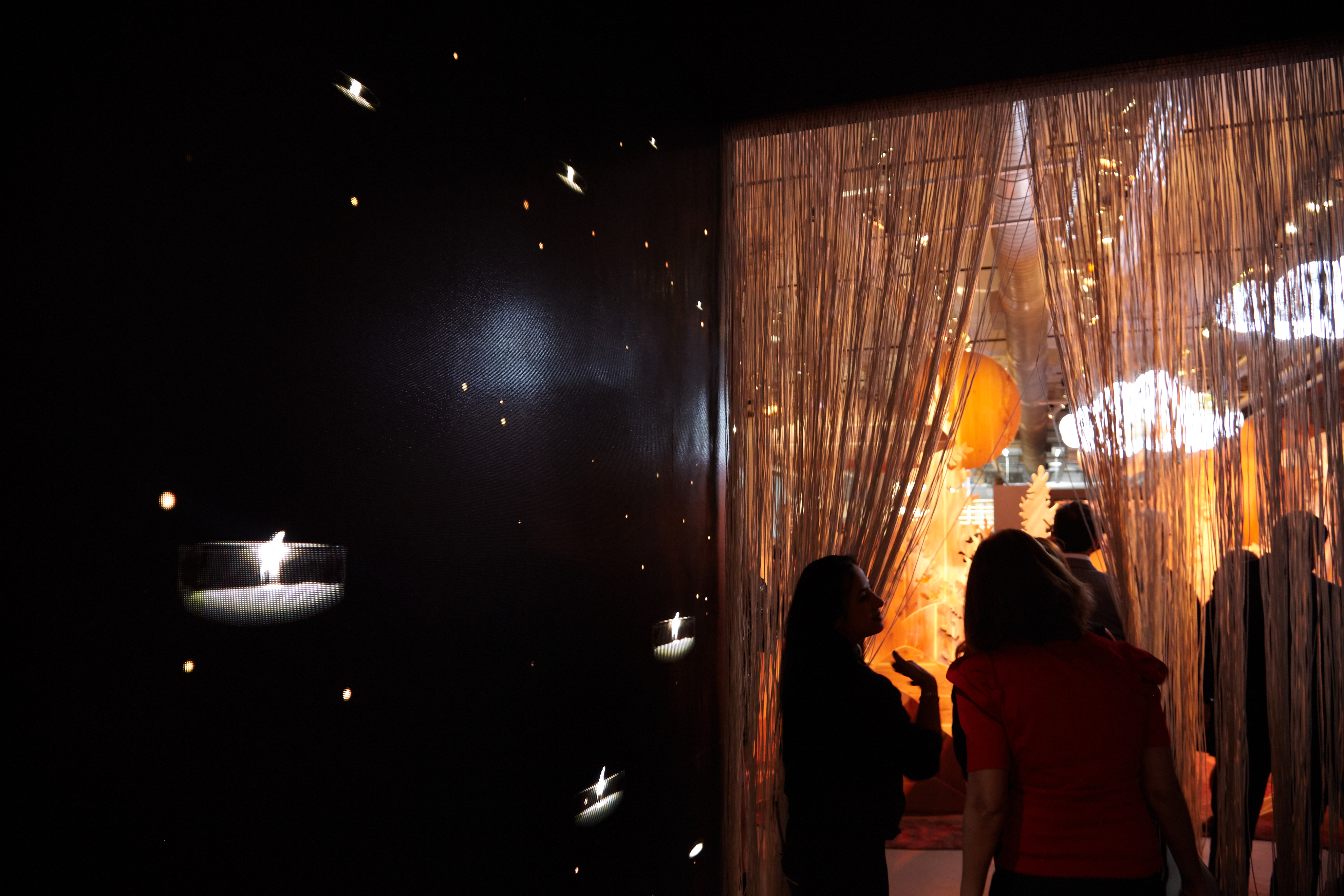 Inside, five experiences—which I guarantee you have not yet lived—await. These "experiences" are actually Instagram setups, staged and starring an evocative matching candle scent, for your sniffing and snapping pleasure. If you don't get the chance to experience these experiences yourself, well, first of all let me express condolences for your loss, and second, clear your nostrils, and let me walk through them with you here, on the Internet.
A Wooded Path of Balsam and Cedar
A cloud-shaped screen plays video of happy people, who presumably weren't laid off by mammoth media companies right before the holidays, making a snowman, which is how you know it's winter. Thin wooden (plywood?) trees create a scene reminiscent of one of those expensive wooden 3-D greeting cards. In the middle, a tiny bridge begs for you to pose upon it. Say cheese! You're (also) on security camera. A specially-made shelf holds a burning green jar of Yankee Candle's Balsam and Cedar, which smells of the Home Depot planks-of-all-sizes aisle with a hint of sugar frosting. Woodsy, delicious.
The Sideways Fireside Side of Paradise
Wordplay doesn't always have to make scents, which is why the second experience is a living room with two armchairs and a coffee table on the wall. A waft of burning firewood and is-that-cinnamon? perfumes the air from a putty-colored Woodwick candle called Fireside. The literal wood wick makes the candle spark and crackle like a fireplace, which at home, if you don't have renter's insurance, can be a terrifying detail. So pose with your arm outstretched toward the funky chandelier on the wall, like God poking Adam on the Sistine Chapel ceiling. Ha ha, you're hanging from the ceiling! Your friends will comment later, "Where is this? Are you HANGING FROM A CHANDELIER IN A HIP DOWNTOWN BROOKLYN APARTMENT, DAN?" They'll check the geotag and make their way to CandlePower next weekend to take the same exact photo. It's like hanging out, but without the annoying part where you have to be together.
Sun and Sand and Bros and Beachballs
A pool deck surrounds a glowing blue digital pool that moves like a pixelated lava lamp. Put your Oakleys on and pose with your bro as you whack a beach ball around and worry the candle attendants. On a deck table between two striped chaise lounges and a plastic Bird of Paradise, Sun and Sand burns, a Coppertone and Beach Barbie scent that will turn your home into the damp lifeguard's station you always dreamed it would be.
TV Zen
Walk through a short and dark hallway into the zen chamber, where your choice of three Chesapeake Bay tranquility candles is also reflected on the wall via a touch screen. Choose your own chill! While a musky cashmere and jasmine scent burns (2 for $20!), a koi pond appears, and the supersized screensaver is, above all, a backdrop for a quick pic. If you've ever wondered what it's like to see life from inside a videogame aquarium, this experience is for you. Another backdrop takes place in a grassy, rocky knoll somewhere with a branchy tree. My personal favorite was the zen sand garden. You can write in the sand! Well, you can try. To write "butts." (It looked more like a hungry caterpillar.) As we walked out of another short hallway a visitor remarked, "The tree is my favorite."
Have a Georgia O'Keefe Field Day
Oversized blooming plastic roses make you want to forget everything you ever read about how fabric retains bed bugs, and throw your body onto the carpet for the perfect gram. Lay on your back, let your long hair splay on the carpet, and fake your biggest Herbal Essences orgasm—this is happiness. A candle attendant (not sure what else to call these kind and patient salespeople, but salesperson isn't enough) will take your photo in the reflection of the mirror angled above you, as if God herself was behind the lens. The scent: Sun-Drenched Apricot Rose, a sugary 90s body wash of a perfume that smells even pinker than it looks, if that's possible.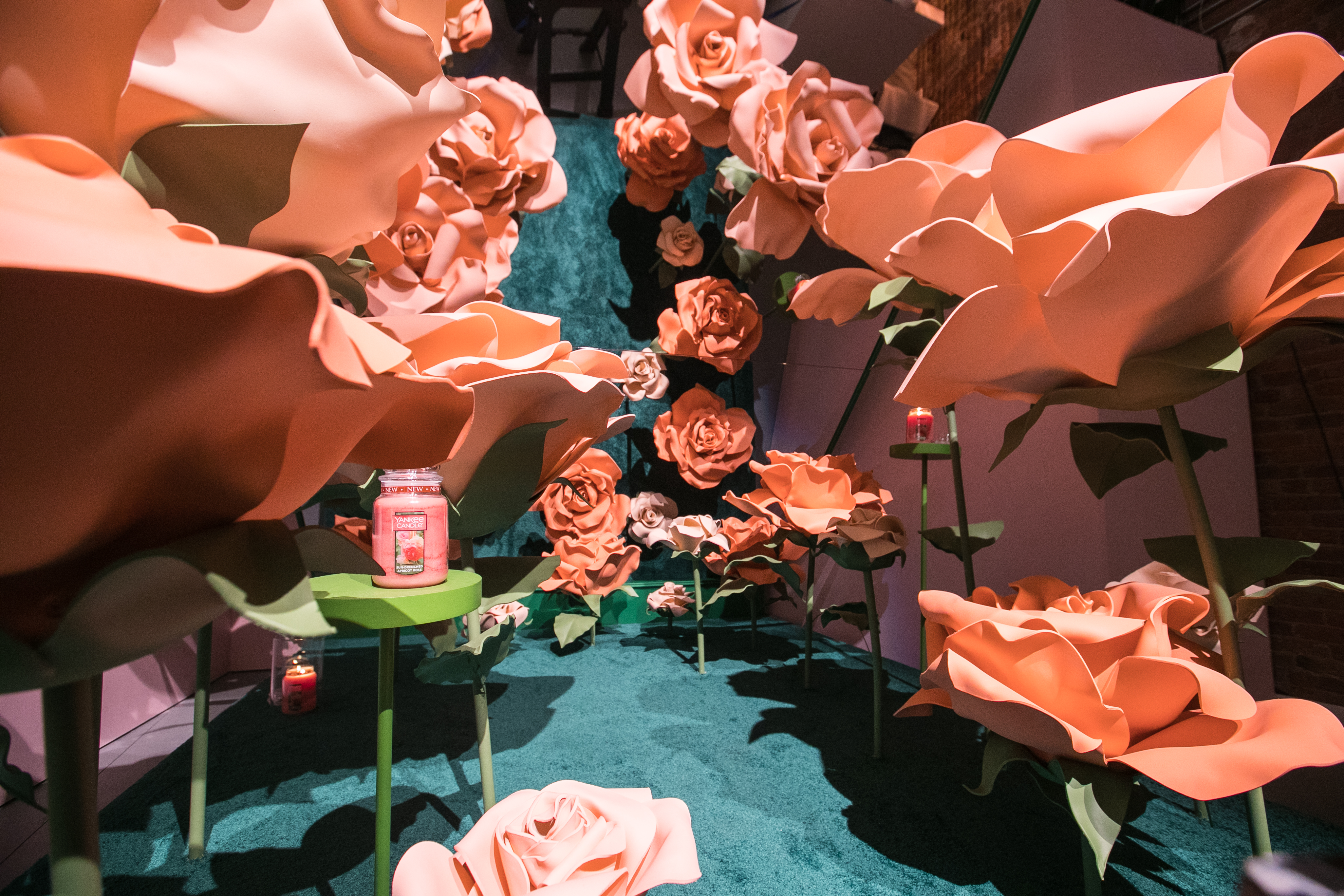 Take a Candle Quiz/Get Your Candle Horoscope
Match the lids to the candles and then decode your personality type. I'm a lemon-lavender type; I believe love is the answer. "Is that true?" the candle attendant asked. It really is.
Make a Personalized Candle I Guess
Email a photo to a Yankee Candle account and it will print a label to slap on whatever scent you've connecting to at the moment. It's a sticker on a candle.
Limited Edition! New York-Scented Candles
Wowowow what do we have here near the wall of 798 Christmas candles? Exclusive NYC-themed candles!! Fall in Central Park, which smells of a pepper grinder but is still more pleasant than ripe carriage turds, is a spicy, cliché man cave stench. New York City at Dawn, however, smells less of jogging-behind-the-garbage-truck-route and more musky/sexy stranger on the subway/yum. Avoid: City Lights, which stinks of burnt rubber tire skids on the LIE.
If you find yourself shoving among the crowds of lower Broadway, stumble into CandlePower and see this marketing masterpiece in the soy wax flesh. Buy a candle or two, stimulate the economy, do your part! We're all in this together…. This great, candlelit miracle called life.