From Barbara Kruger, Untitled (Skate), 2017. Photo: Courtesy Performa
Barbara Kruger's New Performance Is A Supreme Work Of Art
For this year's Performa Biennial, the New York artist is everywhere, notably teaming up with Volcom to colonize a downtown skate spot.
From Barbara Kruger, Untitled (Skate), 2017. Photo: Courtesy Performa
"What a ridiculous clusterfuck of totally uncool jokers. I make my work about this kind of sadly foolish farce. I'm waiting for all of them to sue me for copyright infringement."

So said artist Barbara Kruger about a legal case around Supreme, the streetwear company that has long appropriated her aesthetic for their own. A few years ago, Supreme sued another streetwear company for "appropriating their design" in t-shirts by Leah McSweeney of Married to the Mob that read, in white on red, "supreme bitch." In the legal complaint, Supreme attests to its "history of appropriating the mark at issue" and admits its logo is lifted directly from Kruger. But what Kruger's work is about—cultural commentary, feminism, a position ("Your body is a playground," "I shop therefore I am")—is also easily appropriated.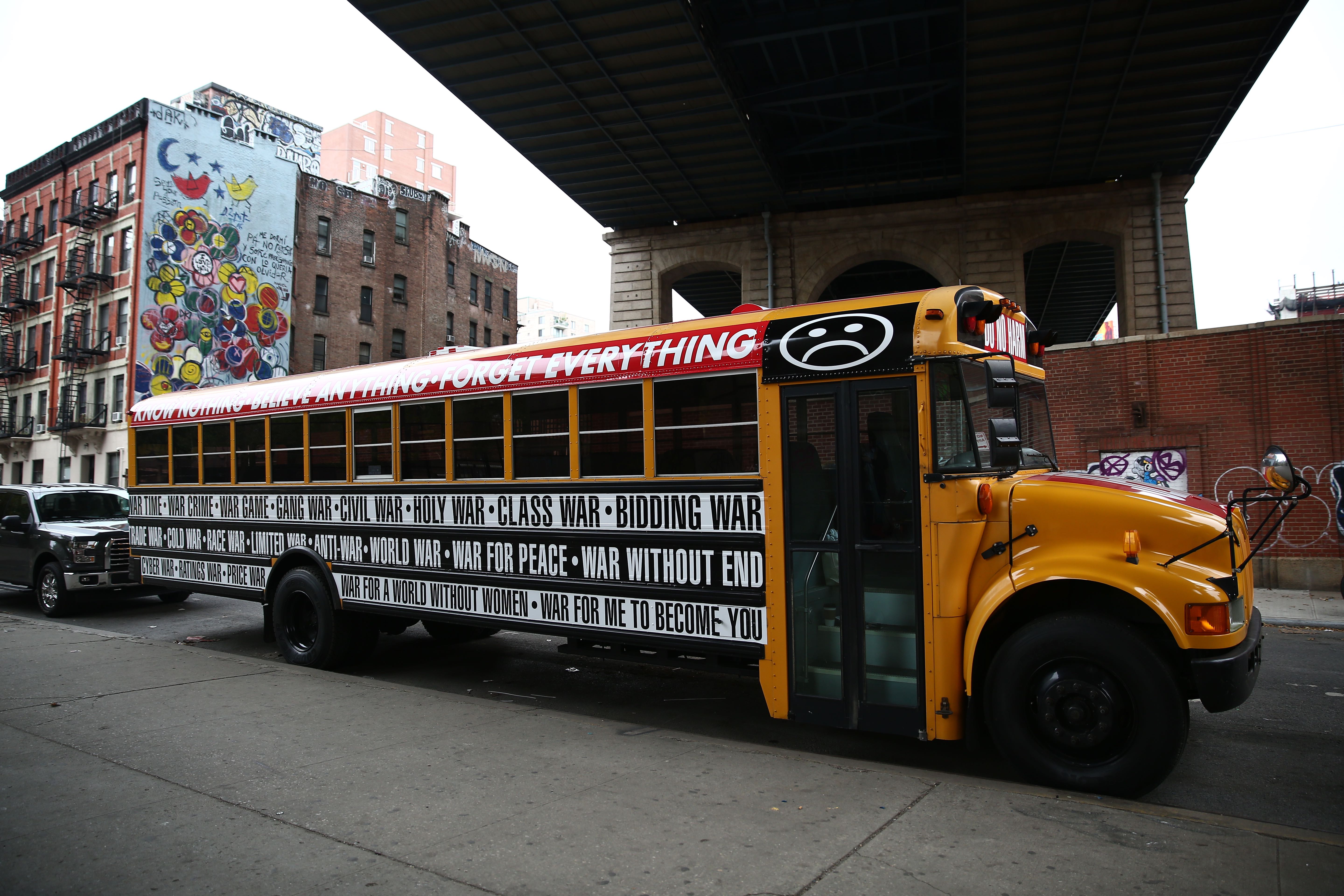 Performa, the New York City contemporary art performance biennial now in its seventh edition, is billing Kruger's Untitled (The Drop) as the artist's first performance, but it's actually a participatory installation, a pop-up shop in lower Manhattan presented in collaboration with clothing company Volcom. It sells hoodies that read "Want it / Buy it / Forget it," ($70) t-shirts with the "Whose hopes?" text ($45), and skate decks that say "DON'T BE A JERK" ($65).

While trying as hard as ever to avoid jerkish behavior, I've also been keeping my eyes peeled for another part of the project, a Kruger-wrapped school bus that is being driven around the island and parked outside some of Performa's scattered venues. "WHERE ARE YOU GOING?" the back demands, not unreasonably, while expressions featuring the word war are emblazoned on the sides: war time, war crime, trade war, cold war, race war. The 72-year-old artist's text graphics are instantly recognizable, their declarative or suggestive sentences emblazoned in white Futura Bold on a red background, sometimes superimposed on black-and-white photos.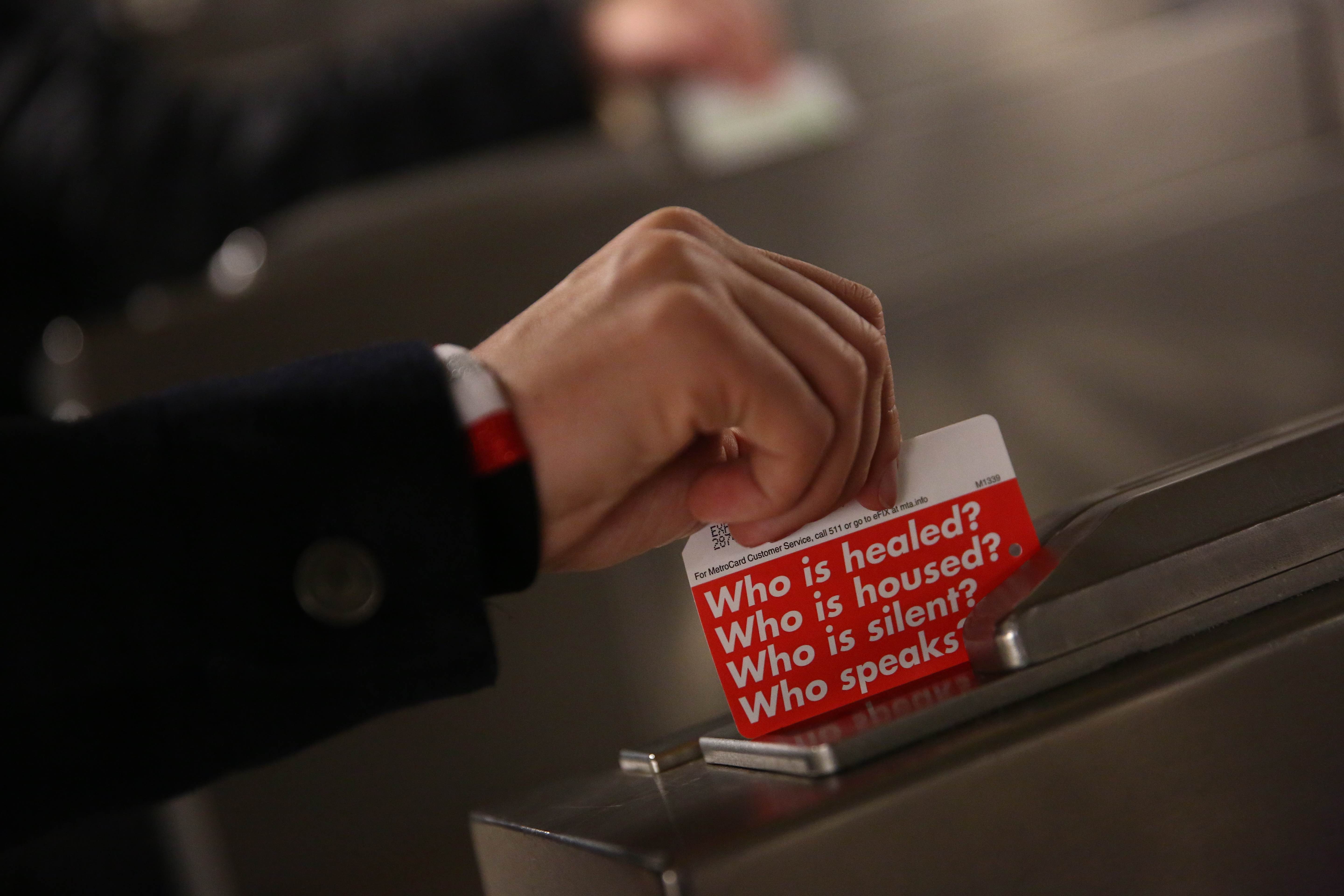 At Coleman Skatepark, a space under the Manhattan bridge that was co-opted by local skaters and then sanctioned and by the city as a dedicated area designed by Steve Rodriguez, Kruger has partnered with NYC Parks and Rodriguez to banner the site with her texts, featuring messages that engage with power, desire, and capital. And underground, the MTA is releasing limited-edition Metrocards with Kruger's designs on them: white texts on red reading, "Who is healed? / Who is housed? / Who is silent? / Who speaks?" and "Whose hopes? Whose fears? Whose values? Whose justice?" Kruger is all over the city right now.
As I wait in line to see Untitled (The Drop), a guy in a MoMA cap and the "don't be a jerk" skateboard walks by. A skater in a Kruger-designed hoodie sits on his board outside. When I buy a Kruger-designed Metrocard, it comes with a small packet of bumper stickers. One reads, "Who owns what?" Another response to Supreme, perhaps, but also classic Kruger. Her suggestive style can shift between contexts, from bus to poster, from museum to wearable object. Its impact, however, doesn't carry over. Skater culture is inherently anti-establishment and self-organized, but has also long since been repackaged as a lifestyle. Just like a city-sanctioned skatepark is a bit vanilla, Untitled (The Drop) doesn't really challenge the conventions of the jerks and fans it relates to. But it does at least talk back.

Barbara Kruger's Untitled (Skate), part of Untitled (The Drop), takes place at Coelman Skatepark, New York, through Sunday, November 19, as part of the Performa 17 Biennial.