Photograph by Rinko Kawauchi. Clothing by noir kei ninomiya.
This Rei Kawakubo Disciple Wants to Dress You in Black
Kei Ninomiya, who began his career as a patternmaker at Comme des Garçons, has his own blossoming line under the brand's banner. Photographed by Rinko Kawauchi. Fashion Editor: Matt Holmes.
Photograph by Rinko Kawauchi. Clothing by noir kei ninomiya.
There should be no surprise that the lobby of the Comme des Garçons Tokyo office is minimalist and empty. It is a blank white space appointed with only two low-slung, vertebrae-bruising black steel chairs and populated by the world's most impeccably dressed accounting and human resources staff. That makes Kei Ninomiya, designer for the relatively new women's line noir kei ninomiya, impossible not to locate. The 34-year-old designer sports a six-inch goatee and a foot-long mohawk, his face extending into the vertical plane of space like Brancusi's bronze bird in flight.
With the full force of Comme des Garçons at his back, Ninomiya is a designer on the rise. He joined Comme 10 years ago and quietly began designing his line in 2012 under Comme's auspices. His first shows were at exhibitions at the company's headquarters in Paris, but his latest collection for fall 2018 received the full runway treatment at Paris Fashion Week. Famed Japanese florist Makoto Azuma created elaborate floral masks for the models, who walked through the Faculté de Pharmacie de Paris for a large audience of editors, buyers, and stone busts of distinguished French pharmacists. Just this season of deeply black, deeply experimental pieces suggests that Ninomiya is a true apostle of CdG—a brand that continues to invent unexpected, new forms of glamour that work as both formalistic postmodernist art and aggravators of our deepest, atavistic emotions.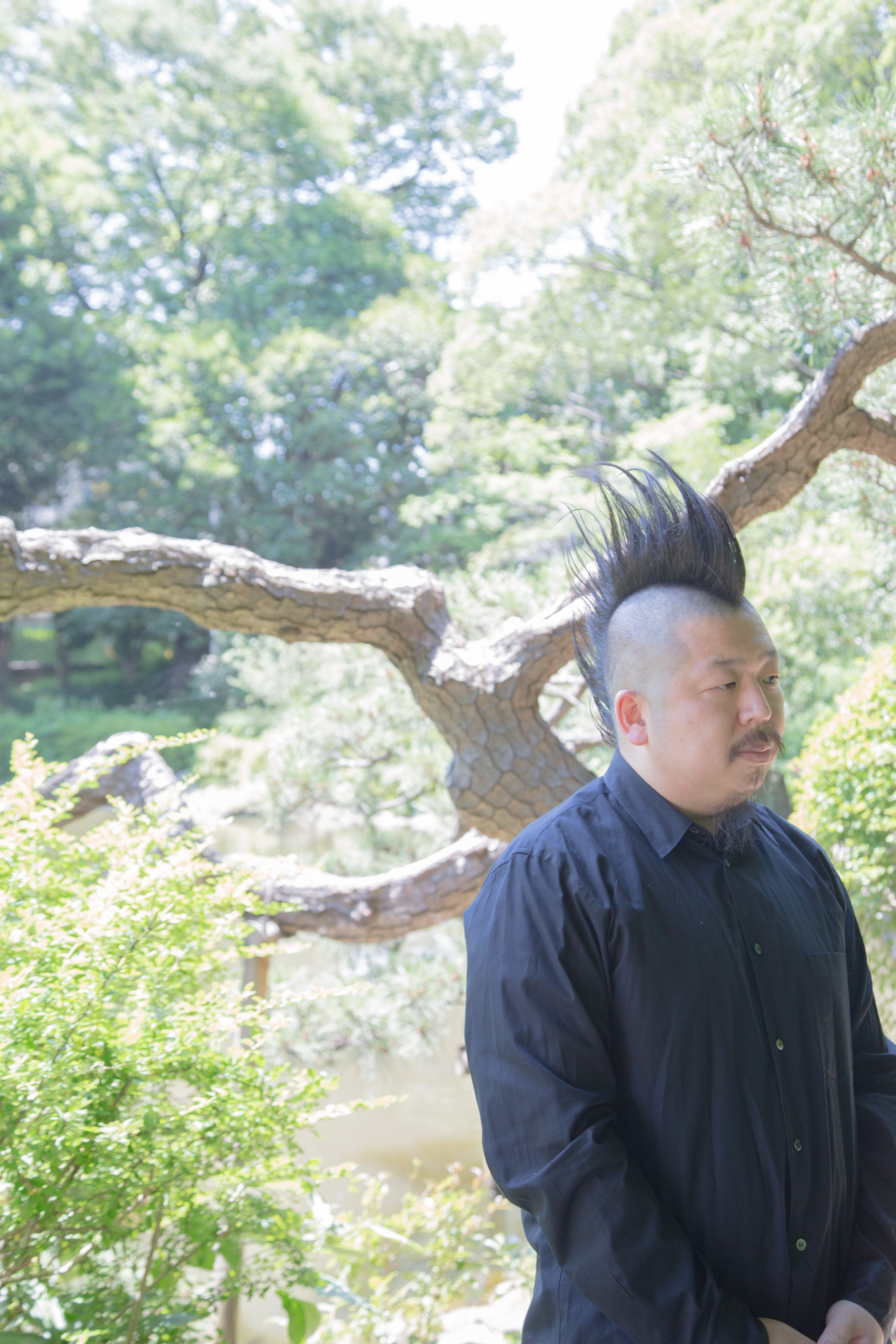 Ninomiya's uncanny skill for esoteric elegance comes not from a hyper-ability to read industry trends—or even stage assaults against industry trends—but from an authentic desire for radical, experimental ideas pulled from the depths of the subconscious. Despite his foreboding hairstyle, Ninomiya is soft-spoken and humble. And, unlike many Japanese designers, he's willing to entertain questions about his craft. After a childhood in the dark mountainous terrain near the hot-spring town Yufuin, he studied French surrealist literature and art at a university in Tokyo. "What I thought was interesting was the surrealists' efforts to try and dig out all the things we aren't conscious of," he says. Only later did Ninomiya venture to learn fashion design, heading off to Antwerp's Royal Academy of Fine Arts for a two-year crash course. Returning from Belgium, he joined Comme des Garçons in Tokyo as a patternmaker.
Ninomiya clearly had talent: After just four years of work for CdG, he received his own brand under the company banner. He chose the name "noir" as a way to focus his work on a single color—well, non-color: black. All of noir's major pieces are black, with the occasional dots of other hues, like small blue or purple flowers meant simply as complements to make the black look blacker. "I want to show collections that are as black as possible," says Ninomiya. "Even if I'm using red or white, I use color simply as a single material to make the black stand out more."
This monochromatism would cripple most designers' freedom of expression and could be seen as the paragon of pretension, but for Ninomiya, the discipline helps channel his creativity. "I focused on black for two reasons. I wanted to build a brand with as strong an image as possible, based on the principles of technique and shape. So more than being about the color, it was about the shape and design—that's what I wanted to produce," he explains. "The other reason is that I simply like strong clothing, and black has a strong, beautiful image. Through black, I want to express a depth and a profoundness, and as the colors are restricted to just black, everything comes to hinge on texture and shape." The collections are very black (and very strong), yet Ninomiya's design talent prevents them from ever falling into bland repetition. The blacks come in all potential textures and timbres: glossy/matte, furry/slick, rough/smooth, weighty/wispy, opaque/translucent.
Black looms large in Rei Kawakubo's legend, but we often forget how radical the idea of black texture-oriented clothing was before CdG's style revolution. Until the 1980s, Japanese women only wore such raven tones as part of mofuku funerary suits. When young female devotees of Kawakubo started appearing on the streets of Tokyo around 1983 in head-to-toe black, mainstream media derided them as karasu-zoku: the crow tribe. But after triumphant receptions in Paris and dominance over the domestic fashion scene, Kawakubo fundamentally changed the Japanese national wardrobe. Black apparel became a common part of the landscape. It is now seen daily on businessmen, ambitious career women, and, of course, the perennial leagues of trendy kids who make pilgrimages to Comme des Garçons' stores. (Although, these days, they are just as likely to be pilgrims from the entire Asian continent as from Japan.)

Despite black's now-ubiquity, Ninomiya still believes that it can be a powerful unifying concept for the brand. "Compared to the '80s or '90s, there are much less severe implications of wearing all black," he says. "But I think there haven't been any changes to black's innate power. Moreover, I wanted to challenge myself whether I could do something new with even blacker clothing." How much more black could clothes be than noir's collections? To make This Is Spinal Tap's satire a beautiful reality, there shall be none, none more black.

The fall 2018 collection demonstrated Ninomiya's supposition that there are infinite possibilities in front of him for pushing black clothing to its limits. Here, he experimented with the idea of how to combine two oppositional styles into a single piece. There are miniature jackets attached to coat-length pieces of silk gauze, like jockey uniforms for the calvaries who ride alongside the grim reaper. These also extend to the non-runway looks. His white dress shirts come in two styles: short sleeves on giant bodies, or long sleeves on tiny bodies. His ornate take on the classic nylon MA-1 flight jacket adds dozens of faux-oriental buttons to the otherwise austere military design. This approach informs the shapes but also the textures. "I wanted to make clothing from textiles that combined spring-summer materials like tulle with autumn-winter materials such as fake fur," Ninomiya says. These innovative materials power dresses and coats that explode like horror-film overgrowth of black aquatic plants, clipped just enough to reveal a female form underneath. A long vest is strung with stacks of rectangular jersey ruffles that unfold like insect wings as the wearer walks. For whatever formal experimentation Ninomiya intended, the garments look like the results of his surrealist-inspired approach, fantasies ripped from the most hidden corners of his dreamscapes.
Ninomiya clearly knows how to find his raw ideas, but Comme des Garçons provides a nurturing structure to turn these creations into products that meet the legendary brand's highest standards. Whatever design education he received outside of the company, Ninomiya is now under much more intense tutelage by working with Kawakubo directly. "Now that we're making clothing together," he explains, "it's even more grueling and more uncompromising than I imagined." There is a constant battle to "discard anything that isn't truly new." This combination of subconscious invention and avant-garde regimen has given noir kei ninomiya an auspicious start. If the brand can live up to Kawakubo's legacy in offering the world unique garments that stand the test of time, then marquee pieces from noir will not just be great investments, but they'll be any color you want—so long as you want black.
A version of this story appears in GARAGE Issue 15, publishing September 2018.