The students at Home, who gathered for the first time in the small Swedish village of Ängelsberg, participate in a song circle. Photograph by Carolyn Drake.
Group Therapy for the End of the World
Kyle Chayka travels to a workshop in rural Sweden run by a co-founder of a shadowy environmental activist group seeking answers. He found a sense of impending doom, both personal and planet-wide. Photographed by Carolyn Drake.
The students at Home, who gathered for the first time in the small Swedish village of Ängelsberg, participate in a song circle. Photograph by Carolyn Drake.
Early this summer, the weather already unseasonably hot, I took a train two hours northwest from Stockholm to the tiny Swedish village of Ängelsberg. The train pulled into a long, empty station platform, surrounded by a blooming carpet of purple lupine flowers, a beautiful but invasive species from the Americas. The village of 150 residents is clustered on a hillside. Its brightly colored inns and homes sport steep-peaked metal roofs to slough off the snow. On the other side of the tracks there is a sparkling fairy-tale expanse of water, Lake Amanningen, with a small island close offshore; it is the site of the world's oldest, preserved oil refinery, built in 1875. As pristine as the landscape looks, it's tainted: The island's soil is flammable, and signs warn you not to smoke there.
I had come to Ängelsberg to think about the ways humanity has damaged the natural environment beyond repair, and the signals were already all around me. For the next week, I would be participating in an experimental educational workshop where two-dozen classmates and I would try to understand the omnipresent sense of loss and dread that climate change makes us feel. The workshop, called Home, was created by Dougald Hine, a 40-year-old British man, and Anna Björkman, his Swedish partner. It wasn't just about record-high temperatures or the thousands of species that have vanished in past decades. It was more personal than that; we were concerned with the psychological impact in our lives of a world that was falling apart. "What if the culture you grew up in was broken in ways that you didn't even have words for?" the workshop's invitation asked, posing itself as "a pocket of resistance and hope."
On the train platform, I identified a few other foreigners as classmates. Together we dragged our suitcases up the hill to our home for the week, Tallbacka, a century-old hostel with a central lawn overlooking the lake. Hine, a tall, slightly stooped man with a halo of frizzy brown hair and beard, wearing an anxious grin, waved us into a red barn. We participants had also pledged to give up all technology for the week—no laptops, no phones, no access to the internet to distract us. After sending any final emails to the outside world, we deposited our devices into a locked steamer trunk where they lay inert, like fish in a market stall.
Among the crowd assembled on the lawn was a South African woman linked to a school that combines erotic mysticism with psychotherapy; a Chinese graphic designer living in New York; an anthropologist based in Belgium toting her toddler son; an impassioned slam poet from New Zealand; and a British expat living in Sicily who described herself as a crone. Selected from a field of applicants, we comprised a wide range of ages, half men and half women, the majority British and Scandinavian, and almost entirely white. What we all had in common was a sensitivity to that bruise of climate change, an abstract discomfort that perhaps also followed from creative—read narcissistic—dispositions.
"We do not believe that everything will be fine. We are not even sure, based on current definitions of progress and improvement, that we want it to be."
There were two objectives to our weeklong inquiry. The first was to accept the brokenness of the environment—"hospicing modernity," as Hine described it—and the second was to build community within this wounded state. But our group was not like the population of Kiribati, a tiny Pacific island nation that will soon be swallowed by the rising ocean, or the citizens of Mozambique suffering from intensified monsoons, or a village on the edge of the expanding Sahara desert. In the near future, we were more likely to give a minor TED Talk about climate change than suffer from its effects. It felt more like experimental group therapy for the end of the world, with a price tag of $700, including bunk-bed accommodations.
Either the workshop would teach us to change our lives given the reality of climate change, or it was a successor to silent retreats and exotic yoga schools in the range of luxury treatments available for the ills of late capitalism. Because we didn't just discuss the environment: We shared stories of general alienation—about family, love, labor, and identity—all the ways that society was failing us as well as the Earth, conflating individual suffering with the universal.
"The pain that we're fucked has to be with us every second," one of the participants, a Danish woman and retired corporate executive, confided to me, staring straight into my eyes. "How do we use the pain that's there, not fix it?"
That was when I realized it wasn't going to be a quick camping trip.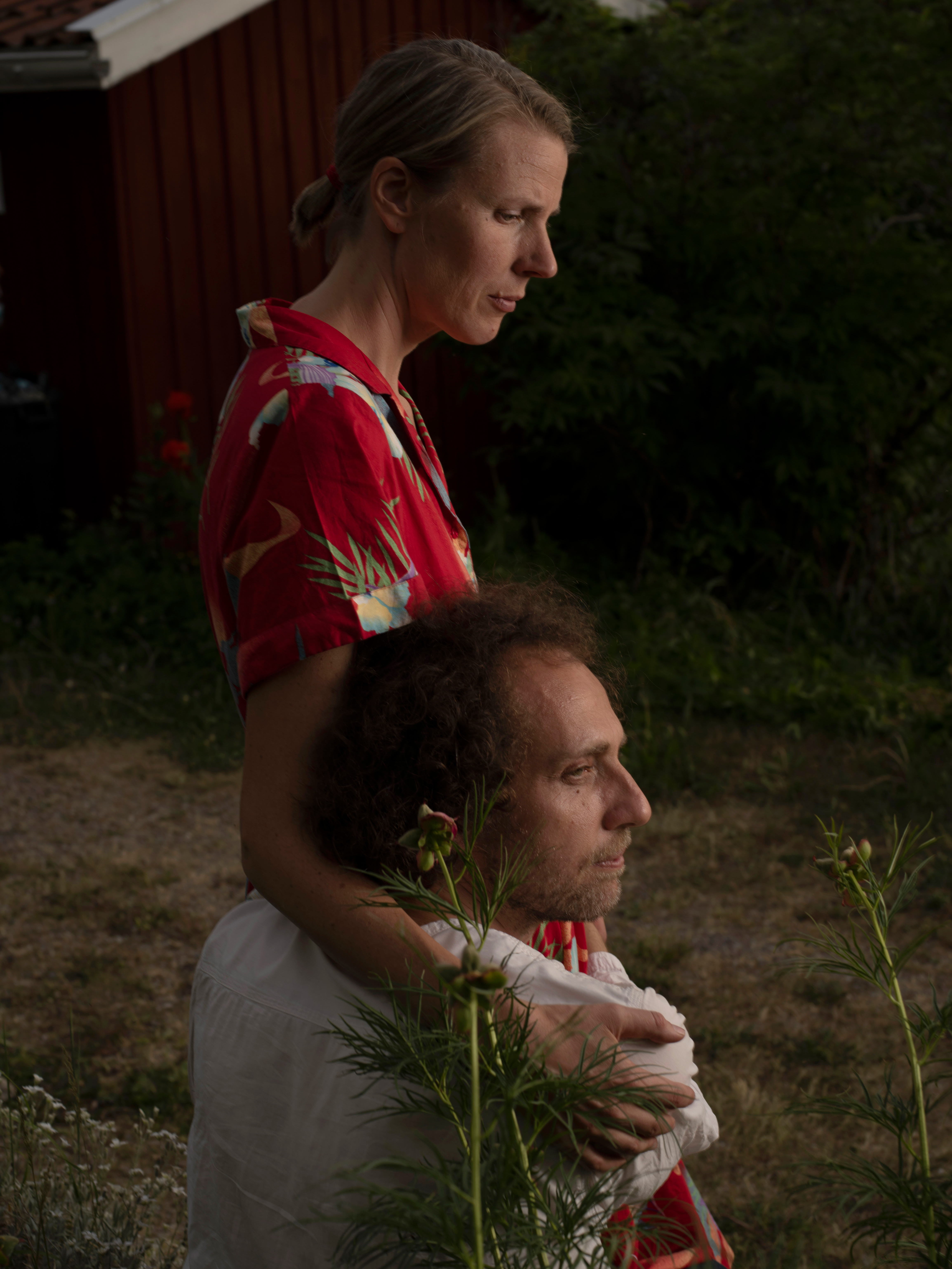 I first met Hine a few days before the workshop at a train station café in Västerås, a small, gentrifying city between Ängelsberg and Stockholm. He lives there in a mid-century townhouse with Björkman, who works as a project manager for the local government, and Alfie, their cherubic, blond three-year-old son.
Hine is preternaturally vulnerable, like a priest confronting a crisis of faith or an insect too atavistic and curious-looking to swat. He has a stern face and a sad, heavy brow. His eyes are a pale green. That day, he wore a grungy grey T-shirt and shorts with adidas sneakers, giving off the air of a contemporary ascetic. I constantly felt like I needed to cheer him up.
He grew up in a solicitous family; his father was a minister and his mother was a midwife and healthcare worker. Hine became involved with environmental activism as an Oxford student, but, while working as a BBC radio producer in Sheffield, he realized that not even dramatic social change could stop the damage. He quit in September 2006 and moved to London. Then, in late 2007, he read a blog post by Paul Kingsnorth, another activist-journalist in the city, titled "I Resign." In the post, Kingsnorth presented a kind of obituary for media at large, critiquing its emphasis on celebrity and scandal over more urgent issues, particularly the destruction of the environment. Kingsnorth proposed a new publication that would reject it all, "a space out there for something deeply, darkly unfashionable and defiant," and asked for collaborators.
Hine emailed Kingsnorth, kicking off a mission that would define the next decade of his life. "I felt like we both arrived at this similar point of disillusionment with the environmental movement and with the state of the literary and artistic response, or non-response, to the mess the world is in," Hine told me as he pushed Alfie in a stroller through wooded paths near the idyllic Lake Mälaren, which borders Västerås. In 2009, the pair launched the Dark Mountain Project, a loose coalition of artists, writers, performers, and sympathetic followers. "We do not believe that everything will be fine," Hine and Kingsnorth wrote in the Dark Mountain manifesto, Uncivilisation. "We are not even sure, based on current definitions of progress and improvement, that we want it to be."
Rather than try to fix the environment, the Dark Mountain strategy was to give up, questioning the idea of a solution. People are restless, empires are crumbling, cosmopolitanism is destructive, technology solves nothing, and we live in an age of ecocide, the killing of the environment. "We were good at talking about the epidemic of loss that was going on when it came to rain forests and whales and indigenous peoples," Hine said. "But we lacked a language for naming the other kinds of loss, which lay just below the surface of our own societies." Dark Mountain's founders observed years earlier the upheaval of terror and disillusionment that we now assign to 2016. During Brexit, Kingsnorth voted to leave.
The pair attracted wide media coverage for their writing, publishing an ongoing Dark Mountain periodical, as well as running a successful series of festivals in the U.K. beginning in 2010—a paganish, technology-averse version of Burning Man. In 2012, Hine was named one of Britain's Top 50 Radicals by the foundation NESTA. But the movement was more cultural than scientific, preferring art to facts. Although the misanthropic philosophy was provocative, it was difficult to explain what the movement actually advocated. It began to fray.
Hine met Björkman at the Future Perfect festival in 2011 and moved to Sweden to join her a year later. He began a career lecturing around Europe on the reputation of Dark Mountain, and decided that teaching would become central to his activism. He and Björkman see the Home workshop as a first step toward a permanent educational space where the family will live and work. Building a school, Hine believes, is a way to escape the entrenched system of academia. Home "doesn't give you a certificate that you can use as currency in a labor market or anything. You have to have intrinsic rather than extrinsic reasons," he said. "Everyone who's drawn to this is trying to figure out how to live in the world we find ourselves in without just ignoring a bunch of stuff."
As for Dark Mountain, Kingsnorth left the group formally in 2017 after a vision quest in the English woods and now focuses on writing dystopian ecological fiction. In 2019, Hine plans to step back as well—it was never meant to last forever. He will leave Dark Mountain's direction to its group of editors in order to develop the school that could be his legacy.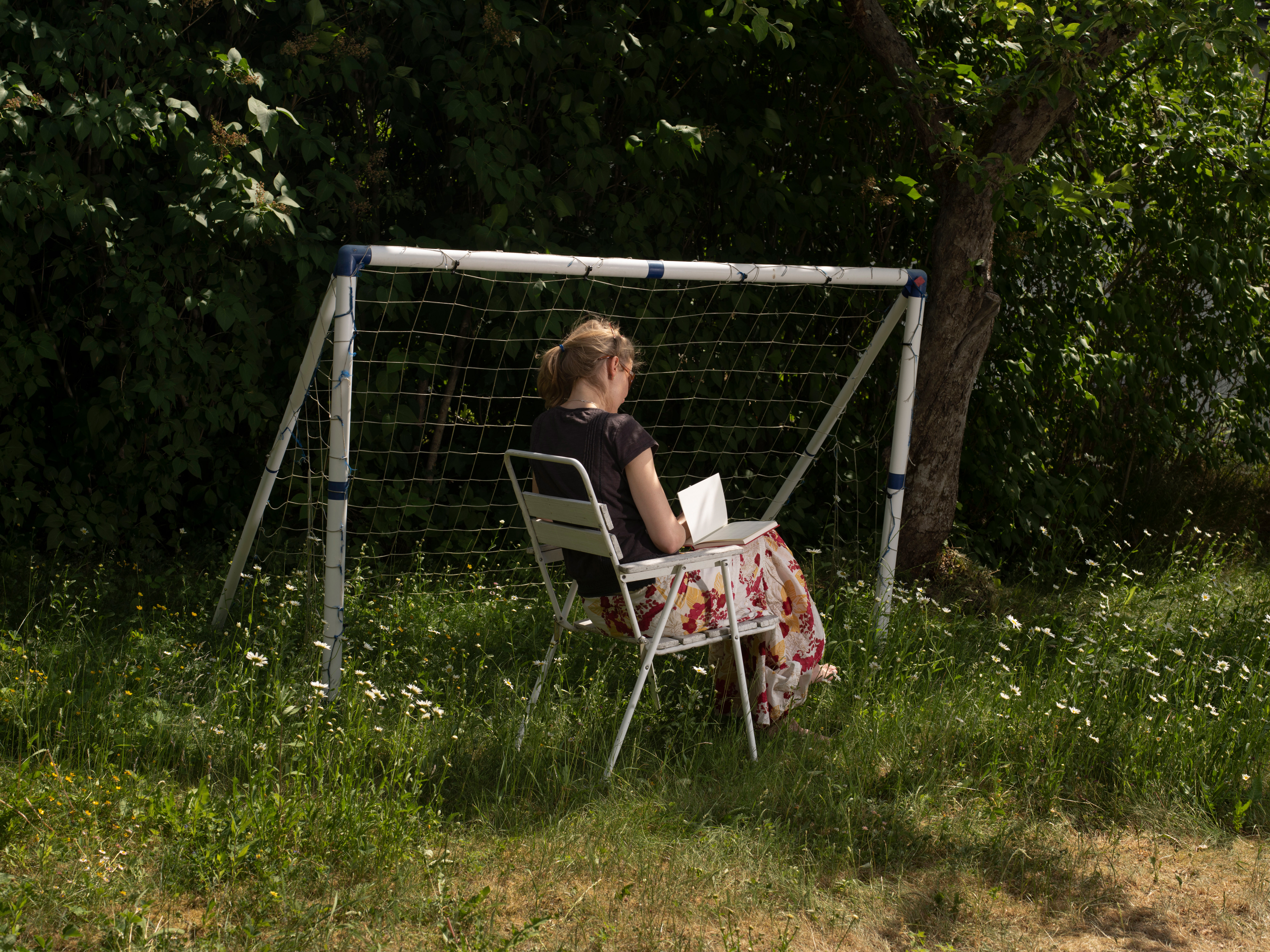 In Ängelsberg, the beginning of the workshop felt like the aftermath of an apocalypse, like we were the sole survivors of a world that no longer existed. After everyone had arrived, Hine convened us on the lawn and introduced Björkman and his co-teacher, Andrew Taggart, a self-described "practical philosopher" based in New Mexico who makes a living holding philosophical conversations with clients over Skype in exchange for an income-based "gift."
They explained the schedule: Breakfast was served at 7:30 a.m. daily, with the requisite Scandinavian rye bread, homemade jams, and yogurt, at long communal tables in the barn building. Each day there were four total class sessions that Hine and Taggart traded off leading in the inn's living room space, punctuated by meals and two fika, the traditional Swedish coffee break. The final session ended at 9 p.m. Björkman, a statuesque woman with a preference for long, brightly patterned dresses, was a full partner in the foundation of the school, but her role for the week was largely relegated to the kitchen, where she and a few volunteers cooked all-vegetarian meals and watched over Alfie and the anthropologist's son.
Time presented a problem, however. We discovered that no one had an alarm or a clock because no one had phones. To announce gatherings, Hine instead wandered around clanging meditation bells. In the Scandinavian summer, the sun glittered on the lake until 11 p.m., and it never really got dark before dawn broke around 3 a.m., inducing a slight collective mania.
On the second morning, Taggart, dressed in mountain-man plaid, taught his first lesson: a guided meditation on the theme of climate-induced despair. He instructed us to close our eyes and envision the feeling. The image that came to me was a of wave of black water. I tried to dwell in it, imagining webs of foam across the tsunami's dyed surface as it barreled toward me, slightly smug that my brain had come up with something suitably portentous. Then Taggart started humming, conducting us all in a quickening chorus of oms. I opened my eyes and looked up.
Taggart was pacing around the circle, his strangely blank blue eyes staring hypnotically into my classmates' faces. The tension in the room rose like thermometer mercury. He turned to a middle-aged artist-turned-philosophy professor from Maine and demanded what his personal darkness, "the vast emptiness," felt like. The professor mumbled something in reply that made it clear he didn't want to play along. I felt a rushing in my ears, terrified Taggart would look to me next.
I tried to focus instead on the gentle sunlight suffusing the living room's lace curtains, peeling alpine wallpaper, and pink plastic flowers on the windowsill—the mundane opposite of the grief we were supposed to be evoking, and yet part of it all the same, part of the world's general disaster. Taggart told us to pair off and interrogate each other: What is the darkness? What is your darkness? If we felt our partner was bullshitting, we were to call them out, asking, "Is that it?"
The British expat, a sensitive but outspoken woman in her 60s, suddenly raised her hand and exclaimed, "There's no methodological framework for this! There's a patriarchal lack of consent. It feels like a violation." She was tearing up. In a characteristically masculine way, she said, Taggart was intruding into our psyches, coercing us into self-disclosure. He had gone beyond my expectations, too: I thought we were supposed to be learning about climate change, not baring our inner Jungian landscapes. A long, heated debate about boundaries ensued, and Hine, who had remained in the room as a mediator, admitted guilt for not evaluating the exercise in advance.
I suggested we go into the woods and kill rabbits with our bare hands; instead, we smoked cigarettes to keep the bugs away.
Both instructors showed up very late to lunch that day, which was subdued. When I asked Taggart about the episode over dinner, he embraced his nascent Buddhist practice, answering my question by challenging the existence of the self. He asked if the self could indeed be said to have feelings like "I feel defensive," "They're attacking me," or "I'm being debunked as a teacher."
"I'm not saying I had these thoughts," he clarified in a slow, pedantic voice, but I was pretty sure he did. The fissure in the group never quite healed. Taggart spent the rest of the week sulking in corners, speaking to only one or two people at a time.
Some relief from the creeping anxiety came in the form of a routine that we established that night, after Björkman's parents taught us how to light a fire in a 10-person wooden sauna on a dock jutting out into the lake. When each day's sessions ended and we had mourned for the planet as much as we could, we took beers from the fridge, walked down the hill past the train platform, and crowded into the sauna in shifts, skinny-dipping in the sunset-brightened water whenever it got too hot. Nudity, it turns out, is a great shortcut for communing with your fellow humans and the beneficent Earth alike.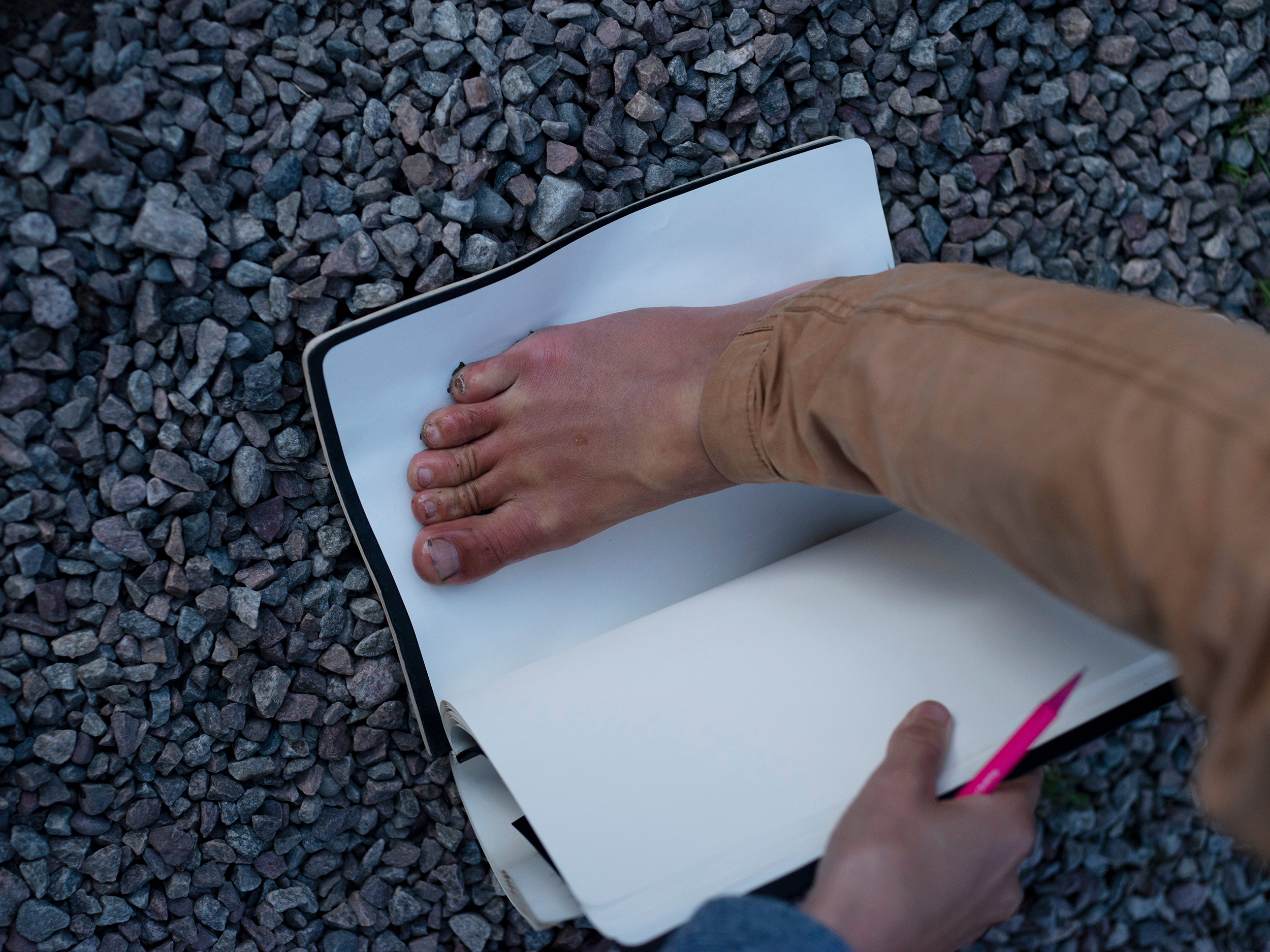 As days passed I found that I didn't miss my phone at all, because being trapped in a chalet village with two-dozen strangers was far more engaging than Twitter. The sessions included lectures on the expansion of careerism into all facets of life, strategies for launching community-based projects, and applications of esoteric philosophy. We discussed a group of leftist thinkers—Slavoj Žižek, John Berger, and Ivan Illich, an Austrian Catholic priest-turned-philosopher—but there were few women in the syllabus save the feminist scholar Donna Haraway. Her 2016 book, Staying with the Trouble, provided a governing commandment for the week: We were to complicate things rather than simplify them. The important part was to dwell in contradiction; if we tried, we could see ourselves as both a cause of climate change and a potential solution at the same time. This ambiguity was the closest thing to a political position the workshop endorsed.
Home's Dark Mountain–esque separation from civilization didn't make much opportunity for dramatic action, which left some in our group dissatisfied. "I'm a warrior. I want to fight something," a young Norwegian man who, inspired by Kingsnorth, had moved to a cabin in the mountains outside of Oslo and lived alone, subsisting on frozen pizza, told me during a late-night conversation on the cabin porch. The cool evening was only marred by thousands of vicious Swedish mosquitoes. I suggested we go into the woods and kill rabbits with our bare hands; instead, we smoked cigarettes to keep the bugs away.
Hine's phrase kept returning to me: "hospicing modernity." We weren't here to save the world as it exists now—we were creating a comfortable space to let the Industrial Age die and to allow for something new to take its place. But it was unclear whether this would be a radically new world or a return to premodern times. The workshop glamorized certain retrograde touchstones, like old folksongs (which we sang together in song circles and in the sauna); the ancestral home; a gendered division of labor; and a parochial retreat from the noise and speed of cosmopolitan centers—all superficially simple things that are far less advantageous for some groups than others (women, for example, or anyone forced permanently from their home by politics, personal identity, or war).
During a class session on day four, the group became embroiled in a circular discussion of who should be allowed to talk about the effects of climate change, and if something superficial like giving up plastic straws really accomplishes anything besides assuaging our own guilt. Then the conversation turned cannibalistic: The slam poet questioned why our group was even gathered to begin with, when we were content to debate abstractions while relaxing in a bucolic setting, untethered to the real world.
Hine bent forward in his chair and began to cry. "The question of what we take home is incredibly important to me. How do we not burden ourselves with guilt about the privilege of being allowed to be here?" he said, sniffing through his words. He was wearing a loose, white linen shirt that made him appear vaguely Christ-like. "It's not worth doing if we don't find ways we can put ourselves into the service of others. We don't need more placeless thinking."
In this regard, the workshop was a failure. Rather than helping others, we were indulging ourselves, partaking of a rarified potion of despair at a vacation destination. But Hine's emotional transparency still broke the tension. It was a turning point, puncturing the collective hallucination: We couldn't possibly fix climate change by meditating together at a small hostel in Sweden. Although we weren't the hospice nurses that modernity needed, perhaps we could still tend to each other in the moment and pay witness to our collective crisis.
Dark Mountain is above all a story we tell ourselves: The world is fucked and doing anything more will only make it worse, so we might as well move back to the woods, literally and metaphorically. Changing the story might be a way, or the only way, to change our relationship to the environment. Yet storytelling is, by nature, artificial; it requires the teller to choose a beginning and an end that impose meaning against ambiguity. If I could stop my story right here and leave you to just stay with the trouble, I would. But the Ängelsberg workshop provided its own conclusion.
We spent Friday morning, the workshop's last day, in the harsh, hot sun, comparing experiences and saying our goodbyes. When it came time to get our technology back from the steamer chest, I was more apprehensive than excited. Everyone looked different with phones in their hands—suddenly we weren't forced to engage with each other. Home didn't resolve any angst about the climate, but it did give me a glimpse of another, more self-critical way of life, without the usual palliatives of social media, consumerism, and simple denial.
As after waking from a night of poor sleep, a toxic tang of hangover settled on the atmosphere. Half the group escaped to the Stockholm-bound train as quickly as they could. I decided to stay over one more night at Tallbacka, but by midafternoon I felt weak and achy. I lay down for a few hours until I regained enough energy to join an impromptu dinner. When I picked up a forkful of cauliflower curry, I immediately realized I was going to throw up everywhere.
I ran into a bathroom and projectile-vomited vegetable matter all over the trash can, toilet seat, and sink. It continued for a few minutes and then passed, leaving me exhausted on the floor. Over the next 24 hours, several of us caught the bug. First it was the anthropologist, then a young Danish woman, then the university chair, and finally a demure theologian, who fell sick overnight. It passed through the group as if we were part of the same body. One by one, we disappeared into our darkened rooms to recuperate.
It could have been heatstroke, food poisoning, or a virus picked up from the toddlers. But maybe it was something deeper. The medical term for throwing up during or after profound psychic disturbance is "psychogenic vomiting." I preferred to think of it as our communal late-capitalist pain, together with the planet's, leaving our bodies, flushing down toilets, and returning to the dirt.