Capsys Corp. employees work on the drywall of a modular housing unit at the Brooklyn Navy Yard. Photographer Scott Eells/Bloomberg via Getty Images
The Big Urban Future of the Tiny Apartment
Micro apartments have become trendy for urban professionals aiming to streamline their lives. But does the fad forebode a return to Industrial Age overcrowding?
Capsys Corp. employees work on the drywall of a modular housing unit at the Brooklyn Navy Yard. Photographer Scott Eells/Bloomberg via Getty Images
Americans who live in big, expensive cities are used to reports of outrageous housing arrangements: there's a whole genre of schadenfreude blogs that detail the rankest Airbnbs, tiny crawl-space sublets, and other cramped spaces that defy belief. In a handful of cities, including New York, San Francisco, and Seattle, real estate investment and the clustering of high-paying jobs have pushed vacancy rates down, jacked prices, and left renters squeezed. This has led city officials, architects, and developers to look for new, efficient ways to house people. Under dire circumstances, packing city-dwellers into the smallest possible spaces suddenly doesn't seem so ludicrous.

For example, former New York mayor Michael Bloomberg set up a pilot program that waived some zoning regulations for "micro apartments"; by definition, a micro apartment is below the standard 400 sq feet that has been viewed as the minimum for a studio apartment since the 1980s. Developers and pro-density groups argue that those dimensions are needlessly large; the sharing economy, new technology, and non-traditional living arrangements make the extra space unnecessary (not to mention that many New Yorkers choose to eat all their meals out and to use their ovens for extra storage). After all, the marketing for micro apartments was initially aimed at professional singles (read: tech bros) who don't spend a lot of time at home.
But some housing advocates look further back, to the era of social reformers like Jacob Riis and Jane Addams, who shocked Americans a century ago with reports of the desperately overcrowded living conditions of the urban poor. The reforms of the Progressive Era are the reason New York City has so much regulation around housing today, and some advocates worry that with the square footage minimum now lifted, "micro" could become the norm, and vulnerable New Yorkers will be pushed into tiny spaces with high-tech construction and retrograde dimensions.
New York's foray into the world of micro apartments began in 2012 with a call by the Bloomberg administration for design proposals for the tiny domiciles, to be built on a site at East 27th Street. (This was followed in 2013 by "Making Room," an exhibition at the Museum of the City of New York exploring new housing types.) Many of the submissions made use of some form of modular construction, a building process where elements are pre-fabricated, trucked in, and assembled onsite. This can be cheaper and faster, because units are outfitted with wiring and plumbing in an assembly-line environment, and then stacked, like double-wide "trailers in the sky."
Modular housing has been tinkered with by architects for decades: it's an attempt to solve some of the trickiest parts of construction in the controlled environment of a factory. While it has a great deal of promise (and plenty of venture capital), there hasn't been a breakthrough moment. Housing complexes developed with modular blocks, like the 32-story tower at 461 Dean Street in Brooklyn, don't always come off smoothly, and the efficiency promised by the construction process has failed to materialize.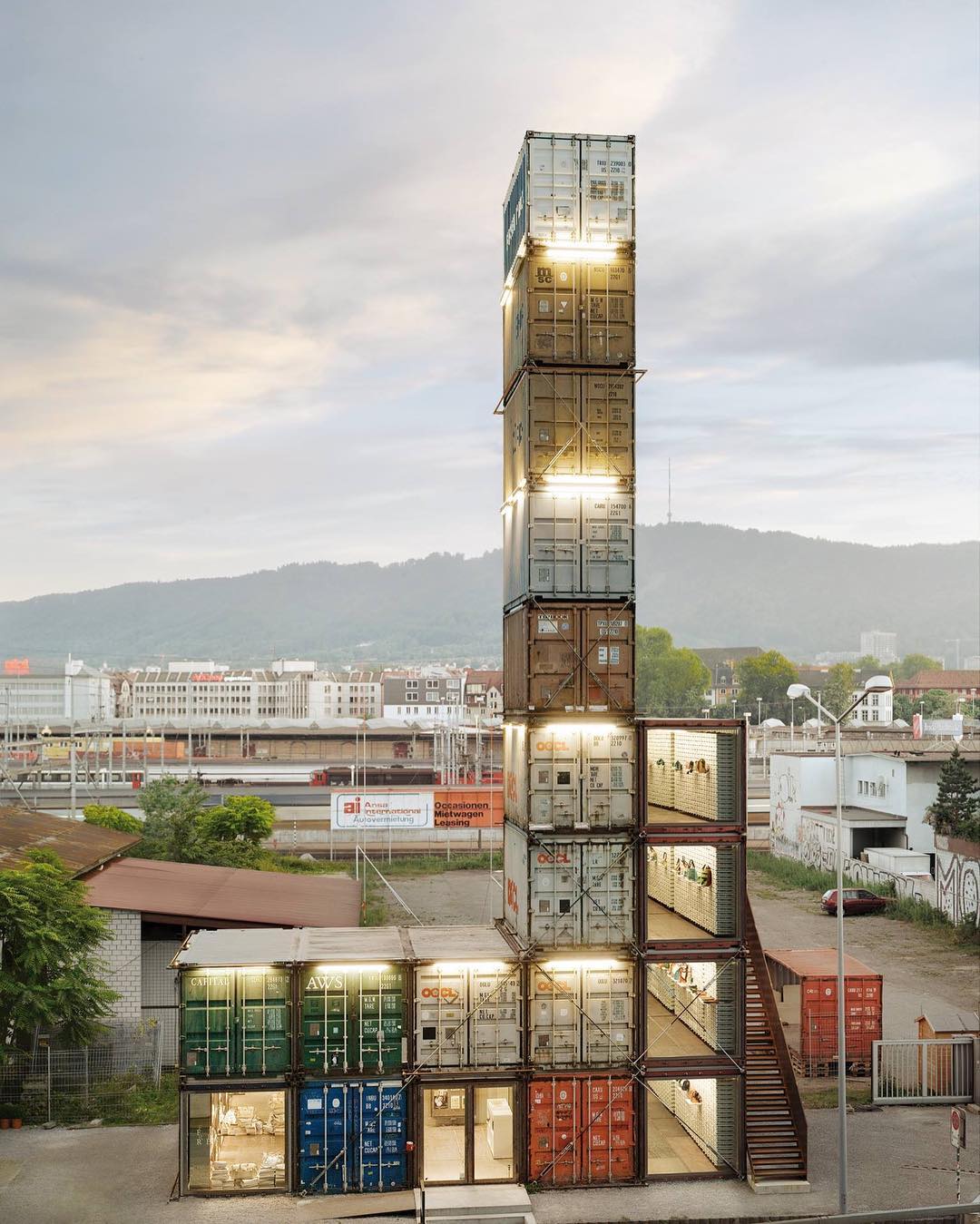 A related but distinct phenomenon is the use of shipping containers as a building element, a trend that, despite forecasts of its demise, stubbornly survives. The architecture world first caught the container bug in the early 2000s, when structures like Zurich's Freitag Tower were built—nine decommissioned containers stacked one on top of the other. In the years since, containers have been strewn across all manner of architectural projects: they appear as office rentals in London, LOT-EK architects turned them into their calling card with a number of Brooklyn residential projects, and they serve as a substrate for a fantasy villa in the Californian desert.
This embrace of shipping containers as a solution for cramped, unaffordable cities is a bit ironic given that the popularization of the shipping container in the 1970s was, according to some scholars, an important factor in the global wave of economic consolidation that is in part to blame for skyrocketing housing costs in a handful of cities. A new affordable housing development in the Bronx and several others nationwide are set to be built from containers. While the form works for pop-up markets and food stalls, they use too much material to insulate too small a space; they're not very practical for residential projects, and just because they solve a logistical issue for products doesn't mean their value is equally transferable to dwellings for people.
Micro units show promise, but there are pitfalls. The units on East 27th Street—the project that won Bloomberg's Request for Proposals—have been rented for nearly two years with few complaints. They go for $2,700 per month, just over the market rate for the neighborhood, and come with high-end, space-maximizing furnishings. However, the project sits on land ceded from the New York City Housing Authority (NYCHA) and could serve as a prototype for the controversial plans to lease land currently occupied by NYCHA's parking lots and public spaces to build market-rate buildings, or, sinisterly, as a template for future housing projects that pack more people in.
When it comes to micro apartments, the focus has been on urbanites who are happy to trade "space for place" to be near the bars, galleries, and cafes they love. These are people who can afford to outfit small spaces with bespoke, space-saving furniture and who can always go out when feeling cramped. Absent from the conversation is what happens when public housing residents, seniors, and others are asked to embrace small-scale living—for that, we're better off looking to history.