Top by GUCCI, skirt courtesy of ONE OF A KIND ARCHIVE, earrings are Rihanna's own, ring by TIFFANY & CO., shoes by VALENTINO. Photo by Deana Lawson.
10 Things We Love (And You Need To Know) About Deana Lawson
Deana Lawson shot Rihanna for GARAGE issue 15's cover story, but who is this major new voice in American photography?
Top by GUCCI, skirt courtesy of ONE OF A KIND ARCHIVE, earrings are Rihanna's own, ring by TIFFANY & CO., shoes by VALENTINO. Photo by Deana Lawson.
For the cover of GARAGE's fifteenth issue, we got Rihanna, but you've never seen her quite like this before. With her intimidating glamor and cat-like insouciance, of course Rihanna can look stunning in a shark, but perhaps only Deana Lawson would photograph our queen nonchalantly lounging in a mysteriously bare bones flat and get pictures worthy of a royal portrait. Lawson is an American photographer, which sounds straightforward enough, but what you need to know is that she is blowing up and eliding any divisions that would try to categorize her luminous portraiture. In other words, Deana Lawson is not only the photographer of the moment, but of the future.
Deana Lawson was born in 1979 in Rochester, New York—the town that Kodak built. After popularizing roll film and consumer-grade cameras in the post-war era, the camera and film manufacturer by its peak in 1982 employed almost 70,000 workers in the upstate city alone. Lawson's paternal grandmother worked as a housekeeper for the Kodak company's founder George Eastman, and her mother worked in administration at their offices for almost forty years. Go back two more generations on her mother's side, and you find more fierce and fabulous Rochester gals.
Her father's sister, Aunt Sylvia, was one of the first black female ophthalmologists in upstate New York, and one of the first doctors to perform and perfect intricate cornea transplants—clearly, trailblazing comes naturally to the Lawsons. Given this rich history, for her to become a photographer, as the artist herself has said, "how could it not be destiny?"
Lawson's father diligently photographed his family when Deana and her identical twin sister Dana were growing up, images that, as she notes in a conversation with filmmaker and artist Arthur Jafa for her forthcoming monograph from Aperture, she would "return to again and again to see and re-see images of my family in their glory and in the everyday." In her own photography, we can see traces of this nurturing gaze, a sense that no matter who appears in her images, when they're in a Lawson portrait, they're family.
She graduated from Pennsylvania State University with a BFA in photography in 2001, but was almost diverted from her path, as she noted in a 2015 profile for Interview : "During my sophomore year at Penn State. I reached an early crossroads—either I was going to continue with a business degree or I was going to jump off that moving train and become an artist. I jumped and never looked back." Praise be!
Early artistic role models were hard to come by though during her undergraduate education, so much so that she even wondered if there were any black photographers for her to learn from. That changed when she found the work of Carrie Mae Weems, Lorna Simpson, and Renée Cox.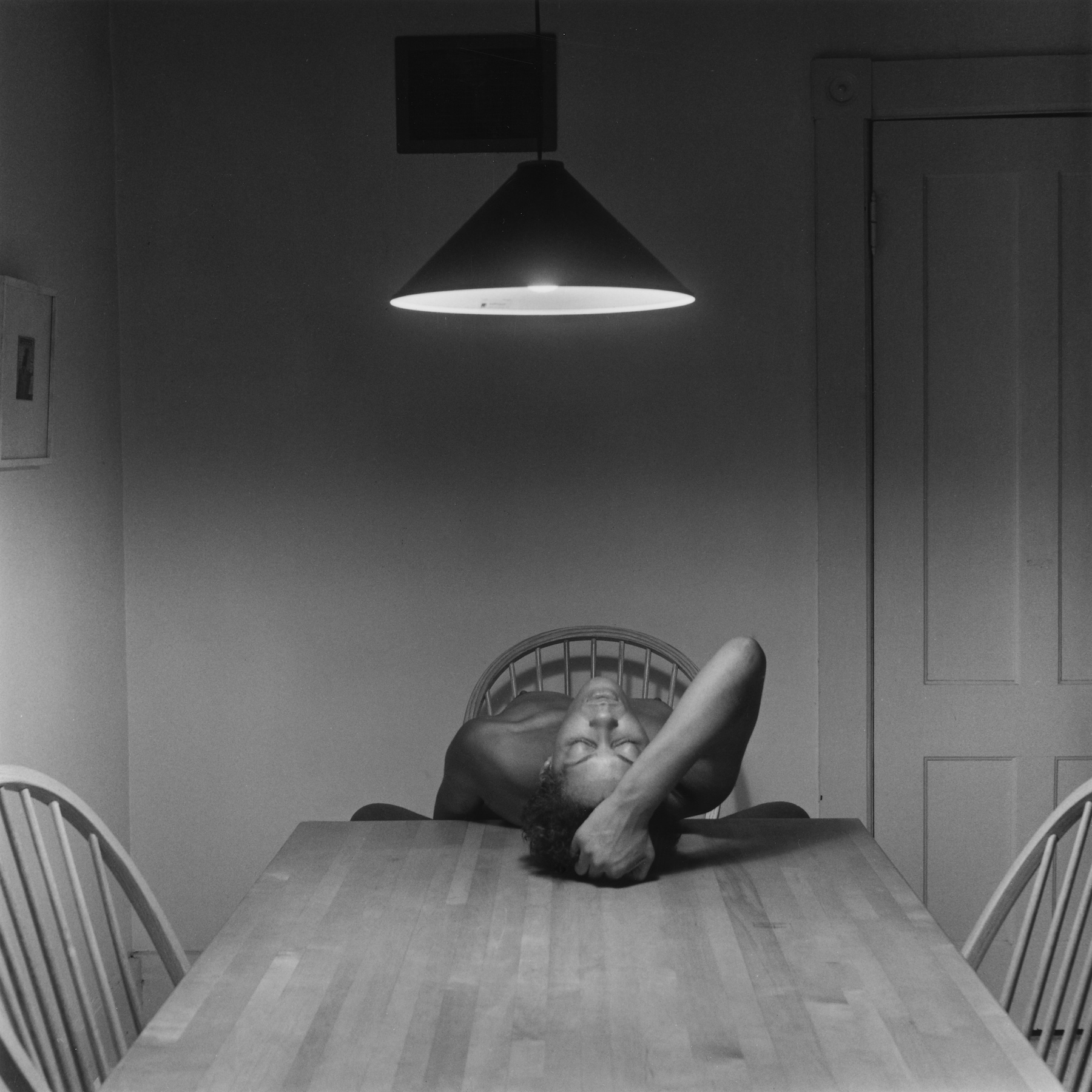 After finishing her undergraduate studies, she submitted a photograph she took in 2001 as part of her application to the Rhode Island School of Design, of vintage heels from a thrift shop. Photographing the feet and calves of her model from behind, as they stood on old, beat-up steps, she reflects that "there was history and suffering in those feet, as seen through the slant in the heels…Just that gesture of those heels broken down, but still classy and sophisticated, was kind of like the theater, or the ideal-slash-reality, and the pain that I wanted to express through the body. All of those elements are present in my work to this day." That picture? It got her into the same graduate school that Kara Walker exploded out the gate from in 1994.
Lawson's work has been included in several notable institutional exhibitions, including the 2017 Whitney Biennial, the Museum of Modern Art's annual "New Photography" survey in 2011, and she has also been the subject of solo exhibitions at The Art Institute of Chicago and the Contemporary Art Museum St. Louis in 2015.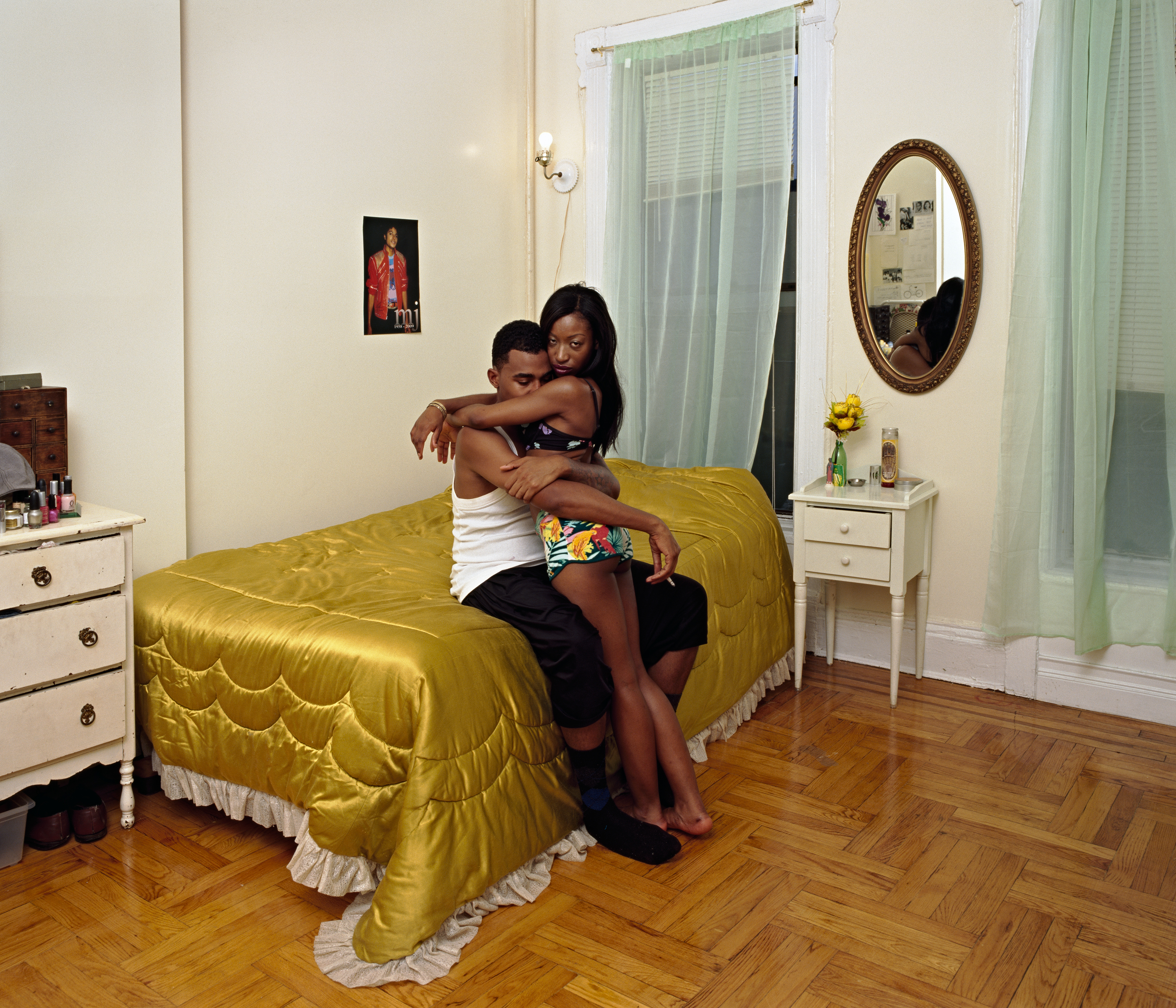 She travels the world seeking out the image she needs, shooting portraits from Louisiana to Haiti, or Jamaica to the Democratic Republic of the Congo, but one of her most iconic images might be one taken in her adopted hometown of New York, Bed-Stuy, to be specific. The cover of Blood Orange's 2016 album Freetown Sound features a subtle tableau of two lovers embracing in a bedroom. The scene is sparse, focusing a viewer's gaze on the couple, and the picture of Michael Jackson hung on the wall behind them. The photo, titled "Binky & Tony Forever," was shot in 2009, the same year the king of Pop died.
Lawson has taught at institutions such as the California Institute of the Arts, International Center for Photography, California College of the Arts, and the Rhode Island School of Design, and has since 2012 been an assistant professor of photography at Princeton University. Her students will surely never lack for a role model.
Deana Lawson doesn't care what other people think, and is now following her vision wherever it takes her, as she tells Jafa in the same aforementioned interview: "I have an image in mind that I have to make. It burns so deeply that I have to make it." Enough said, she's an icon for us.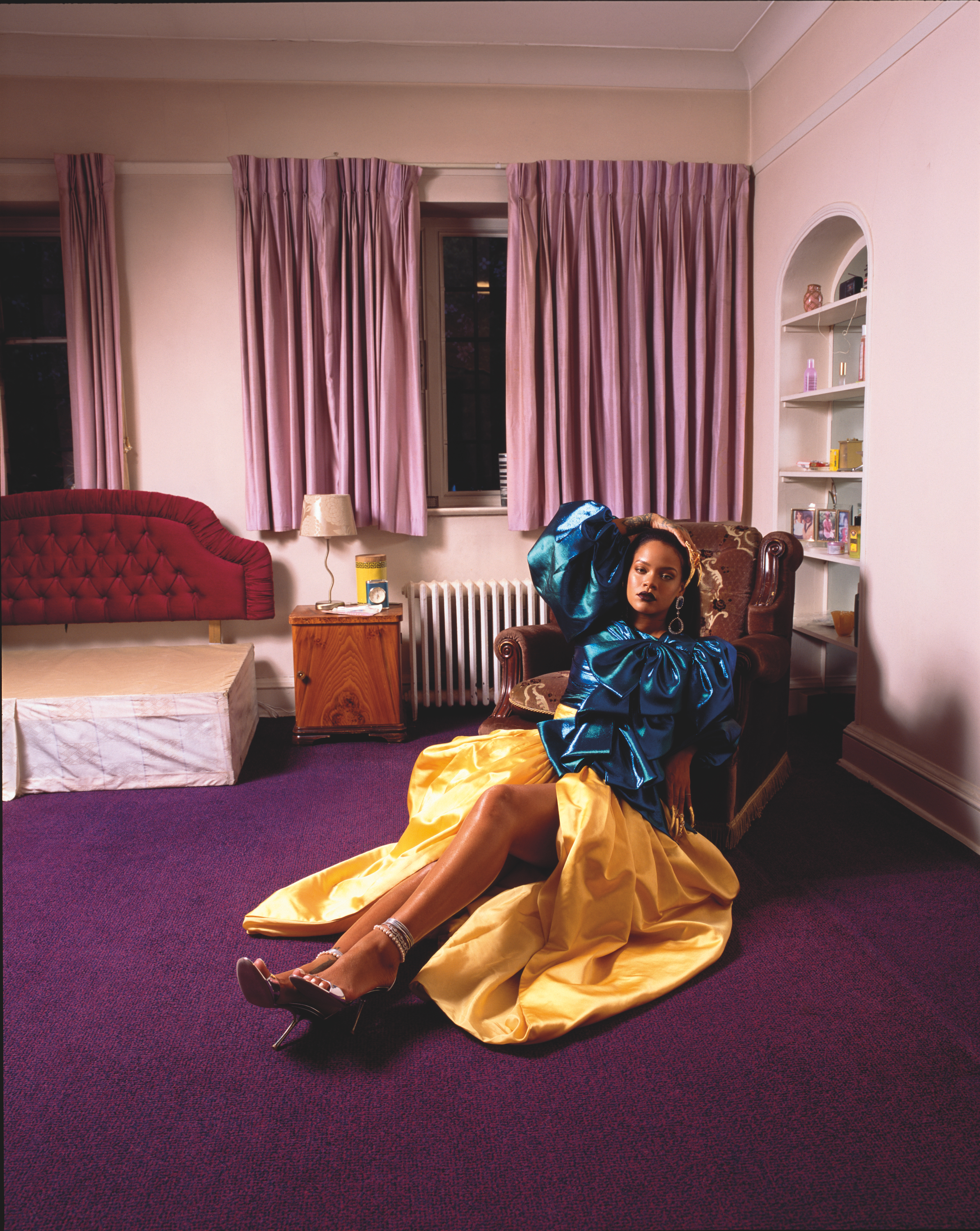 All quotes attributed to the artist are, except where noted, taken from a conversation between Lawson and Arthur Jafa included in Deana Lawson: An Aperture Monograph, publishing this month. That interview is reproduced in full in GARAGE Issue 15, also available this month.