Whoopi wears shirt by CHRISTOPHER JOHN ROGERS, earrings and rings by L'ENCHANTEUR (worn throughout). Fashion Editor Solange Franklin. Photographed by Charlie Engman.
Whoopi Goldberg by Ottessa Moshfegh
Not content to EGOT, Whoopi Goldberg is setting her sights on the fashion industry. Novelist Ottessa Moshfegh, her biggest fan, pays her a visit. Photographed by Charlie Engman.
Whoopi wears shirt by CHRISTOPHER JOHN ROGERS, earrings and rings by L'ENCHANTEUR (worn throughout). Fashion Editor Solange Franklin. Photographed by Charlie Engman.
Last year, I published a novel called My Year of Rest and Relaxation, in which a twentysomething blonde depressive tries to excise the trauma of losing both her parents by taking loads of prescription sedatives, sleeping, and binge-watching Whoopi Goldberg movies.
"Watching Star Trek as an adolescent was when I first came to regard Whoopi Goldberg with the reverence she deserves," I wrote. "Whoopi seemed like an absurd interloper on the U.S.S. Enterprise. Whenever she appeared on-screen, I sensed she was laughing at the whole production. Her presence made the show completely absurd. That was true of all her movies, too. Whoopi in her nun's habit. Whoopi dressed like a churchgoing Georgian in the 1930s with her Sunday hat and Bible. Whoopi in Moonlight and Valentino alongside the pasty Elizabeth Perkins. Wherever she went, everything around her became a parody of itself, gauche and ridiculous. That was a comfort to see. Thank God for Whoopi. Nothing was sacred."
Toward the end of the book, the protagonist goes into a kind of comatose psychedelic odyssey when she overdoses on a fictional soul-healing pharmaceutical. In the depths of her trip, as she's falling into the void of self-erasure, she reaches her hand out for the only person on Earth she trusts to lead her back to a reality of truth and safety. The hand that pulls her out of this chasm is Whoopi's.
Whoopi is the spiritual hero of my novel, and my only idol. Her particular talent to poke through every scene of fictional film as a real, live human being, therefore undoing the illusion of cinema, was a powerful influence on me as an artist before I even knew I was a writer. From a young age, I've felt a kindredness with Whoopi; that happens when you idolize a celebrity. You project your most intimate needs onto a strange whose essence you believe can fill a void within your soul. This delusion grows even when you've never met the person before—in some cases, it even thrives because you haven't.
So it was with nervous excitement that I agreed to go to Whoopi Goldberg's house for lunch in December of last year.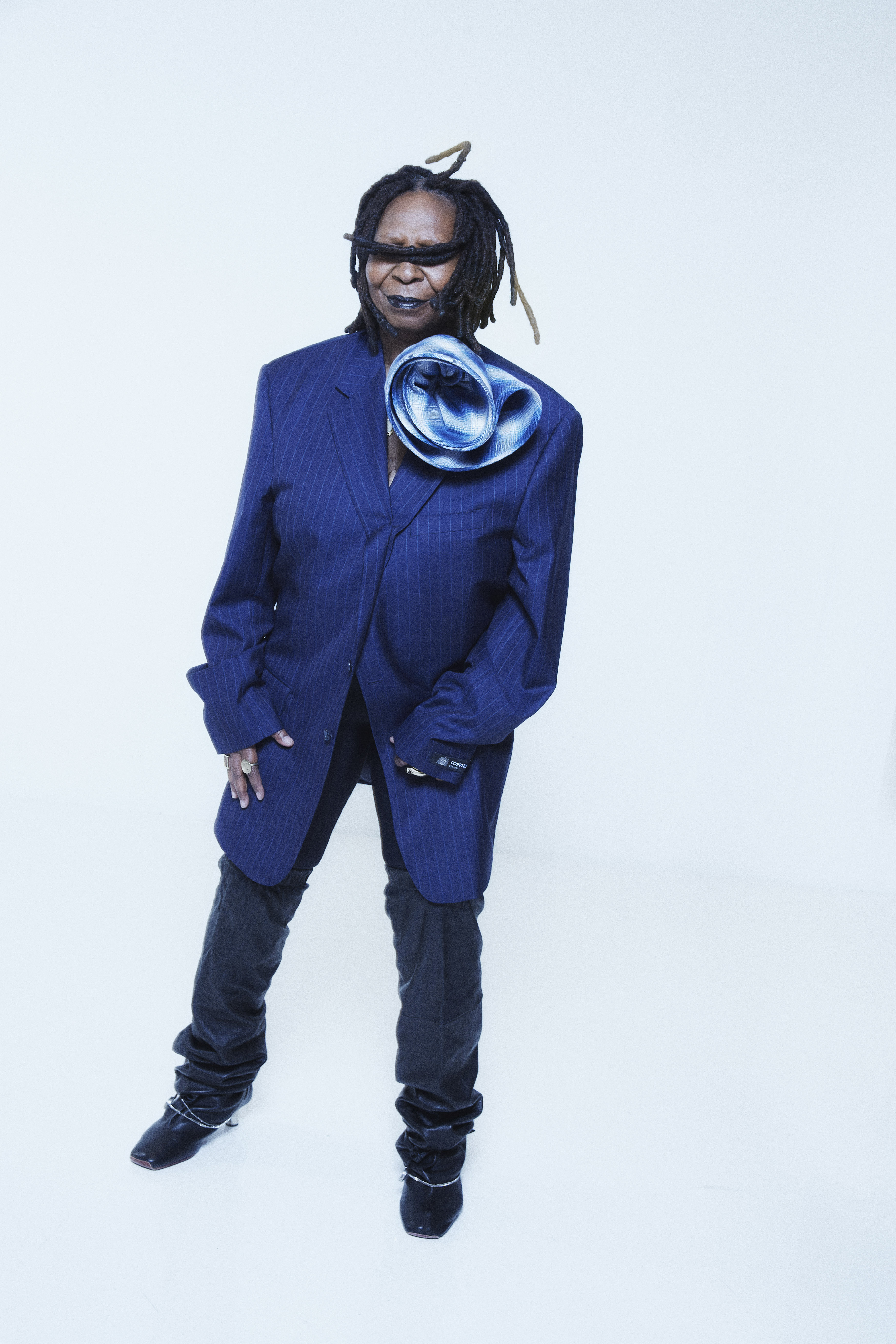 Whoopi greeted me with a hug in her country-style kitchen, and we chatted while she scored a dozen chestnuts with an X-ACTO knife before popping them in the oven.
She asked me why I'd put her in my novel. I was not shy in answering. "I've always loved you," I said.
Seeing Whoopi in the context of her own home did not have the same jarring effect as seeing her on-screen. She was natural, at ease in a world that she had fashioned around herself just to her liking. She was not in a rush or clamoring to be heard over her daytime co-hosts. (In our time together, Whoopi didn't once mention her work on The View. She was entirely at home. "I'm so glad I have the day off," she said.)
"Do you have any siblings?" she asked me.
"I have an older sister," I said. "And I used to have a little brother."
"I lost my brother, too." She showed me pictures of a tall, gorgeous man. Whoopi said she was like a puppy when they hung out, a wingman of sorts. She attracted the girls, and then she'd scram. She also showed me photos of her mother, her daughter, her grandchildren, her friends. There was one tiny black-and-white of Whoopi as a toddler, sitting on a stoop in a puffy white snowsuit. Her expression is the same now as it was then. It seems to convey, "Well, this is weird, but I can dig it."
Whoopi has a singular ability to straddle the mundane and wonderful and profound all at once. One moment she's talking about how her 4-year-old great-granddaughter gets paint on all her furniture (she's covered the kitchen chairs with stretchy white fabric for protection), and the next she's talking about the death of her mother. "She told us to put her in the microwave," she said. It took me a moment to unpack that. "When you put a person in a microwave, there's a lot that comes out. There was a lot of her. We scattered her all over the world. And there's still a lot of her left." This, and the family photos, all while scoring the chestnuts. Whoopi lives in a gated community of grand homes in New Jersey, about an hour's drive from New York City. She's been living there for 10 years. After moving back to New York from Los Angeles, she'd initially landed in SoHo, but Manhattan didn't suit her. She needed space to go outside and breathe and be in nature. "I'd go out to do my shopping in SoHo, and just run back home." She claims to be something of a homebody, and likes the seclusion and peace of suburban New Jersey, which makes perfect sense to me. Nobody's asking her for an autograph in her backyard. "I'm anti-social, but I don't want to be an asshole, so I talk to people when they come up to me. I like it out here, though," she said, looking through the kitchen windows at the trees. The day I visited, the house was full of staff decorating the front hall and dining room with Christmas decorations.
There was one tiny black-and-white of Whoopi as a toddler, sitting on a stoop in a puffy white snowsuit. Her expression is the same now as it was then. It seems to convey, "Well, this is weird, but I can dig it."
"You must really love Christmas. Aren't you Jewish?" I had seen two mezuzahs on her front door.
"There's that, too."
When we had first hugged, I'd been surprised that Whoopi is the same height as me—five-foot-five. But her countenance is enormous. Her smile is enormous. In the three hours we spent together, her voice seemed deliberately strained into a hush. Maybe she's saving her voice for her work, like a singer, I thought. "We're going to Disney World tomorrow, actually," she said, as though she could read my mind's questions about her plans. She goes every year to read Christmas stories to the kids. "You have more power as a child," she told me. It doesn't surprise me that Whoopi loves Disney, a contained world of magic and nostalgia for the innocent imagination.
"You'll notice that I hung these up myself, and they're all crooked," Whoopi said, pointing at the wall of her kitchen. It was packed with vintage African-American advertisements from New York City subways. "Be sociable, have a Pepsi." This mix of high concept and lowbrow is a perfect example of Whoopi's taste.
"But they are all consistently crooked," I said.
"I'm nothing if not consistent."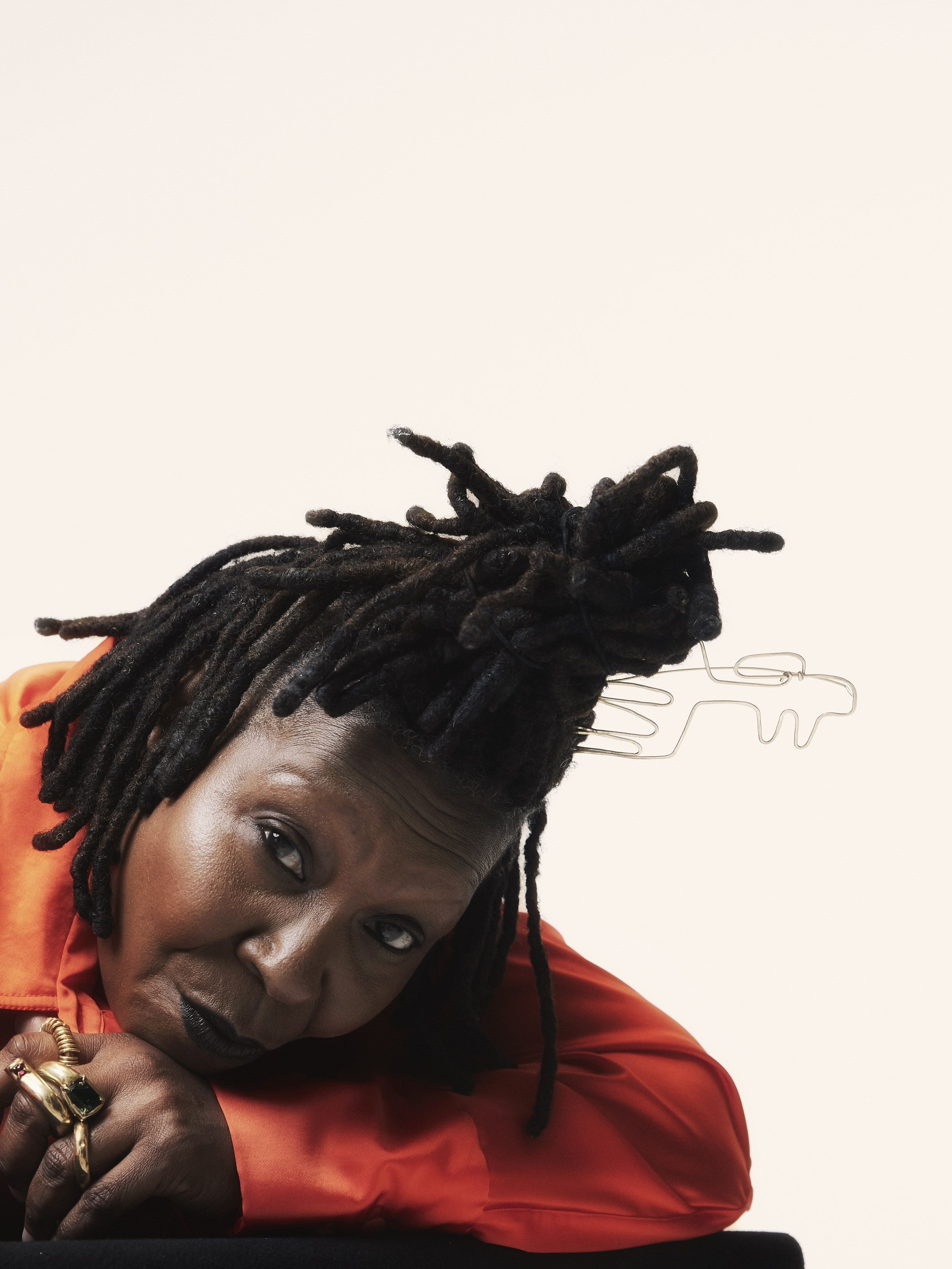 After lunch, we munched the roasted chestnuts and took a slow stroll through Whoopi's house. The shelves in her cabinets are filled with tchotchkes from her travels: chinoiserie figurines, John F. and Jacqueline Kennedy memorial salt and pepper shakers, neon-haired Trolls. "I love me a good Troll." She's not a snob, but she is particular. And she can find the beauty in a tacky Christmas sweater just as easily as she can the Warhol portrait of Chairman Mao hanging in her foyer or the Meissen soup tureen and figurines on her dining table.
In a closet in the basement, she has stored a stunning collection of 12 place settings made for the King of Hanover, as well as Tiffany Olympian silver. A saltshaker in the form of a tiny birdcage hung from a tiny silver tree. She has silver plates, a jelly spoon, a potato chip spoon. "I'm a potato chip whore." She showed me the engravings on the hands of knives. "Each has a different cartouche." No wonder Whoopi is doing a book about table dressing with Rizzoli.
She has silver plates, a jelly spoon, a potato chip spoon. "I'm a potato chip whore."
The day we met, Whoopi wore black leggings, a black T-shirt, and an unbuttoned chambray shirt. Small, round forest green glasses. "I just want to feel comfortable," she told me, but it's no secret that she is a fashion obsessive. Last year, she was spotted in the front row at Rodarte, Eckhaus Latta, Jason Wu, Chromat, and Opening Ceremony, to name a few. She reviewed Marc Jacobs' spring/summer 2018 collection in Interview. She wore an insane pool-party clown costume dress by Thom Browne to honor him at the Couture Council in 2017. She hangs out with André Leon Talley. Yet when she talks about her personal style, she is completely unpretentious. "You know, I love high heels, but I always wore them with socks. And fashion is finally catching up to me. When you go to the shows, now you see girls on the runway wearing socks with heels." She is the queen of elevated comfortwear. She can make the most pedestrian clothes look avant-garde. No one can forget the outfit she wore when she won the Golden Globe for best actress for The Color Purple in 1986: matching canary yellow top and leggings, an oversize ivory blazer, yellow socks, and white high-top Reeboks. Her brand has always been nonconformist, playful, colorful, free. Whoopi can dress cute without looking immature. She is also hilarious and kitsch. She might be the only person on the planet who can look cool in Crocs. She has a line of ugly Christmas sweaters. You can buy them on Zappos. We should all be grateful that her genius is so accessible.
Her new line of clothing, DUBGEE, comes out this spring. She told me she was inspired to design the collection after a month-long trip to Greece. While she was there, she couldn't find anything that fit her. "It made me feed bad, like my body doesn't fit." I asked her if she thought there was an ideological trend in the relaunching of '80s shapes and funky streetwear. I rambled a bit about how the '80s re-envisioned the '40s. "Do you think it has anything to do with politics?" She talked about shoulder pads, how silhouettes for women are coming into balance, and in the most gracious and gentle way possible, steered me away from talking about politics. "When people come over, I like to relax. You know, no politics."
Whoopi took me up to her closet to show me some samples from DUBGEE. The clothes are roomy; Whoopi designed them to give the body space, to create a mystery of what's under the fabric. The prints, inspired by Russian propaganda graphics, are sophisticated and layered. Cowgirls and baseball players superimposed on Deco tribal patterns, car-toon American eagles and flags, Abraham Lincolns, and Afro-ed kids taking cell-phone selfies. Think Tommy Bahama meets Kara Walker meets Thakoon. One shirtdress had a small, bright geometric pattern of women linked arm in arm. "This is the Women's March. I'm in here somewhere—there. In the hat." There are satin pajama pants with a tropical floral print. "You can wear these anywhere." You can, Whoopi. You could wear a bathrobe to meet the Queen of England and you'd look fabulous, and exactly right.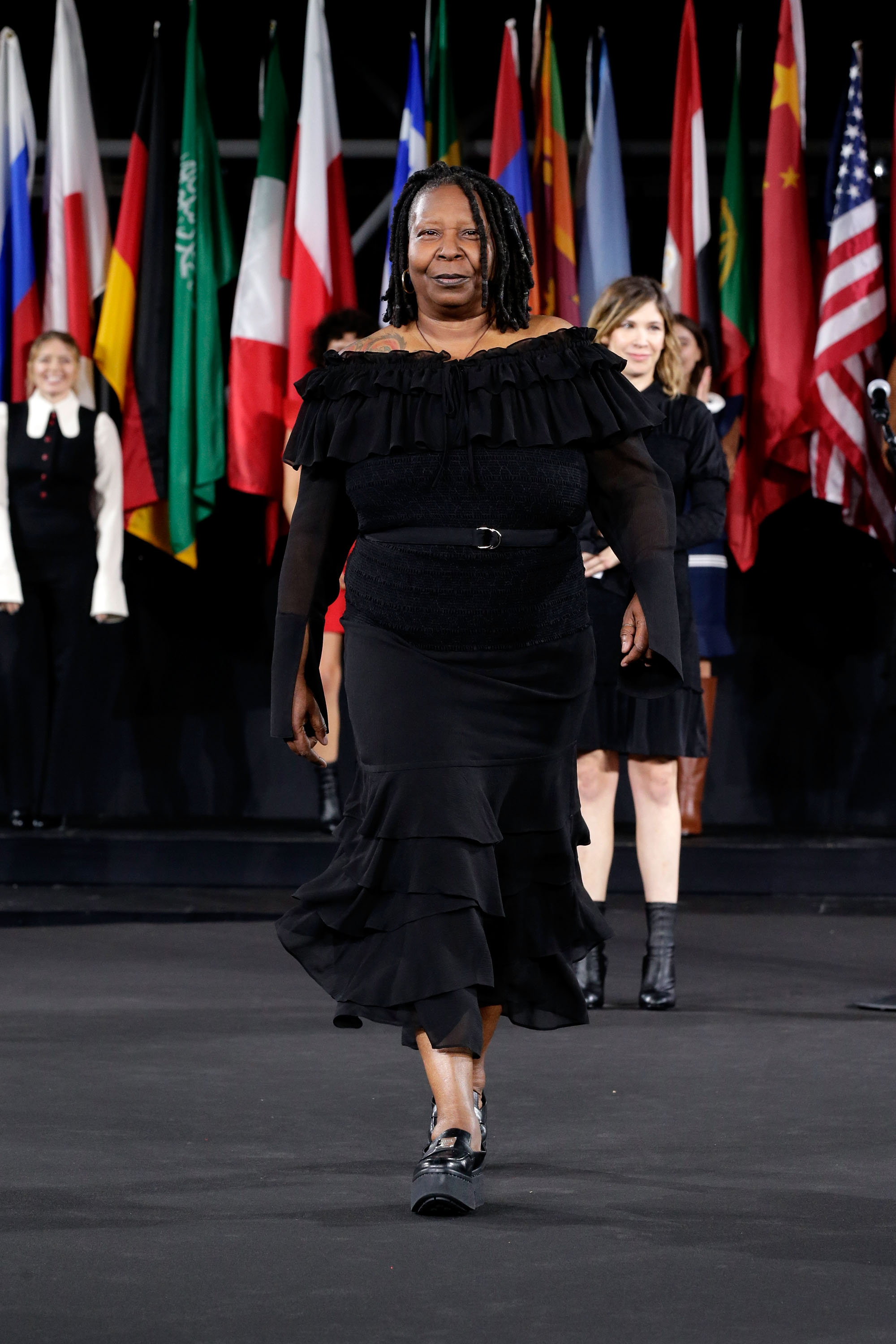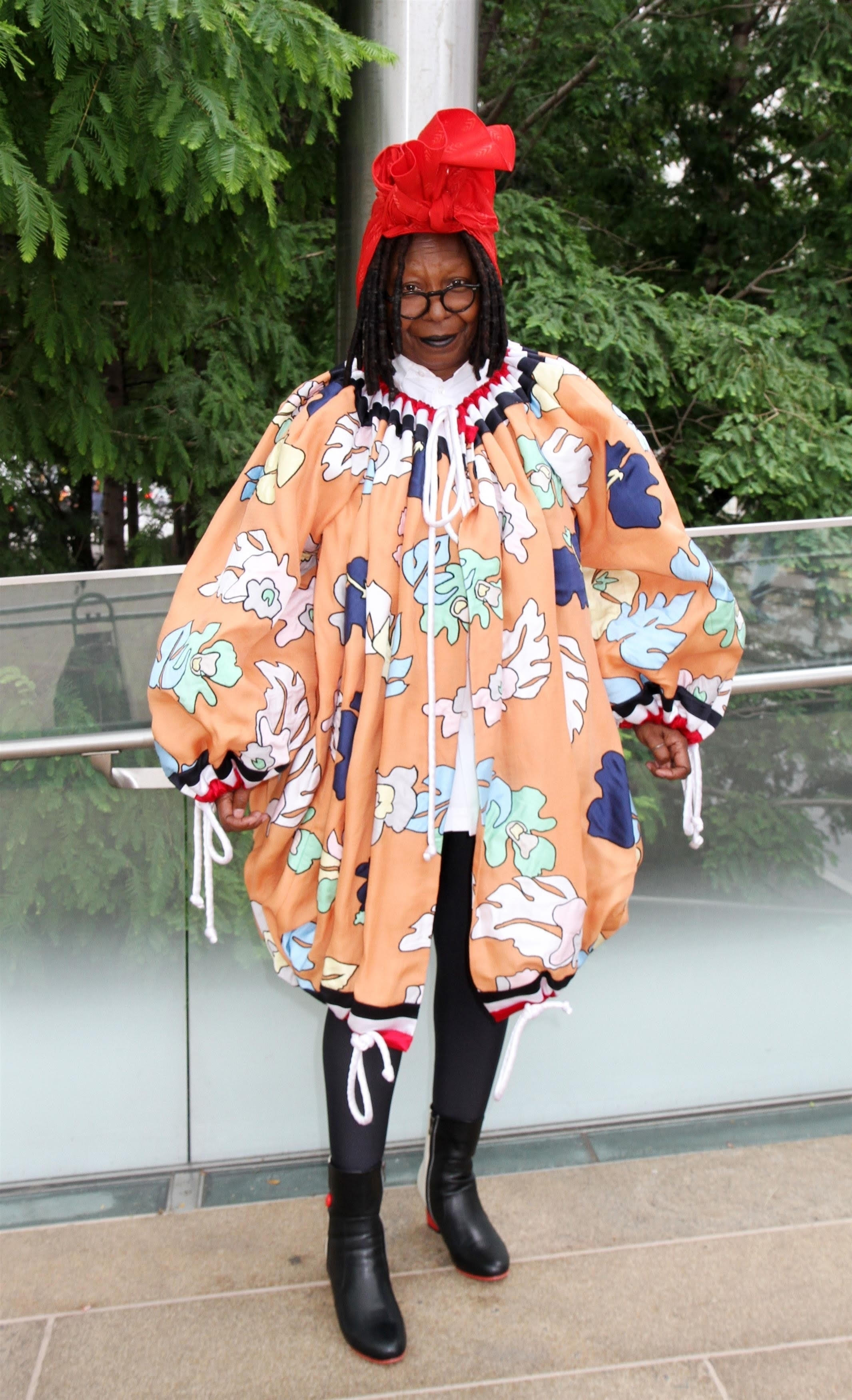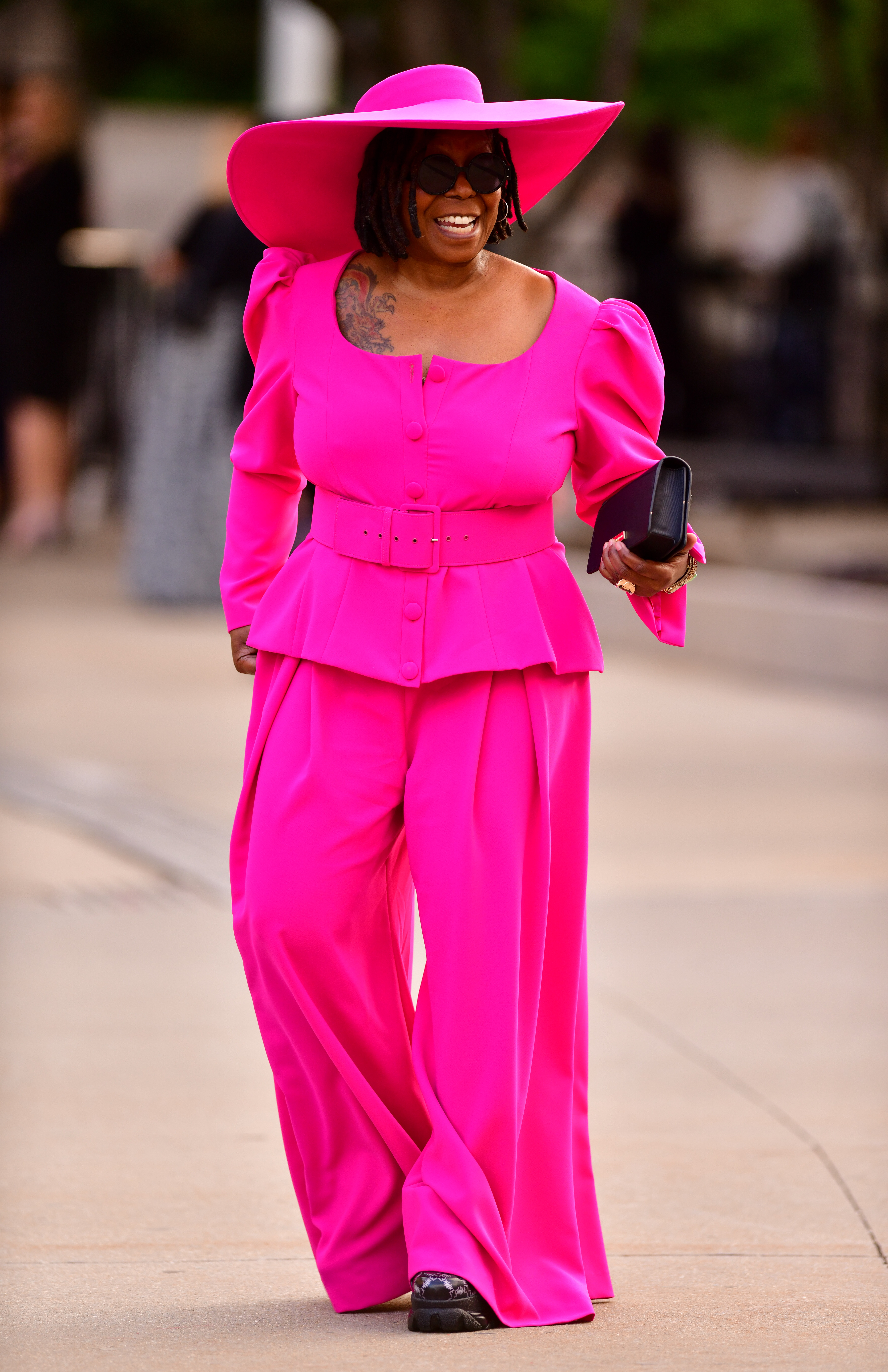 Whoopi exists at the intersection of so many difficult worlds without missing a beat. What she's done with her life seems miraculous. I wanted to know how she's kept her soul intact, how she has preserved her spirit while enduring a career in the spotlight. So I asked her about her work as a young film actress, whether she had to dodge the pressures of being a sex symbol.
"You had a hot bod," I said.
"Thank you, I did. I know." She really did. Check her out in Jumpin' Jack Flash or Burglar. About her 1987 hit, Fatal Beauty, she said, "Nobody who worked on that movie saw me as sexy. They didn't even think of me as a woman. Because I'm black."
I wonder, though, if there's more to it than that. Certainly, back in the '80s, Hollywood didn't know how to appreciate blackness. Black women whose beauty transgressed racism managed to appeal to white audiences usually because they had looks that mimicked white beauty. Beverly Johnson was delicate, long, and lean, had an aquiline nose and a long oval face. Iman, Naomi. That's fashion. Then there's Diana Ross, who could be black and powerful because she was sexy. But Whoopi isn't sexy in the way society at large expects women to be.
Whoopi is beautiful in a way that defies any known definition of beauty. The cheeks, the hair, the butt, she is mesmerizing. She is neither overwhelmingly feminine nor masculine. She exists outside of any mundane binary. She is something else, a species unto herself. She truly is unusual. She told me that she can go a whole day without eating, as though it never occurs to her.
About her 1987 hit, Fatal Beauty, she said, "Nobody who worked on that movie saw me as sexy. They didn't even think of me as a woman. Because I'm black."
While she is beautiful, she is more fascinating and dear than she is an object of beauty. She's sensuous and real, and yet she has the innocent, rascally androgyny of a kid. She has virtually no eyebrows. There is nothing perverse or strained about her. I'm glad she's been given the alien space in Hollywood to be who she is, that she wasn't stressed into some other kind of persona by the industry. She isn't caked with makeup. Her beauty shines from a place so irrevocable: It is there in her Sister Act nun's habit as much as it is in her fuchsia and lime green peek-a-boo mermaid gown from the 1993 Oscars. She got flack for her "poor" fashion choice, but if a Jenner or Hadid sister wore it today, we'd all go gaga. Whoopi's beauty came through even caked in white makeup and crowned with a preposterous wig, dressed as Queen Elizabeth I when she hosted the 1999 Academy Awards. "Good evening, loyal subjects. I am the African Queen." Her beauty is like her humor—innate, honest, divine. (Speaking of divine: Whoopi has brilliantly offered to host this year's ceremony, which is anchorless as of press time.)
When I said goodbye to Whoopi, we hugged again. "I love you," I said. I couldn't help it.
"Ditto," she said back as she held me.
That word seemed shy when she said it, a polite retort to my hyperextended affection. But as soon as I got in the car back to the city, I realized this is the key word from one of Whoopi's most famous roles. It's what Patrick Swayze's spirit says to Demi Moore in Ghost when Whoopi channels him, in answer to Moore's heartbroken last "I love you."
Credits: Hair by Eric Williams at Walter Schupfer using René Furterer USA; Makeup Grace Ahn at Julian Watson Agency; Photographer's assistant Jonathan Tasker; Location Blank Studio; Special Thanks Tom Leonardis, Ashley Alderfer-Kaufman, and Stephanie Suski.