Mustafa the Poet On Helping Pierpaolo Piccioli Bring Valentino FW19 To Life
"It was almost like two aspiring love therapists having a conversation on the intricacies of what love is."
Couture and poetry joined together at Pierpaolo Piccioli's Valentino Fall/Winter 2019 show Sunday, where the easily discernible theme, seen throughout the clothing and in the accompanying show notes, was love. Valentino on Love, more specifically. From the illuminated billboard at the end of the runway (with a line by Scottish poet and artist Robert Montgomery that read "The people you love become ghosts inside you and like this you keep them alive") to an 111-page booklet featuring original poetry by Montgomery as well as Greta Bellamacina, Ysra Daley-Ward and Mustafa The Poet, the passions of Piccioli were fragrant in the air.
"I've asked the contribute of these poets because poetry is the most intimate expression of freedom," Piccioli wrote at the top of the booklet left at attendees seats. "Because freedom is what we all need now. Because 'we do not want to be so dreamless now.'"
For the Grammy-winning Mustafa, who has collaborated with Drake and The Weeknd, the opportunity was one he had never even considered, admitting his fashion knowledge was minimal. Still, it was one he knew not to pass up. "I'm still over the moon about it," he says from a car on his way to the collection's resee, talking effusively of his last twenty-four hours.

So how did it all come about? An Instagram direct message, it turns out. "I remember getting the DM from Maison Valentino and I didn't know entirely know what the account was but I knew it had a lot of followers," he says with a laugh. After some conversations with his model friends, he quickly learned how iconic the nearly six-decade old Italian fashion house is and discussions about a potential collaboration began. That resulted in Death Of Love, a film used to announce the brand's men's collection shown in January. Mustafa then found himself at dinner with Piccioli after the show itself, and that's when the real connection was made. "I could understand the thread between Valentino and poetry and romance and it all made sense in my head," he said of their conversation at dinner.
"It was a really special conversation about love and romance," Mustafa recalled." Kind of like how love is limitless, but not only the capacity in which we love, but the context in which we love, and that there can be so many contexts in which we love. We were foreshadowing something we didn't even know was going to exist."
From there, after a follow-up Facetime conversation, Mustafa got to writing. "We didn't even talk about the clothing much. We talked about some of the imagery, but the conversation was centralized around love. It was almost like two aspiring love therapists having a conversation on the intricacies of what love is." Piccioli was originally going to commission 10 pieces. Mustafa wrote 50 ("I wanted him to have options."). Piccioli was convinced to up the number to 25 after their conversation.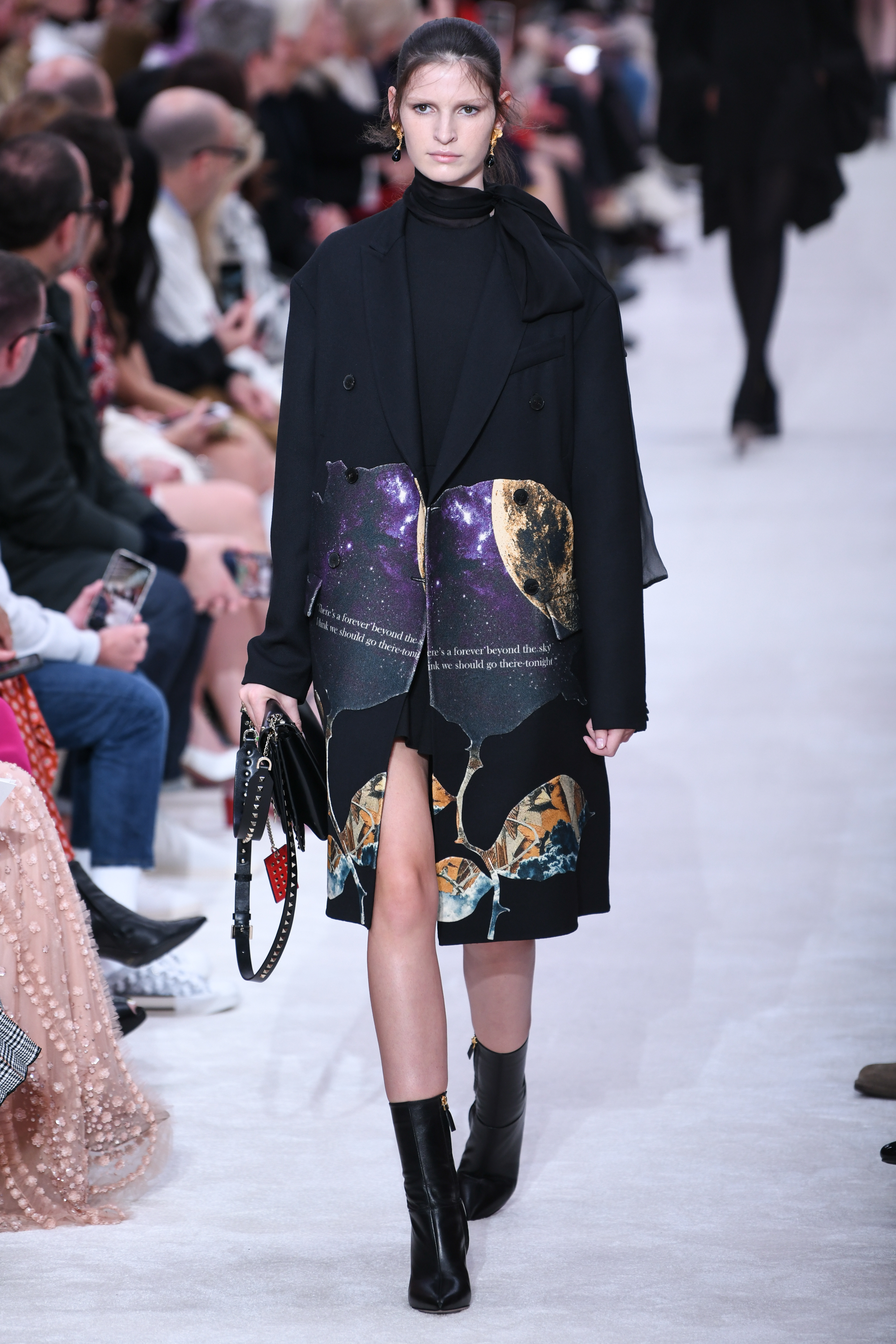 Mustafa's poetry was then threaded into several of the garments that appeared on the runway. "I was writing with the thought of 'how can this resonate on clothing?'" he said, bringing up artist Jenny Holzer as a source inspiration. There's the ones that are more apparent, like on the backs of coats, but also the heels, the bags, and the interior of the garments, creating the idea that romance isn't always seen. "I was scared that it was potentially not going to go over too well, but the blend was everything that I imagined it to be."

He describes attending the show as an emotional experience, seeing women in creations made for their bodies. "I just thought the appreciation of these women is so essential and it's an example for people in everyday life. I was gutted when I saw some of my work on the back of these coats and on these gowns. It moved me in a way I never would have imagined. I'm used to hearing my lyrics on songs, but this in particular was a new kind of joy that I didn't know that writing could bring me."