Photo courtesy of Collina Strada.
Charlie Engman and Collina Strada Are Striving To 'Be Better'
Photo courtesy of Collina Strada.
This winter, the fashion brand Collina Strada made waves debuting their low carbon diet at their Fall/Winter 19 show, where the runway was paired up with tips on how to reduce your carbon footprint (along with a climate change lecture by rapper activist Xiuhtezcatl Martinez).
Now, Collina Strada's designer Hillary Taymour is taking it to the next level with longtime collaborator Charlie Engman for their Resort 2020 collection, Radical Transparency, which is on view at the 247 Showroom in Paris until June 28. The title comes from being environmentally sustainable and ecologically responsible. From recycling deadstock material to reducing their consumption of plastic, these concerns and more are at the forefront for Taymour and Engman's new collection, which ranges from seashell-encrusted sneakers to grandma couch puffer coats.
"I have always dabbled with sustainability," said Taymour. "In my role at Collina Strada, what I want to do is to use whatever voice I have to help in any way I can, not in a bougie 'shove it in your face' way, but if I can get one person to do one thing better, that's all that matters."
"Let's try to be better," she adds. It all started last fall, when Taymor said to herself: 'Enough is enough.' She stopped using water bottles and stopped ordering things on Amazon, among other carbon diet tactics.
"We use deadstock fabrics, recycle cotton t-shirts and recycle water bottles, and we're printing things on deadstock," said Taymour. "I'm trying to make things as clean and green as I can." Easier said than done, however. "It's really hard, there's nothing easy about it," she said. "You can't make a ton of money this way and that's why brands don't do it. That's why there's so much waste."
The lookbook is not of your typical stark 'stand and pose' variety, as its really a collage that blurs fashion with photography. There are superimposed photos arranged salon-style that measure up models standing in equal importance to the photos (models range from 15-year-old Synphanie Mojicato Brooklyn songstress Zsela to Engman's mother Kathleen McCain Engman, who is 66). That was precisely the point.
"We were having a conversation with another designer who was talking about their photographer, who said 'he's artistic and is thinking about the photo and not the clothes,'" recalls Engman.
"But we both swap or merge these compartmentalized roles of 'fashion designer' and 'photographer,'" he adds. "The clothes are the image and the image is as important as the clothes. That's what we were trying to work through."
There was no concrete method to the madness. "It was intuitive; we trusted our own moral compass we learned to developed together, which guided the process for the lookbook," he said. Here, Engman and Taymour walk us through five new looks and the stories behind them.
Look 9: Grandma Couch Chic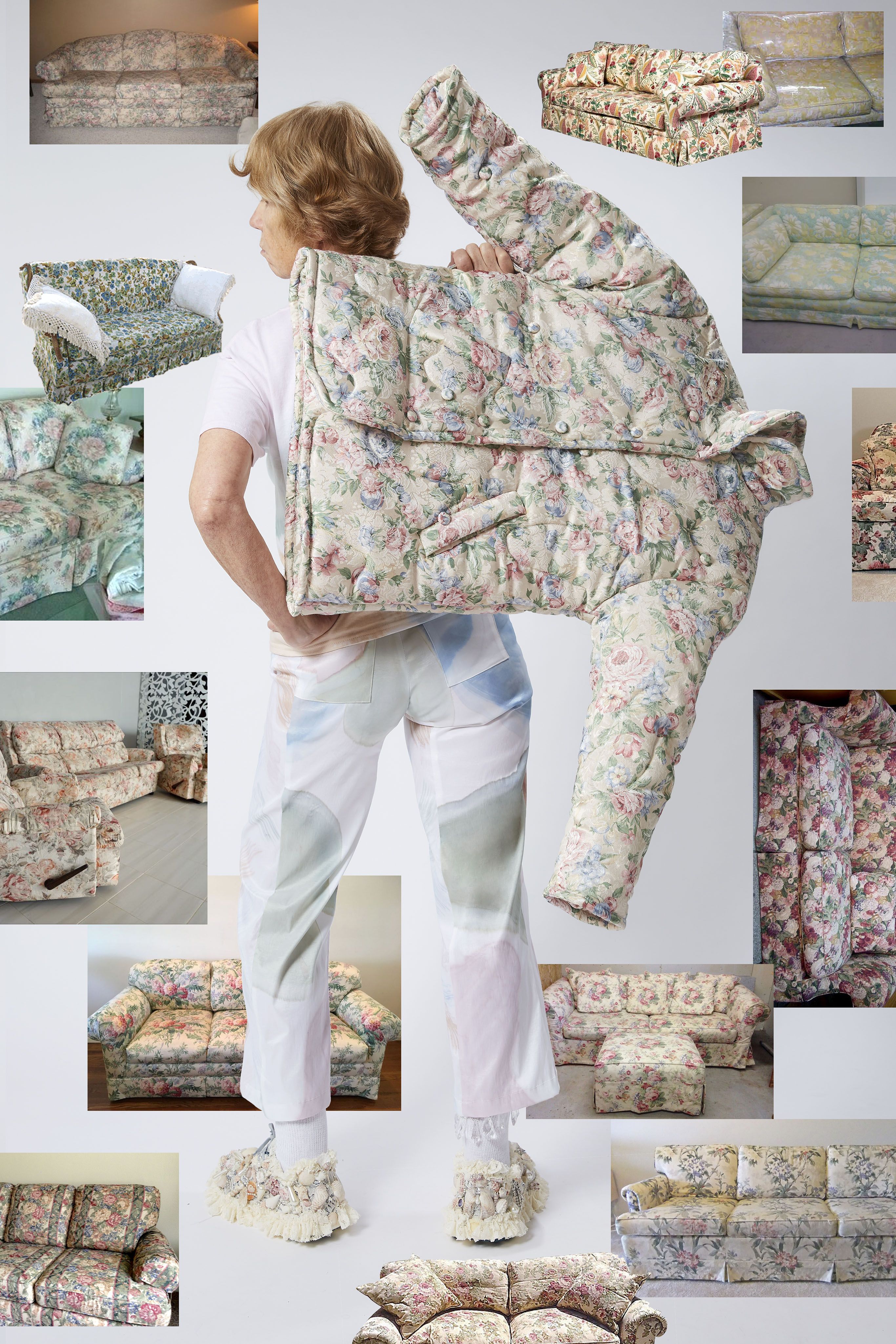 Engman's mom poses with a puffer coat made of floral couch material, while standing before a variety of what they call "grandma couches," (some of which are covered in plastic).
Taymour: Grandma couches were the beginning of the inspiration for the collection. Why? I want to be in the living room of my grandma in the 1990s with that weird pastely vibe. This is my baby jacket; I've been trying to make it for two years. It says 'handle with care' and it has a handle on it, like the one found on a mattress. It has a special part of my heart. It's so geek, it's chic.
Engman: My mom is the model. It's this idea of community and family, that's the radical transparency aspect. It's us as citizens of the world and what that dynamic is. For me, casting my mom felt inevitable as an extension as a creative person; that's the ultimate collaboration I've been working on, its emblematic of that. She had a lot of fun.

Look 13: Spaced out New Year's catsuit
An iridescent purple bodysuit presented alongside textbook images of roses, sculptures and tropical fish.
Taymour: That was our first look we put together, it's a new year's catsuit, let's be honest.
Engman: We spent the most time banging our heads on how to make this one work. It combines all these things we think about, which is simple but totally wild.
Look 7: Badass flower pantyhose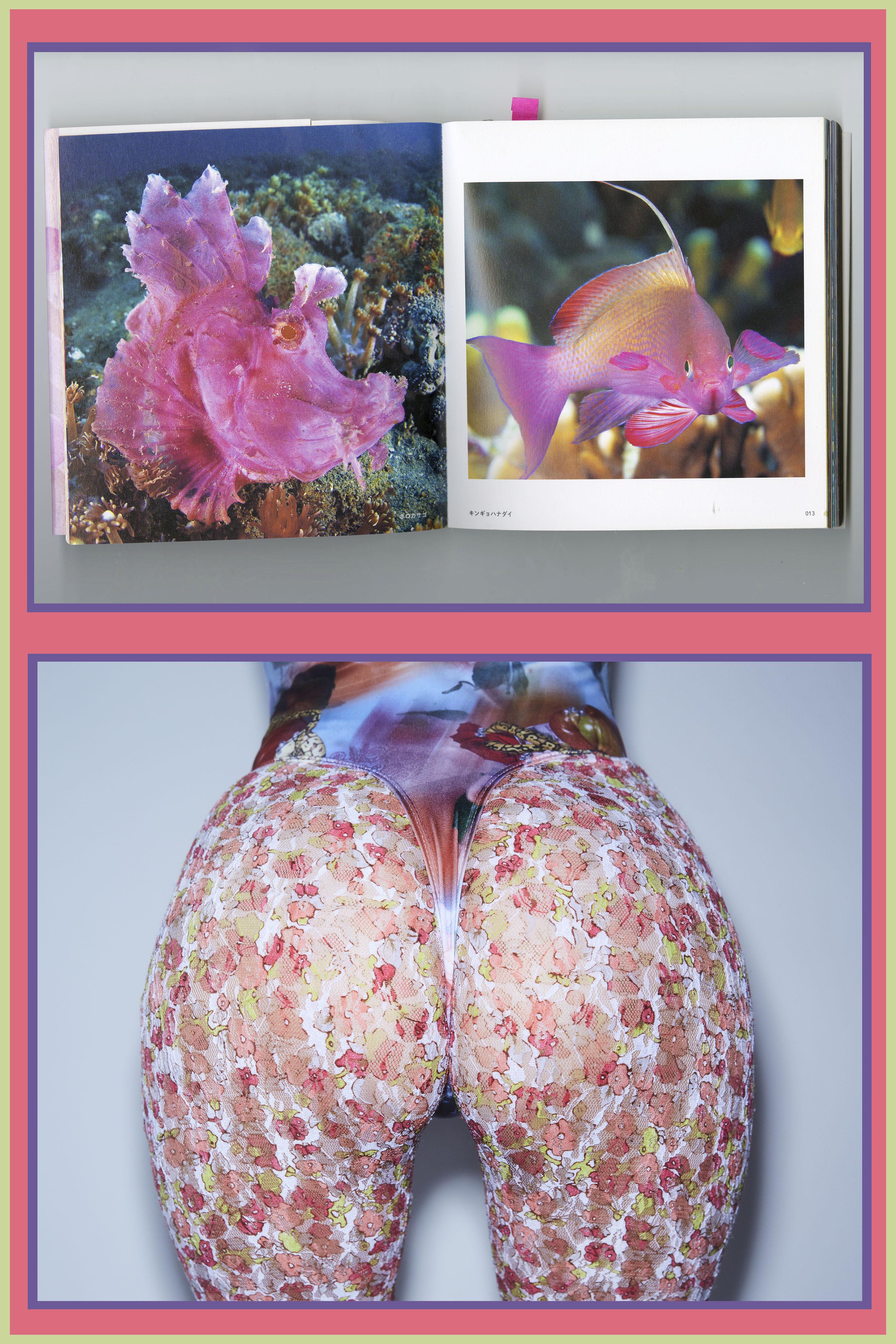 Why not take the flower couch look off where you park your butt and put it literally, on your ass? Don't miss out on the tropical fish, too. Note: the flower print is based on a photo the duo made together.
Engman: For this photo print we made together, we combined different elements; we thought 'let's blow up the photo and see how it looks one someone's butt.' It's one of those things where you try everything and say oh – hey, this fits.
Taymour: It came about because we made the flower sweatshirt and we were making the shell shoes, then we thought of a tube top over a sweatshirt, then the pantyhose. It's selling.
Look 1: The snapshot photo dress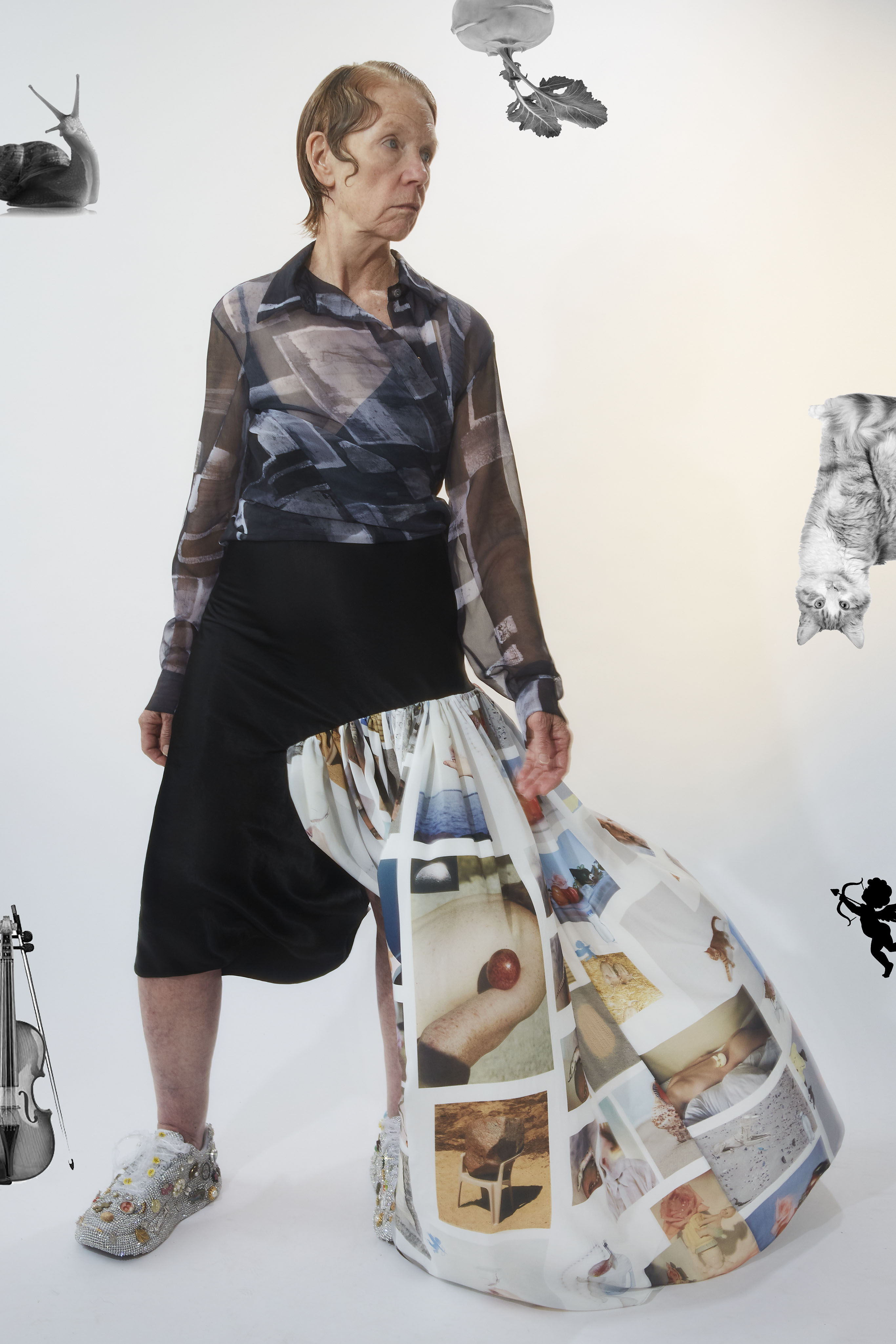 Engman: It has a direct obvious look, where the part of the dress has a grid of images from my archive and depending on the movement, you see the photos. its an obvious use of photos, but I like being obvious sometimes. We also made direct photos on a shirt because, why not?
Taymour: Then we have the tube top with the Sistine Tomato, a Sistine chapel made of tomatoes, which we created as a repeating print in a ton of different looks. One is made of clouds, the micro shorts. One is of nude photos of mutating daisies.
Look 32: Sparkle jeans with a side of pubic hair
Standing before a whale caught mid-jump at sunset, for this look, the model has her jeans unbuttoned, revealing a swath of pubic hair.
Taymour: This is about self-love. It is radical transparency.
Engman: It's part of this sustainability conversation, there's not only environmental sustainability but personal and emotional sustainability which is not unrelated at all. How people manage their bodies. I feel like culturally pubic and armpit hair on women is part of that conversation. And I love hair, so.
If you can't make it to Paris, Collina Strada is available at Essence, Browns, Harvey Nichols LNCC and Totokaelo, among others.