Accidental Style Icon: Michel Foucault
The French philosopher, who literally recommended care for the Self, is proof that so-called "public intellectuals" tend to have the best style.
One observation from years of consuming full-bleed fashion editorial, of mainlining Style.com (RIP), of being sold "model off duty," and of plugging my frontal cortex into the tireless stream we call "content," is that for all the cliché proselytizing about what is, and who has, "style," who ranks on the Best Dressed list (RIP, I guess, to Graydon's), and who is flailing down the trendstream of Jacquemus's latest perplexing exercise in scale, so-called "public intellectuals" tend to have the best style. Writers definitely. Philosophers especially.
We acknowledge the hits. The specters of Tom Wolfe's white suit, Fran Lebowitz's stealth-sourced cowboy boots, Sontag's...everything...rounding the corner to remind you of their own unassailable correctness. That blunt aesthetic force really comes from idiosyncrasy, whether it's performative or not—the practice of being lived in, of being at ease, of being a natural extension of the wearer. It's more like tangible evidence of genius. It comes off as a shrewd choice, obviously not by accident. Like the turtlenecks worn by Michel Foucault—deployed so expertly by their wearer they're not just a signature, but a second skin.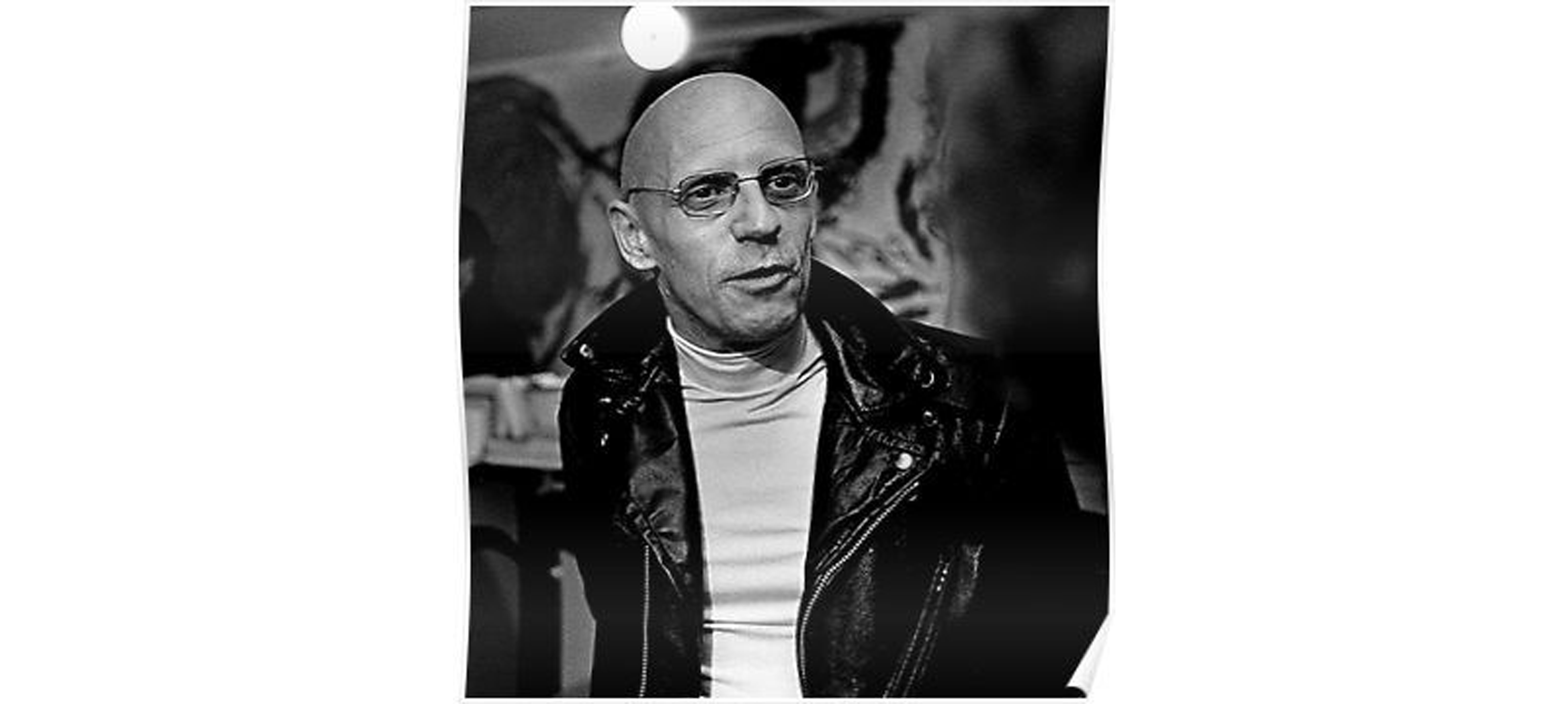 I have regularly Googled, "Where did Foucault shop?" hoping for some unearthed cache of details. A bespoke suit maker? Specific sock purveyor? Anything custom? Foucault's stylistic appeal is that of the simple, of the uniform, of the (I hate to actually say it) effortless. For myself, I crave the streamlined utility of a cinematic construction of a post-graduate, every element falling into place seamlessly—jacket, pant, boot. I will think deeply, once, about what sweater I want to wear. In my daily struggle under late capitalism, who has the time for anything else?
Foucault established a vast body of theory centered on historical systems of power, knowledge, and social control. Though he did write—extensively—about how political and societal constructions police both the mind and the body (most famously about psychiatry, the prison system, and sexuality), the subject of clothing as a sociopolitical agent was not something that received his full attention. Later in his career, when he turned to exploring self-creation and individuality in the social and political space, preoccupations of the self—rather than the system—came more sharply into focus.

A comment on a YouTube video of the debate posits, "Foucault would have made a stellar Bond villain."
He also happened to dress his militant intellectualism with punk rock largesse, what I'd call the definitive anti-tweediness. With his bald head, oblong glasses, and wide, toothy grin, he approximated a rascally, lupine Mr. Clean. When you click down to the first place I always click on a Wikipedia page—"Personal life"—among the trivia points of Foucault's religious identity (atheist, of course) and musical taste (Bach and Mozart) you also get "became known for wearing turtleneck sweaters."

Foucault probably wore turtlenecks because they were, during the '70s when he was regularly photographed wearing them, popularized on a mass-market scale for men, in both France and the United States. Somehow it stuck. They became his base layer, the constant. The variables: a light or dark-colored suit with wide, peaked lapels. Motorcycle jacket. Wristwatch. Loafers. Even when he was wearing the starched white shirt-skinny black tie combination so commonly worn by men in the 1960s (and imitated by Hedi Slimane for his first menswear collection for Celine, now on the racks), on Foucault it doesn't feel buttoned up, stiff.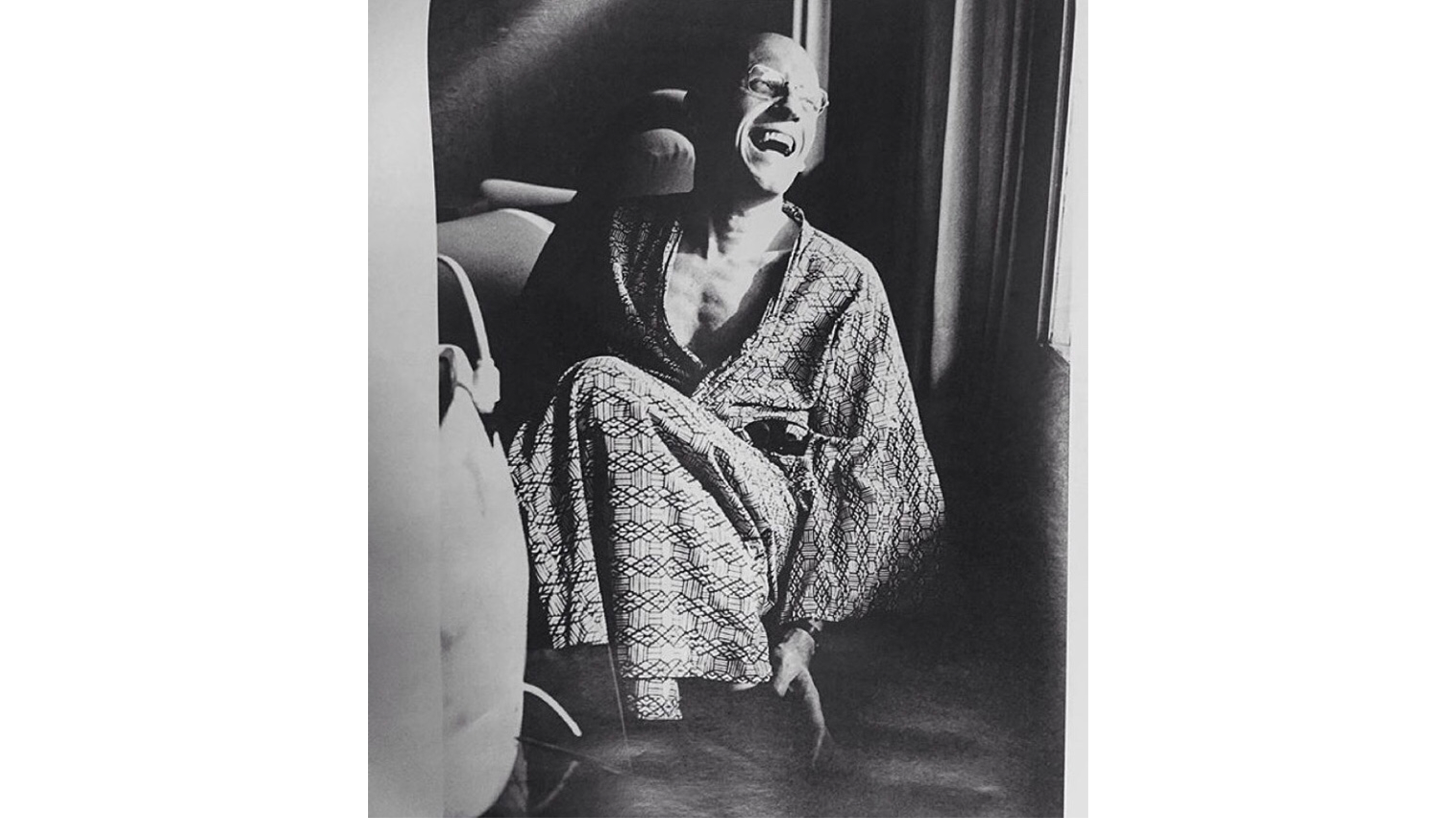 Mike Gane and Terry Johnson, the editors of Foucault's New Domains, pinpoint that in the '60s, their subject "had become quite a dandy, wearing a black corduroy suit, white turtleneck jumpers, and a green cape." When Foucault was invited to debate Noam Chomsky on the idea of "innate" human nature in the Netherlands in 1971, he works the power of the matching set: a casual gray-brown bellbottomed suit. The jacket has an abbreviated collar and left side breast pocket with a whiff of a military jacket. Slices of the neck and wrists of his beige-ish turtleneck peep out. Foucault appears relaxed, yet in control. He pulls off the feat we are usually attempting, to "look like yourself." The suit is soft, comfortable armor. Chomsky looks like the rumpled New England prof he is, with a knit tie and what my grandmother would call a "sport coat." A comment on a YouTube video of the debate posits, "Foucault would have made a stellar Bond villain."

There's an image of Foucault I would like to tack up on my wall—he's perched on of what I believe is a Pierre Paulin Tongue chair, with no shoes, his arms outstretched, in his typical glasses, white turtleneck, and black pants. But what I'm drawn to are his socks—black, sheer, and seamed, looking delicate and tissue-thin, with a solid heel. It makes sense that for all the outward practicality of his clothes—he would opt for a luxuriously elegant sock, one that needs to be hand-washed and hung dry—rather than the cushiony drudgery of a cotton one, sure to attract lint. I have the same reaction to a photo I came across on the internet years ago, of Foucault laughing in a geometric-patterned robe, casually tied, his chest exposed. I desperately want the robe.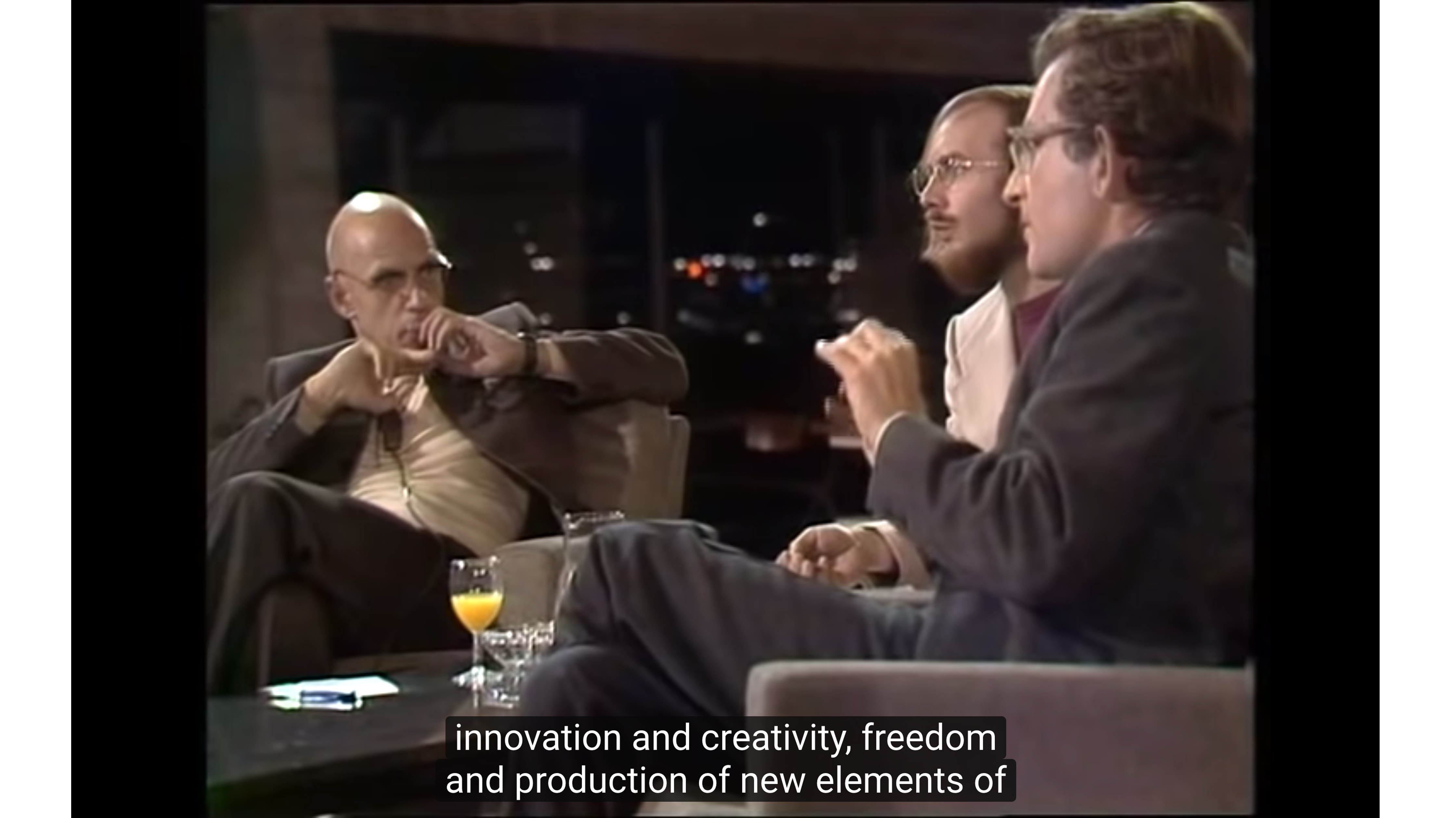 I explain my fascination with Foucault's wardrobe via a quote by his contemporary, the adequately dressed, French post-structuralist Gilles Deleuze. It's from Gilles Deleuze A to Z, a taped extended interview conducted by journalist and former Deleuze student Claire Parnet. (Every letter is a new subject for Deleuze to discuss.) He's talking about the respective techniques of tennis star John McEnroe and onetime rival Björn Borg. The line is, "No, it's a matter of style because it belongs to his style." (This bit comes from T, for "Tennis.")
"It's a matter of style because it belongs to his style"—this is a DGAF credo. Not only does it speak to choices being reflective of personal characteristic ("yes, that's very you"), it's the freedom of being self-contained, in your own orbit. Carrying something off, well. Articulating yourself without having to explain yourself. Letting the clothes talk before you do.